Photography: Claudia Benedict
Is play therapy only for very young kids? And just how effective is this form of therapy? Play therapist Fecha Yap gives us the lowdown on this method of therapy.
Most of us are familiar with 'play' as an approach to teaching and education at preschool level. But have you ever heard of 'play' being utilised as a mode of psychotherapy?
Play therapy is actually a widely recognised form of therapy that's used to treat challenges faced by young children and teenagers. There's also loads of data that validates its effectiveness: between 77% to 84% of children have shown improvement for their conditions after going through play therapy.
We recently had the chance to find out more about play therapy from Fecha Yap, an experienced play therapist from Play Therapy by Therapy Inc. Read on as she explains what play therapy is, how it works, and why it's effective.
Hi Fecha, could you briefly explain what 'play therapy' is?
Play therapy is a type of therapy that helps children and teenagers express their thoughts and feelings through play, rather than just talking. In certain situations, a child or teenager may not be able to express their worries, fears, or explain the things that are bothering them verbally. Play therapy is able to provide them with a safe space to use toys, games, and other creative activities to show what is on their mind.
Aside from using play as a medium, what else sets it apart from other forms of therapy?
The traditional methods of therapy involve talking, which children and teens may find intimidating. This can lead to unproductive counselling sessions. Play therapy is an effective methodology that allows them to communicate and process their emotions in a natural and comfortable way. After all, play comes naturally to all children. Play therapy allows for free expression and a hands-on experience throughout the session. As such, children are better able to transfer treatment strategies to home and school since they're experiencing change, rather than discussing change.
So what exactly happens during play therapy?
A trained play therapist will watch and interact with your child or teen during the sessions. The therapist may also discuss or make reflections during the session to help your child or teen explore their feelings, or even find solutions to their problems. This helps a therapist understand your child or teen's emotions, problems, and experiences. You could say that your child or teen is telling a story through their play, and the therapist is listening to that story.
There are two things that therapists look out for in a Play Therapy session: play behaviours and play themes. When a theme emerges in a session, it's representative of a problem the child or teen is trying to gain mastery over. Themes may or may not repeat over several sessions. If the same theme is returning repeatedly and then changes, this can be gauged as progress in the child or teen as they are mastering the problem. However, this doesn't mean the theme won't return. It's just one way for a therapist to measure the child or teen's progression through treatment.
What situations or conditions can play therapy be used for?
Ultimately, play therapy is a form of child therapy used to help children and teenagers cope with social, emotional, and behavioural challenges: such as inadequate communication, processing, and problem solving skills. It's also used to improve undesirable behaviours so they can interact with others in healthier ways.
For example, play therapy can be beneficial for children and teens who have experienced challenging events. This includes situations such as, just to name a few, domestic violence, child abuse or neglect, divorce, death of a loved one, loss or change in family dynamics or environment, going through a chronic illness, and even difficulties in developing or maintaining friendships.
Play therapy can also be used to help children with learning disabilities, autism spectrum disorder, attention-deficit or attention-deficit hyperactivity disorder, anxiety, behavioural issues, depression, as well as anger or rage.
Aside from these, children and teens who are seeking academic motivation and self-development will also find play therapy useful.
You mentioned that play therapy may be useful for teens as well – but won't they find 'play' childish?
It's true that play therapy is typically associated with younger children (between the ages of four to 12 years old), but it's actually widely used for all ages. The underlying principle of play therapy is the use of non-verbal and creative methods to engage teens in expressing their thoughts and feelings. So while the word 'play' may sound childish, the approaches and methods are anything but. Play therapy sessions for older children and teens up to the age of 16 years old involve different activities that are age-appropriate and aligned with their interests. For example, sand tray therapy is a great way for teens to act out their thoughts without feeling judged. They can 'paint a picture' of their issues using miniature figurines in a safe environment without any pressure.
It's important for us as adults to understand that teens are at their own unique developmental stage where they're learning important skills that they'll carry into adulthood. I think we can all agree that adolescence is generally a challenging time. You know the drill: physical and hormonal changes are happening, and they are forming their identity at the same time. There's also academic stress and peer pressure. Some teens may experience emotional turmoil and parental conflicts at home too. In this day and age, the ubiquity of social media doesn't make things easier either. Our teens face new challenges such as online bullying, comparison with others, and excessive screen time. As such, parents may feel that their teens are becoming less communicative, prone to mood swings and emotional ups-and-downs. All these make it challenging for us to understand a teen's thoughts and feelings.
Are there any examples that you can share to demonstrate the effectiveness of play therapy?
I can share three examples from my past experiences.
I had a five year-old client who's an only child of parents going through a divorce. They would fight in front of him. His teachers noticed that he was becoming increasingly withdrawn, would be aggressive to his peers, and had regressed academically. At the time of therapy, was living with his mother while his father would visit occasionally. My client was non-verbal for the first eight weeks of therapy. In the ninth week, he dressed a Barbie doll in a princess gown and said his first words: "Mummy". He then took three male dolls – a young boy, a prince, and The Hulk – and said "Daddy" as he pointed each of them out. Although he couldn't verbally explain his home situation and experience, he was able to articulate with this display of characters. The boy was traumatised by the situation at home. With an understanding of his inner world, I was then able to give him tools to move forward with healing and learn how to regulate his nervous system.
Another client is a child with limited speech. He has an anxiety disorder and lacks social communication skills. He is also bullied in school. The child loves LEGO and would build structures according to the guidebook. Over time, he grew more comfortable and started building different structures and expanding on guided structures. It was then that I decided to push him to explore themes outside his comfort zone, starting with adding characters to his buildings. From adding LEGO figures and referring to them as "friend" and "teacher", he eventually created a scene of his school and surrounding neighbourhood from LEGO bricks. We continued to explore different themes, like the concept of winning and losing, as well as how to manage strong emotions and feelings that occur from that. Initially, he would frown and throw things after losing a game. Progress was shown when, after losing badly in a game, he told me calmly that he would like to try again. Aside from this, he has developed many other skills while remaining grounded, even when feeling challenged. He has also shown improvement in social skills with his peers at school, and increased communication using gestures and a few words in conversation.
My last example involves a pre-teen who often has explosive reactions when she's asked to do things. She also appears to have difficulty communicating with her parents and teachers. During her first few sessions, she would destroy the Jenga tower and throw the pieces when the game didn't go in her favour. I then introduced other mediums, like stress balls and slime play. The latter is especially useful as it stimulates the nerve that's connected to the limbic region of the brain, which releases oxytocin (happy hormones). She began reflecting during the sessions, giving her the opportunity to reframe her initial negative beliefs. Though she missed a couple of sessions, she eventually returned and opened up about the academic pressures she's facing at school and how she felt unheard by her parents. She also mentioned that she was processing her feelings about school and her relationship with her parents during her absence. I then worked with her and her parents to help them understand each other better. I also taught her how to regulate her emotions. Since then, she has shown incredible improvement academically and behaviorally. She's now learning how to set boundaries, work on becoming resilient, and developing her ability to self-regulate.
Thank you for these examples! They're very encouraging to hear. If a family is interested in starting play therapy, what can they expect from their first few sessions?
For the initial sessions, the family can anticipate an assessment of their child's needs and goals. This is followed by trust-building, which is a priority, as a secure environment allows the child to engage in play for self-expression. Gradual disclosure of feelings and collaborative goal-setting will occur over time. The family can also expect regular progress feedback and potential parental involvement in the process.
One thing is worth noting: results may not be immediate and patience is key. Play therapy can help children work through their challenges, develop coping skills, and improve their wellbeing – but it all requires time. Effective communication with the therapist and active parent involvement in the process are important for success in play therapy.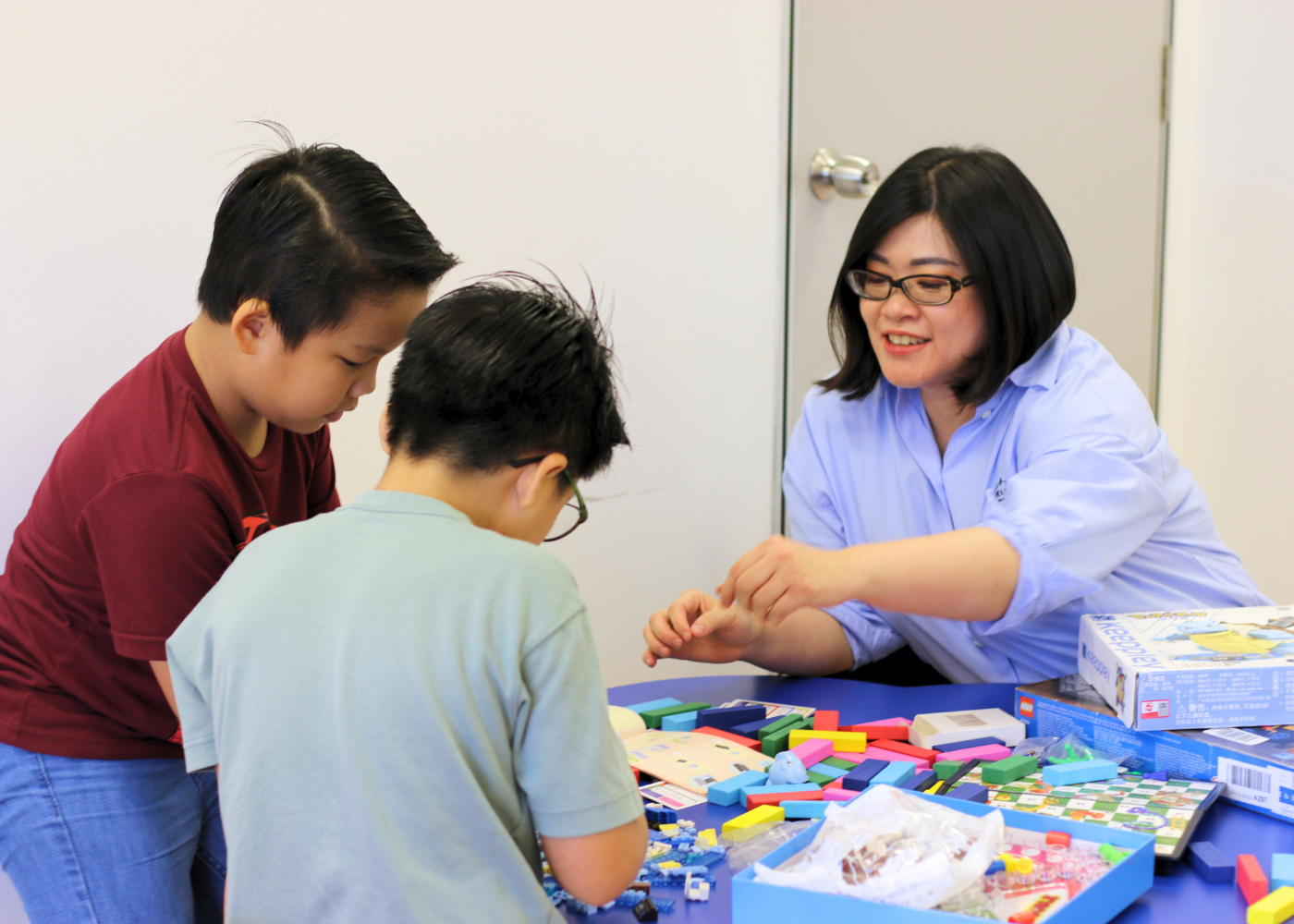 Can play therapy sessions only be done one-on-one or can they also occur in a group setting?
Play therapy can be conducted in both formats, or even a combination of both. It all depends on the child's needs, developmental level, goals of therapy, and the therapist's approach.
The most common format is one-on-one, which is highly personalised as the therapist can focus exclusively on the child's unique needs and concerns. This format is often recommended for younger children, or those with specific issues.
I also offer group sessions, which can be beneficial for children with certain social and interpersonal challenges. Group sessions allow them to interact with peers and learn from shared experiences. This can be effective for older children who are working on social skills or any situation where peer interaction is important.
In some cases, therapists may combine both formats. This allows the therapist to address specific issues with the child, as well as help them practise social skills or build relationships with peers.
It's alright if parents are not sure which type of format to choose, as the therapist will assess the child's needs and recommend accordingly.
Last but not least, how can interested families find out more about Play Therapy Singapore?
We welcome parents to get in touch with us via the dedicated enquiry form on our website, or email me personally. We also highly encourage parents to take our quiz to find out if play therapy would be useful for their children. This quiz is suitable for children and teens aged four to 16 years old.
Thank you so much for sharing with us, Fecha!
This post is in partnership with Play Therapy by Therapy Inc..