Dealing with curls? Bookmark this! Here's our handy guide on how to manage curls in Singapore – from knowing curl type to where to go for a cut, plus insights from a curl expert...
If your kid (or you) are anything like me – the one with the curl gene in the family – you've had to deal with a morass of seaweedlike strands on your head, teasing them into something neat while combating the fact that we live near the equator and experience peak humidity levels – ugh, frizz!
I still recoil at the sight of wooden hairbrushes, remembering times my mother raised one over my head, coaxing my errant, seething curls into an obedient plait. Don't get me started on the hairdressers we sought to tame my Medusa mane. All of whom were taken aback themselves, unsure of which product to peddle or style to recommend that didn't involve shearing the lot off. Childhood with an unruly mop like mine wasn't all smooth sailing.
But that doesn't have to be the case for you or your little curly-haired kid; thanks to this handy guide on managing curls in Singapore, from knowing curl type to where to go for a cut, plus some important insights from a curl expert – we're here to help…
All about curl types
Understanding the curl type can make managing them a cinch! Did you know Oprah Winfrey's stylist Andre Walker created a hair classification system to help you figure out how to care for your kiddo's tresses? Created in the 1990s, The Andre Walker Hair Typing System has been generally adopted as a hair type classification system.
There are four types of hair textures, from straight to kinky. Each category has a further subcategory from A to C that inform on the kind of curl pattern, from loose waves to a coily pattern.
The lowdown on curl types & tips to care for each of them
To figure out the curl type, check hair while wet. Pluck a few strands discreetly off their heads (if you're trying this on the kids) when they are fresh out of the shower. You could also pick them off the hairbrush. Lay the strands flat against a white surface and watch as the curls spring into their natural shapes as they dry! Your child may have more than one curl type.
Here's a few simple ways to care for each curl type…
Understanding Curl Type: Wavy Hair – Type 2
The Type 2 curly mop ranges from fine to slightly coarse. Think tousled beach curls that hold their shape but can still be easily straightened. The easier lot of all the curly types to manage, these still need TLC and products that can enhance shine and fortify.
Caring for Type 2 tresses would involve a volumizing shampoo and conditioner, deep conditioner and a light leave-in conditioner. Style when damp with a light-hold cream to define these loose S-shaped curls.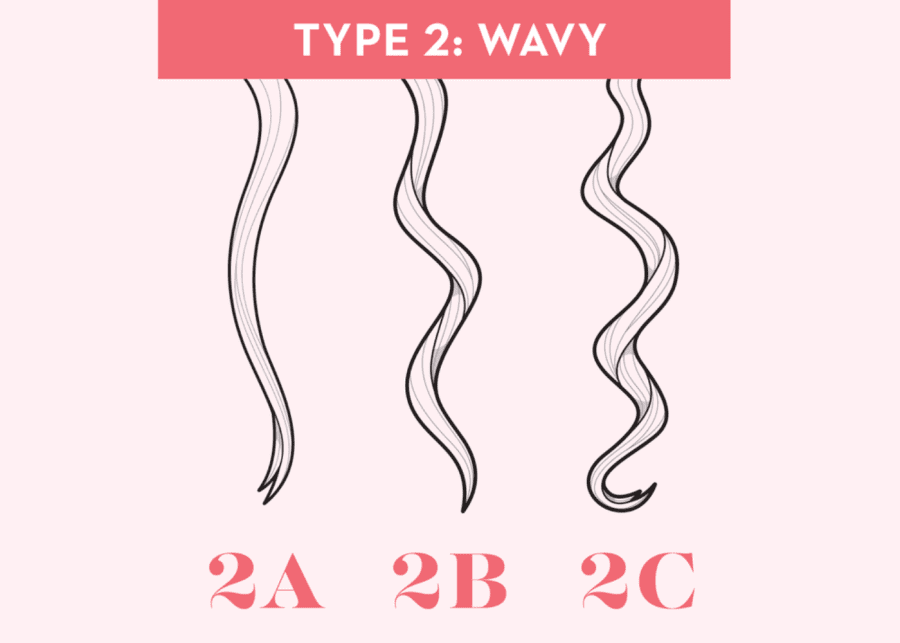 Understanding Curl Type: Curly Hair – Type 3
Type 3 curls move from S-shaped curls to tight, curly tendrils. These curls are much more voluminous than Type 2 hair. Type 3 curls need moisture and products that help define their tendrils.
Understanding Curl Type: Kinky Hair – Type 4
Type 4 curls are the most robust style of all curl types. However, they are prone to dryness and breakage. Hence, moisturising, conditioning and detangling are key for this hair type. Avoid frequent shampooing and wash once a week, but refresh curls using light products to keep a clean scalp.
Curl care basics
When it comes to curly hair, it's best to dump that one-size-fits-all mindset and work with the type of curls you're blessed with! Here are some Curly 101s  you can adopt for a healthy scalp and curls. A curly routine consists of washing, styling and curl maintenance.
Curly hair wash day essential products
Wash products include a good sulfate-free shampoo, rinse-off conditioner, and a scalp massager – depending on how dense your curls are, a scalp massager tool might a good investment to keep the scalp clean. Additionally, you would require a microfibre cloth as opposed to a terrycloth towel to help with drying the curly mop. A microfibre cloth absorbs excess water without rubbing the curls; as such, it is gentler than cotton towels and better for reducing frizz or breakage in curly hair.
Curly hair styling products
Styling includes products like a leave-in conditioner and/or gel. A volumising hair spray might be useful for Type 2s.
Curly hair maintenance products
In addition, specific to curly hair is a curl maintenance routine that involves a weekly deep conditioning mask and a scalp cleansing clarifying shampoo to be used once a week to clean off any product buildup on the scalp. If you're in the Type 4 range, consider investing in quality hair oils for deep conditioning or detangling as part of curl maintenance.
Curly-haired kids might also need silk bonnets or silk/satin pillowcases, as this can reduce static that causes frizz.
Where to buy curly hair products in Singapore
Should you fall under the Type 3-4 curly types, it might be difficult to find suitable products in typical pharmacies or supermarkets, but fret not! I've got you.
1. Amazon
You can opt to buy some cool curl-specific brands such as Curlsmith, Pattern, etc. In addition, you can not just source for products but also curly hair accessories such as microfibre towels, curly-hair-specific grips and clips from Amazon.
2. iHerb
iHerb carries a good range of curly products that you can pick up and have shipped to Singapore in no time at all. Brands include SheaMoisture, Aussie, Miracle Curls, Allaffia Kinky Curly and more.
3. Maneheaven
You can also get your kiddo's curl products from a local webshop called Maneheaven, founded by two curly ladies here in SG. They stock products and exclusive brands that take you through wash, style and maintenance. Additionally, you can check out their Instagram for more information on how to use the products and style kiddos' hair or their blog for useful information on curl management.
Where to get a curly haircut in Singapore
For curly kiddos, getting a haircut can sometimes be an overwhelming experience, especially if they have been made to feel like the glorious mop on their heads is difficult to manage, so it's important that kiddos feel comfortable! Did you know that it's best for a curly to get a suitable cut from a curl expert instead of a typical hair stylist? Curly-haired kiddos need a cutting technique that maintains their curly look and length.
1. Immagine Italiana
Located in the trendy Joo Chiat area, Immagine Italiana was started by two Italian expats. They provide a range of services and specialised cuts and treatments for curly hair for you or your little one. They offer dry and wet cuts for curly hair, depending on your preference. Simply start the journey by arranging a free consultation. You can look forward to friendly service and complimentary tea/coffee during your visit.
Immagine Italiana, 361 Joo Chiat Road, Singapore 427606
2. Hera Hair Beauty
Curlys are spoiled for choice at Hera Hair Beauty with its team of curly hair specialists who will help you identify curl patterns and provide a customised cut and style! They provide both dry and wet cuts for curly hair, and their attentive service is much raved about. Plus, you can also choose to colour your curly hair from a range of ammonia-free hair dyes.
Hera Hair Beauty, 163 Tanglin Road, #03-125/126, Tanglin Mall, Singapore 247933 and 31 Ocean Way, #01-20, Quayside Isle, Singapore 098375
3. Curlyheavensg
Curlyheavensg is run by local Singaporean Viji, Singapore's first Rëzocut Stylist, who runs a home-based salon providing haircut and styling services for curlies. The Rezo Cut is a hair cutting method is to optimize hair's body, balance and shape. Viji offers a range of services, from hair treatments to curl coaching, from the comfort of her salon in Yishun.
Curlyheavensg, book online
Tips from the curl expert…
I caught up with Viji from Curlyheavensg to debunk the hair-cutting techniques for curly mops…