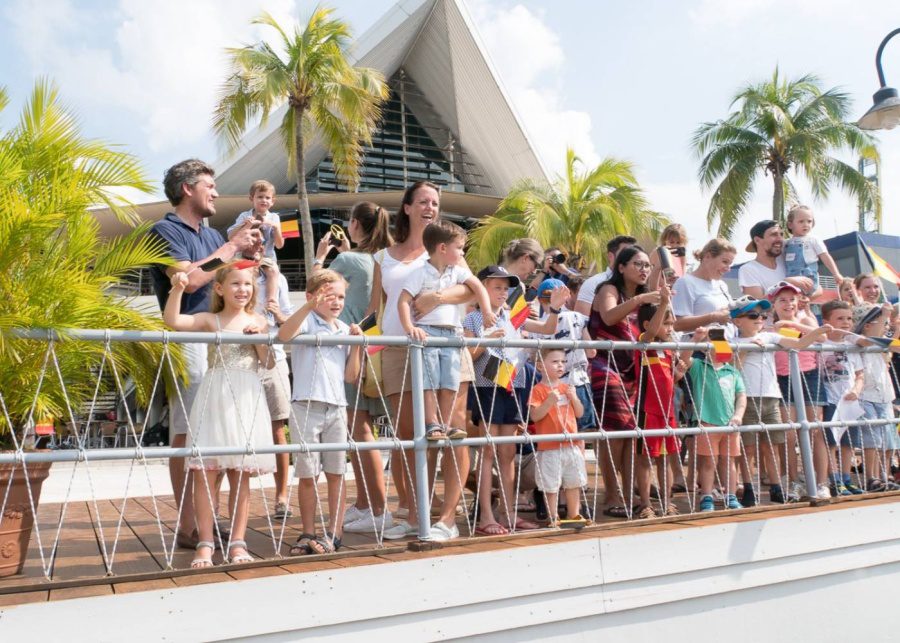 Photography: Belgian Luxembourg Association via Facebook
We can totally see ourselves sipping G&Ts on the lawns of one of these fantastic social and country clubs in Singapore. Anyone want to buy us a membership?
Whatever your background and circumstances, we've got to admit that social clubs are kinda great. You could be an expat looking for new friends, a Singapore newbie, or a born-and-bred local looking for some weekend fun with the family. Whichever box you fit in, one thing is true for us all: the Lion City has a smorgasbord of social clubs and members' clubs you'll definitely want in on. The perks? Awesome pools perfect for swimming lessons, supervised kids' clubs, family-friendly restaurants (weekly Sunday roast, anyone?), fabulous spas, and action-packed playgrounds. And for you, it's a guaranteed way to meet like-minded people and boost your circle of BFFs. So what are the best social clubs in Singapore? Read on for the scoop!
The best social clubs in Singapore for families
1. British Club
Registered in January 1983, this clubhouse was officially completed three years later (it was even opened by HRH Princess Anne!). Fast forward to recent times, the British Club counts over 50 nationalities, including Singaporeans, among its numbers. The reason for its popularity? Family-friendly facilities and activities that'll keep everyone happy and occupied.
The deets
Facilities: With an area of over 5,900 square metres, you can expect an array of facilities at Singapore's only hilltop retreat. For starters, take in the lush surroundings of this clubhouse tucked away in the greenery of Bukit Timah. Let the kiddos run off to the pool or playground for an afternoon of fun. Or, sign them up for various sports sessions like martial arts, tennis, rugby and more. There's also a spa and gym that Mum and Dad will equally love! (Plus, a quiet space at The Work Hub if you have a spot of work to clear.) Hungry? There are multiple cuisines to enjoy at dining options like the Mountbatten Bar & Grill, Verandah Cafe and Windsor Arms gastropub (including a killer Sunday roast!).
Cost: Joining fees start at $4,815 for a year and $8,560 for a lifetime membership. Monthly subscriptions also apply.
Where: British Club, 73 Bukit Tinggi Road, Singapore 289761
2. b_together
Welcome to your new home away from home! b_together is a private members' club that's designed to cater to the needs of active families in Singapore. The club offers classes and camps from four years to teens, a Jungle Playgroup from 18 months to five years, all-day dining, workshops for parents and children, expert talks, and entertainment – all in its cosy clubhouse in Dempsey. From its indoor soft play area, to its lush green outdoor spaces, everything in this club is purposefully designed to let you and your family b_creative, b_inspired, and most importantly – b_together!
The deets
Facilities: Over 10,000sqft of indoor and outdoor PLAY areas, including a baby and toddler-friendly indoor soft play area, nook and library, tuck shop, CREATE and COOK studios, outdoor play area with treehouse, yurt, members-only botanical bar, and all-day dining in AT feast.
Cost: One-time joining fee of $3,000, followed by family membership fee of $295 per calendar month (discounts available if you opt for annual payment). Up to six people per family membership.
Where: 16A Dempsey Road, Singapore 247695

Bonus: In celebration of its first birthday, b_together is offering some exciting deals when you sign up as a member this July 2023! B_intheknow and speak to its Membership Hosts to find out more today.
International Clubs in Singapore
3. Hollandse Club
Head over to the Hollandse Club (aka the Dutch Club) for all the fun going on. Oh, and by the way: like with other members' clubs referring to a certain part of the world, you don't have to be of the named nationality to join. In actual fact, here you'll rub clogs with a global bunch from more than 40 nations all over the globe. And with all the awesome activities going on, this is a great pick for families, no matter your kids' ages. We're especially on board with the supervised kids' room, where little ones aged two to 11 years will be kept busy with games, movie screenings and a bucket load of art and craft.
The deets
Facilities: Playground, library, swimming pool, hotel, supermarket, restaurants and bars, tennis courts, squash courts and lots of scheduled classes are sure to keep the family entertained.
Cost: Minimum one-year membership available from $174 per month (no joining fee!), lifetime membership $10,500 and monthly fees from $134. There's also an absent option if you are leaving Singapore but still want to retain your membership. Refundable deposits apply.
Where: 22 Camden Park (Off Adam Road), Singapore 299814
4. The American Club
According to its mission statement, The American Club is in the "happiness business". Which we are so down with! It's all about good times aplenty at this members' club, with people uniting over fun, food, fitness and family. In fact, it's been helping its members enjoy Singapore that little bit more at its Orchard site since 1948. Family-friendly vibes and top-notch customer service are the name of the game at one of the Lion City's most popular social clubs.
The deets
Facilities: Expect swimming pools, sports activities, plenty ofa  dinia ng and drinking options, a spa, a wine shop, and tons going on for the kids.
Cost: US and Canadian citizens: $24,365 lifetime membership (with instalment plan options). Yearly membership for non-US/Canadian citizens: $7,611.50.
Where: 10 Claymore Hill, Singapore 22957
5. The Swiss Club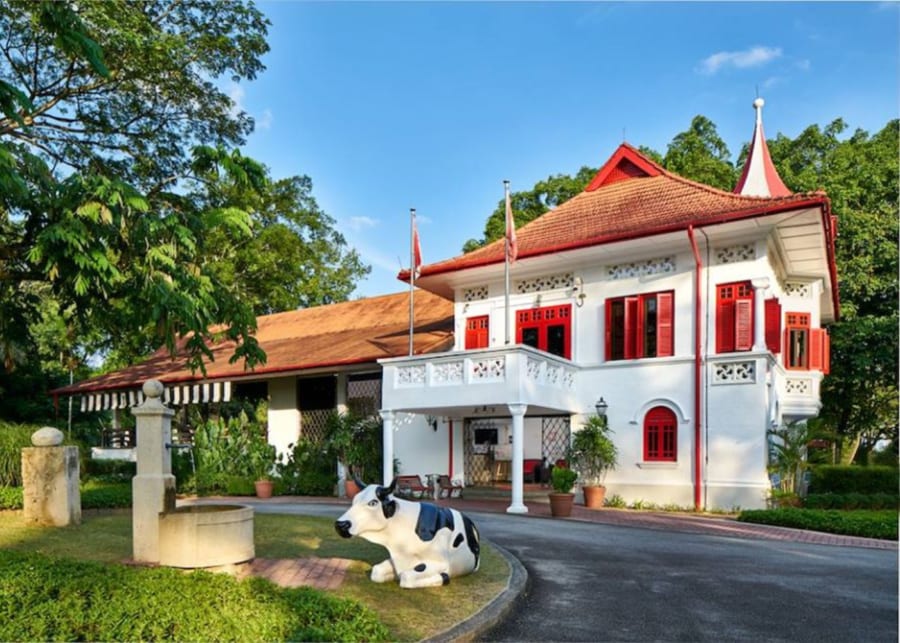 Another veteran of the social club world, The Swiss Club opened in 1871 and is one of the oldest and most historic members' clubs in Singapore. Located on Bukit Tinggi, it's got what we reckon is possibly the prettiest club buildings of the bunch. This is an elegant and fam-friendly hub that's surrounded by lush greenery: it's certainly an oasis in the middle of some serious jungle vibes! Families will love the wide range of sporting facilities, and great family feels the club serves up.
The deets
Facilities: The events are a hoot – Christmas, Oktoberfest and more are celebrated in style! And the whole gang can take part in sports lessons, including martial arts, swimming, badminton and aqua-biking (yep, we had to Google that). The club also has restaurants and bars, a playground and more.
Cost: Membership costs are currently unavailable to view on the website. But do feel free to reach out to the friendly team and give them a buzz at 6591 9420 for more information.
Where: 36 Swiss Club Rd, Singapore 288139
Sports Clubs in Singapore
6. Singapore Polo Club
Trot over to the Singapore Polo Club, where the whole famalam is sure to have a fine ol' time both in and out of the saddle. The polo field is an awesome draw for sure, but there are also a ton of other sporting activities happening. Plus, The Paddock is a fab dining option!
The deets
Facilities: Apart from horsing around with the ponies on the polo field and outdoor riding arena, there's also a spa, jacuzzi, swimming pool, jackpot room, tennis courts and restaurants on site.
Cost: Membership from $6,000, with monthly fees starting at $185.11 per month.
Where: 80 Mount Pleasant Road, Singapore 298334
7. Singapore Cricket Club (SCC)
Looking for some sporty action around town to enjoy with the familia? The Singapore Cricket Club is a premier sports and lifestyle club and is indeed where all the action is at! Located at the heart of the city, the Singapore Cricket Club is hard to miss with its enormous Padang cricket field and a backdrop of colonial heritage and modern buildings. With growing popularity over the years since its establishment in 1852 and its host of international tournaments, the club also has leased another cricket field in Dempsey District to double up the action. That's bound to keep the cricket spirit in full swing and the family well entertained!
The deets
Facilities: Apart from the two cricket fields, the club also plays host to other games like soccer, hockey, rugby, tennis, and squash. Being a sports club, a well-equipped gymnasium is inevitable. There is also a Billiards and snooker table in the house if you fancy a shot or two. A good game calls for a good meal after, and SCC has an array of F&B and socialising facilities where you can catch a bite. There are also fine dining options to explore. Drop by at the SCC reference library if you and the fam prefer some downtown time from all the sporty stuff.
Cost: SCC has different types of memberships, including ordinary transferable membership applies to most club members. To become a member, a prospective member will need to purchase a membership from a currently selling registered club member. The price of an ordinary membership varies based on the market price. Term membership is at $4000 plus prevailing GST for a one-year membership. Sports membership and corporate memberships are available as well.
Where: Connaught Drive Singapore 179681
8. Chinese Swimming Club
Top national sportspeople come out of this club for good reason! The club is renowned for its state-of-the-art sports complex that spans over 10,000 sqm of its grounds and hosts an expansive range of all our fave sports. The Chinese Swimming Club also boasts well-rounded family recreational facilities that will keep the fam happy and well entertained!
The deets
Facilities: The club is jam-packed with facilities, including a co-working space, collaborative room, reading and tv room, game and recreation room, KTV rooms, jacuzzi and steam room. For the littlies, expect to find The Kids' Cove playground, arcade corner and Great Bubble Reef (fun pool).
The sports complex accommodates many indoor and outdoor competitive sports like – swimming, tennis and squash. The club also has fitness facilities and a long lineup of F&B options to choose from. Now, aren't we spoilt for choice?
Cost: The club comes with a range of membership options. Chinese Singaporean and Chinese PR above the age of 21 can opt for ordinary (transferable) membership available via the open market at a transfer fee of $6000. Non-Chinese Singaporean and non-Chinese PRs can opt for associate (transferable) membership – available via the open market at a transfer fee of $6000. Non-Singaporeans and non-PR above the age of 21 can opt for term membership (non-transferable). Monthly fees apply to all.
Where: 21 & 34 Amber Road, Singapore 439870
9. The Republic of Singapore Yacht Club
This prestigious club we pull out from Singapore's heritage archives because the Republic of Singapore Yacht Club is the oldest yacht club in Asia and is established right on our shores along the West Coast. Some of the earliest members of this club include officers and men of Sir Stamford Raffles, and its first Patron was Singapore's first president. Today you might find prominent figures from Singapore's political scene walking the halls of the club. Now, it wouldn't be called the Republic of Singapore Yacht Club without that nautical touch. Besides sea sports and recreational activities, the club also provides modern marine support facilities. Yachts from the club can set sail to picturesque boating destinations, which is a big winner with the fam!
Psst, La Pizzeria has amazing sunset views, and is a great dining option for the fam because it's open to non-members too! Book ahead – it's popular!
The deets
Facilities: The club has an array of facilities and amenities to keep everyone in the fam busy, including a gym, mahjong room, KTV lounge, children's room, and jackpot room. So many sports facilities- like tennis courts, badminton courts, table tennis, and a swimming pool. Unlike other clubs, this club has a chart room to discuss navigation mapping and planning. Very cool! The Members Lounge, which resembles a cabin, is a perfect place to catch up with fellow sailors over a drink and a game of pool. Other dining options include The Wharf and La pizzeria. The club also has a meeting and seminar room, plus banquet facilities.
Cost: The club has different types of memberships – ordinary membership inclusive of overseas privileges is $16000 (temporarily unavailable), Social membership inclusive of overseas privileges is priced at $2555, One-year term membership for expatriates is $2000, Three-year term membership is priced at $4500. Corporate membership is also available.
Where: 52 West Coast Ferry Road, Singapore 126887
10. Changi Sailing Club
Escape the hustle and bustle of the city and relax at this family hideaway on Singapore's northeast coast. The Changi Sailing Club serves up a tidal wave of ocean-based activities, plus has learning programs for any budding sailors (yourself included). It's also got all you need for a good old-fashioned beach day with the kids.
The deets
Facilities: Mooring is available to members. Rentals of dinghies and keelboats are available, along with sailing courses, BBQ facilities, a hotel, a restaurant and bar, and a swimming pool.
Cost: Membership is $5,350, plus monthly subscriptions from $64.20. Term memberships are also available.
Where: 32 Netheravon Road, Singapore 508508
Country Clubs in Singapore
11. Seletar Country Club
Singapore is quite a bustling metropolis, and sometimes an escape from city life is what we all really need to relax. The Seletar Country Club is a fam-friendly club in a countryside setting with a whole host of recreational activities that will score well on the entertainment front. The club keeps true to its mission and vision to protect its natural setting, foster a friendly culture and contribute to the lesser fortunate of society. A great environment for fun and relaxation with the fam!
The deets
Facilities: Seletar Country Club has an expansive range of recreational facilities with something for everyone. Facilities include an 18-hole golf course, a swimming pool, tennis courts, a basketball court, table tennis, an indoor playroom, an outdoor playground, and Seletar bowl. If a workout is on the agenda, the energy is where you can work up a good sweat. Seletar Country Club has a host of dine-in options to explore, like Seletar Terrace, Seletar Tavern and more. Care for a game of cards? Head on over to the Mahjong room. Other facilities include a spa, reading room, entertainment room and karaoke room.
Cost: There are different types of memberships to consider. Ordinary (transferable) membership transfer fee is $20,000+, and social (transferable) membership has an entree fee of $12,000 and a transfer fee of $5000+. Monthly subscriptions apply. Seletar lifestyle membership starts at $3000+ for one year, $5000+ for two years, and $6000+ for three years. Corporate and golfing memberships are available as well.
Where: 101 Seletar Club Rd, Singapore 798273
12. Orchid Country Club
The Orchid Country Club was established in 1990 to cater to Singaporean workers and has grown to a whopping 100 hectares today! Beyond making golfing accessible to the masses, the club also plays host to fam-friendly recreations to keep our little guests well entertained.
The deets
Facilities: The OCC has three clubhouses, a golf course, and spaces for fitness programmes like wheel yoga, karate, taekwondo etc. Sports programmes you can sign up for include pool, bowling, darts, swimming, and tennis. The OCC has many F&B outlets to choose from, including 8 Degree, Ban Heng, and Himawari Japanese restaurant. The club also has venues for private and corporate events.
Cost: The transfer fee for full membership varies based on the type of package you choose. Golfing packages begin at $1800. Social packages start at $800. Monthly subscription fees and a one-time refundable deposit apply. Term membership packages cost $1500 for a year for social membership. Golfing memberships are available at $3000.
Where: 1 Orchid Club Rd, Singapore 769162
13. Warren Golf and Country Club
The distinctive golf and lifestyle club was founded by late Brigadier Derek Warren and officially opened its doors in 1962. Interesting fact – Brigadier Derek Warren was the commanding officer of the 18th Signal Regiment, given the task to maintain the land along Dover road. With many golfers in the Regiment, Warren's talent for gardening, and a vision to convert acres of land into parkland, a beautiful 4-hole golf course came to be and has only grown! Today the club is home to an 18-hole championship golf course and a host of social and recreational facilities. Warren Golf and Country Club boasts of a whopping membership strength of 4000!
The deets
Facilities: The club has many sports facilities like a golf course, squash courts and a swimming pool. Spaces for games include a billiards room, bowling alley, and Mahjong room. For the littlies, the indoor playground and children's pool will keep them well-entertained. There are banquet facilities and many F&B options to explore on-premise as well.
Cost: The club offers five different types of memberships to tailor your experience. Transfer fees begin at $2568. Term membership is available for up to 3 years (renewed annually). A monthly subscription fee applies to all membership types. For more information, contact the membership department at 6586 1219/1250 or email [email protected]
Where: 81 Choa Chu Kang Way, Singapore 688263
14. Serangoon Gardens Country Club
We reckon the facilities and activities at the Serangoon Gardens Country Club are fantastic for families. There's a competition-sized pool and outdoor jacuzzi to splash around in, plus five F&B outlets to sample. Not only that, but the club prides itself on its inclusiveness and hospitality. There are loads of fun activities for the kids and teens, too. Everyone's a winner, baby!
The deets
Facilities: Mums and dads can pick up a new hobby with more than 60 lessons and activities such as Zumba, yoga and aerobics, and fitness-loving folk will love the gym, Olympic-sized swimming pool, bowling alley and more.
Cost: Lifetime membership costs $21,400 (payment plan available) with monthly fees from $80.25. Annual memberships cost $2,568 per year, with monthly fees from $90.95.
Where: Serangoon Gardens Country Club, 22 Kensington Park Road, Singapore 557271
15. Marina Country Club
A private country club that is open to the public? Yep, you heard right! Marina Country Club is a great place to drop by with the fam for an easy-access ticket to fun and relaxation that comes at an affordable price. The club anchors across over four acres of land packed with facilities and amenities that you can use on a pay-per-use basis. What's more, it's nestled along a coastline to give you nautical vibes aplenty. The Marina Country Club – Marina Operations also has the largest boat storage in Asia and can host more than 500 boats in full operation! Holy ship!
The deets
Facilities: Fancy some sea sports activities? The club has a wave of sports activities to explore, like wakeboarding and diving. With an array of F&B options to choose from, like Channel Sam, a kids' play area and game machines nearby to keep the littlies busy, a visit here will guarantee a fun time for the clan.
Cost: Pay per use basis or contact +65 6385 6166 for membership details.
Where: 11 Northshore Drive Singapore 828670
16. Singapore Island Country Club
If you love a spot of tee time, you're in luck. The Singapore Island Country Club is golfing heaven and claims to be the oldest and grandest golf and country club in Singapore. In fact, its 18-hole Bukit Course, which borders MacRitchie Reservoir, has hosted many international events. There are also more courses, driving ranges and putting greens to take advantage of. If golf's not your thing, there's still plenty of fun to be had, too!
Facilities: Golf courses, driving ranges, putting rooms, swimming pool, spa, hair salon, gym, games room, bowling alley and playroom.
Cost: Lifetime membership costs from $25,000 plus monthly fees from $160.
Where: 180 Island Club Road, 578774 and 240 Sime Road, 288303
Exclusive Clubs in Singapore
17. National Service Resort and Country Club (NSRCC)
How about something for our NSmen? The National Service Resort Country Club was established in 1994 for NSmen (and families) who have performed national service as well as full-time NSmen from the Army, Navy, Air Force, Civil Defence and Police Force. It is the first premium yet affordable club established to recognise the contributions of NSmen to Total Defence. NSRCC has three club locations across the island for NSmen and their families to enjoy- including the NSRCC Changi, NSRCC Kranji and NSRCC Sea Sports Centre.
The deets
Facilities: The NSRCC boasts an 18-hole golf course and full clubhouse facilities at NSRCC Changi, an 18-hole golf course at Kranji, and fully equipped sports facilities with personal training programmes. Recreation facilities include a children's playground, a jackpot room, and the gallery lounge. Care for some sports?-You are well-covered here! The club accommodates other facilities, like a bowling alley, karaoke rooms, family zone and games room. The NSRCC Sea Sports Centre has many adventure-packed activities for all you sailing enthusiasts. Work up a good appetite cause there's a multitude of dining options to choose from, including- Fu Lin Men Chinese Restaurant at NSRCC Changi, Fairway Cafe at NSRCC Kranji and Stella seaside lounge at NSRCC Sea Sports Centre.
Cost: You can opt for term membership (2, 5 and 10 years), full membership or basic membership. For more details contact 6540 8555/56
Where: NSRCC Changi – 10 Changi Coast Walk, Singapore 499739; NSRCC Kranji-50 Neo Tiew Lane 3, Singapore 718828
Recreation Clubs in Singapore
18. Singapore Recreation Club
If you are looking for a mix of social, sports and recreation to amp up the options list for the fam, then the Singapore Recreation Club is your best bet. Yep, it's all under one roof! Established in 1883 by a group of Eurasian men, the SRC opened its ordinary membership to all communities in 1963. The club also emphasises participation in activities of the national sports association and the Singapore National Olympic Council.
The deets
Facilities: Looking to work up a good sweat? The fully equipped gymnasium is a great place to start, and if you fancy group classes, try your hand at aerobics. Work up a good appetite and dive into the Mexican-Spanish menu at B@Campo, some Cantonese at Fu Lin Men Chinese Restaurant or just lounge by the poolside cafe for a quick bite. Fancy some live music or live sports on the screens with drinks? Then the Barker lounge is where you need to be. How about an unwind at the Esplanade bowling alley or the billiards room? If you are looking for something a bit more serious, the card room, mahjong room and chess room are right around the corner or simply consider a pit stop at the reading room to catch up on your favourite book. The club also has boardrooms, meeting rooms and event halls.
Cost: There are four types of memberships you can opt for: Ordinary membership is open to Singaporean/PR male applicants aged 21 years and older with a monthly subscription of $85 for the principal applicant (++charges per additional family member). Lady membership is open to Singaporean/PR female applicants aged 21 years and older with a monthly subscription of $50. Expatriate residents in Singapore can opt for a term membership for a limited duration with an entrance fee starting at $2000 for a year. There are two, three and four-year packages available as well. Monthly subscription fees apply for each member of the fam. Corporate memberships are available as well. A B&R refundable deposit, three months advanced subscription, and a one-time admin fee applies to all the membership types above.
Where: B Connaught Drive, Singapore 179682
19. The Tanglin Club
The Tanglin Club is the great-grandparent of many of the newer clubs here in Singapore – it first opened its doors to 40 members back in 1865! Through the years, it's gone from strength to strength. In fact, by the late 1930s, the social club's ballroom had the reputation of having the best dance floor on the island! These days, it's now a home-away-from-home to over 4,000 members from more than 70 countries worldwide. The result? A buzzing, friendly, cosmopolitan vibe for you and your family to enjoy.
The deets
Facilities: There's a swimming pool, playground, jackpot room, gym, bowls court, billiards room, health spa, hairdressers and more. You'll also find plenty of eating and drinking opportunities here.
Cost: Annual family membership available for $6,420 entrance fee, plus monthly fees from $214 (renewable for a maximum of five years). Lifetime membership is $100,000 plus monthly fees from $214 for a family. Refundable deposits apply.
Where: 5 Stevens Road, Singapore 257814
20. Raffles Town Club
New kid on the social clubs in Singapore block, Raffles Town Club opened in 2000. Expect a beautiful setting and top-of-the-line facilities. And, with links to more than 50 international clubs in over 15 countries, you get international bang for your membership buck.
The deets
Facilities: Fill your spare family time with a swimming pool, bowling alley, tennis courts, dedicated children's programmes and games room. And that's just for starters.
Cost: For membership enquiries, call 6358 0012.
Where: 1 Plymouth Avenue, Singapore 297753
21. Mandala Club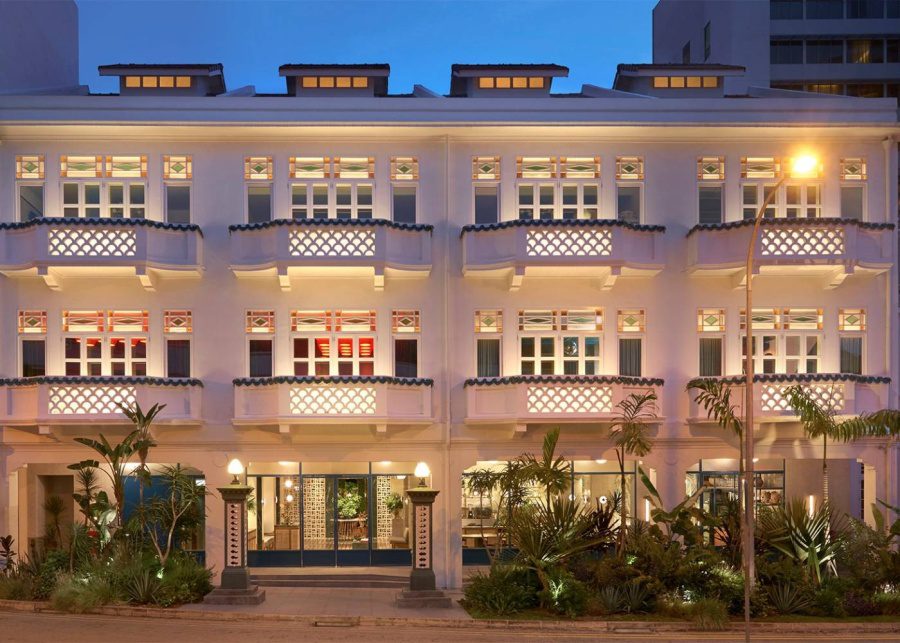 Looking for something different from the club pack? Mandala club, unlike all other clubs, is a community of communities with unique spaces designed for its astute members to enjoy. The club nurtures its philosophy by carefully selecting its members from Mandala's ever-growing list of applicants to find the best fit for the Mandala Club Family. Are you the lucky one?
The deets
Facilities: There are a few activities you can choose from at the club to keep busy in your spare time, including a library, analogue room, lounges, and gym. The club has a lineup of unique restaurants as well, like the Straits Parlour, Popi's and Mori, set to nurture conversations of dept. No meeting or function rooms are on-premise to keep true to the club's vision and mission.
Cost: Fill up the club enquiry form for more details on membership.
Where: 31 Bukit Pasoh Rd, Singapore 089845
Associations in Singapore
22. German Association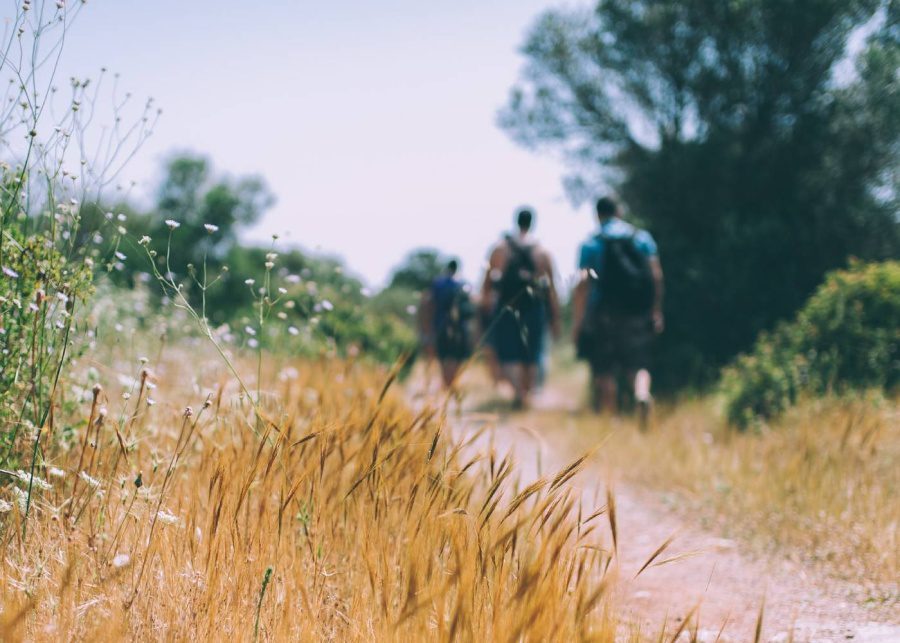 Germans looking to experience the charms of Singapore with your fellow country folk? The German association has been around for a few decades with the same agenda. The association organises joint activities to discover Singapore to try new things together as a community. With a packed roster of fam-friendly activities on your calendar, this ought to be a fun-filled way to familiarise yourself with our little island republic.
The deets
Activities: Sports like golf, cultural activities like island excursions, hobbies like crafts, entertainment like wine and cheese evenings, and special events like BBQ evenings. There is so much to do!
Cost: There are two types of membership on offer. The family membership (up to a family of four) is available at $298 annually. Individual membership is available at $98 annually. Both memberships require a one-time admission fee of S$58.
Where: 4 Battery Road, #25-01 Bank of China Building, Singapore 049908
23. The Japanese Association Singapore
Situated along Adam Road, The Japanese Association of Singapore has more than 5,000 members. It aims to be an international cultural exchange ground for Singapore's Japanese community to meet, chat and relax. And guess what? It's also extending its invitations to Singaporeans and non-Japanese nationals to join as associate members.
The deets
Facilities: There's a library, restaurants, club shop and clinic. Oh, and a karaoke room!
Cost: Lifetime membership costs $5,000. Monthly fees also apply.
Where: 120 Adam Road, Singapore 289899; www.jas.org.sg
24. Belgian Luxembourg Association (BLAS)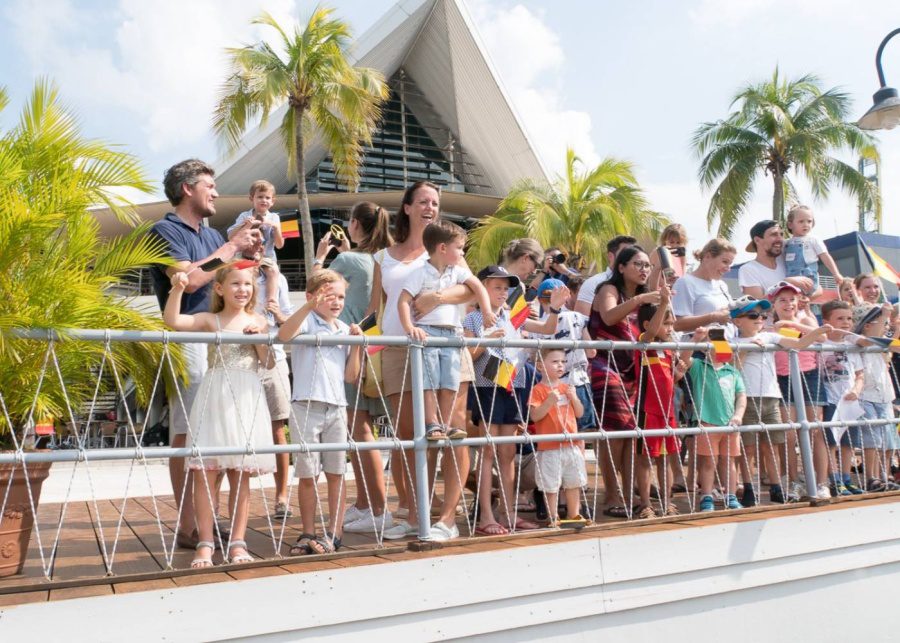 For all Belgians and Luxembourgers new to Singapore, the Belgian Luxembourg Association is our pick for you to connect easily with people from your own turf. The club was established in 1985 with the same intention in mind and has maintained a packed calendar of family fun for all (other nationalities welcome as well).
The deets
Activities: a book club, cooking club, toddler playgroup, mahjong group and walking group.
Cost: The good news is membership to BLAS is open to all nationalities and has many types of memberships to suit your needs. All membership types need to be renewed annually. Family membership is available at $200 for 12 months. Single and couple memberships are also available.
Contact: Want to know more? Give the association a buzz at +65 8644 7615 or connect via email at [email protected]
25. ANZA- Australian and New Zealand Association
ANZA is a family-oriented association that has a long history of welcoming newcomers to Singapore since 1948. The association is 7000+ members strong and welcomes all nationalities! Keep a tab on ANZA annual key events like The Great Australia Day BBQ (with the AIS-Australian International School) and the ANZA Ball, which are perfect networking grounds for Aussies, Kiwis and beyond.
The deets
Activities: sports groups, interest groups, volunteering, tours, photography etc.
Cost: $185 per family.
Where: 261A Beach Rd, Singapore 199541
26. Launchpad
Here's something special for parents who are entrepreneurs at heart. if you're looking to begin or enhance your journey as a business owner, then this is the community you need to be a part of. Launched by Honeycombers and HoneyKids' founder, Chris Edwards, Launchpad is a community of driven individuals who will cheer you on at every stage of your entrepreneurship journey. Not only that, but there are heaps of fantastic events to attend, expert advice on offer, plus regular check-ins to give your business all the help it needs.
The deets
Activities: Launchpad opens up a networking world for you, alongside mentorship, masterclasses, weekly community connection calls, and a huge directory of experts with all the advice you need. If you are looking to generate leads or collab with fellow members, Launchpad gives you access to their member directory too. The community also focuses on your physical and mental well-being (ah-don't we all need this?!), so you don't want to miss out on the meditation or journaling sesh either!
Cost: Launchpad has two types of membership packages based on what suits you best. The membership only package is priced at $450+ (annual plan) or $40+ (monthly plan). The membership and media package is $950+ (annual plan) or $90+ (monthly plan) for a minimum of 12 months.
Stay tuned to this space for all the buzz on happening clubs and associations in Singapore. You don't want to miss this!