Check out this hilltop retreat! Photography: British Club
We can totally see ourselves sipping G&Ts on the lawns of one of these fantastic social and country clubs in Singapore. Anyone want to buy us a membership?
Whatever your background and circumstances, we've got to admit that social clubs are kinda great. You could be an expat looking for new friends, a Singapore newbie, or a born-and-bred local looking for some weekend fun with the family. Whichever box you fit in, one thing is true for us all: the Lion City has a smorgasbord of social clubs and members' clubs you'll definitely want in on. The perks? Awesome pools perfect for swimming lessons, supervised kids' clubs, family-friendly restaurants (weekly Sunday roast, anyone?), fabulous spas, and action-packed playgrounds. And for you, it's a guaranteed way to meet like-minded people and boost your circle of BFFs. So what are the best social clubs in Singapore? Read on for the scoop!
The best social clubs in Singapore for families
1. British Club
Registered in January 1983, this clubhouse was officially completed three years later (it was even opened by HRH Princess Anne!). Fast forward to recent times, the British Club counts over 50 nationalities, including Singaporeans, among its numbers. The reason for its popularity? Family-friendly facilities and activities that'll keep everyone happy and occupied.
The deets
Facilities: With an area of over 5,900 square meters, you can expect an array of facilities at Singapore's only hilltop retreat. For starters, take in the lush surroundings of this clubhouse tucked away in the greenery of Bukit Timah. Let the kiddos run off to the pool or playground for an afternoon of fun. Or, sign them up for various sports sessions like martial arts, tennis, rugby and more. There's also a spa and gym that Mum and Dad will equally love! (Plus, a quiet space at The Work Hub if you have a spot of work to clear.) Hungry? There are multiple cuisines to enjoy at dining options like the Mountbatten Bar & Grill, Verandah Cafe and Windsor Arms gastropub (including a killer Sunday roast!).
Cost: Joining fees start at $4,815 for a year and $8,560 for lifetime membership. Monthly subscriptions also apply.
Where: British Club, 73 Bukit Tinggi Road, Singapore 289761
2. Hollandse Club
Head over to the Hollandse Club (aka the Dutch Club) for all the fun goings on. Oh and by the way: like with other members' clubs referring to a certain part of the world, you don't have to be of the named nationality to join. In actual fact, here you'll rub clogs with a global bunch from more than 40 nations all over the globe. And with all the awesome activities going on, this is a great pick for families, no matter your kids' ages. We're especially on board with the supervised kids' room where little ones aged two to 11 years will be kept busy with games, movie screenings and a bucket load of art and craft.
The deets
Facilities: Playground, library, swimming pool, hotel, supermarket, restaurants and bars, tennis courts, squash courts and lots of scheduled classes are sure to keep the family entertained.
Cost: Minimum one-year membership available from $174 per month (no joining fee!), lifetime membership $10,500 and monthly fees from $134. There's also an Absent option if you are leaving Singapore but still want to retain your membership. Refundable deposits apply.
Where: 22 Camden Park (Off Adam Road), Singapore 299814
3. Singapore Polo Club
Trot over to the Singapore Polo Club where the whole famalam is sure to have a fine ol' time both in and out of the saddle. The polo field is an awesome draw for sure, but there's also a ton of other sporting activities happening. Plus the newly opened The Paddock is a fab dining option!
The deets
Facilities: Apart from horsing around with the ponies on the polo field and outdoor riding arena, there's also a spa, jacuzzi, swimming pool, jackpot room, tennis courts and restaurants on site.
Cost: Membership from $6,000, with monthly fees starting at $185.11 per month.
Where: 80 Mount Pleasant Road, Singapore 298334
4. The Tanglin Club
The Tanglin Club is the great grandparent of many of the newer clubs here in Singapore – it first opened its doors to 40 members back in 1865! Through the years, it's gone from strength to strength. In fact, by the late 1930s, the social club's ballroom had the reputation of having the best dance floor on the island! These days, it's now a home-away-from-home to over 4,000 members from more than 70 countries worldwide. The result? A buzzing, friendly, cosmopolitan vibe for you and your family to enjoy.
The deets
Facilities: There's a swimming pool, playground, jackpot room, gym, bowls court, billiards room, health spa, hairdressers and more. You'll also find plenty of eating and drinking opportunities here.
Cost: Annual family membership available for $6,420 entrance fee, plus monthly fees from $214 (renewable for a maximum of five years). Lifetime membership is $100,000 plus monthly fees from $214 for a family. Refundable deposits apply.
Where: 5 Stevens Road, Singapore 257814
5. The American Club
According to its mission statement, The American Club is in the "happiness business". Which we are so down with! It's all about good times aplenty at this members' club, with people uniting over fun, food, fitness and family. In fact, it's been helping its members enjoy Singapore that little bit more at its Orchard site since 1948. Family-friendly vibes and top-notch customer service are the name of the game at one of the Lion City's most popular social club.
The deets
Facilities: Expect swimming pools, sports activities, plenty of dining and drinking options, spa, wine shop, and tons going on for the kids.
Cost: US and Canadian citizens: $24,365 lifetime membership (with instalment plan options). Yearly membership for non-US/Canadian citizens: $7,611.50.
Where: 10 Claymore Hill, Singapore 22957
6. The Swiss Club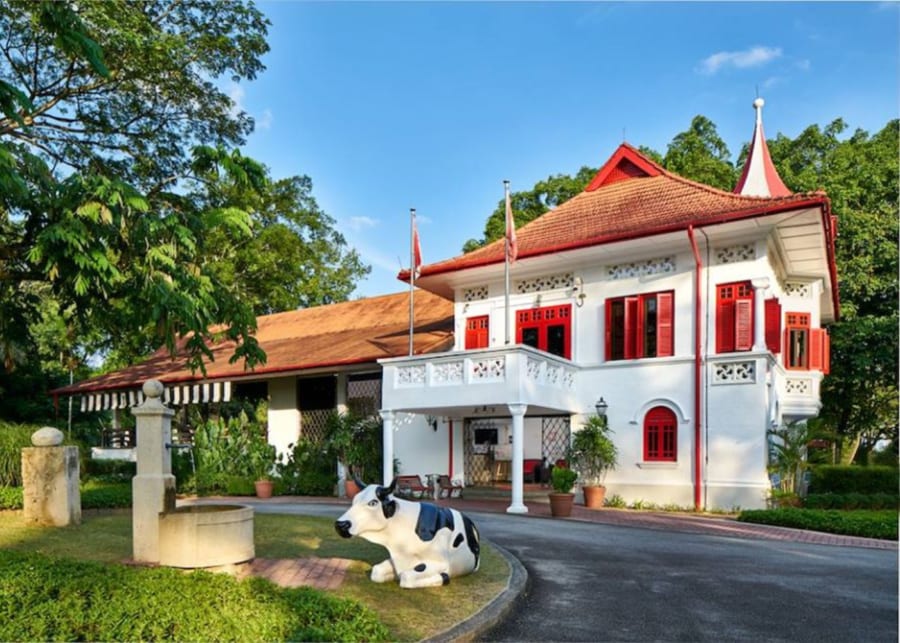 Another veteran of the social club world, The Swiss Club opened in 1871 and is one of the oldest and most historic members' clubs in Singapore. Located on Bukit Tinggi, it's go what we reckon is possibly the prettiest club buildings of the bunch. This is an elegant and family-friendly hub that's surrounded by lush greenery: it's certainly an oasis in the middle of some serious jungle vibes! Families will love the wide range of sporting facilities and great family feels the club serves up.
The deets
Facilities: The events are a hoot – Christmas, Oktoberfest and more are celebrated in style! And the whole gang can take part in sports lessons, including martial arts, swimming, badminton and aqua-biking (yep, we had to Google that). The club also has restaurants and bars, a playground and more.
Cost: Membership costs are currently unavailable to view on the website. But do feel free to reach out to the friendly team and give them a buzz at 6591 9420 for more information.
Where: 36 Swiss Club Rd, Singapore 288139
7. b_together: Opening June 2022
We were lucky enough to have a sneak peek at this family member club tucked away in Dempsey. b_together is opening in June 2022, complete with revamped restaurant AT Feast. At this club, certified teaching staff to host super fun creative classes to entertain the little ones while we enjoy delicious food and drinks in an elegant tropical oasis (with a choice of indoor or outdoor seating, no less).
Make sure you register your interest to join!
Where: 16A Dempsey Rd, Singapore, 247695
8. The Japanese Association Singapore
Situated along Adam Road, The Japanese Association Singapore has more than 5,000 members. It aims to be an international cultural exchange ground for Singapore's Japanese community to meet, chat and relax. And guess what? It's also extending its invitations to Singaporeans as well as other non-Japanese nationals to join as Associate Members.
The deets
Facilities: There's a library, restaurants, club shop and clinic. Oh, and a karaoke room!
Cost: Lifetime membership costs $5,000. Monthly fees also apply.
Where: 120 Adam Road, Singapore 289899; www.jas.org.sg
9. Serangoon Gardens Country Club
We reckon the facilities and activities at the Serangoon Gardens Country Club are fantastic for families. There's a competition-sized pool and outdoor jacuzzi to splash around in, plus five F&B outlets to sample. Not only that, but the club prides itself on its inclusiveness and hospitality. There's loads of fun activities for the kids and teens, too. Everyone's a winner, baby!
The deets
Facilities: Mums and dads can pick up a new hobby with more than 60 lessons and activities such as Zumba, yoga and aerobics and fitness-loving folk will love the gym, Olympic-sized swimming pool, bowling alley and more.
Cost: Lifetime membership costs $21,400 (payment plan available) with monthly fees from $80.25. Annual memberships costs $2,568 per year with monthly fees from $90.95.
Where: Serangoon Gardens Country Club, 22 Kensington Park Road, Singapore 557271; 
10. Singapore Island Country Club
If you love a spot of tee time, you're in luck. The Singapore Island Country Club is golfing heaven, and ascertains it's the oldest and grandest golf and country club in Singapore. In fact, its 18-hole Bukit Course, which borders MacRitchie Reservoir, has hosted many international events. There are also more courses, driving ranges and putting greens to take advantage of. If golf's not your thing, there's still plenty of fun to be had, too!
The deets
Facilities: Golf courses, driving ranges, putting rooms, swimming pool, spa, hair salon, gym, games room, bowling alley and playroom.
Cost: Lifetime membership costs from $25,000 plus monthly fees from $160.
Where: 180 Island Club Road, 578774 and 240 Sime Road, 288303
11. Raffles Town Club
New kid on the social clubs in Singapore block, Raffles Town Club opened in 2000. Expect a beautiful setting and top-of-the-line facilities. And, with links to more than 50 international clubs in over 15 countries, you get international bang for your membership buck.
The deets
Facilities: Fill your spare family time with a swimming pool, bowling alley, tennis courts, dedicated children's programmes and games room. And that's just for starters.
Cost: For membership enquiries, call 6358 0012.
Where: 1 Plymouth Avenue, Singapore 297753 
12. Changi Sailing Club
Escape the hustle and bustle of the city and relax at this family hideaway on Singapore's northeast coast. The Changi Sailing Club serves up a tidal wave of ocean-based activities, plus has learning programs for any budding sailors (yourself included). It's also got all you need for a good old-fashioned beach day with the kids.
Facilities: Mooring is available to members. Rentals of dinghies and keelboats are available along with sailing courses, BBQ facilities, hotel, restaurant and bar, and a swimming pool.
Cost: Membership is $5,350, plus monthly subscriptions from $64.20. Term memberships are also available.
Where: 32 Netheravon Road, Singapore 508508