Tennis is a great sport for kids to develop motor skills and hand-eye coordination, and here's where they can pick up the sport in Singapore...
Our kids LOVE watching the Olympics. They'll be glued to the telly, gawking at athletes competing in every sport. From classics like swimming and football, to new ones like climbing and surfing, there's something for the whole family. And for those of us who prefer a good old game of tennis? Tennis is a great game for parent-child bonding (unless you're really competitive!) and it also helps hand-eye coordination, reflexes and motor skills development. So, we've sussed out some of the best tennis lessons for kids around the island. Who knows? Your little champs might even be off to a Grand Slam some day!
TENNIS LESSONS FOR KIDS IN SINGAPORE
1. SportEd Tennis Academy
If you're looking to compete and would like a taste of the Spanish method, sign up with the newest tennis academy in town: SportEd Tennis Academy! Started by current ATP Tour tennis player Feliciano Lopez and internationally recognised coach Juan Manuel Esparcia, this tennis academy aims to educate and train kids to maximise their potential. The academy has a great program for player development, including growing one's mental game and sport values. Psst, parents can totally sign up for adult classes, too!
Where: SportEd Tennis Academy, various locations
2. Sport4Kids
Specially designed for kids aged four to 12 years old, Sport4Kids provides tailored programmes for different age groups where kids can pick up techniques, coordination and motor skills. Taught by ex-pro tennis players, S4Kids keeps it simple and goal-oriented so kids can play a great game without losing their passion for the sport.
Where: Sport4Kids, various locations around the city
3. Savitar
Savitar boasts a world-class tennis programme that teaches students from as young as four-years-old to train under professional coaches. It has several locations across Singapore and makes use of the facilities in international schools, hotels and private clubs. Kids aged seven to 16 of any skill level can choose to attend tennis camps for an intense training session that will improve their game while keeping things fun and enjoyable.
Where: Savitar, various locations
4. Ignite Tennis
Ignite Tennis bases its programme off the ITF Play & Stay campaign to cultivate a love for the game in kids. Kids as young as five can progress all the way to competitive levels. Also, look out for its holiday camps throughout the year where kids can try their hand at the sport. Not sure whether tennis is 'the' sport for your 'lil ones? Sign up for a free trial!
Where: Ignite Tennis, locations at Salvation Army Family Hub and Temasek Club
5. Hollandse Club
The Hollandse Club has five astroturf courts with floodlighting for night-time lessons. Kids can start off learning about tennis, build teamwork and play games before moving up to the Juniors group where they can improve their game and get coached on a competitive level. And, the lessons are guided by professional tennis players! Hot tip: Hollandse Club has a supervised kids room for kids aged two to 11 years which is stocked with tons of games, movies and crafts. It's the perfect place for youngsters to hang out before and after their tennis lesson.
Where: Hollandse Club, 22 Camden Park, Singapore 299814
6. TFL Training
At TFL Training, kids can start out early and work their way through the Mini Tennis series. Or, if they're a late bloomer, the Beginner Programme for 11 to 17-year-olds will help them pick up the game pretty speedily. TFL also provides private lessons for up to two people and hosts birthday parties for kids aged four to 10 with an ultimate tennis-themed bash.
Where: TFL Training, Raffles Town Club, 1 Plymouth Avenue, Singapore 297753
7. Banana Tennis Academy
Apart from its a-peeling name, we love the flexible lessons available at Banana Tennis Academy. Staffed with certified, motivated and inspiring coaches, Banana Tennis doesn't have structured lessons but focuses on teaching kids the fundamentals. The unique training programmes are customised for each student to tackle weaknesses and develop technique – guaranteeing your tennis classes to be fruitful.
Where: Banana Tennis Academy, various locations around the city
8. SITA Tennis Academy
Situated in Dempsey Hill, one of our fave family hangouts, SITA Tennis Academy offers tennis lessons for kids taught by experienced tennis players and ex-Association of Tennis Professional (ATP) ranked tennis instructors. Classes are tailored to each player's needs. It offers Mini Tennis, an Elite Junior Development program as well as International Tennis Federation (ITF) tournament-training for those who like the sound of 'ITF junior world ranked' appended to their name. Plus, there are plenty of cafes and restaurants around the area for you to grab a coffee while your little one develops into a world champ.
Where: SITA Tennis Academy, 130E Harding Road, Singapore 249543. Lessons are also conducted at Singapore Island Country Club (Bukit), Keppel Club, St Joseph's Institution International and Tanglin Trust School.
9. Singapore Tennis Association
Kids aiming to be the next Roger Federer or Serena Williams? The Singapore Tennis Association doesn't just have programmes for kids three and up. The Rising Stars programme is designed for kids under 13 who are aiming to play competitively, or if you're looking to play regular games with peers, the SPEX Junior Tennis Scheme fits the bill. Plus, it has specially designed programmes for those who want to get a little more serious at tennis, all the way up to tournament level.
Where: Singapore Tennis Association, various locations around the city
10. Tanglin Academy
Not only does Tanglin Academy train kids to adults, but it also has a special focus on tots from four to 12. Situated among Turf City's racing tracks, Tanglin Academy boasts the largest number of tennis courts, including six Play & Stay mini courts suitable for toddlers. The Play & Stay programme introduces kids to tennis in a fun way, aiming to cultivate a love for the game and develop life skills as well as mental strength and attitude. The programme is structured according to age with the junior series for kids (seven to 14 years) being exposed to clay and hard courts. Why let the kids have all the fun? You can attend clinics or lessons yourself, or even rent the court for a casual rally with the gals or other half.
Where: Tanglin Academy, 220 Turf Club Road, Singapore 288001
11. Shaws Little League
How about tennis for tots at Shaws Little League? Toddlers will pick up the very basics, from keeping their eye on the ball to hitting it over the net. There's a huge range of equipment available for kids of all ages including mini nets, kid-sized racquets and, of course, the ball machine. You can sign up for up to 48 sessions a year and if your little one isn't feeling like Wimbledon is the future, they can attend other children's sports sessions instead.
Where: Shaws Little League, The Cage in Kallang and Bukit Timah
12. TAG International
If your kid gets nervous playing in big groups, TAG provides coaching in groups no bigger than six people. They believe this will maximise the benefits of group learning while, at the same time, not compromise on individual attention. Their programmes include activities for kids as young as three and go all the way to age 17. Training term concludes with competition-style games to bring both fun and a competitive edge to the participants.
Where: TAG International, various locations
13. ActiveSG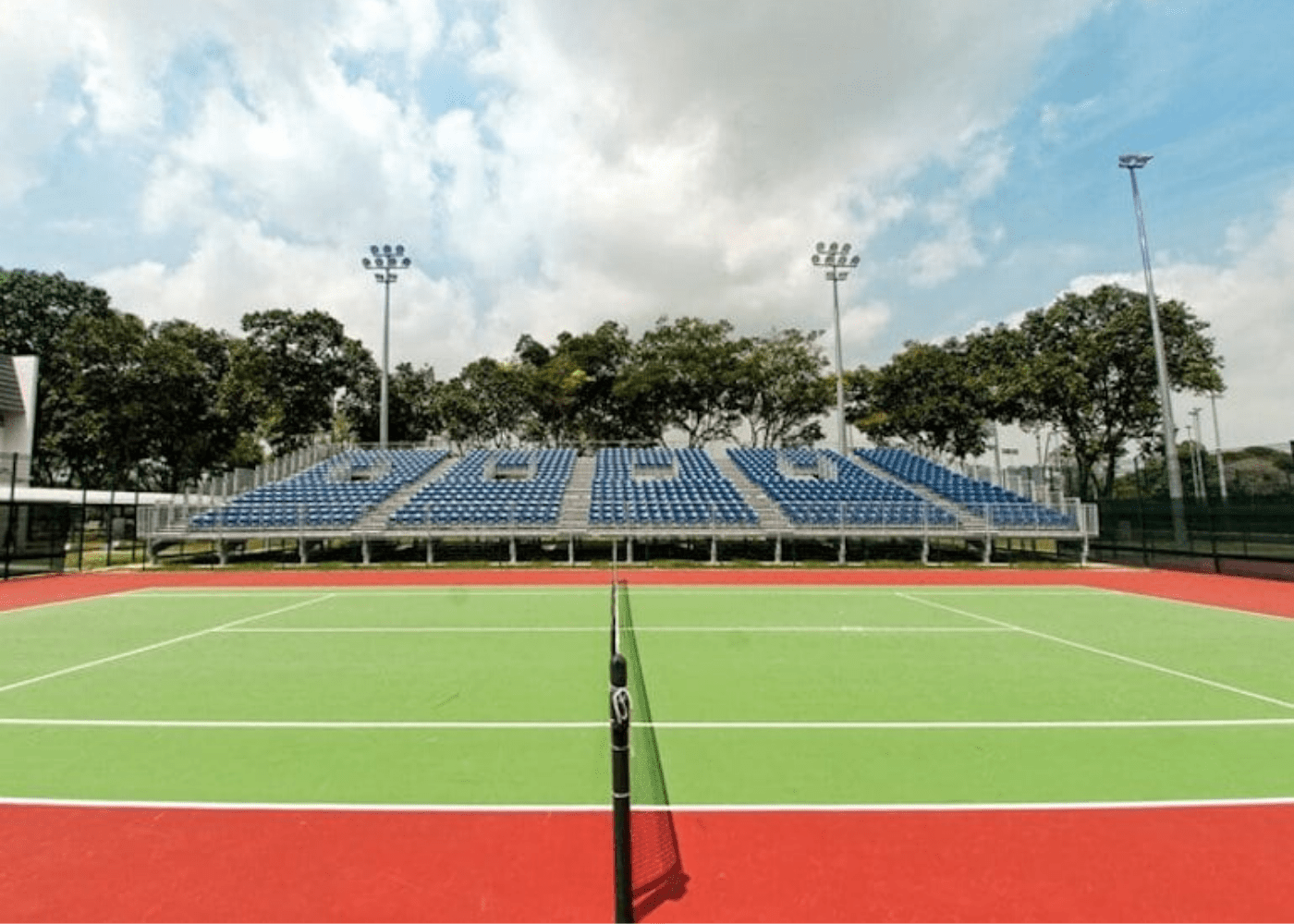 If you're looking for a more wallet-friendly alternative, ActiveSG offers Mini Tennis for kids to pick up the sport on the weekends during the school semester, and a weekday schedule during the school holidays. Kids who want to take their game to the next level can sign up for the Junior and Youth Development Tennis Programme.
Where: ActiveSG, various locations
14. SAFRA
SAFRA offers lessons on Wednesdays, Saturdays and Sundays for little ones as young as four all the way up to 14 years old. All Juniors are welcome, whether you're a 'Pee Wee' or a 'Player'. So get ready to serve!
Where: SAFRA, lessons at SAFRA Tampines and SAFRA Jurong
Love this list of tennis lessons in Singapore? Check out these football clubs for kids, too!