Of course we all absolutely adore our little munchkins. But we're only human and need to have a little rant sometimes about some of the unexpected 'joys' of motherhood!
When you embark on parenthood, your mind is filled with dreamy scenes oft depicted in the glossy pages of a magazine. It's not until you've popped out a sproglet or so that the harsh reality of having kids dawns on you. The spectacular life you carefully curated for you and your sexy beau, brimful with footloose friends, late nights and gorgeous fashion evaporates before your very eyes. Before you know it, you're transported to an alternate universe of sleepless nights; Fruit Loop-encrusted clothing and accompanied visits to the toilet. Don't get us wrong, we wouldn't change it for the world (the little terrors are seriously adorable), but we think it is our civic duty to pre-warn the uninitiated about life after kids, aka what to expect when you're expecting. And it feels good to let off some steam now and then. Here's our hit-list of things that change forever the moment you become a mummy.
1. Spontaneous nights out
Pre-kids: You'd randomly pop out to the hip new bar or restaurant for a casual bite to eat. You'd find yourself 'inadvertently' dancing table top at 2am roaring drunk. If your neighbours had a party, you'd go along, bottle of bubbly in hand.
Post-kids: You book in a dinner date one month in advance and are home, tucked up in bed, by 9pm (but don't go at all if the little 'un has so much as a sniffle). You anonymously call the cops on your neighbours if their party goes past 11pm. (Caveat: if you have a helper, a much-reduced version of your old life may carry on.)
2. Hangovers
Pre-kids: You'd have regular hangovers, which you'd nurse all day on the couch in front of the TV before heading out again that night. Hair of the dog, are we right?
Post-kids: Hangovers are a distant memory in your life after kids. If you are foolish enough to have one (hangover, not child), you will be punished ALL DAY LONG with ear-blasting renditions of 'Let it Go' in full costume. Just. Not. Worth. It. Survival depends on your ability to horizontal parent.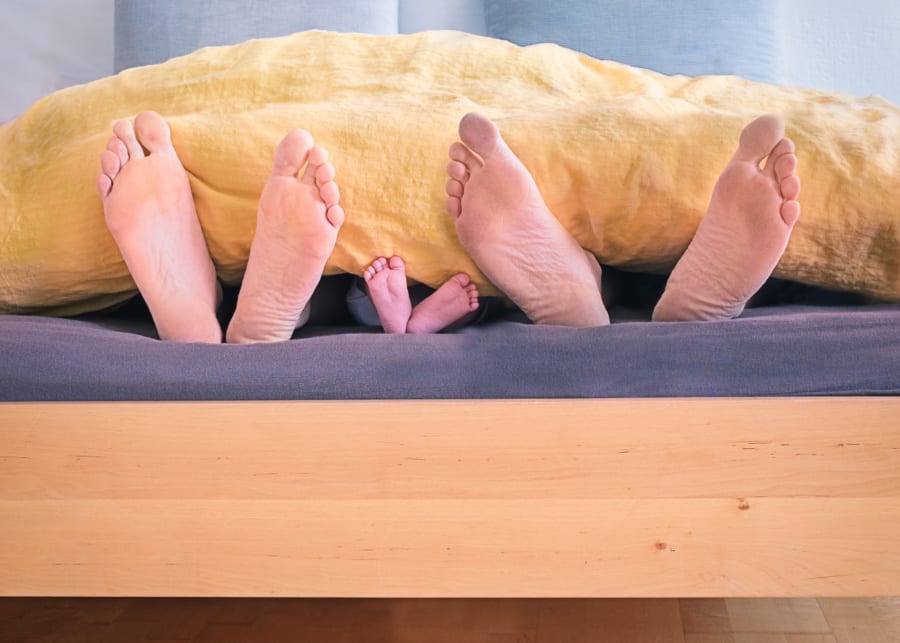 3. Sleep
Pre-kids: A reasonable weekend waking-up time was 10am. You may or may not have rolled over and kipped for another 30 minutes before whipping up a barista-style coffee.
Post-kids: You are startled awake in the night by your little one staring at you, Children-of-the-Corn-style, five centimetres from your face. You just manage to get back to sleep (after 45 minutes of back poking and singing), before it all happens again at 6am. You drag yourself out of bed to make toast for the kids and to referee important arguments about whose piece of Lego that really is.
4. Sex
Pre-kids: You had daily, noisy sex anytime and anywhere (couch, dining table, hallway, shower or hanging from swinging chandelier).
Post-kids: Life after kids means you schedule in, yet often miss, fortnightly sex sessions, strictly carried out between the hours of 8.30pm and 9pm behind locked doors to avoid any chance of coitus interruptus by kids (or, god forbid, the helper). No household member should know, sense, hear or see you are doing it (lest they have their retinas scarred for life, and/or develop post-traumatic stress disorder).
5. Public displays of nudity
Pre-kids: You'd sooner die before exposing any flesh to the general public (except for that one time you went skinny dipping at schoolies).
Post-kids: There won't be a soul within a 20km radius who hasn't seen your boobs at some point. Sad thing is that everyone now averts their eyes, as your once perky breasts are now simply deflated milk vessels. Thanks, boobs.
6. Adult language and TV shows
Pre-kids: You were known to occasionally drop the odd swear word, enjoy lively discussions arguing the pros and cons of prostitution in society, and watch marathons of Game of Thrones, Ray Donovan and Sex in the City.
Post-kids: Your life-after-kids language and TV show repertoire is annoyingly PC. Bye bye, Fifty Shades of Grey; hello The Little Mermaid. No-one wants to be THAT mum ogled in the schoolyard because your little parrot one told their friend to "Get out of the way, d*ckhead." You don't really have road rage, promise…
7. Privacy
Pre-kids: Visiting the loo was very much a solo endeavour. Your private parts were just that. Private.
Post-kids: Going to the toilet without a wailing toddler superglued to your lower calf is out of the question. And while you're at it, you may as well forget having a long luxurious soak in the bath, or shower at all without a little visitor or two. Try not to laugh when they ask you why mummy has a fluffy bot-bot, or cry when they ask if you have another baby in your mum-tum!
8. Clean, on-trend clothing
Pre-kids: You pored over fashion and lifestyle magazines and regularly received exciting boxes from Net-a-Porter. Your wardrobe, shoe and bag collection was a source of pride.
Post-kids: You wear comfortable, functional clothes with flats: life after kids means the fail-safe tee and shorts combo. The chances of you leaving the house in an ensemble not smeared with toothpaste, chocolate handprints or deeply ingrained baby vom waft is nil.
9. Hairstyling
Pre-kids: You planned your six-weekly visits to the salon with precise accuracy, showing your stylist pics of the new cute colour and cut you'd like to give a try.
Post-kids: You make a last-minute appointment because you spied a few stray grays (hundreds in fact) in your three-inch long regrowth. Your main criteria for a hairstyle is that you must be able to cinch it into a ponytail or mum bun. And the appointment can't be last longer than the hours between 1 and 3pm because you have kiddy pick-up.
10. Where you live
Pre-kids: You lived in a shoebox apartment in a central, hip neighbourhood, within walking distance of THE hottest new watering holes.
Post-kids: Your proximity to schools, parks and the best bulk-buy superstore dictates where to reside.
11. Personal time
Pre-kids: You'd chat away on the phone for hours with your bestie, dissecting the weekend that was.
Post-kids: If you are distracted on the phone for more than 35 seconds, Kid#1 and Kid#2 have found your secret chocolate stash, eaten an entire box of Ferrero Rochers, and are wheeling crazily around the house in a sugar-induced frenzy.
12. Holidays
Pre-kids: You indulged in semi-regular exotic escapes involving you rolling out of bed to the beach to sun bake, have a massage, read a book cover to cover, and wake up to realise you're drooling on your sun bed. You'd then watch the sun set over the ocean, cocktail in hand. Bliss.
Post-kids: Life after kids is somewhat different. You wake at 2 am because Kid#2 has wet the bed. You strip the bed, move said child to your plush bed, and half-sleep on the non-wet portion of theirs. You are woken by screaming. Your day continues in this fashion with meltdowns over toys, sand in swimsuits and urgently required ice-creams, which are promptly dropped in the sand. There are regular bouts of hysterical crying, so intense that you're unsure whether Kid#1's leg has in fact been bitten by a shark. Your choice of dinner venue is entirely reliant on whether they serve fries. You burn your fingers while picking miniscule pieces of oregano off a cheese pizza. Your dinner arrives, and the kids eat that instead, so you eat cold pizza. You have a strong gin and tonic and rock yourself to sleep. You arrive home needing a holiday to get over the holiday, but then everyone gets gastro.
13. Mummy guilt
Pre-kids: You'd heard the term 'mummy guilt' bandied about but couldn't have given a fig about what it meant.
Post-kids: Mummy guilt is branded on the inside of your eyelids. To work or to stay at home? You're damned if you do and you're damned if you don't. At work, you are constantly feeling bad or worried you are missing Kid#2's first steps. At home, you're worried you aren't being the best female role model, and are at risk of snapping with a vitriolic remark at any moment (there's only so much whinging one person can take). Accept it as a part of life, and move on.
14. The Invisible Woman
Pre-kids: You were accustomed to being warmly greeted eye-to-eye by the in-laws.
Post-kids: You are persona non grata, merely the womb that bore the much-loved grandchildren. You are no stranger to the front screen door smacking in your face as the kiddos are whisked off for an ice-cream with granny. Turn that frown upside down and drop the kids round for a sleepover. Have a long-awaited romantic dinner with your man!
The verdict?
Give thanks for the morning snuggles, unprompted declarations of love, and tiny little fingers unlocking parts of your heart you never knew existed. Give thanks your heart has swelled with love to the size of a small country, otherwise, you'd sell your kids to the highest bidder.
Life after kids may be different, but we wouldn't change it for the world.