Planning on throwing your kid a birthday party? Here's the scoop on the best birthday party entertainers in Singapore, including face painters, magicians and bouncy castle vendors!
We do love a good birthday party. Whether we're hosting one or going to one, we love the magic of a happy child and a really good slice of cake. But what makes the best party? A bouncy castle? A photo booth? Face painting and magicians? All of the above? Whether you're planning a celebration at home or throwing a bash at one of these rockin' party venues, fun activities and good entertainment are key to keeping the kids enthralled, happy and the talk of the classroom the next day. So, to make that magic happen, you're going to need our guide to the best party planners and best kids party entertainers in Singapore. We're talking about the bounciest bouncy castles, the funniest magicians, the most talented face painters and the biggest photo booths in the party entertainment world – all right here in Singapore!
BEST KIDS PARTY ENTERTAINERS IN SINGAPORE: FACE PAINTERS, BALLOON SCULPTORS & MORE!
1. Lucy Sparkles & Friends
If you've been in Singapore a while, chances are you've heard of Lucy Sparkles & Friends. As well as being awesome kids party entertainers (we can vouch for them), they also provide high-quality drama, music and dance classes. Originating from the UK, you can expect uber-creative and imaginative activities to enthral your little partygoers. There's everything from singing, dancing, glitter tattoos, party games, bubbles, and so much more! Is your little one a huge fan of a certain character? There are theme packages too! We love that they also offer sustainable options such as eco-friendly pass the parcel.
Details: Starting from $275 for a 45-minute booking. Suitable for 0-6 years old. Options for 45 minutes, one hour and two hours.
2. Jellybean Party
If you're after a one-stop shop for party entertainment, you can't go wrong with Jellybean Party. They've got all options, from magic shows to hands-on interactive workshops (because who wants to attempt a slime-making workshop on their own?). There's a huge range of packages for all ages and stages, including toddler packages and add-ons like pinatas and balloons (if you want to get all your planning done in one fell swoop).
Details: Starting from $320 for the economy party package (including interactive games and side entertainment like face painting). Suitable for a range of ages and various package durations are available.

3. Party Heart Singapore
Party Heart Singapore has your kids' party entertainment all wrapped up with everything from magic shows to balloon sculpting and so much more! In fact, you'll be hard-pressed not to find something here – from candy floss to bouncy castles. We like that they offer an a la carte price list alongside packages, so you can pick and choose what suits you without it getting too $$$.
Details: Starting from $150 for glitter tattoos/face painting (60 minutes). Packages start from $400. Suitable for a range of ages and various package durations are available. 

4. Syrena – the Singapore-based mermaid
Here's something a bit different when it comes to kids party entertainers, and it's one for the mermaid fans out there – mermaid magic for Singapore-based mermaid, Syrena. As well as Syrena making an on-land appearance, your mini mermaids will also be treated to an activity of your choice: from storytelling and quizzes to a sparkly glitter tattoo session. There will also be mermaid swimming, pool games, and selfies galore! We're in!
Details: Cost available on request. Suitable for all mermaid fans (but probably best suited to swimmers).
5. PartyAllo
PartyAllo is ready to fulfil all your party needs for any theme, any time of the year. With a wide range of party packages covering a range of kids entertainers in Singapore, pick from balloon sculpting, face painting, henna tattoos or glitter tattoos. Add some spice to the party with a piñata, carnival game booths, mascots and even a magic show. For the more 'mature' teens, an epic NERF battle party should do the trick.
Details: Starting from $408 for a package.
6. Happier Singapore
Happier Singapore offers face and body painting services using quality FDA-certified, hypoallergenic paint and glitter suitable for all skin types. Kids and adults can turn into whatever they wish: butterflies, Spiderman, dragons… or have their fave characters painted on their arms. As a nice take-home gift or a fun party trick, Happier Singapore also does balloon sculpting – the twisters can create anything from cuddly elephants and poodles to princesses and superheroes.
Details: Starting from $238 for the Let's paint and twist party package. Suitable for a range of ages and various package durations are available. 
7. The Magic of Markson Kids Party
This one's for die-hard magic fans: The Magic of Markson is a renowned magician in Singapore, thanks to his use of high-technology props, special effects and live birds. Choose from an interactive side-splitting comedy show with a drawing board illusion and audience participation. Or, a Vegas-style show with a 3D backdrop, LED light illusion and vanishing acts to keep your kids on the edge of their seats. It's not just magic, though – there's kids entertainment aplenty with balloon twisting, caricature, face painting, and more available!
8. Sweetheart the Clown
It's not every day you see a female clown, much less one without all that make-up! In 2008, Sweetheart the Clown famously revamped her image and stopped using clown makeup to stop intimidating the little ones. As an accomplished ventriloquist, she also prides herself on being one of the fastest twisters in town, with an ability to twist a balloon into just about anything. A typical show of Sweetheart's includes storytelling, mime, magic and fun balloons. We think this makes the perfect kids party entertainer!
THE BEST KIDS' PARTY PLANNERS IN SINGAPORE
1. The Party Elves
Look to The Party Elves if you want to throw an unforgettable kids' party. This bespoke party planning service has got everything covered so you can relax and enjoy the day. From coming up with your party theme, organising the catering, venue, invitations, entertainers, goodie bags and even cleaning up after the celebrations. The party planning service is famous for its attention to detail and dedication in helping you achieve absolute party perfection. The founder of The Party Elves is also a little bit famous – read about Aarathi Arumugam in our salute to Singapore's mumpreneurs.
2. Party Mojo
With Party Mojo, you can be sure that every little detail will be taken care of. Whatever your party theme – nautical, pirate, lego – it can cater to them all! In addition, you can also opt for the carnival-themed package, which includes bouncy castle rental and free popcorn.
Where: Party Mojo, 2 Jurong East St 21, IMM Building #04-33V, Singapore 609601
BOUNCY CASTLES FOR HIRE IN SINGAPORE
1. Party Mojo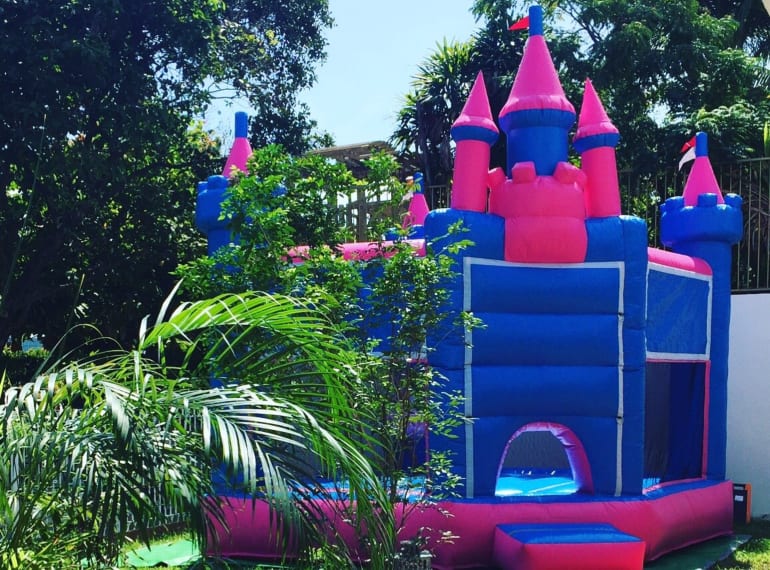 If you're looking to throw a party your kid's friends (and other parents) will be talking about for years, Party Mojo has a whole slew of classic bouncy castles and variations to suit your child's preference. What's more, little Tarzans can unleash their inner jungle explorers on the Safari Bouncy, swashbuckling pirates ride aboard a ship, while princesses can finally live out their medieval fantasies from a fancy pink castle or carriage.
Where: Party Mojo, 2 Jurong East St 21, IMM Building #04-33V, Singapore 609601
2. Bouncy Castles & A Whole Lot More
Turn any venue into a party pad with Bouncy Castles & A Whole Lot More's ample selection of party products. The company has loads of inflatables for rent, including bouncy castles, ball houses, dry slides and water slides, obstacle courses and games. If you've got a pool, rent out some instagram-worthy floats big enough to fit one or two kids and even up to 10 adults at a time. For a complete party set-up, Bouncy Castles & A Whole Lot More also provides balloons, decorating services, filled goodie bag, pinãtas, entertainers and carnival food.
Where: Bouncy Castles & A Whole Lot More, 45 Ming Teck Park, Singapore 277412
PHOTOBOOTH RENTALS IN SINGAPORE
1. instantly
Break the ice between the kids (and parents) with a photo booth from instantly. All packages include unlimited printouts, a wide range of props, an option to include multiple photos in one printer and at least two friendly staff on site. It's worth noting that the photo booth has specific requirements in terms of space needed and set-up time, so check ahead!
2. Aww Snap!
What sets these guys apart is customisation. Whether it's a superhero or princess party theme, the in-house designers will do their best to accommodate your requests. Also, if you're throwing a huge party, the No-Frills package includes a backdrop from Aww Snap's inventory, a huge selection of props, on-site staff to guide guests, unlimited instant filmstrip printouts and even an online gallery where you can download digital versions of your pictures.
3. Hello Stranger
Preserve a moment in history with Hello Stranger's high-tech photobooths with professional studio lighting and camera systems. Plus, each photo booth comes with a Hello Stranger backdrop (or you can use your own!). There's also an ambassador to suggest hilarious poses as well as an online gallery for easy 'gramming. Winner!
Ready to throw the kids' birthday party of the century? Don't forget to send us an invite!