Chances are, you've heard of this fab family-friendly neighbourhood in Singapore. If you haven't, add Bukit Timah to the top of your list!
We love exploring new neighbourhoods with the fam, and we're spoilt for choice with the options in Singapore. But, we'll be honest, we do have a soft spot for a few in particular – and Bukit Timah is definitely one of those places we love exploring time and time again. Even if you're familiar with this neck of the woods (some of us even call this lovely place home!), chances are there's still a potential hidden gem you haven't yet discovered. So, get the kids prepped, the essentials packed, and get out exploring all the delights in store in Bukit Timah.
But first: where is Bukit Timah?
Even for those who know it well, we still have a tough time pinning down the exact area that classifies as Bukit Timah. So to avoid doubt, we've done our research, and Bukit Timah officially stretches from Farrer Road in the East, all the way to just before Bukit Batok Nature Reserve in the West. It includes one of our favourite hangouts, Holland Village, in the South, and edges tranquil MacRitchie Reservoir in the North. So, there's a lot of ground to cover!
Things to do in Bukit Timah with kids
1. Visit Watten Heights playground
This little hidden gem ticks all our boxes when it comes to everything we look for in a fabulous playground. It's got shade, a zip-line (which is a big tick for the kids), sand play, and most importantly, it's in close proximity to an amazing array of cafes and restaurants on Greenwood Avenue, including the lovely Baker & Cook!
Where: 166 Watten Estate Rd, Singapore 287613
2. Pony rides at Bukit Timah Saddle Club
If you fancy a horsey day out, then head on over to Bukit Timah Saddle Club and get the kids excited for pony rides! Available every Saturday and Sunday, kids from 3 – 12 get to saddle up with a super cute pony. It's also a bit of a bargain at $12 (with $2 going towards the BTSC Cares initiative). A great way to get the littlies introduced to horse riding!
Where: 51 Fairways Dr, Singapore 286965. Open from 7 – 11am and 3.30 – 7pm daily.
3. Rainy day fun at The Grandstand
If the weather is looking grim, then have The Grandstand on your list for somewhere to hang with the kids in Bukit Timah. We also love the fact that it's surrounded by greenery, not always what we'd expect from a mall! There's loads of eating options here too, and if you've got Lego fans at home, you might want to check out the programmes on offer over at Bricks 4 Kidz, where kids from two, right the way through to 12, can go wild with Lego!
Where: 200 Turf Club Rd, Singapore 287994
4. Work up a sweat at Turf City
One thing Bukit Timah isn't short on is sporting facilities – there's everything! This area isn't called Turf City for nothing, with heaps of grassy space for the kids to literally have a ball. The Rainforest Sports Hub Turf Club offers a whole host of classes for toddlers right the way through to teens, with something to suit all interests. If you can't find it here, then chances are The Cage Sports Park across the way has it! Psst – both are home to some of our favourite football classes for the kids too!
Where: 2 Turf Club Rd, Singapore 287988 and 220 Turf Club Rd, Singapore 288001
5. Hike the Rail Corridor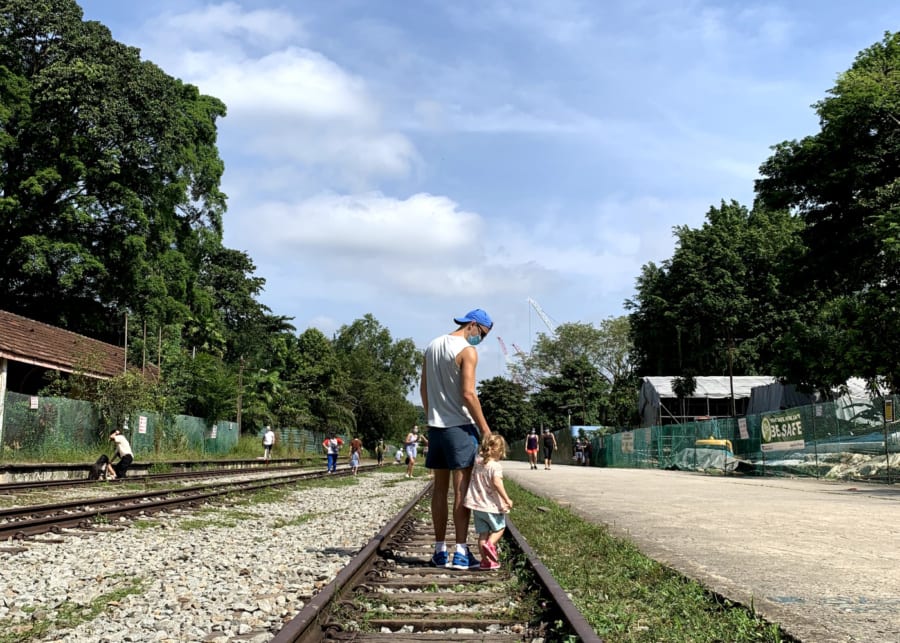 One of our favourite things to do in Bukit Timah with the kids is exploring the Rail Corridor. Stretching all the way from Woodlands, down to Tanjong Pagar, the section around King Albert Park MRT Station in Bukit Timah is actually our favourite. First off, you've got stunning scenery; then there's the old Bukit Timah railway line and station to explore, plus the wrought-iron railway bridge to wander over – all within easy reach of the MRT!
6. Discover Holland Village
Although there are lots of fabulous places to explore in Bukit Timah with the kids, a special mention has to go to Holland Village. This fam-friendly hangout has heaps to do. Heck, we love it so much we've given it it's own dedicated guide covering everything from things to do, to where to eat. Psst – we've also got shops and spa treatments covered too!
7. Stroll around Bukit Timah Nature Reserve
Bukit Timah Nature Reserve is another must-visit location in this 'hood. Home to the tallest peak in Singapore (a modest 164m, but still!) it's a great place to explore with kids. The hill is a bit of a climb, so if you're accompanied by the littlies, opt for Hindhede Park just next door. It's often a lot quieter, has a stunning lake-filled quarry to spot, and a cool playground for the kids! Yay!
Where: 2 Turf Club Rd, Singapore 287988 and 220 Turf Club Rd, Singapore 288001
8. Arty fun at ARThaus Singapore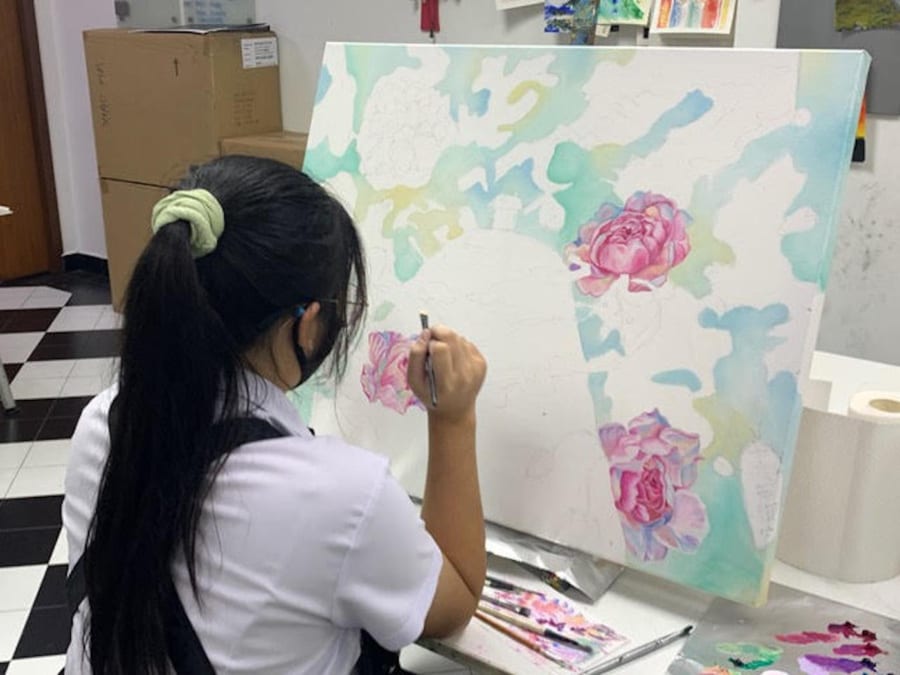 If you want to get creative, then add on a visit to ARThaus in Bukit Timah. This fab art school offers art classes for kids from five, right the way through to grown-ups – so everyone can grab a brush and get stuck in!
Where: 2 Turf Club Rd, Singapore 287988 and 220 Turf Club Rd, Singapore 288001
9. Enjoy Singapore Botanic Gardens
So, not officially in the planning area of Bukit Timah, but with a dedicated Bukit Timah Gate, we think it's only fair to include Singapore Botanic Gardens on the list as it's right on the doorstep. As well as having your nature-fix in the gardens, and letting the kids explore the super-duper Jacob Ballas Children's Garden, be sure to also check out Cluny Court across the way when you need a caffeine fix, or want to grab lunch.
Where: 2 Turf Club Rd, Singapore 287988 and 220 Turf Club Rd, Singapore 288001
Where to eat in Bukit Timah with kids
This is a toughie. There are sooo many choices when it comes to kid-friendly food options to take your pick from in Bukit Timah. This is by no means definitive, but here are a few favourites to make the decision a little bit easier…
1. Greenwood Fish Market @ Bukit Timah
Whilst Greenwood Avenue has plenty of options when it comes to delicious, kid-friendly dining, we can't help but be tempted by the amazing fish and chips going down at Greenwood Fish Market. Tuck into a feast in the cosy restaurant, or grab a takeaway and enjoy at the nearby Watten Heights playground.
Where: 34 & 38, Greenwood Ave, 289236
2. Riders Cafe
Riders Cafe is something of a staple, and once you've been, it's likely you'll become a regular. We can't get enough of the setting and love eating their fabulous comfort food on the colonial black and white verandah with the horses for company!
Where: 51 Fairways Drive, Singapore 286965
3. The Living Cafe
Want a healthy fix? Look no further than The Living Cafe in Bukit Timah. We're talking raw, wholewheat, sugar-free, gluten-free treats, and it's all delicious!
Where: 779 Bukit Timah Rd, Singapore 269758
4. Food for Tots
If you need a breather post-Jacob Ballas Children's Garden, then Food for Tots is where to head directly outside. There's everything from delicious all-day brunch options, right through to hearty mains, and plenty of kids options amongst them too!
Where: Food for Tots, Singapore Botanic Gardens, Cluny Road #01-K1 Singapore 259604
5. Picotin Express
Another great one for the kids, that's also sure to impress the grown-ups too, is Picotin Express. It's located on a golf course in Bukit Timah, so you've got green vistas ticked. It offers up alfresco dining and an awesome kid's menu. Once the littlies are refuelled, let them loose on the crazy golf course next door!
Where: Champions Golf Course, 60 Fairways Drive, Singapore 286966, and 382 Joo Chiat Road, Singapore 427622
6. Da Paolo Pizza Bar
There are so many great pizza joints in Singapore to pick from, but high on our list has to be kid-friendly Italian restaurant Da Paolo Pizza Bar. Situated in the restaurant-heavy strip of Jalan Merah Saga in Holland Village, there's indoor and outdoor dining to enjoy. We recommended strolling down to the Daily Scoop ice-cream joint for dessert post-pizza!
Where: 44 Jalan Merah Saga, #01-46, Singapore 278116
See you in Bukit Timah soon, folks!
Featured picture: Photo by Justin Lim on Unsplash