Who doesn't love to shop for stationery and new school essentials? Photography: Deleece Cook via Unsplash
From snazzy backpacks to cool lunch boxes, spiffy stationery to sturdy shoes, we've got you and the kids covered with this back-to-school shopping guide!
Already thinking about back-to-school shopping? Don't panic! Whether you're hunting for a cool, comfy backpack and shiny new lunch box to send your little one off to big school, are looking for sturdy school shoes, or simply just splurging on fun stationery, we've got it on our shopping list. Our handy back-to-school guide will take the pain out of your shopping for school experience and steer you to the best school supplies in Singapore. We've even got the lowdown on child-friendly salons to squeeze in a spiffy new haircut, so your kids can stride through those school gates totally school prepped.
A "back to school" shopping guide
Where to buy school bags in Singapore
If you haven't been forced by your school to buy the standard-issue bookbag (or by your child to head to Smiggle), we've got some cool suggestions for backpacks and school bags in Singapore…
1. IKEA
Is there anything Ikea can't do? Beyond everything you could possibly need for the home, it carries an affordable range of backpacks, drink bottles, and lunch boxes. We're rather taken with the cute stationery, too – particularly the bright patterned notebooks and quirky accessories. Plus, it's so affordable, and you can head 'round for some tasty meatballs too.
IKEA, branches in Alexandra, Tampines, and Jurong
2. Le Petit Society
We've yet to find a product from local multi-brand boutique Le Petit Society that we don't adore, and the old-school Kånken backpacks by Fjällräven are no exception. Exceptionally crafted from durable, lightweight vinyl on canvas, it has all the right zippable compartments and pockets for school life. Coming in regular and mini sizes, it's suitable for kids of all ages and is easily wiped clean with water.
Le Petit Society, #05-35, The Paragon, 290 Orchard Road, Singapore 238859,  and #01-06, Downtown Gallery, 6A Shenton Way, Singapore 068809
3. Ergokid
Has your little one been complaining about backaches? It might be time to invest in an ergonomic backpack. Kids' furniture store Ergokid stocks a good selection of school bags by brands such as Ergobag, My Awesome Buddy (designed with safety in mind thanks to a 'whistle in a buckle' and reflective strips) and Satch (for teenagers) that are ergonomically designed to distribute weight properly and reduce strain on your child's back. The bags aren't cheap, but they're built to last. The Affenzahn range of animal backpacks for preschoolers is super-adorable (we want the elephant!). And if you need to pick up a desk for those homework sessions, the workstations here are functional and stylish too. Shop online or in-store.
Ergokid, #03-07A, Wheelock Place, 501 Orchard Road, Singapore 238880
4. Herschel Supply Co.
Any teen would be thrilled to have a Herschel backpack for school – we probably would too! These stylish and sleek backpacks come in different models and colours and offer great quality while making the young 'un extremely cool. Pop round to Herschel Supply Co. or Tangs to snap one up (but don't get distracted by the handbags downstairs…).
Herschel Supply Co., #01-22/23, Funan Mall, 109 North Bridge Road, Singapore 179105 and Tangs Plaza, 310 Orchard Road, Singapore 238865
5. Tinyme
The bags may look simple but with a little personalisation… Voila! A backpack that your kiddo can claim as their own. All you have to do is select what kind of bag you want, choose from various colour and design options, and personalise. Don't just stop at bags – you can even personalise water bottles, bento boxes, and bag tags too!
Tinyme, online only
Other fantastic school backpack options in Singapore
Your younger poppet will be more than satisfied with the offerings at Pupsik Studio – this online store stocks brands from Disney to Skip Hop. If you love Skip Hop's bright and cheerful style, its 'Zoo' backpack and lunch box sets are available at First Few Years too. LeSportsac also carries tote-ally adorable, quality backpacks, bags and pouches. Just try to keep the kids away from its newest Pokemon collection… adorable. Another option that we like? Amazon. Be prepared to spend some time perusing the selection. Still stuck for options? Check out Smiggle, Decathlon and Typo for a whole heap of fab bags for your kids!
Where to buy lunchboxes in Singapore
We all know kids are often too keen to hit the playground to munch more than a bite or two of lunch. So best make their lunchboxes the main attraction! In fact, make it an insulated lunch box to protect the loot from Singapore's steamy conditions. After all, no one likes a sweaty ham sandwich!
1. Yumbox
We're all over the superbly designed bento-style lunchboxes from Yumbox. They have many small compartments handy for popping in veggies, sandwiches, fruit and other healthy snacks. And because it's leak-proof, you can be more inventive with dips like hummus, without the need for extra plastic. The kids' Yumboxes are small enough to fit inside a standard thermal case to keep them cool in the Singapore heat.
Where to buy: Bumwear, Pupsik, or Tangs
2. Little Lunch Box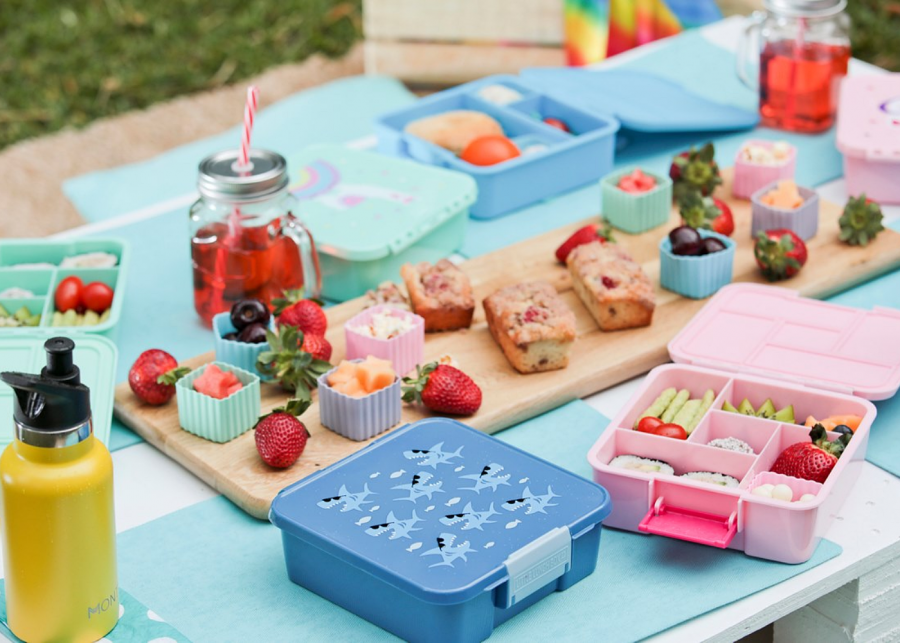 This snazzy brand got started because of a mother's desire to create lunchboxes that are both practical and aesthetically pleasing. Well, we say that she's managed to achieve both of that! Depending on the bento box that you've purchased, your Little Lunch Box has up to five compartments that can fit everything, including dip. For real, though, the biggest draw is the design. Let your little one choose the lunchbox, and they'll be more than happy to bring this to school every day!
3. Redmart
Ah, Redmart is a godsend. Not only do they stock groceries, but they also sell accessories, including drink bottles and lunch kits which you can add to your weekly shop. We're snapping up one of the insulated food jars to keep food warm (like pasta) for seven hours, or cold (like frozen yoghurt) for five hours.
Want more? Check out our review of the most eye-catching and well-designed lunch box options on the market. Or, take the environmentally-friendly route and pick up a reusable sandwich wrap for the kids instead. They're less bulky, machine-washable and great for the planet and the kids!
And psst! Now they have the hippest lunch container on the block; best match it with scrummy snacks and mains. It's tough to concentrate with an empty tummy, so add these lunchbox recipes to your weekly family meal planner.
Where to buy school stationery in Singapore
As writers, we love shopping for stationery… if only you could see our desks! So just try to suppress the squeals of excitement once you find adorable pencil cases, folders, notebooks, and pencils for school kids.
1. Smiggle
Smiggle is one of the kids' favourite places to shop for stationery. It's the first stop for all colourful, fun yet functional back-to-school needs. Lunch boxes and school bags, too. And trust us, you'll probably be stuck in the store for a good amount of time as the kiddies pick out everything they like.
Smiggle stores all over the island
2. Typo
Want quirky-designed notebooks, pens, cards and other stationery at great prices? You'll want to pop 'round into Typo. It'll make shopping for school very easy.
Typo, various outlets, including Parkway Parade, Wisma Atria, Clementi, and Somerset
3. Tango Mango
Tango Mango has a range to meet every stationery need. The best part is you can sort your postal needs (they brave the post office queues for you) while your little 'un selects their stuff. And there are also lots of books for all ages there too!
Tango Mango, #03-11A, Tanglin Mall, 163 Tanglin Road, Singapore 247933
4. Stationery World
Looking for a no-frills, well-priced option for all your stationery? Head to Stationery World – it stocks anything and everything!
Stationery World, #03-10, Frontier, 50 Ubi Avenue 3, Singapore 408937
5. Art Friend
We couldn't miss out on this fantastic place to get all your stationery and art supplies – from canvasses to paints and much more. You'll be stuck in here shopping for school and stocking up on everything you need for your art and crafts box at home…
Art Friend, stores in Bras Basah Complex, Plaza Singapura, and Clementi Central
Where to buy school shoes for preschoolers in Singapore
Playgroup kids aren't confined to traditional black leather shoes. Their tippy-toes can get decked out with trendy treads that are supportive and have a good grip.
1. Hopla
This European footwear store for women and kids in United Square and Cluny Court has every base covered with its extensive range of high-end shoes. Everything else in the store is also hard to resist (including adults' shoes and lovely kids' decor).
Hopla, stores at United Square Shopping Mall, Cluny Court, and i12 Katong
2. Crocs
Sure, Crocs might not be the prettiest shoes, but they look adorably cute! And, they're a colourful, lightweight and airily comfortable option for small sweaty feet. Plus, they're made of rubber, so it's perfect for hot, sunny days and rainy wet ones, too.
Crocs, multiple stores islandwide
3. Seed Heritage
One of our favourite kids' stores on the island, Seed Heritage never fails to come up with the goods, and its range of canvas velcro runners and mary janes are no exception. Its on-trend peds are just perfect for kicking about at preschool, as they come in mess-resistant dark colours, and are good value for money. Our pick for the little ladies is the cute-as-a-button metallic Mary Janes.
Seed Heritage stores in Wisma Atria, Takashimaya, and Paragon
Where to buy school shoes for primary ages in Singapore
School-age kiddos best stick to the uniform code, so black shoes and white runners it is!
1. Ten Feet Tall
Ten Feet Tall is the first school shoe store in Singapore to provide a full-service measure and fit. Opened in July 2016 by savvy expat mum duo Nicola and Sam – it's a huge hit with school mums island-wide. Carrying top-notch brands like Start-rite, Petasil and Ricosta, you're sure to find the right fit for your growing child. We love that Ten Feet Tall has teamed up with British podiatrist Helen Crawford to sort out any niggling foot problems and that you can donate your used school shoes to the shoe bank for needy Asian kids: kids grow so quickly that shoes often have plenty of good life in them. Waste not, want not, we say! Be sure to book an appointment first.
Ten Feet Tall, #02-04, Holland Village Shopping Centre, 211 Holland Avenue, Singapore 278967
2. Clarks
An oldie but goodie, Clarks is a quality Australian option that's had an image upgrade. Head to the dedicated store in Ion for the best selection. Alternatively, you can try the outlets for discounted shoe options too.
Clarks, several outlets in Singapore
3. Bata
This brand is synonymous with students and school shoes. Plus, the affordable price range ensures that you won't be spending an arm and a leg. Shop online or in stores for your child's black or white school shoes. If you're looking, you might bag some good deals too.
Bata, various stores across Singapore
Our other school shoe favourites in Singapore…
Takashimaya is a good place for all school shoe needs. If not, we definitely recommend Queensway Shopping Centre. It is THE place to source sports shoes. Can't beat the prices and the range of popular brands (good selection of soccer boots too). Tip: don't go before 10am as it's all boarded up! And, if it's sporting equipment and apparel you need, head out to sporting mecca Decathlon, where you'll find anything and everything sport-related (even trampolines). It's super affordable!
Check out our full guide to buying the best school shoes in Singapore for all the soles you'll ever need!
Personalising their school goodies
Aside from replicating your childhood by decorating your kid's school books with magazine cutout collages and retro plastic covers, there are plenty of great stickers and iron-on labels to give their kit a unique vibe. Check out our complete guide to iron-on name labels and stickers so that nothing ever gets lost again! Lots of those companies also sell items like lunchboxes, stationery and rucksacks, so they're often a one-stop centre.
Where to get haircuts for school in Singapore
We are loving the kiddos' wild sun-tipped locks, but it's time to tidy it up a little for the school assembly. For a list of the tried and tested salons for kids, refer to our go-to guide for the best kids' haircuts in Singapore.
So we've left no stone unturned in the quest to be first at the front gate come bell-ringing time. Now, nip off for a little quiet time and a much-needed coffee hit!