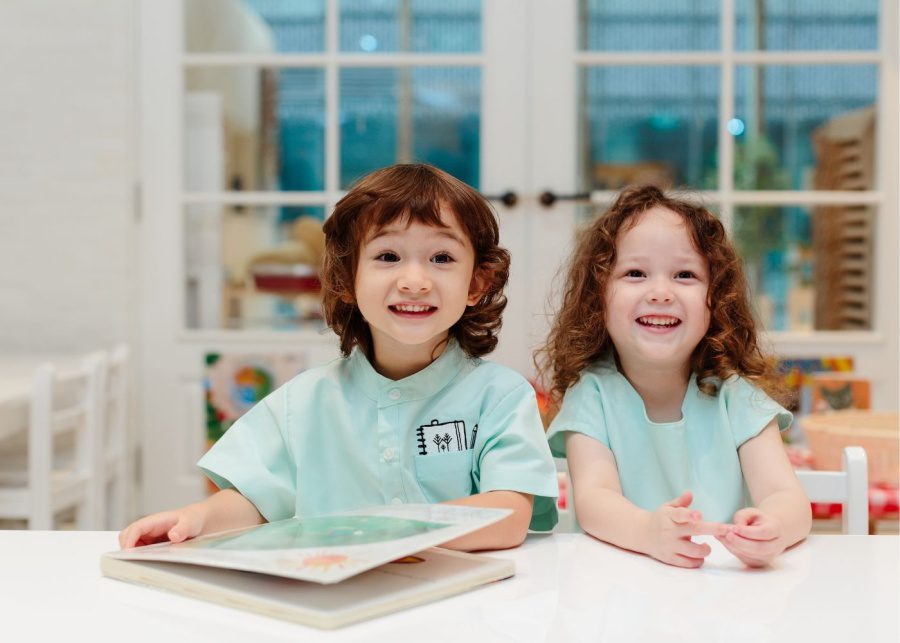 Founded in 2016, TREHAUS COWORK was Asia's first co-working office that offered a crèche and nursery, allowing working parents to prioritise time with family while pursuing successful careers. Trehaus has since made Funan Mall its flagship and home with ECDA-certified and Silicon Valley-inspired preschool-childcare – TREHAUS SCHOOL – opening its doors to children in 2019. Trehaus believes it takes a village to raise a child – and that is why we have designed an integrated working space for parents to bridge the traditional work / school environment, and to attain unmatched parental proximity.
At Trehaus School, we want children to learn how to count, and what counts. We constantly question, assess and evaluate every aspect of the education we provide, innovating in early childhood education and re-focusing the lens on building character and future skills.
As a result, we have actively developed a groundbreaking research-based early years programme that pulls from five different schools of thought (Reggio Emilia, Montessori, Respectful Caregiving, Somatics, Bronfenbrenner's Ecological Systems Theory) repurposed to foster adaptability, resilience and empathy that children need to thrive in our ever-changing world.
Come discover a light-filled space that inspires learning, with a large rooftop garden, futsal court, indoor and outdoor playground for kids as well as a Business Club and dedicated Cafe for parents.
Essential Information
Telephone
(65) 9843 8077 / (65) 9855 0484
Starting Age
18 months till 6 years old
Curriculum
Montessori, Reggio Emilia, Singapore National, Project-Based Learning, Little Academic Programme ('Big School' readiness programme) for children approximately 5 years and up.
Language of Instruction
English & Mandarin
Maximum Student Population
128
Current School Population
100
Maximum Class Size
1:5 ratio throughout preschool years, mixed age classes with children in mixed-ability groups of 10 to 15
Demographic Breakdown
50% local and 50% expat community
Nationality Restriction
NA
Teacher to Student Ratio
Ratio of 1:5 throughout preschool years (up to 6 years old)
What Sets This School Apart
Here at Trehaus School, we believe that education needs to move away from pure knowledge acquisition and learning in a vacuum. Instead, we prioritise building kind, respectful and reciprocal relationships between all stakeholders in the community - the teaching team, the families and the children. Our focus is on building integrity and strength in character, and developing creativity, empathy and grit.
We are deeply motivated to foster a culture of responsiveness and adaptability to raise children who go beyond thinking, "What do I want to be when I grow up?". They will also ask, "What do I want to do to make the world a better place?". Through Trehaus' emphasis on core fundamentals - community connection, free play, personal and social development we believe that Trehaus children will be equipped to adapt to the world they will grow up in.
Vast outdoor spaces (such as the Urban Garden, Rooftop Garden, Jungle Gym play playground patch, Futsal Court or Fort Canning Park) and the historical architecture and cultural venues around Funan Mall provide the perfect backdrop to inspire learning that can happen all around us, and give children rich first-hand experiences that value-add their learning.
Trehaus School was created for parents by parents. Let's create the change we want to see together.
Exciting New Developments
As with all curriculum designed at Trehaus, the love of learning and discovery should never be limited in any way so long as children demonstrate interest and are excited about their learning. And this is why we have designed our proprietary Little Academic programme (otherwise known as our "Big-School" Readiness programme). This dynamic curriculum is an extension of the children's learning journeys at Trehaus, supporting them to attain their full potential. While covering academic components and head knowledge (such as reading, writing, numeracy and scientific process skills), the Little Academic programme is designed with opportunities for meaningful and child-led application of knowledge in practical contexts, and nurtures healthy learning dispositions and emotional wellness. Learning experiences in the programme aim to expand children's worldview and develop a deeper understanding of the themes typical to "big school" prep programmes, of which delivery of the curriculum is bespoke to each child.
School Culture
Inspired by Lev Vygotsky's Third Space Theory, the name Trehaus is a portmanteau of the Swedish/Norwegian/Italian word tre meaning three, and the German word haus meaning house, which represents a child's 'Third Space' within the modern village here at Trehaus. As such, we believe all of the Trehaus School community have a part to play in creating that special and nurturing atmosphere conducive to encouraging lifelong learning and development. In this village atmosphere we've created, Team Trehaus aspires to know every child and every family by name.

From the numerous opportunities for home-school-community partnerships and engagements, to the design of our open and inviting spaces, you will find that family and community involvement is a big part of what we do here at Trehaus. Our families go beyond merely waving at their children - they're most welcome to share their expertise, backgrounds and experiences with our little ones as this is what Trehaus is all about!

Our Director of School, Elizabeth is a certified instructor for Parent Effectiveness Training. Our Trehaus School families can reach out to her for advice and support in areas such as effective communication with young children and understanding early childhood development.

Throughout the year, Trehaus families receive invitations to join in Littles' Project Showcases where Trehaus children present their work at school and share their learning with their parents and other families. These showcases range from live stage recitals, invitations to freshly-minted Trehaus Pop-up shops, to art installations by the children. These valuable opportunities give parents a chance to bond with your child while taking part in the Trehaus School community.
Financial Information
Annual Tuition Fee
$3,000/month
Application Fee Refundable
NA
Admission / Enrolment Fee
$381.50
Building / Facility / Development Fee
NA
Parents Association Fee
NA
Other Fees
Annual Insurance - $8.72, Mattress cot - $163.50 Uniform - $130.80
Programs Available