Planning a trip to the zoo? Check out our guide to all the things to see and do!
On an island known for its shopping malls, the Singapore Zoo and its many activities consistently ranks as one of Singapore's must-see attractions for both kids and adults, even those who usually prefer an air-conditioned indoor play centre. From breakfast with the orangutans to the Night Safari, there is literally an activity to fill every second of the day, if only you have the stamina. Whether you're a visitor to the island or a resident looking for an escape from city life, we've compiled a guide to Singapore Zoo guaranteed to help you and your rangers-in-training make the most of your time trekking through the wilderness. Pack the sunblock and insect repellant (a must-have because mozzies are everywhere!) and prepare a wet weather plan (check out our guide to wellies and rain coats for a zoo adventure complete with puddle jumping!).
How to get around
With 28 hectares to cover, you're going to need to be strategic in your approach. Do yourself a favour and jump on the guided tram ride for an early overview of what's in store. And if you still find yourself with tired little legs to carry, strollers and wagons are available for hire.
Guided tram ride (unlimited rides): Adults $5, Child (aged 3-12) $3. Strollers $9, wagons $15.
What to do
What's better than a buffet breakfast to get you out of bed? A buffet breakfast with the orangutans, of course. Dine among the great apes while enjoying local and western food on the jungled terrace of Ah Meng Restaurant to get your day off to a swinging start.
Jungle Breakfast with Wildlife: Daily, 9-10:30am, animals appear between 9:30-10am. Adults $35, Child(aged 6-12) $25 plus zoo admission fee.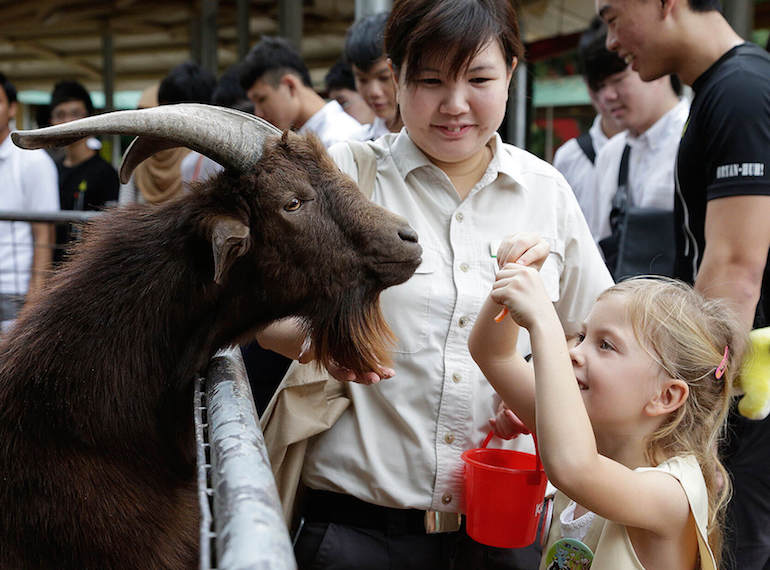 If you happen to be chaperoning aspiring zookeepers, give them a taste of the real thing at Rainforest Kidzworld. Keeper Encounter will see them mingle with animals (horses, ponies and falabellas), practise their grooming skills on a rabbit, feed the goats, and hopefully even be able to tell you what a falabella actually is.
Catch the animals at their most animated during their feeding times. It takes some planning, but it's well worth it – especially if you make it (early!) to the elephant, giraffe, goat and white rhino exhibits, where you have a chance to get in on the feeding action yourselves and to find out about the animals from the zookeepers.
Feed the Animals: Free. See website for timings. Food for the animals can be purchased onsite.
Kids can saddle up for a pony ride to embark on the forest trail with walk-a-long guides. Or hop aboard the zoo animals' tamer counterparts on the vintage merry-go-round, the Wild Animal Carousel. Be sure to check ahead for when the carousel is closed for cleaning.
Pony Ride: Child (1.2m and below) $6
Wild Animal Carousel, Single Ride, $4, single ride; $8, 3 rides, $12, 2-in-1 Rides (3 Carousel Rides + 1 Pony Ride)
As addictive as the animals are, there definitely comes a time in the day when a stop at the wet play area is a good – and cooling – idea. Pack swimmers and make the most of the animal-themed water park!
Shows
If all the exhibits start to make you miss your own furry friends at home, find a seat in the Rainforest Kidzworld Amphitheatre for the Animal Friends Show. The cast of domestic animals are trained to entertain, and will even stick around for autographs, or at least photographs, afterwards. Be wowed by the agility and dexterity of the rainforest creatures at Rainforest Fights Back and get that reptile-loving kid a slithery surprise photo op!
If it's larger-scale entertainment you're after, lumber over to the Elephants at Work and Play Show to see the gentle-ish giants – well, the name says it all really. If you're sitting front and centre, watch out when they raise their trunks, you'll have to duck from the spray! Or if you love a little (or a lot of) wet fun, the quirky antics of the California sea lions at Splash Safari Show are sure to delight.
Animal Friends Show: Free. Daily, 11am and 4pm.
Elephants at Work and Play Show: Free. Daily, 11.30am and 3.30pm.
Rainforest Fights Back Show: Free. Daily, 12.30pm and 2.30pm.
Splash Safari Show: Free. Daily, 10.30am and 5pm
Tours
If you're not keen on walking , hop aboard a tour buggy on the Wild Discoverer Tour. You'll be chauffeured around the animal exhibits in style, where you'll get the lowdown on how to care for them and also feed the rhinos and giant tortoises. Or how about getting up close and personal with scaly creatures at the RepTopia Tour? – if you dare!
Wild Discoverer Tour: Adult $38, Child (aged 3-12) $25, Daily, 10.30-11.30am; 4.30-5.30pm.
RepTopia Tour: Adult $98, Child (aged 3-12) $65. Daily, 1-2pm
OTHER PARKS
River Safari
Yes, it does mean a second ticket, but for the chance to see two of an estimated 1,600 pandas left in the world, it could just be worth it. The River Safari's Yangtze River takes you past the temperature-controlled Giant Panda Forest that star attractions Kai Kai and Jia Jia call home. Catch Green Iguana and African Grey Parrots, some of the smartest creatures about, during their feeding times and if you're craving more cute encounters, head to the ticket counter between 3.30pm and 4.40pm to book your spot to meet the American beavers! Check out the Mississippi, Congo, Ganges and Mekong Rivers as you wind around the sights, all of which have their own weird and wonderful critters. Head to the River Talk to learn more about riverine species or purchase a ticket to a behind-the-scenes tour to meet the Manatees.
River Safari: Adults $32, Child (aged 3-12) $21. Amazon River Quest boat ride: $5/$3. Reservoir Cruise: $5/$3.
Green Iguana and African Grey Parrot: Free. Daily, 5.15pm
Meet the American Beavers: Adult $20, Child (aged 5-12) $15. Daily, 4.30, 5.40pm (purchase tickets an hour in advance)
River Talk: Free. Daily, 11.30am, 3.15pm
Behind the Scenes Tours: Manatee Mania: Adult $118, Child (aged 3-12). Daily, 9.30-10.30am; Amazing Amazonia: Adult $48, Child (aged 3-12) $29. Daily, 1.30-2.30pm
Night Safari
If you're still going strong come nightfall, the Night Safari is a third park (yep, third ticket) for nocturnal adventuring. By this stage, you'll definitely be getting close to wanting (needing) to put your feet up, so jump on the free Guided Tram Ride to journey through the seven geographical regions that make up the park, and see the inhabitants of each. Opt for the special private buggy Safari Adventure Tour and get to meet and feed the elephants. Or if you prefer to wine and dine, the Cocktail Safari Express serves cocktails and canapes (yes, please!) or why not get all romantic with a candlelit dinner aboard the Gourmet Safari Express? The Gourmet Safari Express ends at the Creatures of the Night Show where you'll have VIP seats. Even if you're not joining a tour, definitely make time to see the Creatures of the Night Show where nocturnal critters like otters and hyenas spring into action. Entry is free so make sure to find your seats early before they're all snapped up!
Night Safari: Adults $47, Child (aged 3-12) $31. Daily, 7.30pm to midnight. Restaurants open from 5.30pm.
Gourmet Safari Express: Adult $ 199+, Child (aged 3-12) $159, Daily, 7-10pm
Safari Adventure Tour: Adult $138+, Child (aged 3-12) $85. Daily, 7.15-9.15pm
Creatures of the Night Show: Free. Daily, 7.15, 8.30, 9.30, 10.30pm, each show is 25min.
Camps
If after all that you and your little chimps are still after more, keep your eye on the online registration calendar for half-day and even overnight camps offered at the zoo. Kids will get to be junior zookeepers or avian keepers, and can also spend a night sleeping among the animals. You might want to keep these ones on the down-low though, unless you think you can handle six months of, "Can we go yet?"
WRS Camps: Sleep with the Beast Family Camp: Adults $190, Child (aged 3-12) $160; Junior Zoo Keeper: Child (aged 11-14) $270; Zoo Explorer Camp: Child (aged 6-10) $340; Junior Avian Keeper: Child (aged 11-14) $270; Sleep with the Penguins Family Camp: Adult $130, Child (aged 5-12) $110; Bird Quest Camp: Child (aged 6-10) $180; Sleep with the Manatees Family Camp: Adult $210, Child (aged 5-12) $190. Check website for dates.

Admission prices and opening times:
Singapore Zoo, 80 Mandai Lake Road, Singapore 729826, p. 6269 3411. Adult $35, Child (aged 3-12) $23. Open daily from 8.30am-6pm.
Night Safari, Adults $47, Child (aged 3-12) $31. Restaurants open from 5.30pm. Open daily from 7.15pm-12am.
River Safari, Adults $32, Child (aged 3-12) $21. Open daily from 10am-7pm
Multi-park ticket packages available.
Like this story? Here's more we think you'll enjoy:
Go island-hopping around Singapore
What to do in Sentosa with kids
Best family-friendly museums and exhibits in Singapore
Free water play areas in Singapore
Don't forget to subscribe to our weekly newsletter for the latest updates on all things family-friendly and follow us for sneak peeks and fun moments on HoneyKids Instagram!