Photography: wayhomestudio via freepik
Breastfeeding and worried about whipping out a boob in public? Get started with these baby-friendly cafes in Singapore…
Your bundle of joy has just arrived, but the little one is stuck to your boobs 24/7! While you should feel free to feed your baby anywhere you want to in Singapore without a second thought, we get that it can be a bit daunting at first if you're new to breastfeeding. But that doesn't mean you need to suffer cabin fever at home. There are plenty of places in Singapore that are breastfeeding-friendly for those first few outings, including cute cafes and restaurants! So grab your baby, a cute nursing cover, and check out any one of these recommended cafes in Singapore that will make any new nursing mum feel relaxed and comfortable enough to breastfeed in public.
And psst – we even took into consideration factors like the comfiness of the seating, the ambience (not too loud or bright), staff helpfulness, and accessibility of strollers. Yup, we stay abreast of it all!
Breastfeeding in Singapore: The best cafes and restaurants for nursing mums
1. Spruce
Sheltered by a gorgeous canopy of green, Spruce is the perfect location to nurse your baby and feel enveloped in nature. Dine in the air-conditioned indoors or the fresh outdoors and lounge on bench seating or sofas. There's even a shady playground if you have older kids with you where you can keep your eye on them while sipping your decaf latte. And you don't even need to worry about mozzies because the friendly staff will provide natural insect spray if the nasties start to bite!
Spruce, Phoenix Park, 320 Tanglin Road, Singapore 247980
2. Book Cafe
This is a relaxed homely-feel bistro with large, comfy sofa chairs (different from the one at home, yippee!), with a great selection of old books, magazines and newspapers to browse through while you nurse your little one. The lighting is dim, the music is soothing and there's even a clean diaper changing room nearby! How thoughtful.
The Book Cafe, Seng Kee Building, 20 Martin Road, #01-02, Singapore 239070
3. Caffé Beviamo
A favourite for nursing mums, Caffe Beviamo makes the list for its simple and delicious Australian-inspired fare, relaxed atmosphere, and long bench seats (great for laying the baby down on). Its spacious walkway is always a plus for mums with maxi cosis, and serves as a lively little place for a mummy tete-a-tete after shopping at the mall.
Caffé Beviamo, Tanglin Mall, 163 Tanglin Road, #02-127/128, Singapore 247933
4. The Living Café
This café serves an impressive selection of healthy, raw, organic-where-possible and most importantly, delicious food. After all, what mommies-who-nurse feed themselves is ultimately feeding baby! Living Cafe also sells top-quality health products and organises holistic health retreats and programs. There's also a small play area for older children, and a cosy little sofa on the second floor if you want a bit of privacy when nursing.
The Living Café , 779 Bukit Timah Road, Singapore 269758
5. The Coastal Settlement
A little oasis in the quiet, laid-back east is this lovely 300-seater spacious and stroller-friendly bistro with vintage furniture, nostalgic architecture and delicious fusion fare. Grab one of the sofas seated by the windows, lean back, and nurse your baby. This place is a nice one to get away from it all.
The Coastal Settlement, 200 Netheravon Road, Singapore 508529
6. Real Food Grocer
Nurse your bub while refuelling yourself with wholesome, meat- and chemical-free dishes. The 4,000 sq ft space is huge but still cosy, and has plenty of books and magazines to read while you chill out on the comfy sofas and sip on a fresh slow-juiced beverage. Plus, it has a great little shop that sells sustainable, earth-friendly, health products and food.
Real Food Grocer, South Beach Avenue, 26 Beach Road, #B1-19, Singapore 189768
7. The Tea Party
In an area full of cafés, The Tea Party stands out as a family-friendly and vibey cafe that's breastfeeding-friendly too! Grab a cosy corner seat and attend to your bub's needs – the helpful staff are always on hand if you need anything. It's also a cool cafe to chill and celebrate birthdays for your kiddos. Enjoy delish menus at affordable prices and take part in their occasional family events too. Feel free to bring your four-legged buddy for a complete family celebration!
The Tea Party, Sixth Avenue Centre, 805 Bukit Timah Road, #01-07, Singapore 279883
8. Drips Bakery Café
A list of breastfeeding-friendly cafés isn't complete without a mention of the hipster 'hood of Tiong Bahru. Drips isn't as tight or cramped as the rest in the area, and instead has tables nicely spaced and a few sets of roomy sofas and armchairs towards the back of the café. The skylight can get pretty intense in the middle of the day though. Otherwise, for a freshly baked sandwich or tart to help boost your mood and milk supply!
Drips Bakery Café, 82 Tiong Poh Road, #01-05, Singapore 160082
9. Fika Swedish Cafe and Bistro
Fika Swedish Cafe and Bistro has mums in mind with its baby-friendly design and amenities. First up, it's stroller-friendly – always a must for new mums. And if you're not quite up for feeding in public yet, then you'll appreciate the private feeding room with nursing facilities. As well as catering for little ones, they also cater for mums with a delicious menu offering everything – including vegan options. A stress-free and wholesome outing is guaranteed!
Fika Swedish Cafe and Bistro, 257 Beach Road, Singapore 199539
10.  Tiong Bahru Bakery Safari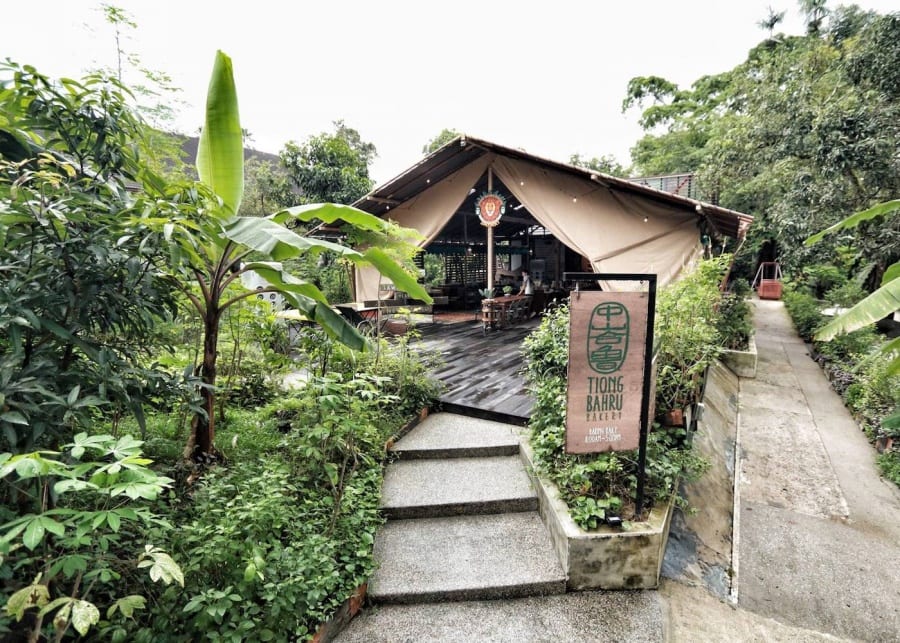 We love Tiong Bahru Bakery at the best of times, but one of our faves has to be the Tiong Bahru Bakery Safari at Dempsey. Mums definitely deserve a buttery pastry alongside their morning coffee after a sleepless night with a little one. Nab one of the cosy sofa seats, and you can feed away in comfort here. If you have older kids in tow, you can keep them entertained with the super-cute playground, too!
Tiong Bahru Bakery Safari, 130E Minden Road, Singapore 248819
11. Wimbly Lu
If you're anywhere within Serangoon, then you should make time to pay Wimbly Lu a visit. This quaint cafe offers must-try desserts such as waffles and root beer cake with vanilla ice cream. Of course, don't forget the myriad chocolate offerings! Plus, the place is breastfeeding-friendly too. You don't have to leave and find somewhere else when it's bub's feeding time.
Wimbly Lu, 15-2 Jalan Riang, Singapore 358987
12. Cafe Melba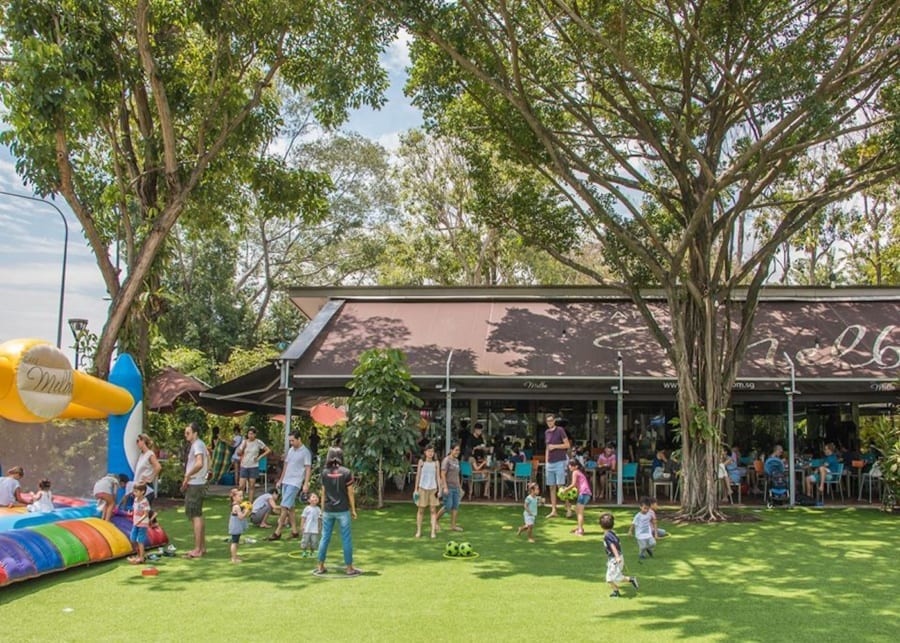 Cafe Melba is as kid-friendly as they come (think kids eat free, kids entertainment – hello, bouncy castle), and it's also a great location for a nursing mum. We love that Mediapolis and Goodman Arts Centre branches are super spacious, meaning you can snag a spot without worrying about feeding. It also helps that all the food is delicious, and it's the perfect location for breakfast, brunch, lunch or dinner, as well as a quick coffee stop!
Cafe Melba, 90 Goodman Road, Goodman Arts Centre, Block N#01-56, Singapore 439053, and Mediapolis, 1 Stars Avenue, #03-01, Singapore 138507
13. PS.Cafe
PS.Cafe is something of a staple, and good news, there's loads to choose from! Even better, many of our fave malls are home to a PS. Cafe including Great World, Paragon and Raffles Place. They are spacious too, always a good thing when you're manoeuvring a stroller. Plus, as they are in the malls, you can run a few errands, and you're not far from some pretty fancy baby change facilities should it all go wrong (i.e. poonami).
PS.Cafe, various locations and opening times 
Where do you think is the best cafe for breastfeeding mums? Let us know via DM!