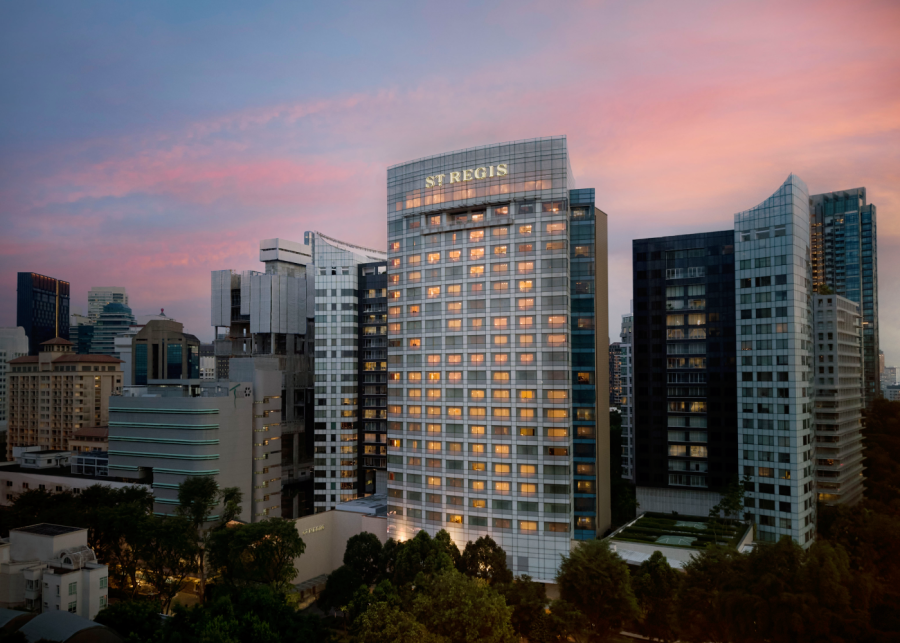 In our brand new review series, HoneyKids Asia (and our mini reporters) check out the ultra luxe St. Regis Singapore to see what the Family Moments staycation is all about...
The St. Regis Singapore is probably not the first place you think of for a family staycay. Luxury? Yes. Famous? 100%. (ICYMI: Kim Jong-un took up residence here during the famous Trump meeting). But family-friendly? We weren't sure. So we set out to put its Family Moments staycay to the test. Here's our take on what you can expect…
Location
You don't get more prime when it comes to location. The St. Regis Singapore is at the Tanglin Mall end of Orchard Road, making it super easy for a whole host of kid-friendly amenities and dining options to boot. So if you manage to make it out of your swanky room, you have everything right here on your doorstep.
Check-in: Welcome to our room!
But chances are you won't be going very far because the rooms are fabulous and a highlight of the staycay (breakfast is a close second – more on that below). Not only do the rooms have the wow factor, but they are also generous when it comes to size. We didn't need to worry about it being a squeeze for all of us to sleep in the same room (we're a family of four with a baby and a three-year-old).
Another plus? The views! The kids and adults alike were entertained by the epic views over Singapore with the room's floor to ceiling windows, making it perfect for the ultimate game of i-spy.
Our mini reporter took it upon herself to assess the other important things in the room – TV channels – and confirmed three kid-friendly channels which ticked the box for her. As far as other kid-friendly options go, there's a bath kit for the kids with shampoo and bubbles for them to enjoy in the biggest bath ever (another tick for our kids).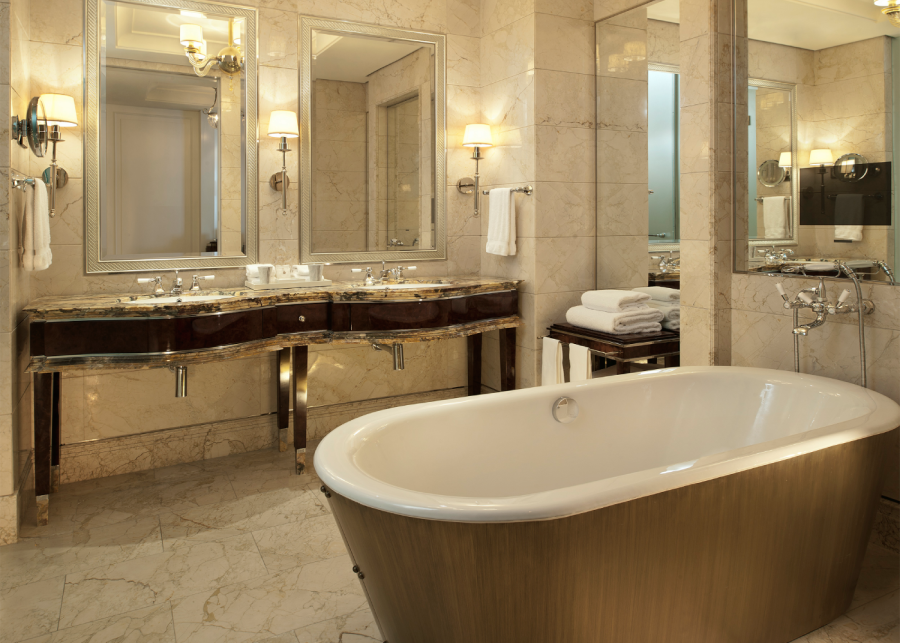 One of the unique offerings at The St. Regis is the butler service. The hotel doesn't offer a club lounge, and instead, you can call your personal butler for anything you need – from drinks to extra pillows. The service was fantastic throughout our stay, and they made our kids feel so welcome!
One even better if when it came to the room? If it had a balcony for when the kids go to bed so that we could escape and not have to tip tope around. But, the beds were incredibly comfy, so after a full-on day with the kids, it was very easy just to go to sleep too!
The itinerary: Here's what we got up to during our stay
The itinerary for the staycay is pretty flexible and includes in-room afternoon tea for the kids on your arrival date and breakfast on your departure date. Here's how we spent our time…
Checking out the facilities – pool time!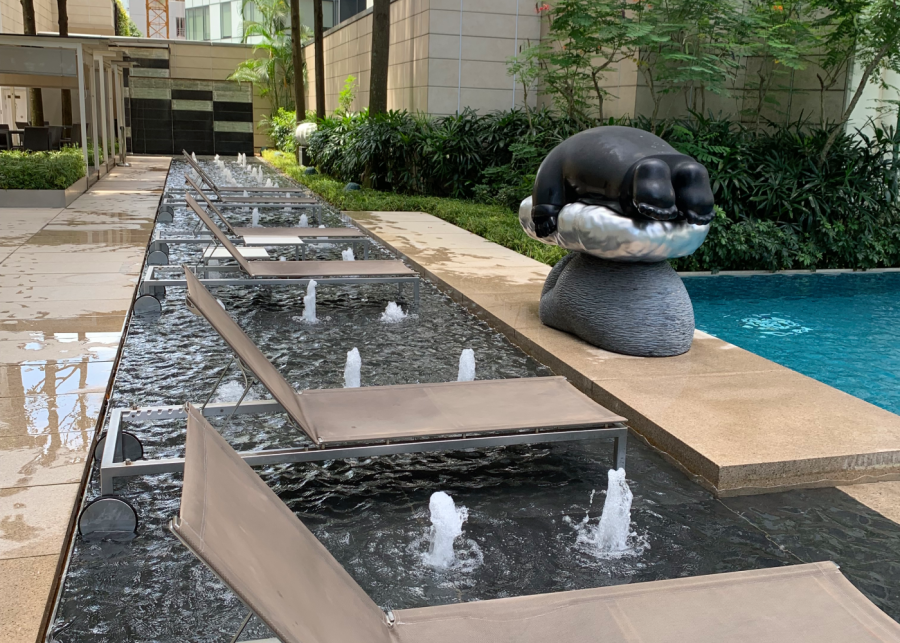 Given that the hotel has all the wow factor when it comes to the grand entrance and deluxe rooms, the pool isn't actually the biggest or the fanciest pool we've seen in SG. That being said, both kids and adults gave it a big thumbs up. Although intended as more of a design feature, the sprinklers doubled up perfectly as water play for our girls. We could have easily spent the whole afternoon at the pool. Also, it's pretty shaded, which is a big tick in our book when you're poolside with the kids.
There are spa and gym facilities at the hotel. Alas, we had no time to test these, but we've heard really great things about the spa from other members of our team! One for another date day.
In-room afternoon tea for the kids (served on day one)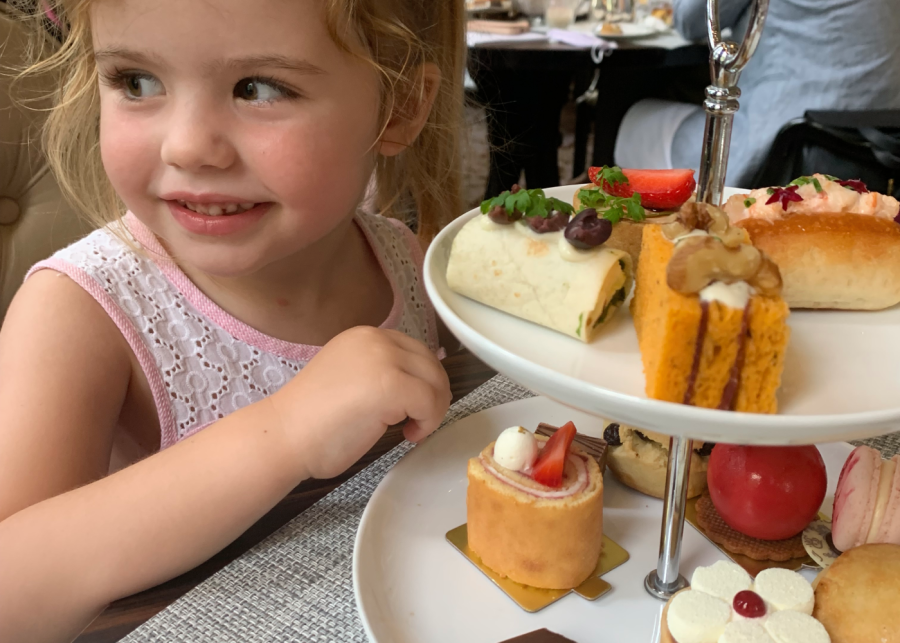 The staycay also includes a kids' afternoon tea. This is served in-room and is a smaller version of the adult's afternoon tea. The theme varies, and when we visited, it was pink and strawberry themed – which was a sure-fire hit with our daughter!
The afternoon tea was such a treat (we might have also sampled one or two of the sweet treats), but do note that some of the items might be a bit more exotic for fussier eaters—for instance, blue cheese on one of the savoury options. We didn't see this as an issue as there was ample, but it's one to note.
Breakfast (day two)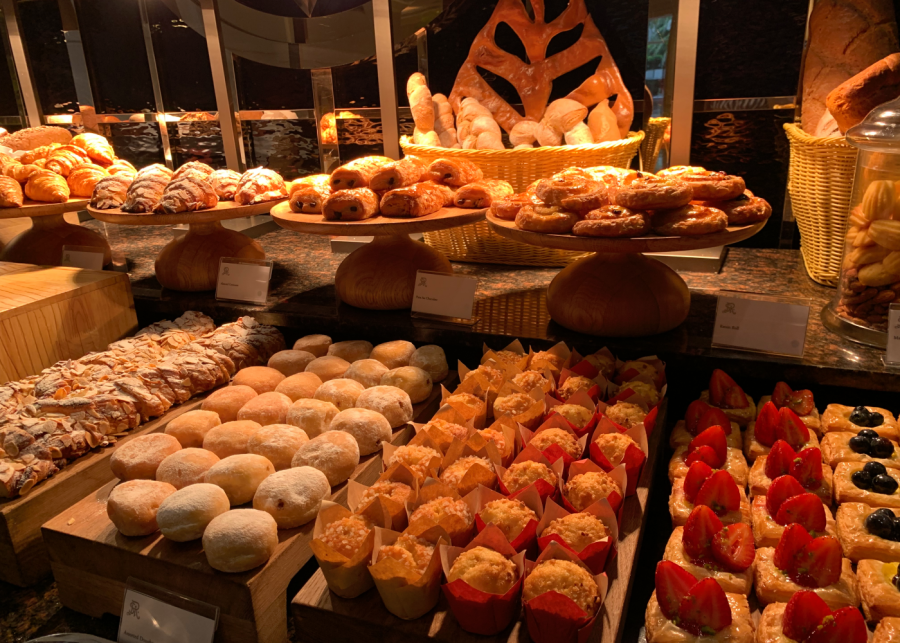 Another highlight of the trip was the breakfast which is included in the staycay package. Buffet breakfasts are officially back, and oh, how we've missed them! With a French chef at the helm, you know the pastries are going to be good here, and we tested pretty much all of them (for review purposes) and can confirm they were delicious.
As well as an extensive buffet breakfast featuring everything from hams, cheese, dim sums, those delectable pastries, and more – you can also order from the a la carte menu. We were really impressed with the selection, with local and international options. There's no dedicated kids' menu, but we can assure you that the pancakes go down a treat with everyone.
Other dining options
There are other dining options at the hotel if you're after dinner, but to be honest – we'd save them for a date night. With so many easy, kid-friendly (and affordable) dining options on your doorstep, it might be best to pop out along Orchard Road if you need dinner. Although breakfast and afternoon, tea should pretty much cover it for the kids anyway!
Our verdict…
The hotel doesn't have the go-to fam-friendly add-ons that some other hotels in SG have (we're talking kids club and kids menus etc.), but it is a hidden (and very luxe) gem for an all-out staycay and family treat. If you're looking for something special and luxurious – this is it. Also, as its slap bang in the middle of Orchard, you've got fam friendly dining and attractions on your doorstep – win, win!
The playcation deets and what you get in the Family Moments staycation at The St. Regis Singapore…
The St. Regis Singapore hosted us as part of the Family Moments staycation deal (running until the end of June), which includes the following:
Epicurean Breakfast at Brasserie Les Saveurs
SGD 50.00 Hotel Credits Per Stay
Afternoon Tea Set for Two Kids In-room (on day of arrival)
Late check-out at 4:00pm (subject to availability)
Have you stayed? Let us know your verdict! Stay tuned for more checking in reviews coming soon!