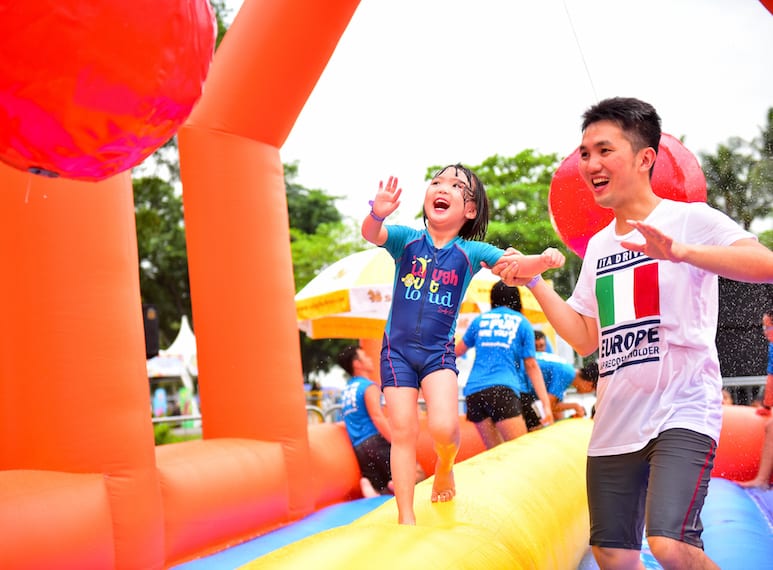 The 2017 school summer holidays are suddenly stretching before us like a yawning lion. What the beep? Surely it was just Christmas. Whether this idea fills you with dread as a working mum or fear as a stay-at-home parent, we're feeling grateful right now for the awesome new indoor play centres popping up across Singapore. But eight weeks is like two-years in kid time, so we're feeling a little concerned. Don't fret, we've got the low down on what's hot this summer season to entice and exhaust kids of all ages, all without breaking the bank (and psst: check out our guide to fun and free things to do in Singapore for even more ideas). And, even if you've been there before, these destinations are offering pretty exceptional holiday events that will make you want to explore with your little ones all over again…
CHILDREN'S BIENNALE AT NATIONAL GALLERY SINGAPORE – for awesome interactive art
The National Gallery Singapore is on our list of favourite places to head with the kids any time of the year, so this summer the first ever Children's Biennale has us rather excited. You'll need a week's worth of visits to take in all of the awesome exhibitions, workshops and films on offer. We were lucky to grab a sneak peak! Our little artists loved stepping into the Homogenizing and Transforming the World exhibit and being surrounded by oversized sound emitting glowing orbs. Another highlight was the Obliteration Room where the kids have free rein to create art by pasting colourful stickers all over the walls. And the Sonnet In Blue maze of handmade flowers with poems and stories written on their petals kept little hands busy for ages…
Our tip: pick up a gallery Children's Biennale art pack for just $5 including a set of activity cards, kid-sized festival pass, rainbow pencil and more.
Where: National Gallery Singapore, 1 St. Andrew's Road Singa­pore, 178957; www.nationalgallery.sg/childrens-biennale
When: 20 May – 8 Oct 2017
Cost: Free for Biennale
MEGA FUN AT SENTOSA – for mega inflatable fun
Make a beeline to Sentosa, the State of Fun this June for the amazeballs Mega Fun fest. Back by popular demand at Palawan beach you'll find giant inflatables including a foamy maze, mega ball pool, horizontal slide, traversing wall, balancing beam and cliff jump. If that hasn't tuckered out little legs, head to Palawan Green for a display of bubble mastery from resident bubbleolgist. Rediscover Fort Siloso with a journey of historical discovery along the heritage and gun trails before scoring free entry to the newly re-opened Surrender Chambers. We love the Merlion so will definitely be at the spectacular light show with animated pinball drop! Why not cap-off a top day with a family-friendly flick at the Palawan Beach movies by the beach? Full on fun.
Where: various locations on Sentosa; www.sentosa.com
When: June 2017
Cost: FREE!
IMAGINARIUM: TO THE ENDS OF THE EARTH AT THE SINGAPORE ART MUSEUM – for hands on art education
We reviewed the new Imaginarium exhibit at the Singapore Art Museum – and think that this wonderfully interactive experience should be at the top of your holiday activity list. Through the creative genius of nine contemporary artists, kids of all ages are encouraged ponder how people, flora, and fauna adapt to their ever-changing surroundings. There's a raft of live performances, workshops and craft sessions scheduled over the summer (leafy tote bag making anyone?), so check out the programme guide and plan your visit in advance. Whatever you do, don't miss the chance to touch and play with the spectacular Hiromi Tango's Lizard Tail with pulsating LED lights and video.
Where: Singapore Art Museum annexe, SAM at 8Q, 8 Queen Street, Singapore 188535; singaporeartmuseum.sg
When: 6 May 2017 – 27 Aug 2017, 10am – 7pm (Sat to Thurs), 10am – 9pm (Fri).
Cost: FREE for Singaporeans and PRs, all others $6 adults, $3 students, Kids under six free.
NATIONAL HERITAGE BOARD'S CHILDREN'S SEASON SINGAPORE 2017 – for a taste of the fantastic museums of Singapore
The National Heritage Board's annual Children's Season Singapore returns this June with cultural and educational experiences guaranteed to inspire and engage kids of all ages. This year's edition goes beyond museums and will encompass all aspects of art, culture and heritage by offering a broad range of exhibitions and family activities. We like how it's handily split into events suitable for three to six year-olds, seven to nine year-olds and 10 to 12 year-olds (zero chance of a whinge-fest).
Highlights include:
Slightly older stargazers (seven to twelve years) will adore entering a world of myths and legends at the new The Universe and Art exhibition at the ArtScience Museum. Embark on an artistic voyage through space and time through the medium of curated tours, workshops, films and hands on activities. Who are we as a human race (from both the Eastern and Western perspective), where have we been and where are we going?
Head to the Asian Civilisations Museum for the brilliant marine-focused Ghost Nets of the Ocean –Au Karem ira Lamar Lu Artists from Darnley Island, Torres Strait, Australia illustrate environmental issues with an ocean-scape filled with aquatic life made entirely from ocean debris and recycled plastic (our fave is the giant squid!). Don't miss the Tiny Turtles collaboration between Torres Strait schools, and local, international, and special needs students in Singapore. ACM has plenty of other kid-centric events planned for the summer holidays including storytelling and talks, drama and musical performances, gallery trails and craft.
The National Museum of Singapore is jumping on the bandwagon with some seriously cool activities this summer season. Craft a miniature film set and characters and use stop-animation to make your very own animated short film! At The Little Red Dot That Could Storytelling Session set sail on a Singaporean historical journey spanning 700 years and make your own tongkang, or bumboat. Go old-school retro by playing party games, tinkering with toys and sampling treats from the 1960s and 1970s. Little fingers will delight in making (and demolishing) a cocktail hedgehog.
We can always rely on the Singapore Science Centre to come to the party. This school holidays we'll be at the icy cool Cryogenics Science Show to find out what happens at temperatures below zero, and simply can't resist the sweet temptation of The Confectionary Lab where you'll learn the science behind candy.
Where: Children's Season 2017, various locations; www.museums.com.sg
When: 27 May – 25 Jun 2017
Cost: ticketing charges vary
NPARKS ROCKESTRA® – for a rocking good time
Pack a picnic blanket and head with your whole fam to Fort Canning Park for a night under the stars at the NParks Concert Series Rockestra®. The theme is retro – so dress to impress jive along to the best tracks from the '60s to the '90s with 53A, Dru Chen, Jack & Rai, Jive Talkin', Joie Tan, Shagies and The Durian Theory. Food and beverages are available on the night for the culinary challenged. Check out the nparksbuzz Facebook for more details (last year there was a great picnic hamper give away, so watch that space).
Where: Fort Canning Park, Fort Canning Green; www.nparks.gov.sg
When: Sat 3 Jun 2017 from 6.30pm.
Cost: FREE!
PLAYEUM CHILDREN'S CENTRE FOR CREATIVITY: MAKING IT HOME – DREAMING ROOMS, MAKING SPACES, CREATING PLACES  – for an imaginative crafternoon
We're thanking the creative crew at Playeum for opening the spectacular new exhibition Making it Home – Dreaming Rooms, Making Spaces, Creating Places just in time for summer holidays! Our kids LOVED this part art exhibit, part Willy-Wonka's tinkering workshop experience inspired by children's ideas of the home. Join your child on a journey of discovery as you realise that the humble abode is the source of many wonderful materials just perfect for creating imaginary and interactive artworks. And if you need a helping hand, the Playeum's 'playworkers' are floating about to offer artistic direction.
Where:  47 Malan Road, #01-23 Gillman Barracks, Singapore 109444
When: Tue to Sun, 10am to 6pm, 16 May – 29 Oct 2017
Cost: Child $22 (Includes entry for one accompanying adult), Additional Adult $10, Annual Play Pass: $160 per child


MONSTER JAM AT SINGAPORE NATIONAL STADIUM – for a smashing family-friendly evening
Massive trucks that can flip over, leap into the air and ramp up the speed factor to 100km/h in just three seconds are what you can expect over at the Monster Jam event happening this August. Promising to be the most action-packed live event on four wheels ever seen here in Singapore, kiddos will not only love watching Monster Jam superstars such as Grave Digger, El Toro Loco and Megladon in action, but we think the pre-show Pit Party looks set to be the family-friendly bash of the year. The fun-factor will go into overdrive as you and the gang get up close to the 10 Monster Jam trucks taking part in the show, and excitement levels will rev up even further when the kids get to meet and greet with the Monster Jam drivers for photo and autograph ops galore.
Where: National Stadium, Singapore Sports Hub, 1 Stadium Drive, 397629; www.MonsterJam.com
When: Sat 19 August, from 2pm
Cost: From $25 per person
DBS MARINA REGATTA – for fun on a pop-up beach
Singapore's biggest water sports festival is back for a sixth season. But be warned, for some reason, it's centred towards adults this year with only over 18s having access to the Bay Dome, Singapore's largest interactive art dome with a 360º digital psychedelic view of the Marina Bay skyline. And there may be tantrums from our kids when they see the bright inflatable water obstacle course and are not allowed on! Make sure you bring hats and sunscreen as you watch dragon boat races and chill-out at a huge pop-up urban beach (as there's not much shade). The kids can however take a pic on the trick eye set and play a game of giant Jenga. You'll have earned a few drinks and sliders at the Potato Head Coconut Bar afterwards.
Where: The Promontory at Marina Bay; www.dbsbythebay.com/marina-regatta
When: 1 – 4 June 2017
Cost: Free

Like this story? Here's more we think you'll enjoy:
Things to do with kids in Singapore: Best family-friendly museums and exhibits to visit in 2017
Fun and affordable places for teenagers to hangout in Singapore
Best classes for babies in Singapore: swimming, yoga, music, sign language and sensory play
Indoor play in Singapore: Playeum's new children's exhibition launches for the summer school holidays
Top image credit: Sentosa Development Corporation