What to do in Singapore with kids: outdoor activities for families
The sun is shining and the haze hasn't yet descended (and let's hope it doesn't!), so if you are looking for some fun activities in the great outdoors for kids here in Singapore then you have come to the right place! We have scoured the island for the some seriously fun stuff for you and the kiddos to run wild and free at while filling up the happy memory bank along the way. So whether your kids are the rollercoaster junkie types, back-to-nature wannabe botanists, or you are looking for the perfect spot for a family picnic, we have something for everyone in our favourite outdoor activity picks. (Psst: don't forget to check out our 100 indoor activities too for when the storms roll in and the sun goes back behind the clouds!)
Forest Adventure: for elevated family fun
Take your mini-Mowglis for a treetop extravaganza over at Forest Adventure (pictured above). There are three fun-packed aerial adventures for the kids (and you, if you're feeling brave!) to choose from: the Kids Course is designed for Tarzans and Janes age five to 10 and has 16 high wire obstacles which culminate with a big whizz down a zip line over Bedok Reservoir. For the tween and teen brigade there is the 2.5 hour exhilarating Grand Course: an adventure for the fearless which tackles 34 obstacles including trapezes, wobbly logs and a whopping great Tarzan swing. The little legs of the family get to have plenty of fun too: the Mini Course is geared for kiddos not quite tall enough for the Kids Course, who want to take their first brave steps onto an obstacle adventure.
Forest Adventure, Bedok Reservoir Road, 479244, t. 8100 7420; www.forestadventure.com.sg
Pulau Ubin: for a back-to-nature, easy pace of life
Take the family on a journey back in time to kampong days and a more rural, easy pace of life over at Pulau Ubin. Kids will love the bumboat experience on the cheap and cheerful journey over from Changi Pier, and even the most energetic family members will meet their match spending a day bike riding around the island, spotting unusual residents such as wild boar, otters and hornbills. Get the full deets on this perfect family day out in our full guide to this gorgeous patch of green so near (and yet so far in many ways) to Singapore.

Sentosa: thrills, spills and a ton of fun for every age and budget
When the sun is out there is no place in Singapore that has more of a holiday feel to it than Sentosa! Whether your kids fancy being roller coaster junkies at Universal Studios, go-kart champs on the Luge, Skydivers at iFly, or fancy making a splash at Port of Lost Wonder, there really is something for everyone and every budget over on the sunshine island of Sentosa. Don't forget to check out our essential guide to all things Sentosa before you cross the boardwalk!

Chinese Garden: the perfect space to run off crazy kid energy
Head west to the beautiful Chinese Garden which is modeled on northern Chinese imperial styles of architecture and landscaping. Few will fail to be impressed by the panoramic skyline at the top of the seven storey pagoda where you can feast your eyes on amazing views of Jurong Lake and beyond. There is also LOTS of space for busy little legs to run, run and run some more.
Chinese Garden, 1 Chinese Garden, Singapore 619795; www.nhb.gov.sg
Hort Park: for green as far as the eye can see
Developing green fingers here amongst the urban buzz of Singapore can be tricky, which is why we love the 'gardening hub' of the Lion City aka Hort Park. With themed greenhouses and beautiful gardens galore, kids (and grown-ups) of all ages will love nature spotting and being in the great green outdoors. Don't forget to get those little legs up and over the Canopy Walk to make sure that energy levels are nicely depleted at the end of the day.
Hort Park, 33 Hyderabad Road, Singapore 119578, p. 6471 5601; www.nparks.gov.sg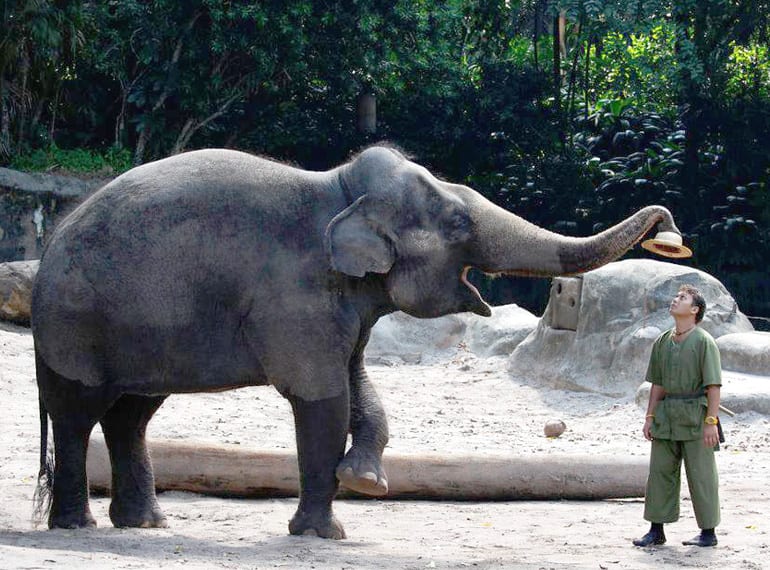 Singapore Zoo: lions and tigers and bears; oh my!
Now we here at HoneyKids have collectively been to a fair few zoos around the world, and we all agree that when it comes to the best zoo in the world, Singapore can't be beaten! We love how the zoo have incorporated natural barriers into the animal enclosures so that depressing bars and cages are something you will never see at this ethically minded attraction. Chuck the kids into the fab water play ground for a cool off once the animals have all been spotted. And if your little ones are keen to see the animals for more than the occasional visit, don't forget to sign up for a family membership to get extra value for your $$!
Singapore Zoo, 80 Mandai Lake Road, Singapore 729826; www.zoo.com.sg
Kranji Resevoir Park: picnic and wildlife heaven
This one might be a bit of a trek (certainly if you are on the East of the island: taxi Uncle might not be pleased but hey ho), but with two fishing grounds, picnic spots galore and a ton of cool wildlife to spot (flying lemurs and squirrels!), this makes for a great afternoon of family fun.
Kranji Resevoir Park, Lim Chu Kang, Singapore 49199; www.nparks.gov.sg

Gardens by the Bay: water play, adventure park and room to scoot
Perennial HoneyKids fave Gardens by the Bay is always a top spot for some free water play fun combined with the cool outdoors adventure playground also on site. Don't forget to take scooters for a whizz around the gorgeous gardens, and make a pit stop for hawker-style food at the wallet friendly, super delish Satay by the Bay!
Children's Garden, Gardens by the Bay, 18 Marina Gardens Drive, Singapore 018953; www.gardensbythebay.com.sg
Coney Island Park:  the new escape back to nature
Singapore's newest rustic, green space opened late last year and is the perfect choice for a leisurely day of cycling, picnicking and wildlife spotting for the whole fam. Kiddos will love the all-natural Casaurina Exploration Playground, where obstacles have been created out of up-ended trees and the likes. There are also a whopping five beach areas to pick from for a spot of sandcastle building, and don't forget to snap a photo or two at the iconic Coney Island gates too. For full deets on all there is to see and do on the island, check out our Coney Island guide before you pack that picnic and head on over.
Coney Island, accessed from Punggol Settlement, 3 Punggol Point Road, 828694; www.nparks.gov.sg
Jurong Bird Park: hang out with Happy Feet and a heap of feathery friends
Head over to the nesting place for over 400 species of birds, from Happy Feet and his friends at Penguin Coast, to Ollie the Ostrich at the Dinosaur Descendent exhibition area, for a thoroughly feathery fun day out at the Bird Park. Our little chicks also give a big thumbs-up to the Birdz of Play: head to the dry zone for an adventure bird-themed playground, and to the wet zone for the kids to make a big splash at the water park.
Jurong Bird Park, 2 Jurong Hill, Singapore 628925; www.birdpark.com.sg
Bukit Timah Nature Reserve: jungly fun with the family pooch
This family friendly nature reserve is home to over 40% of Singapore's undisturbed flora and fauna so take your binoculars in the hope of spotting the mischievous macaques, the immeasurably cute colugo and the alien-looking pangolin amongst the 3,043 jungly hectares. The trails are well laid out and easy to navigate and the reserve gets extra brownie points from us for welcoming the family dog as a visitor too. The area has recently undergone a big restoration and is set to re-open in its entirety by September 2016 (with plenty to see and do before that time too).
Bukit Timah Nature Reserve, Hindhede Drive, Singapore 589318; www.nparks.gov.sg

Haw Par Villa: Chinese mythology at its scariest best!
For a fun, and free, journey into the myths and legends of Chinese culture, Haw Par Villa is definitely the place to head for a large dose of legend, turtle feeding and monstrous statues! Built in 1937 by Burmese brothers Boon Haw and Boon Par (part of the Tiger Balm dynasty) the park was designed to create a journey through Chinese folklore and history. Kids will love (or run away screaming from) the gruesome 10 Courts of Hell: these, along with the enormous mythological statues, are worth making the visit for alone!
Haw Par Villa, 262 Pasir Panjang Road Singapore, 118628; www.stb.gov.sg