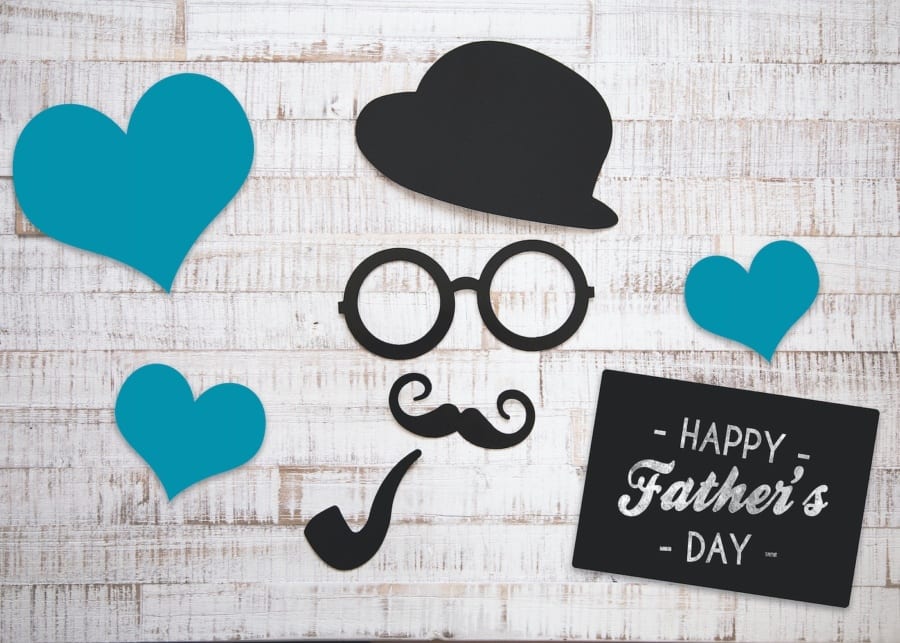 Since we'll all be spending Father's Day at home this year, we've come up with some cute ideas and surprises for all Dads stuck indoors.
Ahh Father's Day. Right about now, we'd be busy planning a fun family day out, whisking the kids off to the mall to buy Dad a cute gift, all before making a reso at one of our absolute favourite family-friendly restaurants. Of course, there won't be any lavish plans for Father's Day 2020 (thanks a bunch, Covid) but that won't stop us celebrating the most important men in our lives…
This year, Father's Day falls on Sunday June 20th 2020, which means we'll be smack bang in the middle of Phase 1 of Reopening. But hey, we've become pretty nifty when it comes to at-home celebrations, and a socially-distant Father's Day is no exception!
So, to help you celebrate Father's Day 2020, here are all the fun things you can do at home to say thanks to Dad. From family hampers to DIY gifts, get ready to shower him with all the at-home treats he deserves!
THINGS TO DO AT HOME FOR FATHER'S DAY
Say it with a gift
Just because we can't window shop along Orchard Road for a fancy new watch or his fave cologne, doesn't mean Dad has to go empty-handed this year. There are plenty of awesome presents and dad-friendly gifts available online, and we've taken the liberty to find them all! Check out this Father's Day gift guide for all the best ideas.
Catch up with the fam, virtually
While we're loving all the extra family time together at home, not all families are under the same roof. So what better time to check-in with extended family than on Father's Day? Round up the kids, fire up the laptop and get together over a Zoom or Skype call. After all, Dads from every generation deserve a little lovin' on Father's Day.
Order in some yummy food
Take-outs are the new date night, but for such a special occasion, why not swap out the standard pizza delivery for a gourmet at-home feast? Right now, The Pantry at Dempsey are putting together incredible family-sized meal deliveries (and they even donate a meal to Food Bank Singapore with every purchase!). Or, treat him to a Father's Day feast fit for a king with the Father's Day set menu from PARKROYAL on Kitchener Road. He'll get to tuck into Sichuan and Cantonese delicacies from Si Chuan Dou Hua Restaurant – all in the comfort of home.
Make him a cocktail
Shaken, stirred, or just plain strong to help forget about this pesky pandemic – make Dad a cocktail this Father's Day. Whether he's a tropical Mojito kinda guy or sees himself as more of a 007 Martini drinker, we've got a great round-up of recipes for shaking cocktails at home. Bottoms up!
Watch a classic family flick
No doubt your Netflix subscription has been stretched to its limits during the Covid-19 circuit breaker, but how often did you sit down as a family and watch a good ol' fashioned family flick? Let Dad sit front row and have the kids whip up some popcorn – here's our list of our favourite family movies if you need some inspiration.
Get the board games out
Nuthin' says at-home family fun quite like a game of Cluedo. So this Father's Day, dust off those classic board games hiding in the cupboard, or splash out on a newbie that Dad and the fam will love. Right now, we're obsessed with Settlers of Catan, but check out our full list of awesome family board games here.
Treat him to a massage
After all those at-home workouts and movie marathons on the couch, Covid has taken its toll on the ol' dad bod. So this Father's Day, get the kiddos involved and treat him to a multi-hand massage to relieve those aches and pains. Feet, head, shoulders and back – a little TLC will go a long way.
Give him a Gourmet Care Pack
If the dad in your life loves an indulgent nibble, order him in a Gourmet Care Pack from SE7ENTH via Chope. These foodie-filled gift packages are bursting with delish canapés and sweet treats, and you can even add a little personalised note too. Chargrilled prawns, caramelised butter scallops, smoked salmon tartare and assorted macarons – let's hope he's happy to share!
Pour him a pint
No doubt Dad is pining for a proper pint in the pub, so bring the brewery to him with a delivery of craft beer. Our fave is from Good Luck Beerhouse. This Haji Lane gem not only delivers upmarket local brews, but they also come made-to-order and freshly tapped, meaning Dad gets that just-poured taste right at home.
Make a date with Dad
We love playing this game at home as it not only means us mums get a bit of a break, it also means the kids get to spend some quality one-on-one time with Daddy. Whether it's an hour of playing video games, baking, or building an obstacle course in the garden, let each kid conjure up the perfect one-on-one date with Dad.
Take a family photo
We're not talking another blurry selfie here. We're talking a full-on, at-home photoshoot complete with a cool background and your Sunday's best! Set the camera up on a timer, get in close and say cheese for the family photo album! A pandemic-riddled Father's Day might seem like a time we won't want to remember, we'll no doubt look back on this mad year as the time we all got to spend oodles of quality time together. And that's something worth documenting.