Get out of the blazing sun (or pouring rain) and into one of these great indoor play centres – we especially love the ones that serve coffee...
Indoor play centres are a godsend in Singapore. It's an island of extremes, scorching hot one moment and torrential floods the next (and let's not mention the dreaded haze). Which is why sometimes a day out at a beach park can be a challenging, tantrum-inducing proposition (and we don't just mean the kids).
And while we love hanging out in our favourite malls in Singapore, there's only so long toddlers will co-operate. If you've already checked out all the family-friendly exhibits on right now, save your sanity (and the state of your house), and head to one of Singapore's numerous indoor play centres for a couple of blissfully cool hours. Not only will your tiny tearaways be entertained, exhilarated and exhausted, all things going well you'll savour a coffee in peace. Here's our list of the best indoor playgrounds in Singapore.
SuperPark
Coming to you straight from Finland, SuperPark Singapore is Singapore's largest all-in-one indoor activity park. And the good news? Parents who've always wanted to join in the indoor park fun now can! Stretching a whopping 40,000 square feet over two levels at Suntec City Mall, SuperPark has three themed areas offering over 20 activities for all ages. With its roots in Finnish education, the activities are designed to teach children age 12 years and below motor skills while improving their social-cognition skills and confidence. Are you in? See you at SuperPark Singapore!
Where: SuperPark, 3 Temasek Blvd Suntec City Mall, #02-477 (North Wing) Singapore 038983
Smigy Playground
Easties, there's a new indoor playground in town and we're totally loving it! Located at PLQ Mall in Paya Lebar, this 5,000 square foot space promises at least two hours of unstoppable fun for little ones aged two and up. Our HoneyKids junior reporters, aged 2 and 4 years respectively, love the ball pit with the interactive screen and driving the cars all around Smigy. You can also find them climbing the play structures or digging away in the Hinoki pit. We love Smigy!
Where: Smigy, #03-05/06, PLQ Mall, 10 Paya Lebar Road, Singapore 409057
Amazonia
The newly-renovated Amazonia play centre (all 9000 square feet of it) is one of our favourite go-to indoor family entertainment hubs in Singapore. It boasts an eight-metre high slide, five-level play gym and super-fun zones like the trampoline ball shootout, the jungle play gym and the toddler play area. And there's a café for the coffee-quaffing parents – yippee!
Where: Amazonia, Great World City Mall #03-08, 1 Kim Seng Promenade, Singapore 237994
HomeTeamNS T-Play
Want the kids to learn something as they zip around ball pits, trampolines, transparent climbing walls and slides? We've got our sights set on T-Play, an augmented transportation-themed playground at HomeTeamNS. Made entirely in Sweden and assembled in Singapore, T-Play occupies a whopping 4,200 square feet at HomeTeamNS Bukit Batok. It also features some seriously cool interactive play equipment for kids on the move. From airport check-in counters to heli landing pads, the kiddos will emerge absolute experts in all things transportation. Chuck in a nursery area with plenty of soft play equipment for the smaller tots and you've got yourself a winner. Entry fees range from as low as $2 to $20 depending on age, visiting hours and membership tier, so pick an off-peak time to visit for tons of fun at a great price!
Where: HomeTeamNS Bukit Batok, 2 Bukit Batok West Ave 7, Singapore 659003
Pororo Park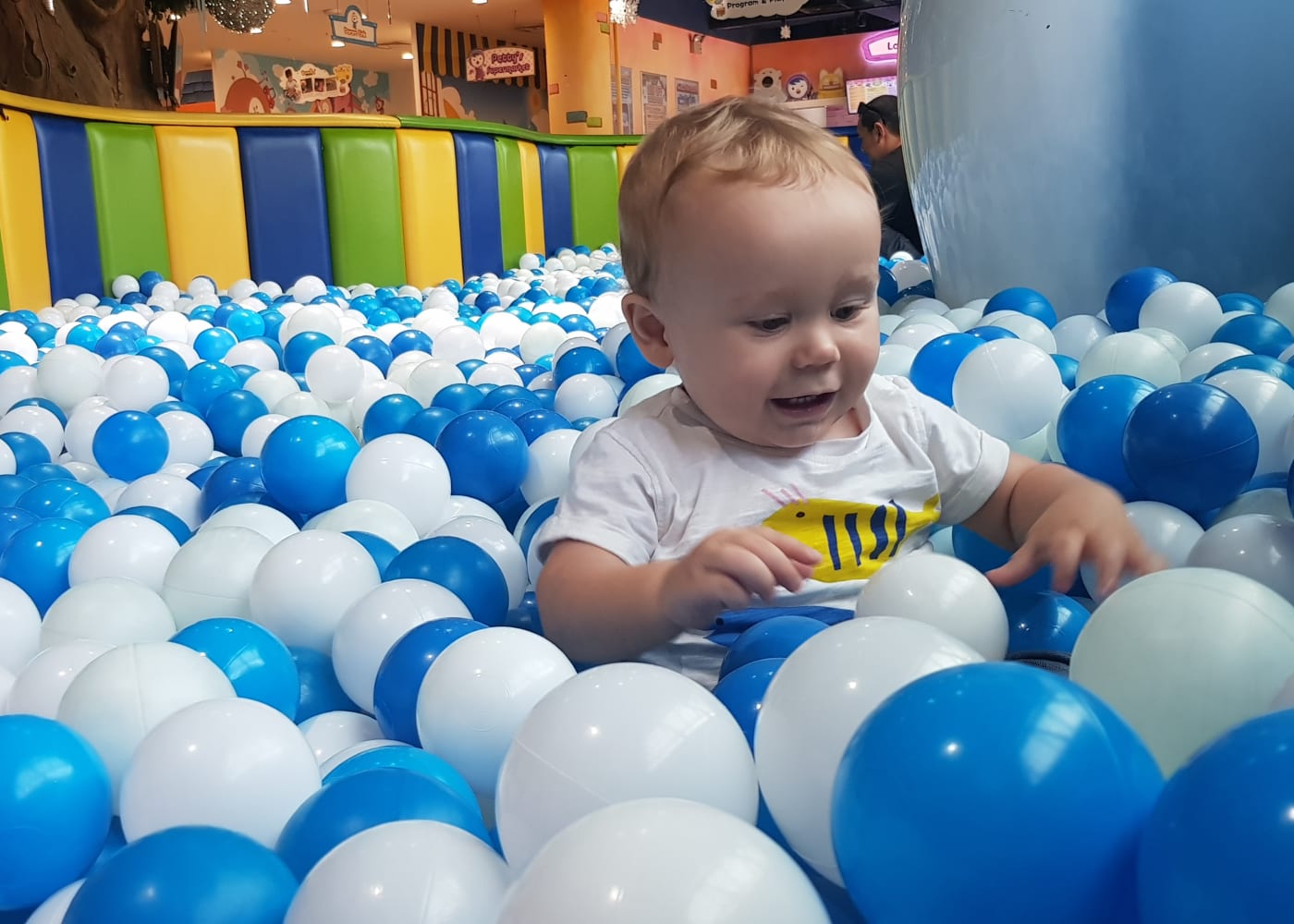 Pororo Park is perfect for long-time fans as well as newcomers to the show, Pororo Penguin. Filled with beloved characters, this themed play centre will take young explorers on an adventure to the snowy village of Porong Porong Forest. Dive into the shark ball pool, visit Pororo's House, tackle the play gym and take a peek into Tong Tong's Little Theatre. Our fave is the Pororo Express: a mini train ride that will have your kids begging to go "Again! Again!"

Where: Pororo Park, 6 Raffles Boulevard, Marina Square #02-29
Waka Waka at Annex @ Furama
We just had to road test "Waka Waka" in River Valley with our kid crew. Straight up – our kids had an absolute BLAST! A fun animal safari theme runs throughout the centre, and it had a range of cool zones to entertain different ages – our 18-month, five- and seven-year-old kids all refused to leave come home time. Toddler's favourites included the wave slide (with real water and lights inside), bouncy castle and the life sized lion and zebra statues. All the kids played happily on the futuristic air mattress with cool changing neon lights. It's worth paying the extra $11.40 for the obstacle rope course (with harness and helmets it's like a mini-indoor version of Forest Adventure at Bedok) and the timed climbing walls, totem pole and leap of faith for the older, more capable kids with state-of-the-art auto belay systems. Plan in advance and you can catch one of the weekly live shows from the life-sized characters. Definite tick of approval – we've already scheduled our next visit and we're bringing friends!
Where: Waka Waka, 407 Havelock Road, [email protected] #05-01, Singapore 169634
FUTURE WORLD @ the Art Science Museum
With its amazing FUTURE WORLD exhibit, the ArtScience Museum is right up there for an inside kind of day out. This permanent exhibition is a truly spectacular experience for young and old(er). Immerse yourselves in a room with floor to ceiling flower blooms, chillax and watch waves roll in, stack oversize illuminated blocks, and enter a ball pit like no other. Get the full scoop on our visit to FUTURE WORLD and get to the ArtScience Museum as quick as your lovely legs will take you. Be savvy friends and make sure to go on Family Fridays (one adult ticket secures entry for up to four kiddos – Bargain!). The space just got a revamp and has all the old faves still there, with two new additions to the digital fun.
Where: Future World, 6 Bayfront Ave, Singapore 018974
KidsSTOP at the Singapore Science Centre
For an indoor play zone that offers arguably the best edutainment experience for kids in Singapore, head to KidsSTOP @ the Singapore Science Centre. It's like a Willy Wonka's factory filled with loads of fun science-based exhibits to keep your kiddos amused for ages. The dino-dig pit is simply irresistible for younger kids, and our 18-month-old junior reporter adored the builder station with vests, helmets and tools. Don a pilot's cap and navigate a plane or scrabble to collect colourful balls as they are dropped from a crane on high. Older kids will love scaling eye-watering heights on the climbing equipment. There is also a great section where children can weigh and measure themselves and learn all about the human body. Don't forget to check out the science programs for tots to pick up all the ins and outs of the how the world works. Our insider tip: make sure to head right to the back and down the corridor to a series of rooms with live chicks and a small TV studio where kids can be a popstar for the day!
Sure, KidsSTOP is a little off the beaten track, but you can make a whole day of it by visiting the Singapore Science Centre, Snow City or the Omni-Theatre Singapore, which are all onsite. The stunning Jurong Lakeside Garden is also just a stone's throw away and is a perfect spot for picnic lunch post-play.
Where: KidsSTOP, 21 Jurong Town Hall Rd, Singapore 609433
Tayo Station
Tayo fans rejoice! Tayo the Little Bus and friends have pulled up at Downtown East to make its first ever stop in Southeast Asia. Based on the popular South Korean show, the playground has plenty of areas for kids to play and learn, including a child-sized street scene for the tots to zip and zoom around in and, most importantly, learn all about road safety. Pop over to Poco's Hinoki Play for sensory play featuring aromatic wood cubes imported from South Korea or let the kids tire themselves out on the three-storey play structure, Gani's Playground, which features two massive slides.
Where:  Tayo Station, Market Square @ Downtown East, E!Hub, Level 3 #03-112 
The Polliwogs
Although all Polliwogs centres are awesome, we must admit to having a bit of a soft spot for VivoCity as we squeeze in a little retail therapy pre/post play. What's not to love about a well-equipped kiddy haven with parent's coffee lounge complete with internet and CCTV screens so you can watch on from a safe distance (older kiddos of course)? It truly is serious fun so everyone's happy!
Where: The Polliwogs, Eastpoint Mall, VivoCity and Suntec City
Playeum, The Children's Centre for Creativity
This incredibly creative playscape in Gillman Barracks is the sort of wholesome place that you feel good about taking your kids to. It's almost like a child has curated the space as it anticipates exactly what young explorers want to do by offering them a series of interactive and open-ended spaces for role play and creating. On top of holiday camps, art jams, workshops and talks, Playeum holds a new exhibition every year so keep an eye out on the website.
Where: Playeum, Blk 47 Malan Road, Gillman Barracks #01-23, Singapore 109444
Buds by Shangri-La
If you're in the mood for a staycation, why not splurge a bit for the kids to have some serious fun at the fully supervised playzone Buds by Shangri-La? It's got a massive ball pit and is filled with climbing structures, bouncy bridges, slides of all sorts and plenty of air cannons about the kids are sure to have a blast with. Little ones can get their fair share of fun here too in the toddler corner. You'll find baby-sized swings, slides, a piano floor, interactive wall buttons, and vintage kiddie rides – whee! There's plenty of fun to be had outside at the wet play area dotted with splash pads, water sprays, a massive water bucket and of course, a giant pirate ship. Did we mention there's a cafe for you to put your feet up while the little ones tire themselves out? Hurrah! This place gets super busy, so try and head there at off-peak times.
Where: Buds by Shangri-La, 22 Orange Grove Road, Singapore 258350; www.shangri-la.com
HomeTeamNS Clip 'n Climb
If your kids have a healthy disregard of heights, this New Zealand rock climbing theme park aka Clip 'n Climb is just the ticket. Expect (once you find the place, it's a little tricky) to be wowed by 19 themed climbing walls suitable for kids weighing over 10kg (no toddlers). Nail the safety briefing, harness instruction and demo and your intrepid adventurers will have the rest of their 90-minute session to use their logic and puzzle-solving skills to negotiate the colourful walls. Our kid-critics rave about The Twister: a colourful puzzle wall that looked like an abstract staircase, The Ladder and The Tetris. Older, stronger kids will master the epic challenges of the Triffid and Dry Ice walls by session end. Check out our review of HomeTeamNS Clip 'n Climb for all the gritty details.
Where: HomeTeamNS Tampines, 1 Tampines Walk #03-03, Our Tampines Hub, Singapore 528523
KidZania
We took our junior reporters to the opening of KidZania Singapore and gave an honest review. It sure is an exciting concept: we're talking a fully-fledged replica city with buildings, streets, shops, hospitals, fire-trucks and workplaces. Kids can work in a vocation of their choice and learn the value of money as they spend their pay cheque in KidZos currency around town. The facility is state-of-the-art, but it's more theme park than play centre (think high ticket costs), and we were not as thrilled by the prolific corporate branding, waiting times and inability of our little workers to purch the merch come knock-off time. It gets the kids' tick of approval though!
Where: Kidzania, Palawan Kidz City, 31 Beach View #01-01/02, Singapore 098008
Let 'em Play
Let 'em Play is the perfect place for a spot of kidulting as we are getting VERY excited about Singapore's first Augmented Reality Climbing Wall. Using cutting edge projected graphics and proprietary body tracking technology from Finland, thrillseekers experience interactive and competitive games as they climb (like playing pinball) on the rock-climbing walls. The two-storey High Elements Obstacle Course is equally thrilling with features like the hanging pipes, see saw, zigzag traverse, barrel crawling, assault bridge and water drop net. Don't miss the speed-climbing wall with auto-belay system. There's plenty more to keep you there all day including the Robotics Lab boasting the largest range of educational programmable robotics kits from all around the world. We'll see you there!
Where: 18 Boon Lay Way, Trade Hub 21 #01-100, Singapore 609966; www.letemplay.com.sg
Power Kids Gym
Your little energiser bunnies will have a tumbling good time at Power Kids Gym (formerly JWT Kids Gym). There are plenty of classes available, but you can also come along for one of the open gym sessions for an hour of freewheeling fun: here your kids can roll, jump, swing and rope climb around this great safe (and soft) gym space until you carry them out come home-time. The parties there have to be experienced to be believed. Central location too!
Where: Power Kids Gym, 81 Clemenceau Avenue, UE Square #02-12, Singapore 239917; 
Trampoline Parks
Positively the quickest, funnest (and sweatiest) way to tucker out your terriers is at a trampoline park. Kids go crazy for interconnected trampolines, dodge ball courts, parkour walls, slam dunk rings, slacklines, tumble tracks and rock climbing walls. We've personally tried, tested and reviewed all of the great trampoline parks in Singapore. BOUNCE Singapore at Cathay Cineleisure is an absolute magnet for teens; Katapult is nestled in the picturesque green family-centric leisure park Orto and Amped wins hands down for convenient location (River Valley and Jurong East).
Where: BOUNCE Singapore, Cathay Cineleisure #09-01, 8 Grange Road, Singapore 239695
Amped, River Valley: 46 Kim Yam Road, The Herencia, #02-11, Singapore 239351; Jurong East: 200 Jurong East Ave 1, Yo:Ha #02-23, Singapore 609789;
Katapult Trampoline Park, 81 Lorong Chencharu, #01-11 ORTO, Singapore 769198
Kaboodle Kids
Ever since our junior reporters (aged four and six) spent the morning at Kaboodle Kids (read our full review of Kaboodle Kids here), they've been begging to go back. The 'Imagination Playground' oversized blue foam blocks, noodles and balls shipped in from New York are designed to inspire kids to build the castle/race car/fort of their dreams. And they're positively encouraged to enjoy smashing it all down, before starting afresh. It's fun learning at its best. There's even a cafe for parents and dedicated sensory and craft lessons, so check it out!
Where: Kaboodle Kids, 88 East Coast Road, Katong Square #02-05, Singapore 423371
Kidz Amaze
Kidz Amaze has three ginormous indoor play centres designed by early childhood experts to be not only visually appealing, but also developmentally sound. The most exciting of the trio has got to be Splash @ Kidz Amaze SAFRA Punggol (opened April 2016), Singapore's first indoor water playground. Let us tell you, it was worth the wait! Being a public space it's actually quite affordable (family of four $20 members, $40 non-members), and because it's indoor you can play for hours in the 'Enchanted Deep Sea' rain, hail or shine! With multiple play decks, themed splash pad and no less than FIVE water slides, it's got something for every 18-month to 13-year-old water-lover. They run water-themed kids' birthday parties too!
Where: Kidz Amaze SAFRA, Toa Payoh, 293 Toa Payoh Lorong 6, Singapore 319387; Jurong, 333 Boon Lay Way, Singapore 649848; and Splash @ Punggol, 9 Sentul Cres, Singapore 828654
Cool de Sac
Cool by name and cool by nature, this play space has loads to offer kids from six months to 12 years. Settle in with a coffee and watch on as your small people go crazy on the various play stations including Lego, arts and crafts, a tree house, climbing equipment, slides and an area dedicated to the performing arts and dressing up. Older kids will also have a ball in the gaming section.
Where: Cool de Sac, 3 Temasek Boulevard, Suntec City Mall #02-379/80, Singapore 038983
KinderPlay
If you happen to find yourself at Changi Airport and need a place for the kids to run off some excess energy, then this Mr Bean-themed playground is your spot. Aimed at the younger kidlets, it has a soft-fall floor and padded equipment to give you peace of mind. Our junior reporter loved the cage with giant floating balloons and the multi-coloured décor. It's open daily until 11pm if you have night owls! The Changi Airport fun doesn't stop there either: pop by the departure lounge of Terminal 4 to check out the (totally free, whoo!) Chandelier playground – a five storey double helix climbing structure made of nets and poles. Terrifying stuff, but spot-on for little daredevils.
Where: KinderPlay, Changi Airport Terminal 3, Unit #14, 15, 16 and 26, B2 Mall
Petite Park
Open to kids under 130cm or under seven years old, smallies can trot right on over to the Petite Park without fear of being bowled over by big 'uns. The playground features special climbing frames, a mini wall climb, a race car track and a ball pit. Less active kids can exercise their imagination in the pretend play zone with eco-friendly wooden toys, a kitchen, lego wall, and plenty of role-playing materials.
Where: Petite Park, Kallang Wave Mall, 1 Stadium Place, #01-06/07, Singapore 397628
Happy Castle
Head's up parents, we've found the Daiso of all playcentres – Happy Castle. It's great for wrangling uppity kids in need of some serious energy burning. With a cassia seed pool, mountains of large soft blocks to build with and an arts and craft corner, kids will be happy for hours playing and crafting to their heart's content. Bonus: this pick is cheap as chips in play centre costing world (as low as $7 an hour if you buy the package)! The reasonable pricing and the fun-packed activities do come at a cost though: this place can get super busy so pick your timing wisely.
Where: Happy Castle, various locations
Kidzland
Kidzland boasts a massive range of play equipment from its arcade game zone to a forest-themed play gym, plus an indoor sandpit. Little artists can watch their drawings come to life at the magic pen area where they get to take part in a little digital colouring, get busy with Lego and kinetic sand or head outside for more games including fishing or yacht racing.
Where: Kidzland, 200 Turf Club Road #02-14, Singapore 287994
Little Planet
There's no massive jungle gym in this indoor play centre but there's plenty to keep imaginations fired up. Kids can visit Little Planet and go on a farm visit, buy and sell produce at the marketplace, prepare food in the kitchen and cafe, hang around for a spot of fishing, get lost in the forest maze or rule a castle. There's also designated areas for kids to take part in some arts and crafts.
Where: Little Planet, 176 Orchard Road #02-21, The Centrepoint, Singapore 238843
Pirate Land
The first of its kind in Singapore, Pirate Land promises some he-arr-ty fun with its massive pirate-themed playground. Engage in some free play in the jungle gym, wear the kids out at the Bouncing House, or head to the pretend play areas to avast ye scurvy scallywags! Trainee pirates can also scribble their own deep sea creatures on the ocean animal projection, and while the bigger kids are off exploring, smaller tots can have fun in the tiny teepee and toddler play zone. There's also laser tag, remote-controlled tanks and racing cars: great for a spot of friendly family competition.
Where: Pirate Land, 176 Orchard Road, #03-09/101 The Centrepoint , Singapore 238843;
My Little Climbing Room
Little kids who want to scale to new heights but are just a head too small for the big kid climbing gyms can head to My Little Climbing Room instead. Don't be fooled by its size! Fitted with kid-sized harnesses and 4m high climbing walls, rope swings and balancing toys, this is just the place for budding acrobats to practise their balance and coordination. Book ahead as there is limited space.
My Little Climbing Room, 183 Jalan Pelikat #B1-101, [email protected], Singapore 537643