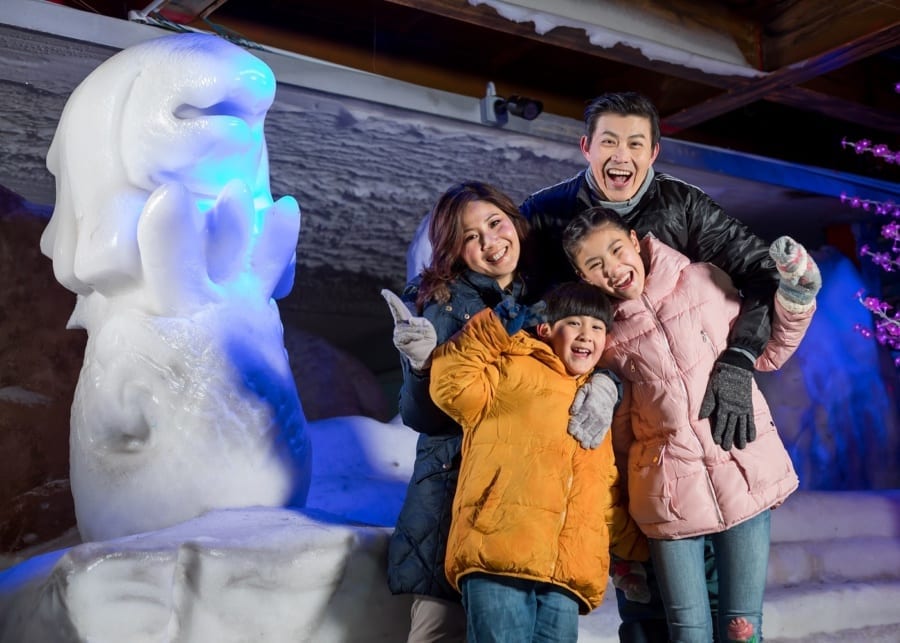 This November, bring the fam over to Snow City Singapore for frosty fun activities!
We might live on a tropical island, but who says you can't escape the heat? Good news: there's no need to spend thousands on a flight to a winter destination to beat the heat. Our tip? Head to Snow City Singapore, the country's first indoor snow centre dedicated to all things frosty and wintry, this November for A Winter Fairy Tale! Set in a snowy landscape, this whimsical fairy tale adventure features appearances from enchanting princesses, storytelling sessions, snow sculptures and fun activities for kids of all ages – even the kids at heart! Psst… all activities are free to Snow City ticket holders!
Snow Fall
Here's an easy-peasy way to get into the winter spirit – watching snow fall! If you've got a little one who's never seen the white stuff, they'll definitely be amazed. This is a one-of-a-kind experience you won't want to miss.
Snow Chamber, available daily every hour.
Snow Blizzard
Ever wondered what it feels like to be caught in a blizzard? Get blasted with heavy snowfall and strong winds at this blustery attraction.
Snow Chamber, available daily at 11am and 5pm.
Drift on Ice
If you think bumper cars are one of the most thrilling carnival rides, bumper cars on ice are waaay cooler! Enjoy five minutes of hair-raising action at Singapore's coldest bumper car arena, and drift your way to fun.
Snow Chamber, available daily from 10am to 6pm.
Arctic Avengers and Santa Appearance
For many of us, taking a picture with Santa is a holiday tradition. And guess what? This year he's dropping in to Snow City! Not only will you be able to take pictures with Father Christmas himself, you and your kids will also get to snapshots with Snow City's very own mascots – Oki and Suki – too!
Snow Chamber, every Wednesday and Friday, 2pm.
Princess Grand Ball Appearance
Are your little ones fans of Queen Elsa or Princess Anna? If they are, they'll want to catch the royal debut of Snow City's own princesses as they make their grand entrance. Bring on the sparkles and shimmer!
Snow Chamber, available only on weekends, 1pm and 3pm.
Fairy Tale Storytelling Session
Who doesn't love a good story? Sit back, relax and embark on a whimsical adventure with Mr Frost as he narrates enchanting fairy tales for the kiddies.
Snow Chamber, available only on weekends, 4pm.
Christmas Carols
What's Christmas without carollers? Join a group of a capella singers as you sing along to your favourite Christmas carols (Mariah Carey, you've got nothing on us!).
Snow Chamber, available on 24 and 25 December, 4pm.
And, here's one thing you definitely can't miss out on:
Prince and Princess for a Day
Has your little one ever dreamt of being the belle or beau of the ball? Here's your chance to make that dream come true. In this activity, they can transform into the prince or princess they've always imagined in this dedicated dress-up corner! *Terms and conditions apply
Snow City Lobby, available on weekends, including 24 and 25 December, 2 – 5pm (last admission is at 5.30pm).
Sounds fun? We think so too! Find out more about A Winter Fairy Tale at Snow City today, a limited-time run from 16 November 2019 to 1 January 2020. Visit Snow City website for more information.
*Terms and conditions:
Purchase the $50 photo package from Snow City ticketing counter to enter the prince and princess dress-me-up room, where you get to walk home with 4 x 6R printouts and its digital copies. Photo package is available onsite at Snow City ticketing counter only. Pre-listing is recommended to ensure children will be accommodated during the session. Photo package entitles a maximum of 2 children for dress-up and photo-taking session. One (1) adult parent or guardian is allowed to supervise a maximum of 2 children during a change of clothes. Each session may take 15-20 minutes per photo package. Selection of 1 dress or 1 suit per child applies. Photo-taking will be solely managed by Pictureworks. Cameras. Other imaging devices are prohibited inside the dress-me-up room. Photos taken by Pictureworks will also be used by Snow City Singapore for marketing and promotional purposes. This package is not valid with other discounts and promotions and not exchangeable for cash, goods or other services. The Management reserves the right to amend the terms and conditions without prior notice.
This article is in partnership with Snow City Singapore.