If it's time for new additions to your child's toy box, check out these stores for unique, quality toys. We're talking beautiful wooden blocks and instruments, eco-friendly toys, handmade soft toys and more...
Looking for a shiny, new toy for your child? Singapore has no shortage of toy stores, but if the last thing you want to do while shopping for toys is get lost in a maze of plastic and flashing lights, consider these options. We've rounded up the best places to shop for cool, unique and quirky toys: think retro tin drums and spinning tops, brightly coloured wooden puzzles and instruments, sustainably made stacking cubes (just another great way to live a green, eco-friendly lifestyle) and  handmade toys and plushies created by local crafters. We love toys with a great message that promise hours of immersive play!
PS: If you want to do all of your window shopping for toys from your laptop, don't forget to check out our guide to the best online stores for buying toys in Singapore!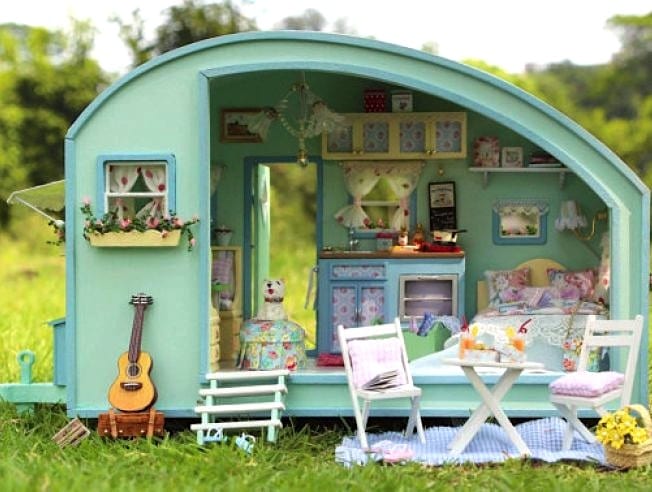 The Children's Showcase  
This one-stop store for mums and kids stocks a fantastic range of high-quality products from all over the world. The kids will be giddy with excitement over the tin spinning tops by Egmont, w
himsical plushies from Maileg, beautifully illustrated stacking cubes by SEBRA, gorgeous age-appropriate (and strangely lifelike) dolls from Kathe Kruse and solid wood dollhouses from Janod Mademoiselle.

The Childrens Showcase, Stores in Tanglin Mall and Pasarbella; www.showcase.com.sg
The Better Toy Store
The Better Toy Store lives up to its name with its range of carefully curated, award-winning toys that meet the holy trifecta: value, design and quality. Toys are not only safe (they exceed stringent safety standards) but are from brands renowned for sparking the imagination. We love the bright and cheerful range of wooden instruments by French brand, Djeco – who doesn't love a ukelele? This is where you'll find the awesome ride-on Wheelybugs, and can pick up wooden puzzles and animals, plus sustainably produced treats by Plan Toys made from bamboo. And if that's not enough, they also have 100% organic toys for babies which have minimal impact on the environment as most are made of wood.
Check out the branches in The Centrepoint, Tanglin Mall and Parkway Parade. www.thebettertoystore.com
HipVan 
When the house needs a little jazzing up, we turn to HipVan, purveyors of gorgeous home and living products. What we also love is the rather extensive kids' section. Highlights include The Kingdom Kit, a nifty little construction set for your medieval-obsessed littles, while the Space Ship Play Bag is a fabulous addition to your mini astronaut's toy collection. Warning: With cool toys like this, don't be surprised if your husbands too get in on the action.
HipVan, www.hipvan.com
Naiise 
For toys with a cool local twist, check out Naiise's well-curated collection, which includes The Bak Zhang five stones, a rustic throwback to the seventies (though we'd suspect it'd delight the adults far more than the kids). For trendy play tents, Domestic Objects' teepees will add hours of fun to your kid's play sesh. We're also particularly taken with Moover's wooden toys; instead of the typically plastic and low quality versions of mainstream toys, these are quality, easy-to-assemble wooden toys which can be passed down from generation to generation.
Naiise, Stores at Central Mall, 112 Katong, Orchard Gateway, Westgate and Wheelock; www.naiise.com

Cluster Cluster
Another purveyor of quality, well-designed and affordable home décor products, Cluster Cluster is a great place to look for cool toys for the kiddos. What tops our list here is the Attic House, a unique deviation from typically girly dollhouses. Made from neon acrylic, each house comes with five wooden, blackboard people and a chalkboard that kids can doodle over. Well-designed and versatile enough for hours of fun, the Attic House also makes a wonderful decorative piece for the living room.
Cluster Cluster, www.cluster-cluster.com
Nature's Collection
Create a miniature zoo for your wildlife and nature-loving kids with Nature's Collection colossal collection of stuffed animals and figurines, from arctic and sea life to farm animals, reptiles and amphibians. For new bedtime companions, the stuffed animal selection (all 52 pages of them) even includes star pets like Boo and the endearing Grumpy Cat.
Natures Collection, Stores in 112 Katong and Funan; http://www.natures-collection.com
Strangelets
This little design store in Tiong Bahru tucked between quirky, independent bookstores Books Actually and Woods in the Books prides itself on its products as an "escape from the dullness of hyper-mega mass production." The toys here are for both kids and adults, with products like Miller Goodman's Playshapes and Tegu's wooden robots available.
Strangelets, 7 Yong Siak Street, Singapore 168644; www.strangelets.sg/
RICE 
If colourful, quality toys are your child's preferred playthings, homeware and accessories company RICE has an ample selection of patterned hobby horses, animal hand puppets and knitted figurines will keep them happy. Looking for a fun storage for all their toys? RICE's toy baskets are decked out in hand embroidered designs (like a kitchen stove or a zoo) to make cleaning up fun.
RICE is stocked at Boo-tiful, Motherswork, Ni-Night and The Children's Showcase. 
Plushism 
Years ago, The Ugly Dolls caused quite a stir with its quirky and deliberately eccentric-looking monster plushies. Plushism continues the trend with its handmade selection of plushie monsters turned rock band stars. Brightly coloured, gorgeously and intricately hand-stitched, these monsters are made to order.
Plushism; https://www.etsy.com/sg-en/shop/plushism
Tai Sing
This over four-decade old stocks a huge assortment of toys, but what sets this store apart, however, is its astounding range of toy cars. From mini ones to cars from posh brands like Audi and Lamborghini, the cars are intricate replicas and will be greatly appreciated by older boys and their dads.
Tai Sing, 748-754 North Bridge Road, Singapore 198722; http://www.taising.com.sg
The Wright Gift 
This trusted purveyor of vintage collectibles and toys offers up nostalgic pieces for mums, dads and much older kids. These handcrafted, excellently curated pieces include wind-up toys, chess sets of the bygone era and kooky magic kits. We'd advise bringing only bigger kids here – the store's elegant settings is not made for tiny tots and restless hands.
The Wright Gift, ION Orchard #04-02, Singapore 238801; http://www.thewrightgift.com
Lamkins
Regarded as one of the best educational toy stores in Singapore, Lamkins has a wide range of alternative toys to educate your child through play. For your curious little scientists, the science kits are great for safe experiments which teach your bubbas to investigate, predict, measure and compare. For your tiny tots, the learning and developmental toys will help to build essential skills like basic counting, fractions, colours and fine motor skills.
Lamkins; https://www.lamkins.com.sg
Dollisimo
Put aside the plastic Barbie dolls and makeover games on the Ipad and get to playing with the real treasures: handmade dress up dolls made from scratch. These dolls are made for quiet and imaginative play for children of all ages, and come with sets of different clothes, easily removable with Velcro straps.
Dollisimo, https://www.etsy.com/sg-en/shop/Dollisimo
MiniatureDIY
Looking for a fantastic (non-Mattel) dollhouse for your little one? MiniatureDIY handmakes nifty little dollhouses sporting various themes and interiors. The cool thing about these dollhouses (besides the obvious, intricate details seen in the excellent handiwork) is that instead of regular houses, they have different themes like Paris Coffee Shop, Beach House and Motor Home. Dollhouses come with dust covers and some even include LED lighting and voice control.
MiniatureDIY, https://www.etsy.com/sg-en/shop/MiniatureDIY
BricksBen
Your lego-fan kids are bound to be delighted by the innovative creations handmade by BricksBen. More of collectible figurines than toys, they're great for gifts and sprucing up rooms interiors. For your older kids, virtually any creation is possible. Simply pick a favourite movie or cartoon character and watch as your child's eyes widen into saucers as they open their gifts. Our favourites are the intricately pieced My Little Pony and Spongebob figures.
BricksBen, http://bricksben.com/
We Love Stitches
Add a touch of whimsy to your child's bedroom with a one-of-a-kind, pastel chic plushie from We Love Stitches. Made with good quality fleece fabric with polyester stuffings, these adorably odd stuffed toys range from bears to rabbits and are wonderful little bedside companions for your poppet to cradle to sleep.
We Love Stitches, www.etsy.com/sg-en/shop/WeLoveStitches
WhenIwasFour
Though this isn't a child's toy store, WhenIwasfour has a uniquely Singaporean toy, the Zabalang Board Games, which has completely won us over. Comprising of 3 games in 1, these old school board games cleverly play on childhood games like Snakes and Ladders. Great for family (and friend) game nights.
WhenIwasFour; http://shop.wheniwasfour.com