Photography: Anastasia Shuraeva via Pexels
Where do you buy cool clothes for older boys and girls? Here's where to shop for fashion-conscious tweens and teens…
Shopping for kids is easy peasy here in Singapore, but for tweens and teens? Not so much. Especially gangly tween and teen boys who are as fussy as they are lanky. There seems to be a distinct lack of options for boys for whom Bob the Builder tees are way uncool, and yet adult clothes are way too big or serious. Is your son having to embrace the tight T-shirt look because you just can't find stuff that will fit him properly? We hear you!
To save you the stress of shopping for your teenagers, we've shared our teen-approved shopping options (particularly since we all know boys HATE shopping; the quicker the process the better), so that your tween or teenager can hang out with their mates with their "street-cred" intact…
Clothes shopping for tween and teen boys and girls in Singapore
1. UNIQLO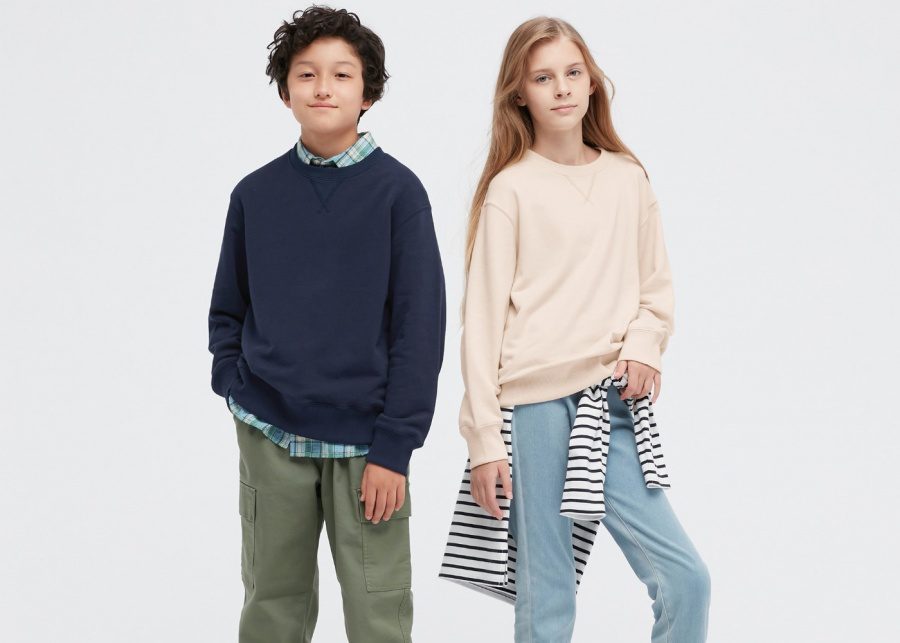 "Hi, welcome to Uniqlo!" The quintessential clothing store for everyone in Singapore –this well-loved Japanese brand features wardrobe essentials, so is the perfect destination for clothes for teens and tweens in Singapore. Dress shirts, graphic tees, slim fit pants, underwear… you name it, Uniqlo has it. We suggest you head straight for the AIRISM section – the range is perfect for the weather here. Uniqlo also frequently collaborates with other well-known brands and come out with cool capsule collections that your tweens and teens would want to own. The previous Uniqlo and Jil Sander collection sold out within minutes!
UNIQLO, various locations in Singapore
2. MUJI
Is your teen veering towards a minimalist aesthetic for their style? Then pop over to Muji, another well-known Japanese brand with stores in Singapore. Muji's clothes are no-frills, timeless pieces that can be worn at all times of the year. We're talking jersey tees, wool cardigans, tapered pants, tunics, and more. Complete the clothes that you've picked out with water repellant sneakers, a rucksack with adjustable handles, and a safari hat. Yes, Muji stocks those – and more!
MUJI, several locations in Singapore
3. ASOS
Word on the street is that all the cool kids shop for their wardrobes at ASOS. We had a look at its catalogue and are super impressed with everything it stocks. You can shop for various brands that are not available in Singapore, such as Topman, Abercrombie and Fitch, River Island, and more. If you're overwhelmed by all the choices, fret not – the brand has a section called The Edit that features pieces relevant to the occasion. What we love about ASOS is it offers up to 30 sizes, so you'll surely find a design that you like that can fit your teen's body shape and size.
ASOS, online only
4. Zalora
Shop for your basics as well as seasonal clothes at this giant online retailer. With a few mouse clicks or finger taps, you'll be able to find all that you need – and more – via Zalora's website or mobile phone app. The brand stocks local and international brands that you know and love. Looking for teen clothes in Singapore to wear for festive seasons or fancy occasions? We spotted clothes for Hari Raya, prom, and more. Teens will probably spend hours just going through the collection.
Zalora, online only
5. Love, Bonito
This homegrown brand has been around for a long time and can be relied on for awesomely designed yet functional clothes. Sure it's mainly catered to girls and women, but we spotted a few unisex stuff (they're under the kids section) that teenage boys can wear too. Need help deciding what looks good on you? Book some time with the Style Ambassadors, who will guide you towards finding the right clothes that flatter your body. (You need to be a member of the brand's community in order to book a session.)
Love, Bonito, stores in ION Orchard, VivoCity, Funan, [email protected], and Jem
6. H&M
H&M is one of the largest fast-fashion brands here, and for good reason! Its collections for kids runs up to age 14+ and come in some super-swish designs. Prices are relatively low, so fill up that tweenager's wardrobe with funky outfits and dapper footwear. It's also worth checking out the men's section (for clothes!) as the XS gear is the perfect fit for ever-growing teens. If you're lucky, you can still find David Beckham's range that comes with seriously sharp blazers and casually cool tees. Perfect for a preening pre-teen!
H&M, various locations in Singapore
7. Superdry
While Superdry doesn't have stock for kids here in Singapore, we have tried and tested its XS tees and shirts on our resident teen, who find that the clothes fit their 13-year-old bod just fine (with a little bit of room to grow!). Funky designs, bright colours and cool accessories – see the patterned backpacks – make this a must for a quick, easy and guaranteed hit with your picky teen.
Superdry, stores in VivoCity, Suntec City, Funan, and Takashimaya Shopping Centre
8. Zara
Head to your nearest Zara store for a really great selection of boys' clothes that will fit guys up to age 14. Zara is bound to have something for even the pickiest of teens, with everything from casual gear to sportswear, winter warmers to smart stuff. The brooding ones will appreciate the seriously cool parkas, sharp waistcoats, and spiffy leather-look jackets. Here's a hot tip: don't forget to check out the menswear in XS for clothes that will be a great fit once limbs have outgrown the kids' section.
Zara, several locations in Singapore
9. Cotton On
Cotton On is a one-stop shop for the whole family when it comes to a wardrobe update. With its teen collection, the kiddos will no longer have to scrabble around in their closets for outdated outfits. For up to age 14, you'll find a huge range of threads including cheap-as-chips flip-flops (from just $8.95!), trendy tees, dapper chinos and oh-so-cool trilby hats! We also love that it hasn't forgotten that teenage boys need something to snooze in, and its sleepwear collection is bang on-trend for fussy teens.
Cotton On, myriad locations in Singapore
10. Marks & Spencer
Head over to the kids section in M&S for teens' clothes up to age 16. Here you'll pick up everything from underpants (without cartoony motifs) to slogan tees. Quality is great and although sometimes a little pricey, there are often great sales and offers to make it easier on the wallet. (And don't forget to pop to the M&S food hall while you're there to pick up some foodie treats from the UK!)
Marks & Spencer, multiple locations in Singapore
11. Next
While not having a physical presence here, UK favourite Next does have international shopping websites, including one for Singapore. It offers free delivery for orders over $40, so you can stock up on a large array of threads for boys up to age 16 years without having to drag them to a mall! As well as the Next-brand collection, it also stocks favourite labels such as Hackett, Converse and Adidas. Delivery is quick (we tried it on your behalf!), and the return policy gives you 28 days to send back items that are deemed 'uncool' or 'you are kidding mum?!?' back to its depot in the UK.  Full refunds will be made for returned items, but postage will be at your own cost.
Next, online only
Good luck shopping for teens' clothes in Singapore!