Don't you love that newborn baby smell? Photography: Jonathan Borba via Unsplash
Family life is all the more special when you take the time to appreciate the little things, and those magical family moments. We asked these mums to share theirs...
Rewarding, tough, fun, challenging and downright life-changing. Being a parent is all of these things and more. Daily life looks different when your little one arrives, and suddenly, your Google searches change from 'hot new tables' to 'newborn essentials'. Gradually, you know all the words to the latest Disney+ musical numbers and the theme tunes to all the kids' shows on Netflix. You begin navigating the best parks and playgrounds and locations of indoor soft plays, and you are always looking for new ways to get crafty at home and prepare healthy kid-friendly snacks. You get lost in the daily routines of nappy changes, snack and nap times, and playdates.
But then there are those moments. The magical ones, the ones that make you want to freeze time and soak in those feelings. Moments in your child's life that you want to imprint on your memory forever. We decided to ask the busy mums over at Launchpad to take time out and share their magic moments from around the world…
PARENTING: THESE MUMS SHARE THEIR FAVOURITE MAGICAL MOMENTS WITH THE FAMILY
1. Kite flying and picnics: making memories outdoors in Singapore's parks
"My children and I love the outdoors, and we are truly blessed to live in a city like Singapore that has some of the world's most beautiful gardens and parks. There are loads of options in different parts of the island where you don't always need to spend a lot to enjoy hours of fun. For a family like ours that has embraced simple living for a few years now, spending time in nature aligns with our beliefs that our children will remember their childhoods fondly because of their joy-filled experiences that were spent with their loved ones more than the materialistic pleasures of life.
We love sharing a picnic and kite flying at West Coast Park and Marina Barrage and playing at the Road Safety play area at East Coast Park. Occasionally, we enjoy a treat at the cafe at the newly renovated Jacob Ballas Children's Garden. For special occasions, we venture to theme parks and attractions like the Skyline Luge and Universal Studios on Sentosa or Wild Wild Wet for waterslides! We also love Forest Adventure and Wildlings Forest Camp to keep the outdoor fun going. We are so lucky to live in Singapore, where there are so many opportunities for fun-filled family adventures (without needing to spend a fortune!)."
Dr Aparna Chari Sundar, KonMari Home Organising Consultant, Montessori Parenting Coach and Director at Global Mindful Journey.
2. Climbing mountains and visiting remote islands in Hong Kong
"I would say we are a very outdoorsy family. We love hiking, heading to beaches, and exploring nature. One of our special magical moments with kids is heading up mountains for a hike during the winter months in Hong Kong and seeing the beautiful waterfalls. We make sure to pack some hot chocolate in our thermoses to enjoy at the top with the view! Another special memory for us was visiting the Soko islands in Hong Kong. It was a bumpy ride, and the kids still remember it! Visiting the inhabitant beach and island was magical; we had perfect weather that day, and we saw lots of wildlife, the water was clean, and there was lovely white sand to have a picnic and play around."
Linda Morrison, Founder and Creative Director of MiliMilu
3. Special moments on Sentosa
Hands down, Sentosa beach in Singapore is a special place for us. The magic and music on Sentosa are just infectious. I particularly love Rumours beach club for a fun day out with my boys. They love being by the beach, sand playing, playing with our dog, Churro and then taking a dip with us in the pool. Then we chill out, have dinner and listen to great music while watching the sunset. It's safe to say that Sentosa sunsets are the best on the island!
Henna Thadani, Designer and Owner of Del Rio Jewels
4. Conversations over High Tea
I absolutely love taking my children for high tea! I have tried many high teas around Singapore, and I love sharing my favourites with my two teenage kids. My son has a sweet tooth, so it's really fun taking him, and he's also very adventurous when it comes to trying new food. My daughter is a little picky but loves the experience of dressing up and taking photos of the beautiful food. We have our best conversations around food, so I love taking them out often. We don't just save high tea for special occasions like birthdays or anniversaries. We're vegetarians, and most places do a fabulous job at catering to our needs. Our favourite so far is Fullerton Bay Hotel (although Raffles has the best scones and jam!)
Mangla Sachdev, Partner at Printsipal Printing Pte Ltd and owner of Expat Business In A Bag
5. Getting crafty at home
The most magical moments with my kid happen at home. When Jimmy was six months old and learning how to crawl, we made natural dyes for him using fruit juices and let him use his fingers to "paint" on an old T-shirt. It happened to be my birthday. The T-shirt turned out to be a piece of "abstract art", and I loved it a lot. It was one of the best gifts ever, and I love that I could co-create with my kid and family, explore nature, be mindful of sustainability and make art together!
Alice Yu Yuebo, Founder, Mama on Palette
6. Once-in-a-lifetime cruise ship holiday
After two pregnant and two lockdown birthdays over the past four years, we wanted to indulge in an over-the-top way to celebrate my birthday this year. So, we booked the Ultimate Family Suite on Royal Caribbean's Spectrum of the Seas for one of the final sailing dates of the Cruise to Nowhere! The experience was pure luxury. We had our own butler and a two-storey suite (complete with an in-room slide and piano key stairs!) We had premium entry to all the shows, attractions and restaurants – a definite plus when travelling with two very little ones (2-year-old and eight-month-old) in tow.
More importantly to us, though, were the incredible moments we could create in the big, private space the suite afforded us on deck. We cuddled up in robes with our kids to watch the sunrise off the side of the ship every morning and watched it set from the huge bathroom windows as we bathed them in the evenings. My daughter sang the ABC song and Twinkle, Twinkle Little Star on the in-room karaoke machine at the top of her lungs, and we even got an ice cream sundae bar delivered to the room as a special afternoon treat one day.
Yes, it was a once-in-a-lifetime indulgence, and the kids may not remember it. But my husband and I will never forget the magic of being "nowhere" on the open seas for a very special first vacation as a family of four.
Amanda Lim, Director, Peak Health Consultancy, @coachamandalim
7. Marking milestones: Graduation trips abroad
Ten years ago, when my oldest daughter Marit graduated, I took her on a graduation trip to New York. We spent five days in the city and did all the girly things; shopping, sightseeing and watching musicals on Broadway. Just this month, I did it again with her younger sister Dania, who graduated in June. It is a very rewarding time you spend together and a wonderful mother-daughter experience you cherish forever. Celebrating graduation comes after a pretty intense time for your child, writing the final school exam and being anxious about the outcome and the future ahead. Getting away from it all and spending quality time together makes the trip so much more important. It's not really about the destination. It's more about the time you spend together talking about your child's past and future, their ideas and dreams.
It brings you closer together when your child is getting ready to spread their wings and leave your home to start their own life, sometimes in a different city, country or even continent.
The most magical moment for us was going up to the 102nd floor of the Empire State Building. Dania and I are the only ones in our family who aren't afraid of heights. Seeing the whole city from above makes you feel like you're on top of the world.
Katja Paus, Director, Tanglin Arts Studio
8. Simple pleasures at Gardens by the Bay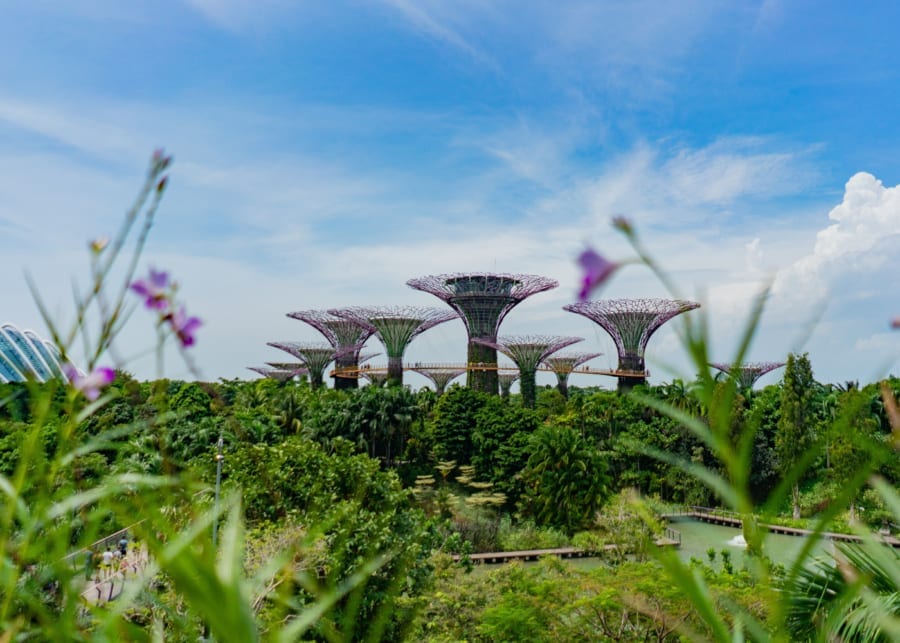 Our favourite place to spend a wonderful day with the kids is Gardens by the Bay in Singapore. With the recent reopening of the water play area, it has assumed the #1 spot in our little ones' weekend plans. While parents enjoy peaceful walks by the bay, kids can scoot or have a ball at the water play area. We like to end the evening with the mesmerising light and sound show at the Supertree Grove. The best part – it's all free!
Kriti Gupta, Founder, Nimbu
---
Thanks to our lovely LaunchPad Mums for sharing! Feeling inspired and want to join a community of entrepreneurs building businesses that are a force for good? Need expert advice or peer mentoring for your business? Check out Launchpad, a networking platform that encourages connection, business support and community!