Photography: Rohini Gomez
Pack your bags and hit the airport with the brood to catch - not a plane – but a high-flying camping experience you don't want to miss!
School hols are around the corner, and the kids already have restless feet. If you are looking at an empty cal and racking your brain on ways to keep them busy during the school break, we have good news for you – save yourselves the stress and have your bookmarks at the ready with this experience. It will not only have the littlies in a tizzy but will give you tons of fun family bonding time too. All you need to do is pack a few bags and hit the airport for a fun-filled two-day, one-night adventure at Changi Experience Studio. Plus, this year's 'A Night at the Airport' Family Camp showcases a refreshed theme – A Fun-filled Journey Through Time!
We hit the airport with the family in tow (including two tiny restless boys + dad) and got a sneak peek into this otherworldly camping experience. Our verdict? The fam had an absolute blast! Here's what's in store…
Review: Changi Experience Studio's 'A Night at the Airport' Family Camp
1. Activities galore that the fam will love!
The fun crew at Changi Experience Studio organised great activities to keep the fam busy throughout the day, and busy we were! Here's what we got up to when it came to activities:
Build an airport of the future craft workshop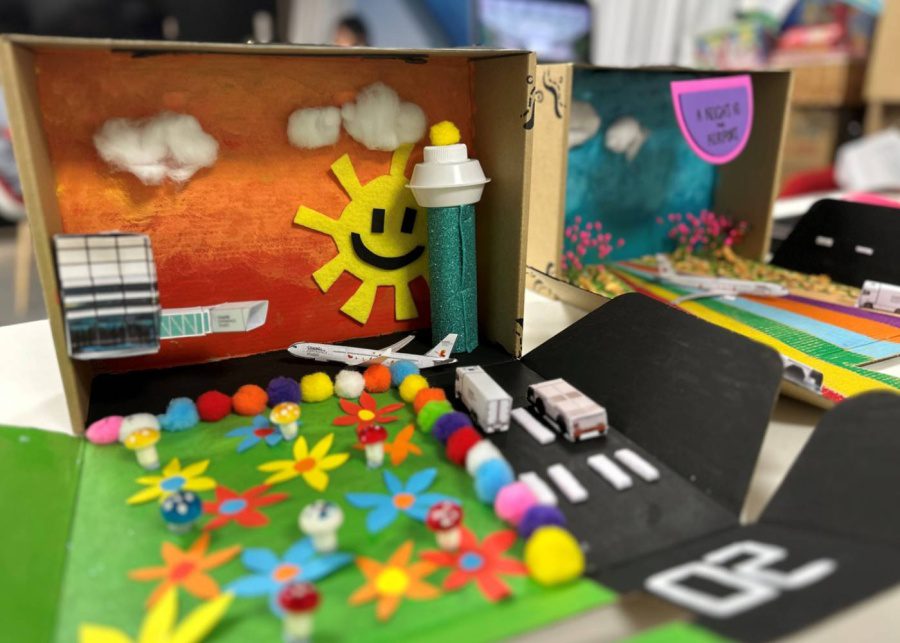 The event kick-started with a fun craft workshop that our bunch really enjoyed. The project at hand? To create a futuristic mini-airport in a ready-to-fold cardboard box that converts into a miniature-luggage case. Adorable and super handy! Each family gets their table and crafting essentials, including a step-by-step instructional card to create miniature airport vehicles, paper planes and building models. With fun Disney tunes tinkling in the background, the project has little hands busy for a good period. The completed craft then folds into a luggage case, well protected from harm. All happy!
Journey through time with this family quest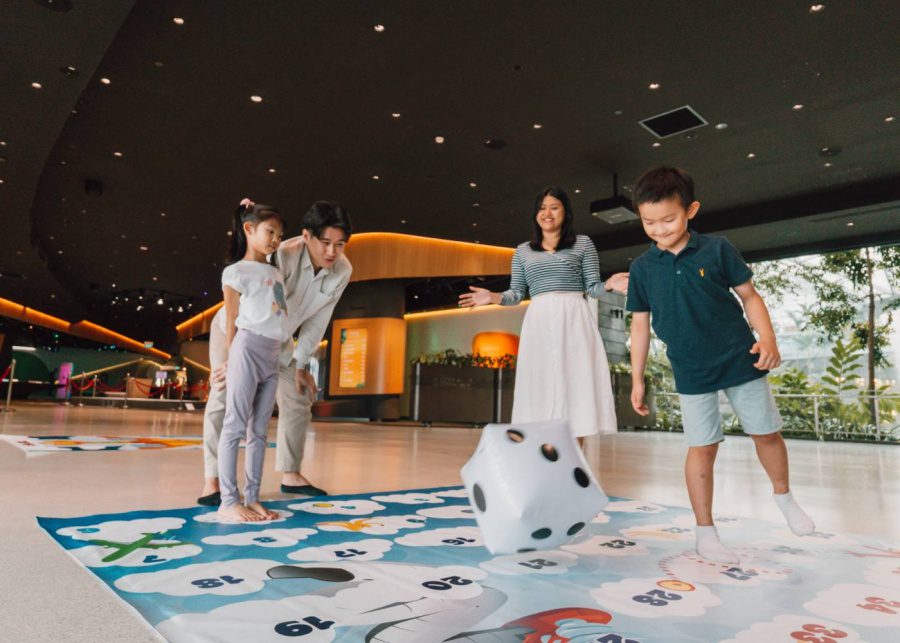 The Amazing Airport Family Quest is a journey through time and takes participants to different locations around the airport via an online game. Each family signs in with one mobile phone to embark on the quest. Through clues, the participants discover fun facts between Jewel and Terminal 1 while answering a series of quiz questions along the way. A super fun and educational way for little investigators to learn about the airport! Our family hot-footed it through the quest and got even more pumped with every correct answer.
Do note that the quest requires the group to walk quite a bit, which could get tiring for the littlies. And if the locations are crowded, it could take the kids longer to spot clues quickly. After completing the quest, a set of Changi-themed trivia and games await at CES to conclude the session.
Exciting rock-climbing experience
The [email protected] calls for a power-packed workout of the limbs after a good walk between terminals. Make your way to the T3 terminal, fasten those harnesses and embark on a fun rock-climbing expedition the fam will love. There are varying difficulty levels, and kiddos as young as 5 years have a great time too. If challenging gravity isn't your thing, just hit the fun slides nearby. We got to experience a bit of both. One kiddo ran towards the rock wall for many climbing attempts while the other took to the comfort of the easy-breezy slides. Win-win! While the kids were at it, we adults (oldies, more like) took a chill pill and cheered the kiddos on.
Experience a real flight simulator
Yep, you read right – the perfect activity for tiny aviation enthusiasts! Get to experience a real flight simulator with the guidance of a real pilot at CES. The boys tried their hand at the simulator and couldn't get enough of winging the controls of a virtual plane all by themselves – while the actual pilot played co-pilot the entire time.
2. Plenty of restaurants for a good tuck
The itinerary includes free and easy time to take breaks and refuel for lunch, tea and dinner. And with the many options of restaurants, cafes and ice cream parlours at Jewel, aka gastronomic heaven, rumbly tummies are well sorted. Our advice is to survey your location well ahead of time. Even better, make your reservations in advance to grab a good meal. The fam will need a load of energy between activities! If the kiddos want more quick and familiar nibbles, Jewel has a Fairprice Finest at Basement 2 with everything you need. Our all-boys team got pretty ravenous come meal-time, so we refuelled on delish Korean pizzas for lunch and Spanish tapas for dinner.
3. Catch up with some much-needed retail therapy
The itinerary gives you plenty of free time to rest and relax in-between activities. So if you've had enough of the HSBC vortex and waterfalls, some much-needed retail therapy never goes amiss. Jewel has some of the best fashion brands parked on its premises, from jewellery and handbags to shoes. We suggest sneaking out from the Changi Experience Studio for a good shopping spree after dinner. Besides, you can leave rest assured that the fam will be well entertained for a long time.
4. Magical Sleepover ​in Changi Experience Studio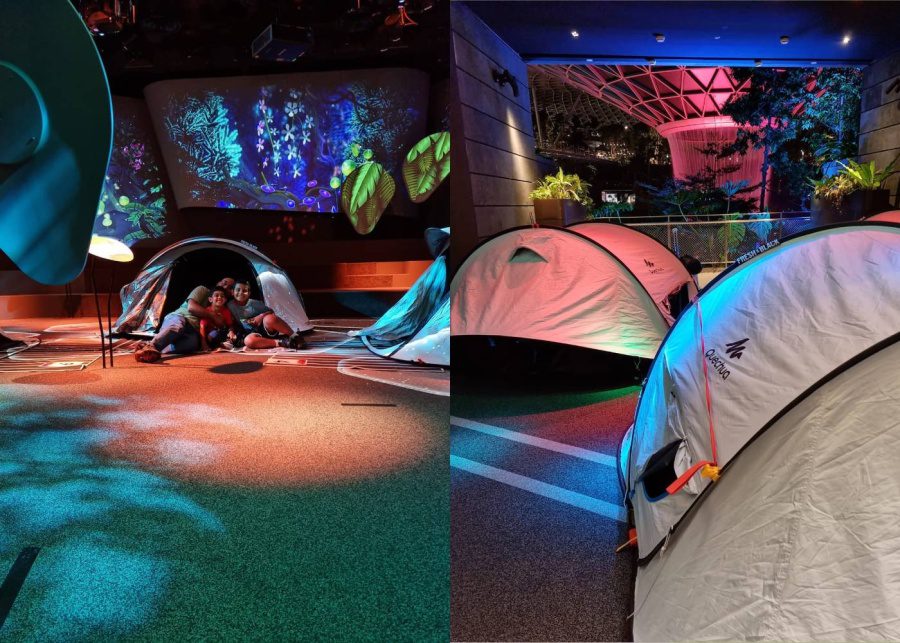 This was the highlight of the experience for the whole fam and by far the most memorable. The sleeping arrangement includes tents pitched at various locations across CES, with some facing the dreamy HSBC Vortex in action (imagine catching the sound and light shows from the comfort of your tent) or at the Avatar-like Garden of Harmony. Truly magical! Tent check-in begins at 8.30 pm, with two tents allotted to each family (pitched side-by-side). Here is when all the camping fun begins, and our tribe loved every bit of it!
While the adults wind down and relax in their tents, the kids can run wild at the interactive stations and play plenty of board games till 10 pm (lights dimmed after). A perfect way for the tinies to expend that last bit of energy before a good night's rest after. Come bedtime, we paired one kiddo with one adult in each tent and called it a day.
Where to freshen up?
Changi Experience Studio has on-site shower cubicles and toilets open to its visitors. With littlies in tow for a camping experience, we reckon that's the most important thing to make note of! Plus, after walking about the whole day, the last thing you want to give your legs is a dash to the loo with the littlies! The good news is the toilets are a stone's throw away from the camping site, making it convenient even for the kiddos. This brings us to our next point – don't miss out on a relaxing hot rain shower after all that running around. In our books, it's the perfect way to unwind after a high-flying day.
Make the most of the Camp inclusions
The experience includes a heap of fun activities and offers. Here's the full list:
Journey Through Time Family Quest
Build an Airport of the Future Craft Workshop
Magical Sleepover At Changi Experience Studio
Entry tickets to Changi Experience Studio and Canopy Park (per person)
[email protected] [1x Climb & Play per child] – worth $19
Special 30% discount for Flight Simulator Experience [for campers only]
Free parking [1 parking coupon per family]
Some handy-dandy tips to ace the camping scene like a pro at 'A Night at the Airport' Family Camp
Keep your CES access cards safe and with you at all times. The cards need to be returned after camp. Losing a card will incur a fee of $10 per card.
You may be in an aircon environment for the entire camp, but staying hydrated through the activities will help you through the day's itinerary. Carry your own water bottles so that you can refill them through the day at pantries located near toilets within Jewel.
Wear comfortable shoes for the quest because there is plenty of walking to do.
Study the camp itinerary carefully to pre-book your spot at your favourite restaurants to save time.
Before retiring to your tents at the end of the day, make sure to eat well, as no food is allowed into the Changi Experience Studio.
Make note of your showering time slots and assigned shower cubicle at the beginning of camp for the whole family to plan accordingly.
Carry an extra jumper or hoodie just in case, as you will be in an aircon environment the whole day.
If you are a light sleeper, make sure to carry earplugs to catch an undisturbed night's rest.
If you are carrying any valuables, you can make use of the CES lockers assigned to each family for overnight security.
With all the photography and videography you will be taking of the brood, a power bank or phone charger can come in handy for the camp to keep your phones well charged.
'A Night at the Airport' Family Camp, Level 4, Jewel Changi Airport; 2 June 2023 to 24 June 2023; Prices: $85 per adult and $95 per child; Recommended age: 5 to 12 years old.