Illustration: Aliff Tee
From ang pao etiquette to cute cheongsams, CNY events to a photographic stroll through Chinatown, we've got the complete lowdown on Chinese New Year 2019...
The lanterns are out and the mandarins and pineapples tarts are flowing in: it's Chinese New Year in Singapore and it's going to be a aus-pig-cious one! The Year of the Pig is almost upon us, so as we usher out the pawsome dog, and welcome in a new lunar year of prosperity, we're going to need to know where all the CNY fun is at, and how we can all take part in the traditions – whether we're familiar with them or not. It's all here in our guide to an awesome Chinese New Year for the whole family.
First of all, if you're a CNY newbie, take a little crash course with our beginners' guide to Chinese New Year – you'll find everything you need to know on how to navigate the festive season without making any CNY faux pas.
Or let these kiddos show you how it's done… It's an oldie but a goodie, but check out our Chinese New Year video, where our own little monkeys show us how it's done (and don't miss the bloopers!)
Really get into the CNY spirit by heading over to colourful Chinatown – one of our fave neighbourhoods in Singapore to explore with kids!
Or, if you're keen to avoid the crowds, go on a little virtual trip to Chinatown with our photo essay: our HKA photographer really caught the vibrant feels of this pocket of the city a while back…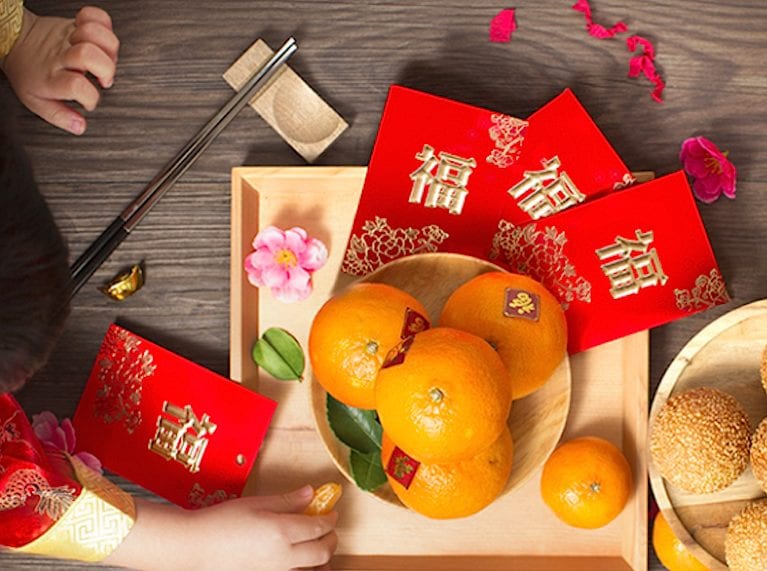 Now you're in the swing of things, get your CNY prep sorted at home. And don't forget to donate the stuff you don't need anymore to charity, or your unwanted canned and packaged bits and bobs to a Food Bank.
Chinese New Year is the time to spruce up your home – and your wardrobe. Woohoo! We've already got a big hitlist of the CNY buys we love, and it's not too late to get your hands on that all-essential pineapple brass candy jar!
It's also the time to get into the serious business of filling the diary with authentic doses of CNY fun: we've found all the best Chinese New Year events for families, and they're happening all over the island. Lion dances, people! We also know exactly which big attractions are staying open during the festivities, cos there ain't nothing worse than pitching up for a long-promised day out only to find it closed!
This year it's all about piggies! The Year of the Pig is almost upon us so we've been sniffing out the fun facts we never knew about these curly tailed cuties. And while we've not found pigs in Singapore yet, there are lots of farms in around the island to get a farmyard fix.
But if it really does need to be pigs, fear not. Appease your small piglets with this bumper crop of adorable piggy-themed movies! Did you fave make the list? Charlotte's Web all the way for us!
You'll definitely need to pick up some fun Chinese New Year outfits for the kids to wear to all those parties and family reunions, of course. And maybe even a matching little ensemble for the grown ups.
Especially if you end up at one of the fancier CNY feasts from our guide to dining out over the festive season. Left it too late for one of the fancy seats in town? We've also come to the rescue with our guide to fuss-free dining with a big roundup of takeout options. Phew.
Once you're done with your gastronomical dinner, don't forget to leave some room for the yummiest CNY snacks in town. We've been munching our way through bakkwa, love letters and pineapple tarts for weeks in a quest for the best on your behalf.
And dont forget to read up on these awesome CNY style tips from some super cool Singaporean mums. Bella Koh, Charmaine Seah and Aarika Lee definitely know a thing or two about celebrating in style.
But if you're worried about hanging out with friends who are seasoned CNY pros, our lowdown on tossing your lo hei like a local will soon have you up to speed on your yusheng know-how.
Don't forget your red packets! There's no need to get into a pickle over them if you're an ang pao novice. Our handy guide will prevent any red-faced, red packet moments.
Almost there folks! Now all you need is to add some final festive touches: these Chinese New Year craft ideas for kids will keep the boar-dom at bay and do the trick when it comes to DIY decor! Make sure that art kit is fully stocked before you get started.
But if all this seems a little, well, a little too much, there's still just about time to jet away on a last minute Chinese New Year short break.
Huat ah!