Custom-designed jungle animal cupcakes by Jo Takes the Cake.
No matter the theme of your special occasion, these local bakers will create amazing cupcakes especially for you...
Looking for custom cupcakes in Singapore to celebrate something special? For all of you planning the ultimate party – whether it's a kid's birthday bash, baby shower or engagement or wedding party, we have nibbled our way around the island looking for amazing edible art. We've already shared the best bakeries in Singapore for buying cupcakes, but here are the lovely local bakers who can create beautiful, personal designs for any occasion that requires a cupcake (any day of the week is fine in our book!)
Want more essential info to help you plan that party to remember? Check out our guides to kids' party venues in Singapore, party entertainment and planners, and best cake art and custom cakes.
Jo Takes the Cake
Self-taught baker and cake artist Jo is our firm favourite: we've been ordering our personalised birthday cakes from her for years! Her award-winning creations are a feast for the senses, and there is literally nothing this woman cannot create out of some flour, sugar and fondant (she even built a mini-Singapore cake for the SG50 celebrations!). Not only do her customised cupcakes literally look too good to eat, but their intricate designs are sure to be the centrepiece on any tea party table. Kids LOVE her cute designs – did you see those jungle animal cupcakes above? And the flavours? Our all-time fave has to be the pina colada: heaven in a cake!
Jo Takes the Cake, e. [email protected]; www.facebook.com/JoTakestheCake
Susucre
Susucre is our go-to baker when the HoneyKids team has a birthday celebration in the office (what, 21 again?), and the cupcakes cakes taste as amazing as they look: flavours include cinnamon, double chocolate, orange zest, pumpkin spiced latte and red velvet. Mini custom cupcakes can be whipped up in any design you fancy – delicate fondant flowers or super cute 3D animals and the Alice in Wonderland themed treats above are just the start!
Susucre, t. 9867 2176, e. [email protected]; www.susucre.net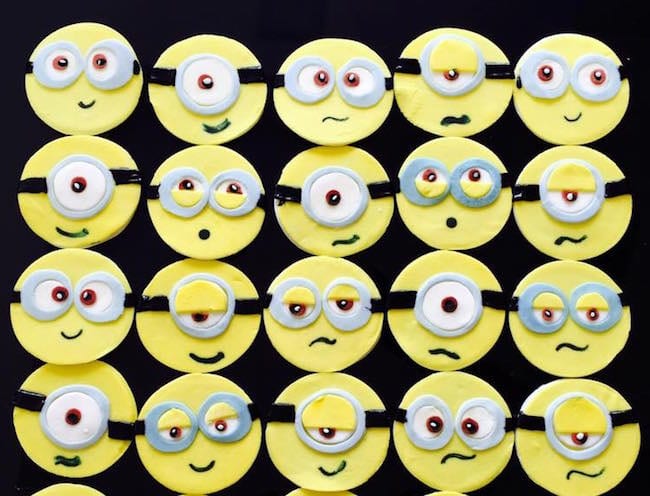 Expressions Cake Art
If fiddling with fondant is not one of your mummy superpowers, then send your customised cupcake requests to Expressions Cake Art. We have tried and tested on your behalf (you're welcome) and can vouch for sublime cakes that taste as top-notch as they look. (Pssst: the cupcakes are all rich chocolate flavoured!)
Expressions Cake Art, t. 9234 2769, e. [email protected]; www.facebook.com/ExpressionsCakeArt

Frenchie Sweets
This fab mother-daughter baking team has a very British style of baking with unique twists: their repertoire includes some divine-looking sugar-free and naturally sweetened options too. When it comes to cupcakes, each mini-masterpiece is decorated to perfection, from the most delicate flowers to cute, colourful dinosaurs. We say The Great British Bake Off has nothing on these guys. We want to throw a party just so we can order some of their 'lemon explosion' cupcakes (topped with tangy lemon butter cream and filled with lemon curd). Sigh…
Frenchie Sweets, p. 9779 0679, e. [email protected]; www.facebook.com/FrenchieSweets


Little House of Dreams
In the world of cupcakes we like to dream of all things sweet, fluffy, chocolatey and delicious. So what would be your idea of a dream cupcake? Whatever it may be, we know where you can get it: Little House of Dreams. Whether you want a rainbow sponge, an Elmo made from icing, or even a whole themed party table created, these talented bakers will make your fondant and buttercream dreams come true. Want to see the work of Wynona Leach, creative director of Little House of Dreams in action? Take a peek at the amazing dessert table she created for a space-themed party for her own little girl!
Little House of Dreams, p. 6472 4977, e.[email protected]; www.littlehouseofdreams.com

Cupcakes With Love
With two locations to choose from, one east (Tampines) and one west (Clementi), and a take-away shop in Joo Chiat, Cupcakes with Love knows a thing or two about making cupcakes we love (to eat!). Any theme you have in mind is no problem for these guys, and you can bet your sweet tooth that the results will be visually fantastic and equally delish!
Cupcakes With Love, p. 6789 6966; www.cupcakes.com.sg

Cocoa Haven
Looking for some cupcakes that aren't all about flowers and swirl? Well look no further than Mariam Kidwai of Cocoa Haven, who is rather marvellous at creating cupcakes with more boyish themes too. So if your small Luke Skywalker is demanding a Darth cupcake or your toddler is obsessed with Elmo, get in touch (we'll have some of the classic red velvet numbers for ourselves!).
Cocoa Haven, p. 9786 0946; www.facebook.com/cocoahavenbakes
Cakes 'n' Cravings Bakeshop
We can't get enough of Cakes 'n' Cravings' salted caramel cupcakes. Whether you want some Minion madness or fancy florals, these bakers can customise a cupcake for any occasion. These tasty treats are created using high quality ingredients with no preservatives, shortening or artificial flavours being used, and if you need any more convincing then we have three words for you: Italian meringue buttercream.
Cakes 'n' Cravings Bakeshop, e. [email protected]; www.cakesncravings.com