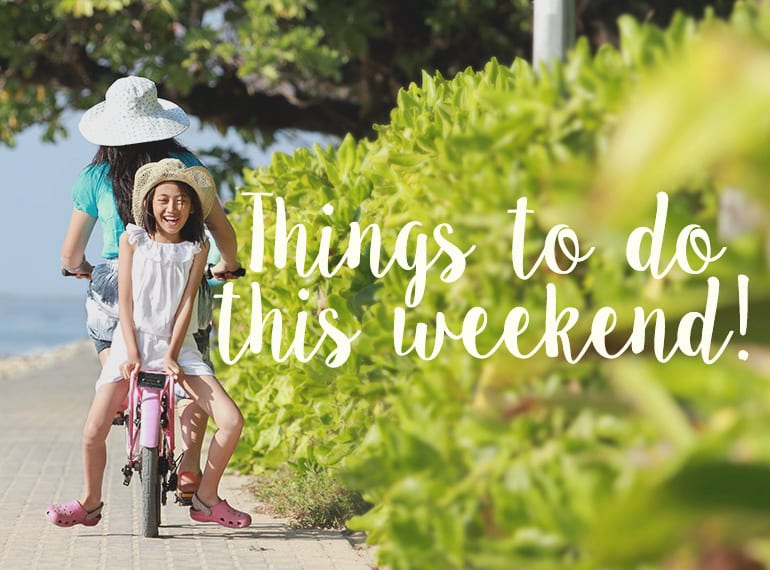 Duran Duran isn't playing at this year's F1 but we're still going because we (the kids) love it – raise your hand if you relate! If not, here's the rest of your 10 things to do...
With the F1 racing into Singapore, we're all geared up for the blood-pumping, heart-pounding race of the year. We've got our tickets booked and our noise-cancelling headphones at the ready, and we're deffo looking forward to seeing The Killers… it's going to be 'lit' (we've been trying out teen lingo too, can you tell?). But if F1 is not your gig, there's still plenty of off-track action happening around the rest of Singapore…
1. Get ready to rev your engines for F1!
The Grand Prix is definitely top of the list when it comes to things to do with the kids and it's happening this weekend, folks! Circuit Park spanning Marina Bay and beyond will come alive covering an area of approximately 80 football fields for the tenth edition of this amazing night race. This is an iconic Singapore experience, so don't miss out! And don't forget to check out our guide to surviving the F1 with kids for all you racing buffs.
When: 14-16 Sept
Where: Marina Bay, watch out for road closures!
Cost: From $78
www.singaporegp.sg

2. Celebrate a starry Mid-Autumn celebration
Singapore Chinese Cultural Centre is putting the moon into Mooncake Festival with its experiential planetarium show and puppetry show by Paper Monkey Theatre. Timekeepers young and old must rescue Mid-Autumn in a mass escape activity!
When: 15 Sept, 10am – 7.15pm
Where: Singapore Chinese Cultural Centre, 1 Straits Boulevard, Singapore 018906
Cost: Free, registration required
www.singaporeccc.org.sg
3. Have a splashing good time at River Safari
Meet the mesmerising mermaids of the deep – the manatees! These gorgeous creatures are joining forces with Tokidoki characters in the Mermicornos and Manatees events happening throughout September. There'll be encounters to performances, tours and mascot meet-and-greets so head on over to the River Safari.
When: 1-30 Sept
Where: River Safari
Cost: Adult: $32; Child: $21
www.wrs.com.sg
4. Discover one of Singapore's lesser known cultures
Discover the Chetti Melaka, a true blend of Indian, Malay and Chinese cultures and learn about its languages, traditional outfits and cuisines when through the heritage displays over at the Indian Heritage Centre, all part of IHC Culturefest. Expect a big dose of culture with language sessions, dance performances, cooking demonstrations and craft workshops while you uncover a whole new colourful world!
When: 15-16 Sept
Where: Indian Heritage Centre
Cost: Free
www.indianheritage.org.sg
5. Experience Indonesia right here in Singapore
Visit a whole other country without ever leaving home soil by heading over to Changi Airport. Hop onto carnival rides including the Chair Swing, Spinning Tea Cups and the Carousel against a background of Indonesian landscapes. After the fun is finished, snap some souvenir shots at the Land of Treasures exhibit featuring the Komodo Dragon and the beautiful Belitung scenery.
When: 31 August to 7 October 2018
Where: Changi Airport Terminal 3 Departure Hall, Check-in Row 11
Cost: Carnival passes cost $10 each, or spend a minimum of $60 within two same-day receipts to redeem three carnival passes.
www.changiairport.com
6. Reconnect with Chinese heritage at Jurong Point
Get the kiddos interested in the Mid-Autumn festival traditions and customs through cultural games, stage performances and a dazzling dragon dance. Take part in the Golden Games Carnival and learn more about Chinese culture!
When: 15-16 Sept, 22-23 Sept
Where: Jurong Point 2 (JP2) Main Entrance.
Cost: Free entry
www.jurongpoint.com.sg

7. Slide down a rainbow!
The brand-new exhibit at the Artground is definitely worth checking out. Inspired by the artist's sister, Hullabaloo is an explosion of colour with rock walls, climbing frames, cosy corners, slides and tons of places for kids to explore. It's fun times, guaranteed!
When: now until 6 Jan 2019, 9.30am – 6pm
Where: The Artground, 90 Goodman Road, #01-40 Goodman Arts Centre, Singapore 439053
Cost: Free
theartground.com.sg/event/hullabaloo
8. Find these fur-kids a home – nothing is impawssible!
Over six shelters will be heading to The Star Vista for the annual adoption drive this weekend. Bring your pooches for a free Friday workout hosted by Scott Z Fitness, take part in games, competitions or find your own fur-ever friend. Bring pet food to donate, if you have any, and enjoy a day out with the kids and fur-kids!
When: 14-16 Sept
Where: The Star Vista, 1 Vista Exchange Green, Buona Vista, Singapore 138617
Cost: Free
www.perropet.com
9. ARTTOYS are invading!
Get into the thick of this invasion of colour and toys at the first exhibition of custom art toys like Ziqi's Dino (Monster Little), Daruma Club and OBOT. Handcrafted by regional artists, these little joys are sure to light up your shopping trip.
When: now until 18 Sep
Where: Raffles City
Cost: Free
www.capitaland.com/sg
10. Play at the Library
Ready for a mass playdate at the library? Tampines Regional Library, one of our all-time fave libraries in Singapore, is hosting an unstructured playdate for kids and parents to learn, play and make new friends. Open to kids aged six and below and parents of all ages, get your nose stuck in a book this weekend, but be prepared to share!
When: 16 Sep, 4pm-7pm
Where: Tampines Regional Library, #spaceout, Level 4, 1 Tampines Walk #02-01 Our Tampines Hub Singapore 529684
www.nlb.gov.sg/golibrary2/e/playlibrary-67111934
Like this story? Here's more we think you'll enjoy:
Where to find therapy animals for kids
Mid-autumn crafts for kids
52 mum-time moments to bring a little weekly peace back into your life
World Suicide Prevention Day: how to get help
Don't forget to subscribe to our weekly newsletter and follow us for sneak peeks and fun moments on HoneyKids Instagram!