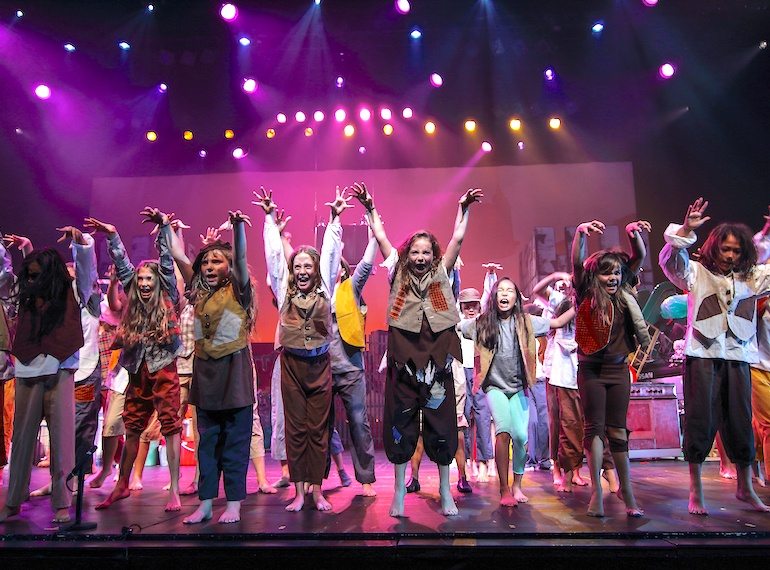 If you have a little actor or a musical diva at home, then it might be time to send them to a drama class. Here are some great ways to introduce your thesp to the performing arts.
We all love watching classic movies with the kids, and we can't get enough of fabulous stage shows and musicals here in Singapore either. But how do we get our own children into modelling or acting, which is perfect for boosting confidence and a whole lot of fun? Performing arts programmes are a great starting block, so we've tracked down some exciting drama classes to set your little one on the path to stardom. 
Centre Stage School of the Arts
With two locations, one on the East and one at Portsdown, this drama class helps kids 3.5 years and up develop a love for performing. Students will start off with fun sessions to encourage clear speech, expressive voice and body language: a key part of being a success on stage. Improvised drama, music, mime and movement are the name of the game, with lesson inspiration often being taken from favourite books, poems and stories. Kids will be put into classes according to their age, and as self-confidence and passion builds, the course will also develop imagination, expression and social skills. All budding performers get a chance to do group and solo performances to put their learnt skills to test!
Centre Stage School of the Arts, 5000G Marine Parade Road, Singapore 449290 and
15 Woking Road, Singapore 138694, p. 6732 7211; www.centre-stage.com
ACT3 Drama Academy
If you have caught one of the Act3 i Festival for Children performances then you will know firsthand that these guys know how to create a performer! Its Drama Academy takes kids on a fun journey of self-awareness, confidence and growth on their way to the bright lights of the stage. Programmes are designed for kiddos from age 18 months through to teens, with a heap of classes to choose from according to age and ability. Kids will be encouraged to reach their artistic potential by teaching them to think on their feet and not be afraid to contribute ideas, experiment with ways of expressing themselves and have fun in an environment that is flexible, never critical and pressure free.
ACT 3 International, 126 Cairnhill Road, One-Two-Six Cairnhill Arts Centre, Singapore 229707, p.6735 9986; www.act3international.com.sg. 
Kids Performing Academy of the Arts
"Acting is not just for the stage" is the ethos of Kids Performing Academy of the Arts, where students are encouraged from age four to express themselves creatively and confidently at all times. Basic acting skills will be taught through a series of exercises designed to instill a lifelong passion for acting and performance. Kids will be put through their paces by being taught improvisational skills, good stage habits, voice works and help with their physical expressions, all with the aim of producing a future star. Their hard work will pay off with an end-of-term group presentation, or solo monologue performance. And this is just the beginners' course! There is plenty more to learn as your child's talents progress.
Kids Performing Academy of the Arts, 3 Temasek Boulevard, #02-478 Suntec City Mall, Singapore 038983, p. 6836 5008; www.kidsperforming.com
Singapore Media Academy (MediaCorp)
For kids who fancy a future career in TV or radio, Singapore Media Academy's programmes give potential newsreaders, sports commentators and TV presenters the chance to learn skills in a state-of-the-art TV studio and Radio booth. Experts from the broadcast industry will incorporate media elements into the ongoing curriculum, which is designed to give students the language, social, physical and cognitive skills to shape them towards a future media career. These cool courses run over two semesters and include performances that will be graded as part of their assignment. Courses are suitable for kids age six to 17.
Singapore Media Academy, 30 Merchant Road #04-13 Riverside Point Singapore 058282, p. 6435 6000; www.mediaacademy.sg
Helen O'Grady Drama Singapore
Who better to start a drama school than a successful actress and TV presenter? Australian actress Helen O'Grady is just that, and she has taken her love for drama to a new level by opening drama classes not just in Singapore, but around the world! Beginners' classes run for tiny actors from age and continue right up to the fantastic Youth Theatre Programme, aimed at secondary school students. Kids can expect ad-lib thinking exercises, scripted and open-ended dialogues, vox pops, group improvisation, radio plays, voice projection and of course a heap of stage time. No matter what area of stardom your little one is headed for, this school covers all the options!
Helen O'Grady Drama Singapore, 300 Jalan Bukit Ho Swee, #03-03, Singapore 169566, p. 9223 8443; www.helenogrady.com.sg
Grace's Speech & Drama Studio
These speech and drama classes on the East Coast also include internationally-recognised UK exams through Trinity College certification. But don't worry about the exam side of things, because 'studying' has never been more fun since this school focuses on learning some cool stuff rather than achieving top grades. Speech is a big part of the amateur-to-professional acting path, and kiddos at Grace will get plenty of help with speaking confidently and reading and language skills – useful for all walks of life, not just the stage! Students will also be encouraged to showcase their new-found skills in lots of community performances and fun acting activities. Kids as young as three can tread the boards here.
Grace's Speech & Drama Studio, 162 East Coast Road, Singapore 428868, p. 6344 8894; www.graces-studio.net
Photo Credit: Centre Stage School of the Arts
Like this story? Here's more we think you'll enjoy:
Singing lessons for mini warblers of all ages
New movies coming out in 2018
Music lessons and appreciation classes in Singapore for toddlers, kids and teens
Toddler dance classes in Singapore
Theatre for families in Singapore: Your guide to KidsFest 2018