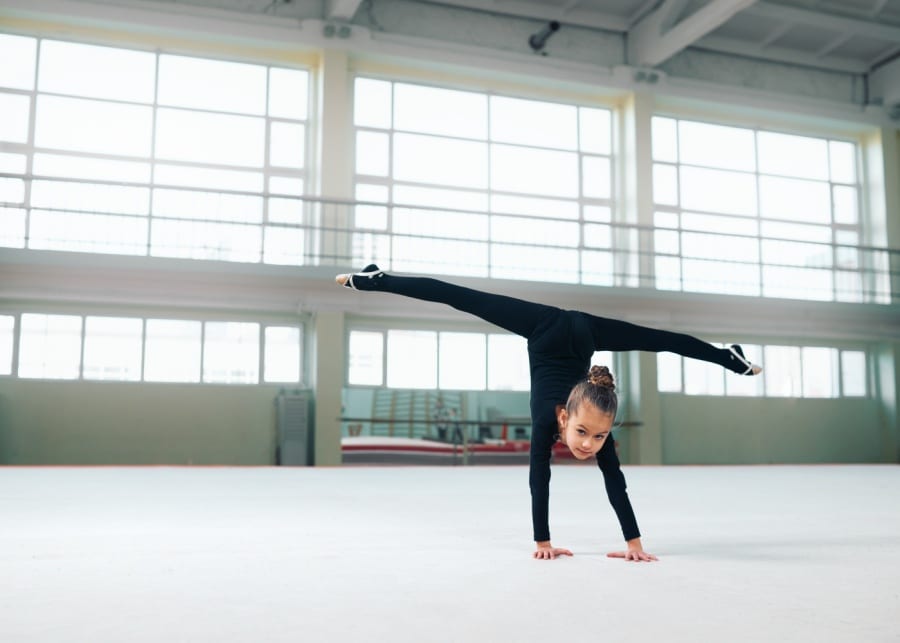 Tumble, cartwheel and spring your way to these gymnastic classes for kids in Singapore!
Do you have a handstanding, high-octane kiddo at home looking for a way to expend all that pent-up energy? Put that flexible exuberance to good use and get your small acrobats signed up for a gymnastic class for kids! Singapore has a cart(wheel) load of back-flipping, tumbling gymnastic lessons as a sports pick for fearless kids. And whether you want to find a group for your toddler, a way to occupy your bored teens or just a new after-school club for your mischief-makers, we've found the best gymnastic classes for kids of all ages and abilities.
Best gymnastic classes for kids in Singapore
Alpha Gymnastics
Looking for an action-packed gymnastic lesson for kids of all ages and abilities? Check out Alpha Gymnastics' classes! They are professionally designed from Romper class level (a parent-participation lesson suitable for tumbling tots as soon as they can walk) right through to intermediate programs for full-on acrobatic kiddos. Kids will be encouraged to learn at their own pace on the Olympic standard gymnastic paraphernalia, and we love that Alpha is insistent that it is never too late to learn how to handstand. We may have to take up that challenge at the Adult/Teen Recreational Course one of these days…
Where: Alpha Gymnastics, Block 750 #01-13B Chai Chee Rd, Viva Business Park, Singapore 469000
Prime Gymnastics Club
Whether your kiddos want to take up gymnastics recreationally or have aspirations of becoming an Olympic sports champion, Prime Gymnastics Club has been coaching kiddos through to the lofty heights of the National Team since 1987. Worried these gymnastics classes for kids might be a wallet-busting sports pick? The good news is that Prime is a not-for-profit registered society. That means that this skilled sport is made far more accessible to all who want to give it a go. Coaches from six different countries will teach budding gymnasts from 18 months to develop their skills and encourage your kiddo's independence, focus and self-discipline, too.
Where: Prime Gymnastics Club, 17A Lorong 7 #01-190 Toa Payoh, Singapore 311017
Beary Fun Gym
Weekly children's gymnastic classes at Beary Fun Gym are designed for four- to 12-year-olds who want to learn some somersaulting and backflip skills in a fun, energetic class. This gym believes all children are capable of learning and benefiting from a gymnastics program. But this is not a play-based gymnastic class for kids though: children are taught by first-rate coaches and will be expected to practise, practise and then practise some more.
Where: Beary Fun Gym, Branches in Bukit Batok, Changi and Katong 
Bianka Panova Sport & Art Academy
Set up by nine times World Champion rhythmic gymnast Bianka Panova, kids from age four can choose from either general gymnastics (non-competitive classes where the emphasis is on fun and friendship) or the rhythmic gymnast program, which is based on Bianka's own Eastern European training. Forget the traditional beams, bars and vaults! Rhythmic gymnastics combines ballet lessons, dance moves and acrobatic grooves using props like balls, ropes, ribbons and hoops. Artistic expression is the name of the game. Not to mention, the Head Coach is Bianka herself! She trains keen youngsters through the certified grades in a competitive but fun-packed environment.
Where: Bianka Panova Sport & Art Academy,2 Bukit Merah Central, #01-07, Singapore 159835
The Yard
Bend, stretch and flip! The Yard is where it's all at for tumbling tots from age 12 months (where parent participation classes will give little ones the perfect building-block for future gymnastic success), right through to senior classes (for talented gymnasts age 11 plus where they can accelerate their cool skills). The Yard's fun but challenging vibes will encourage mini gymnasts to really get to grips with coordination, strength and agility during their weekly lessons. Expect state of the art equipment and top-notch local and international instructors on hand to help your kiddo. They'll be nailing that back-flip in no time!
Where: The Yard, 10 Science Centre Road, Jurong East, Singapore 609079 or at 72 Loewen Road, Dempsey Hill, Singapore 248828
Bubbles Gym
Class names over at Bubbles Gym seriously make us want to ditch being an adult and try a spot of kidulting instead! And the gym has front somersault for starters, a cartwheel clinic and other fun gym sessions on offer. Tots are welcome from age one, with recreational gymnastic lessons starting at five years on the Olympic-sized apparatus. This even includes an awesome 12-metre long tumble track! Add in a flying fox and a ball pit slide, and this is one stupendous place to learn gymnastics. Gymnasts who show kick-ass flair will be asked to join the beginners' program where a more structured, competitive gymnastic journey could set them on the tumbling track to gymnastic stardom.
Where: Bubbles Gym, 200 Turf Club Road, #02-04 Turf City, Singapore 287994
Gymkraft
Being little won't stop kids over at Gymkraft cartwheeling their way to success! Mini gymnasts are welcome to join its gymnastic classes for kids who are three and up. And whether they are testing their acrobatic skills for fun, or are looking to train for a spot on the world stage, there is a class for all. Recreational programs are where it all starts for kids age seven and up, and older tweens and teens will move into the Artistic Gymnast classes to continue training. Psst, Gymkraft also has classes in parkour, trampoline, tricking and dynamic wrestling, too. Perfect for mixing it up every once in a while!
Where: Gymkraft, Centres at Tampines, 6 Tampines Street 92, Singapore 528893 and Guillemard, 100 Guillemard Road, Singapore 399718