Need to know where to buy or rent fancy dress costumes for kids in Singapore? We've found the cool clobber from pirates to national costumes, princesses to Paw Patrol!
Dressing up is as much a part of childhood as splashing in puddles, refusing to eat vegetables and, dare we say it, picking noses. Pirates, princesses, pirate princesses: you name it, kids want to be it. And who can blame them? Being an adult is hard work, so we say if the little ones want to dress up as a dinosaur to go to the playground, let them! We've scoured the country to find the best fancy dress shops in Singapore for you to buy or rent costumes for the kids for everyday wear or at a themed party. Costumes aren't just about Halloween anymore (hello, birthdays!), so prepare to give your dressing-up box a major upgrade…
The best fancy dress shops in Singapore
1. Redmart
You read that right: online supermarket Redmart stocks fancy dress picks at reasonable prices, ranging from Snow White and Spiderman to hula skirts. Who'd think you could throw a pirate in with your toilet rolls when doing your grocery shopping?
Where: Redmart, online only
2. Costumes 'n' Parties
Looking for Star Wars, Guardians of the Galaxy or the largest selection of international costumes in Asia? Head to Costumes 'n' Parties! This one-stop shop has all things fancy dress! It even manufactures its own label of boa feathers, costumes, steampunk accessories, eye masks, wigs and props. Find your perfect costume online or pop into the store for a try-on session.
Where: Costumes 'n' Parties, Havelock II, Unit #02-16/17/18, No.2 Havelock Road, Singapore 059763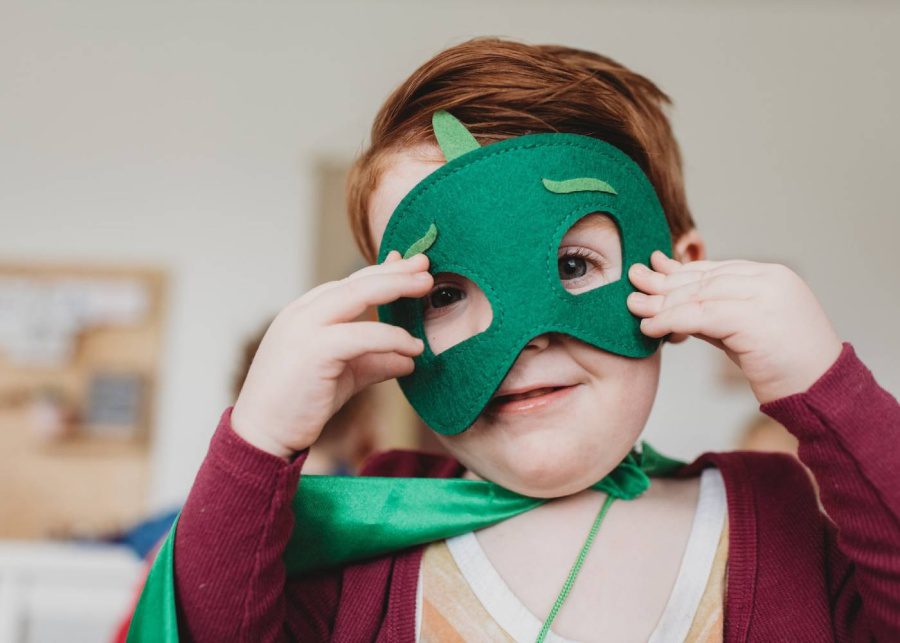 3. Spotlight
Good ol' Spotlight has long sorted us out with all our birthday party needs, art and craft supplies and homeware, but it's also a hotspot for fancy dress costumes, too. Check out the rails of baby to adult picks that include Harry Potter, Frozen, superheroes, dinosaurs and tons more, all at reasonable prices.
Where: Spotlight, at Plaza Singapura, Dhoby Ghaut MRT Level 5, 68 Orchard Rd, Singapore 238839 and Westgate, #03-44 to 45 & #03-34 to 37, Westgate, 3 Gateway Dr, Singapore 608532
4. Customade Costume & Merchandise (CCM)
If you're looking for outstanding service and a huge selection of costumes for the whole fam, then check out Customade Costume & Merchandise (CCM)! Rent costumes of any kind, or even customise one to your little one's fit if you fancy. Psst, CCM even has a costume truck perfect for everyone to get in on the costume fun!
Where: 9 Kallang Place, Singapore, S339154 #02-09
5. Ministry of Costumes
Ministry of Costumes opened its doors in 2016 with one mission: to deck families in all things costume! Dress the whole gang in Alice in Wonderland finery, turn yourselves into a collection of superheroes or channel your inner magic with a Harry Potter-themed ensemble. Whatever you're looking to buy or rent costume-wise, these guys either stock it or will help you find it.
Where: Ministry of Costumes, 217 Henderson Road #04-04, Singapore 159555
6. Toys "R" Us
While there may not be a huge selection of dressing-up clothes for kids at Toys "R" Us, the outfits it does have are adorable! Little ones can let their imaginations run wild with a skeleton, vampire, Frozen's Elsa or Anna costumes.
Where: Toys "R" Us, 10 locations around Singapore 
7. Pan-In-The-Box
Pan-In-The-Box is so much more than Halloween costumes, with everything from a little angel girl to an out-of-this-world astronaut. There's also a fab selection of accessories if you'd prefer to nab a wig and some props instead of a full-blown outfit. There's something for every budget here!
Where: #01-129, 1015 Geylang East Avenue 3, Singapore 389730
8. Party City
Party City will make any kind of party go off with a bang! While the costume selection isn't huge, you can rest assured that everyone is catered for with outfits for the wee ones (0-6 months), right up to adults – so parents can also get involved in the dress-up fun!
Where: 211 Holland Ave #02-23, Holland Road Shopping Centre, Singapore 278967
9. Party With Us
Party With Us has the whole party covered with endless party supplies and the best costumes. Got a kid who's after a particular niche theme? No sweat – with everything from Thor, Bat Girl to Minnie Mouse, all looks are covered. Are you thinking of getting in on the fancy dress fun too, but dreading the thought of a skin-tight costume? Well, that's where the Party With Us folks are really kind and have plus-size options if you're after a roomier fit. Winner!
Where: Online only
10. H&M
Don't dismiss high street fave H&M for a few costume gems. We've spotted an Elsa costume or two, plus some great Halloween get up.
Where: Online and in-store
11. Absolute Costumez
One of the things we love most about Absolute Costumez? The prices closely followed by the variety. If fancy dress instantly makes you see dollar signs, then you can knock a few off knowing that Absolute Costumez has you covered with more affordable (but no less fantastic) costume design covering all our fave superheroes, plus everything else in between – fancy dress hot dog, anyone?
Where: online and 62 Ubi Road 1 #01-16, Oxley Bizhub 2, Singapore 408734
12. Miio costumes
Ever forked out a small fortune on a costume only for it to be resigned to the bottom of the wardrobe after one wear? Us too. That's where Miio comes in to mix up the fancy dress landscape with rental options! There's not a load of choice, but the prices make this the most affordable option, and there should be something to suit most themes, whether that's a minion, spiderman or a pilot! Psst, adult costumes are also available for rental – yay!
Where: online 
Happy fancy dress shopping, folks!
Lead image: Jeremy Mcknight via Unsplash