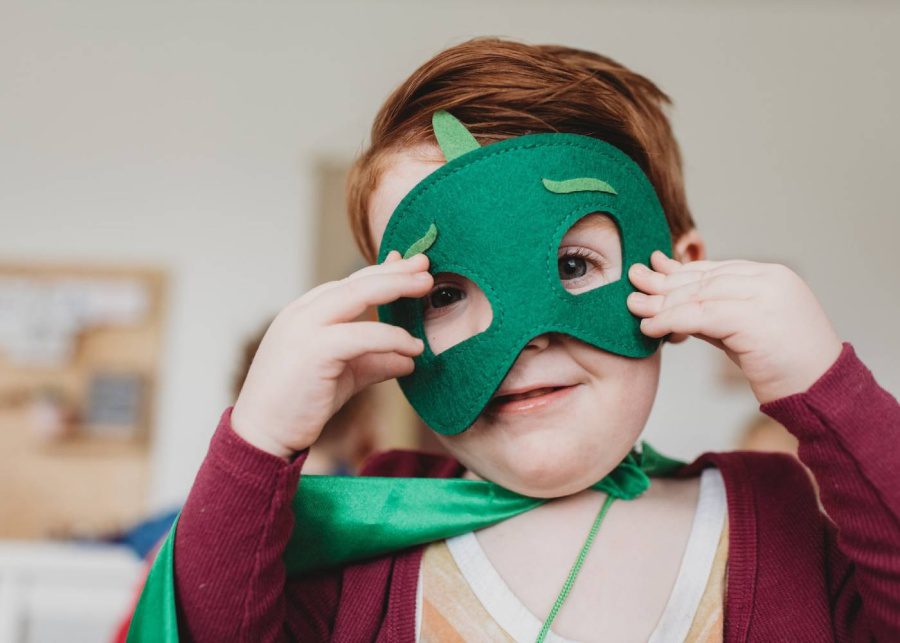 Photography: Jessica Rockowitz on Unsplash
We've found spooktacular costumes and make-up in Singapore perfect for ghouls of all sizes. Make your Halloween go off with a BOOM!
If the idea of finding epic costumes for your little ghosts and goblins spooks you more than the most ghoulish of horror films, then you're not alone. And if the kids are tired of your ghastly Pinterest fail DIY Halloween costumes while trick or treating and are after something scream-worthy for the right reasons, we've got the lowdown. Here's where you can buy Halloween costumes in Singapore!
Where to buy or rent Halloween costumes in Singapore
1. Pan-In-The-Box
Behold! Dazzling accessories and Halloween costumes await at Pan-In-The-Box! This Singapore costume store has contributed to some serious festive events over the years, like Cosplay Summit and Singapore Cosplay Club. So, you know you're in good hands! Bring your kiddos and snap up a quality costume, plus props this Halloween – from frightful ghouls to fantastical superheroes!
Where: #01-129, 1015 Geylang East Avenue 3, Singapore 389730
2. Costumes 'N' Parties
We're totally into twinning outfits – few sights are as adorable (or photo-worthy) as a family of Minions or Star Wars characters. Everyone can get in on the action at Costumes 'N' Parties – deck your hubby out in Ghostbusters garb and your newborn as a baby chicken (and choose a svelte little number for yourself!). From wacky and spooky to heroic and adorable, your kids are free to unleash their inner heroes or princesses with the huge selection of Halloween costumes available in this Singapore store.
Where: No.2 Havelock Road, Unit #02-16/17/18, Havelock II, Singapore 059763
3. Party City
Party City will make any kind of party go off with a bang, and it gets top marks for its awesome selection of seasonal decor goodies. While the costume selection isn't huge, you'll get to pick up Halloween classics, including swashbuckling pirates, witches and dragons. We're all over the cutesy witch costume for toddlers! Too cute.
Where: 211 Holland Ave #02-23, Holland Road Shopping Centre, Singapore 278967
4. Party With Us
This one-stop party shop's gargantuan stock of Halloween costumes means there is something for literally everybody. Does your child want to be Thor, Bat Girl, a lion or Minnie Mouse? No prob! We're also loving the older kid section, with its terrifying horror get-ups (including the Grim Reaper and wicked scarecrow) may even raise a smile from your impossible-to-please teenager. Bonus: if you are throwing a Halloween bash, you can pick up all the necessary party supplies at the same time.
Where: Online only
5. H&M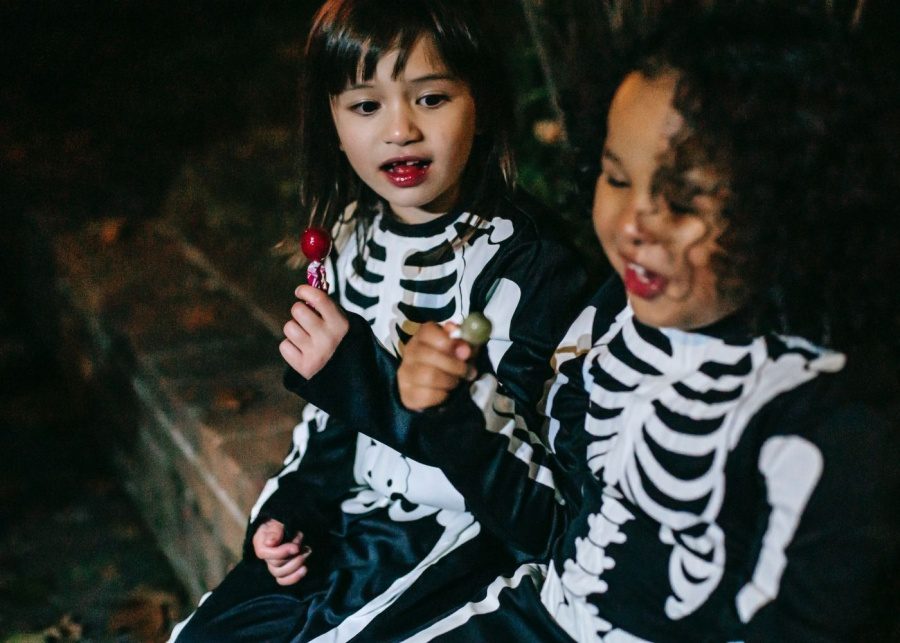 You can always rely on H&M for its annual range of Halloween outfits and accessories, including masks, superhero costumes and headbands with bat ears – they're perfect last-minute lifesavers!
Where: Various outlets
6. HalloweenCostumes.com
Vikings, pirates, superheroes… yep, HalloweenCostumes.com has literally everything for the whole clan, including the furkids. Whether you are planning on going it solo or dressing up as a group, you can grab costumes of all sorts for all sizes at affordable prices from this US-based site. The best part? It ships to more than 200 countries worldwide, so you've got plenty of time to get your scary threads in.
Where: Online only
7. Costume City
Costume City is a popular choice, not just for Halloween but for any time of the year when you feel like dressing up! Your kids will be kitted-out in whatever they fancy. Be it dressing up as a watermelon or an Egyptian, Chewbacca or a vet, you will find it! It also goes the extra mile for those with kids looking for that costume you are never going to find on a rack. Simply email visuals of the design you have in mind, and they will get back to you with a quotation. It's time to get your spooky on peeps!
Where: 217 Henderson Road, #04-04 Singapore 159555
8. Customade Costumes & Merchandise
Prepare to be overwhelmed at this costume and prop mecca. You'll definitely be spoilt for choice at Customade Costumes & Merchandise. With a collection as extensive as this, you can't help but find a winning ensemble to rent or buy. This year, we're digging the striking red devil costume for little mischief-makers at home. And while we're at it, we may suggest settling on the black devil costume for the husband (to set off some twinning vibes).
Where: 3 Kelantan Lane #02-01, Singapore 208625
9. Children's Costume Specialist
The crew here are super-passionate about making your kid's childhood memories. It even offers wholesale prices for larger groups, including preschools (imagine a class of three-year-old Dalmatians running around!). Alongside the standard fare, there are some quirky options here, like Singapore Airlines uniforms, snake outfits and mini-construction workers. Head to its bricks-and-mortar store in [email protected] Lebar.
Where: Children's Costume Specialist, 140 Paya Lebar Rd, #05-10, [email protected] Lebar, Singapore 409015
10. Spotlight
The king of craft stores, Spotlight is an essential stop on the Halloween shopping run. It has so much choice if you are scouting for materials, including fabric, glue guns and sequins for your spectacular DIY Pinterest attempt. Spotlight also has tons of ready-made costumes, dressups and accessories, if DIY isn't the name of your game. It's the perfect place for a great last-minute ditch effort when looking for Halloween costumes in Singapore, too!
Where: Level 5, 68 Orchard Road, #05-11 Plaza Singapura, Singapore 238839; Level 3 Westgate, 3 Gateway Drive, Singapore 608532
11. Daiso
For a budget-friendly option that never fails to deliver bargain goods, we've been kitting ourselves and the kids out for Halloween at Daiso for years. We went for a Day of the Dead and zombie family look a few years back for less than $10! Pick up cat masks and tails, bat wings, theatrical make-up and all the spooky Halloween decor you could ever need for $2 a pop. Stock up early folks – it's a popular pick!
Where: Various locations islandwide
12. Cotton On Kids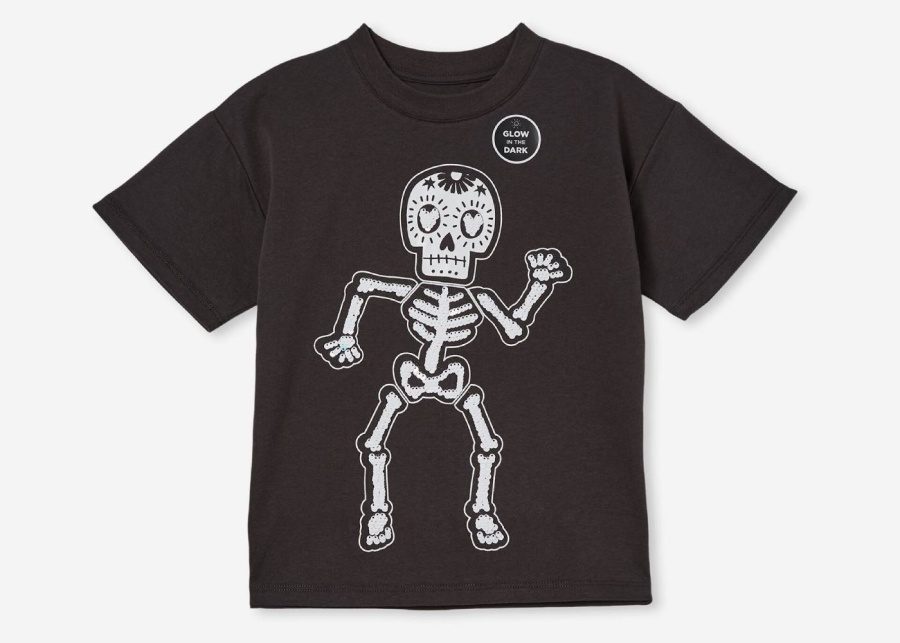 Our go-to for fun and affordable kids' fashion has all the appropriate accessories for Halloween! If you're looking for more subtle Halloween-themed clothing items for your little ghouls and goblins – like tulle skirts with bats and skeleton jammies – head over to Cotton On Kids all around town.
Where: Various outlets islandwide
13. Miio store Costumes
If your kid wants to tone down on the spook this Halloween, how about checking out the costume stash at Miio store costumes? Your kiddo can opt to take to the skies with a dashing pilot uniform or an elegant air stewardess of Singapore Airlines. There are some superhero options to check out too – if your little one is looking to amp up on the superpowers a bit, like superwoman or spiderman.
Where: Mostly online
14. Absolute Costumez
Dive into comics, storybooks, movies and even video games for the character your kiddo wants to sport this Halloween because Absolute Costumez has it all. Your littlie will be spoilt for choice with the array of options on display. Pretty, ugly, dainty, powerful – there's a Halloween vibe for kids of all ages to look forward to.
Where: 62 Ubi Road 1 #01-16, Oxley Bizhub 2, Singapore 408734
15. The Costume
If you're looking to travel back in time or move super fast into the future this Halloween, we know just the place – The Costume hub has a big lineup of costumes for every era to suit your fancy. The best part? You can try on any of the costumes on display!
Where: LHK Building, 701 Sims Drive, #01-04, Singapore 387383
16. Ministry of Costumes
Looking for something for the whole fam? This family-oriented costume place is where it's at. The Ministry of Costumes has a bunch of cool themes for you to try this Halloween, which you can either rent or buy. You and your brood can be that cool superhero fam, the Addams family bunch, join Captain Jack Sparrow's crew as pirates or even join the Mad Hatter's tea party with Alice in Wonderland.
Where: Ministry of Costume, 217 Henderson Road, #04-04, Singapore 159555
Bonus: Where to buy make-up for Halloween in Singapore
17. Spotlight
This craft giant not only offers playthings and costumes for your little ones (see above), but it also stocks face paint and make-up to complete the transformation into the character of their dreams. Aside from the usual deluxe kits and face crayons, there are also specialist face paint sets for different looks. You can expect to find princesses, cowboys & pirates and spooky-face themes to compliment your outfit with guides to help you nail your technique. Stock up on fake blood and body paint while you're at it!
Where: 68 Orchard Road, #05-11 Plaza Singapura, Singapore 238839; Level 3 Westgate, 3 Gateway Drive, Singapore 608532
18. Sephora
Yes! Your favourite makeup store doubles up as the perfect place to buy Halloween face-painting essentials! Make over the littlies with Sephora's amazing range of kid-friendly makeup for that gothic look. Smokey eyes or black panther, the possibilities are endless. Check out the cosmetics from Stila or Urban Decay, and play around with the palettes to paint your kids' faces, and yours!
Where: various outlets
19. Art Friend
A favourite among artists, designers and graphic artists, Art Friend is a well-loved stationery heaven. Pick up a variety of face or body paint here and start painting away. We can't guarantee you won't walk out with a whole raft of other cool art gear you didn't even know you needed…
Where: Various outlets
20. Happier Singapore
While Halloween is all about good scares, treats and frighteningly fun times, it's admittedly also a time for grand costumes and eye-catching, memorable ensembles. Take your child's costume a step further with an expertly painted face by the team at Happier Singapore. From elaborate butterflies to blue-faced Avatar creatures, the options are endless. Its Halloween balloon creations are pretty awesome too.
Where: Visit its website or contact [email protected] for bookings
21. Note Cosmetique
Are you thinking about putting your creative skills to the test this Halloween? Note Cosmetique has a few tips and tricks to share on how to sport the perfect Queen of Hearts look. You can achieve this with their wide range of beauty products – like lip pencils, bronzing powders, eyeshadows, and lipsticks. The tips are also handy in case you would like to try another look of your choice. So put your creative hat on and ghoul it up this Halloween!
Where: Multiple stores across the island
22. MTrade Novelty Store
Go bold this Halloween and sport a new hair colour for a change. MTrade Novelty Store has hair colour sprays that will amp up your spook and definitely make you stand out in the crowd. For character inspirations for bright hairdos, we suggest Cruella De Vil from 101 Dalmatians, Mad Hatter or The Riddler. It's not suggested for kids under three years of age to use hair spray paint.
Where: Available online, 50 Gambas Crescent, #05-06, Proxima @ Gambas, Singapore 757022
Love this list of Halloween costume stores in Singapore? Check out these spook-tacular Halloween snacks!