Settle down with your little spooks, grab some fiendish snacks and get your fangs into the perfect Halloween movie!
Once you're done with the trick or treating and have hung up your broomstick for the night, why not extend the spook-fest with a great Halloween movie for kids, suitable for little monsters of all ages? We've conjured up some of our favourite scary (but not too scary!) fright-fests for tots, teens and everyone in between…
Best Halloween movies for kids
1. Hotel Transylvania
When an unwitting awkward teenager discovers the Hotel Transylvania holiday resort for monsters, he gets more than he bargained for when he falls in love with the owner's daughter… Daddy is Dracula and he is VERY protective of his (not so) little girl. Plenty of laughs for kids, and grown-ups, of all ages – even our own teenager cracked a smile!
2. Pooh's Heffalump Halloween Movie
For kids not much bigger than a pumpkin, we suggest playing it safe with the oh-so-sweet Pooh's Heffalump Halloween Movie. Familiar favourites, including Pooh Bear, Tigger and Roo, are on the hunt for tricks, treats and the dreaded Gobloon around The Hundred Acre Wood in a feel-good adventure for the young and old alike.
3. Monsters Inc
Has there ever been a funnier set of monsters than Sully, Mike and co. over at Monsters Inc? We think not, and their hilarious antics while trying to help a small tot named Boo never get old. Guaranteed giggles all round.
4. Scared Shrekless
Light up the Jack O'Lanterns, settle down with the spooky snacks and join everyone's favourite ogre, Shrek. He's on a Halloween mission through a haunted castle in the animated movie, Scared Shrekless. At only 26 minutes long, this is the perfect pick for tired kids, or kids who are on a 'can't sit still' sugar rush after all that trick or treat candy!
5. The Curse of the Were-Rabbit
Cheery but bumbling Wallace, and his ever faithful dog, Gromit, set out to discover who, or what, is behind a series of mysterious events that are threatening to sabotage the village event of the year: the annual giant vegetable-growing contest. The title of the movie, The Curse of the Were-Rabbit, does kind of give the 'mystery' away a bit…
6. The NeverEnding Story
We'll use any excuse to whack on one of the greatest family movies of all time, The NeverEnding Story. It's full of weird characters, spooky scenes and a really quite scary wolf thing, making it perfect Halloween viewing. Remember the tissues: that creepy make-up you took hours applying will never survive the horse-in-the-mud scene…
7. Spooky Buddies
While you might not think that a bunch of super-adorable talking golden retriever pups is good Halloween movie fodder, Spooky Buddies brings us haunted mansions, ghost dogs and plenty of adventure with a puppy gang the kids will love. Prepare for demands to adopt a dog.
8. E.T. the Extra Terrestrial
The film that introduced us non-Americans to the whole concept of trick or treating in the first place… E.T. the Extra Terrestrial! This timeless, heartwarming tale of a ridiculously endearing lost alien and his best friend, Elliot, gets us every single time. He just wanted to go home!
9. Monster House
We'll admit it, Monster House scared even us grown-ups the first time we saw it – even if it is rated PG! A very clever animation in which a bunch of tweens discover their neighbour's house is actually a living, breathing monster.
10. Harry Potter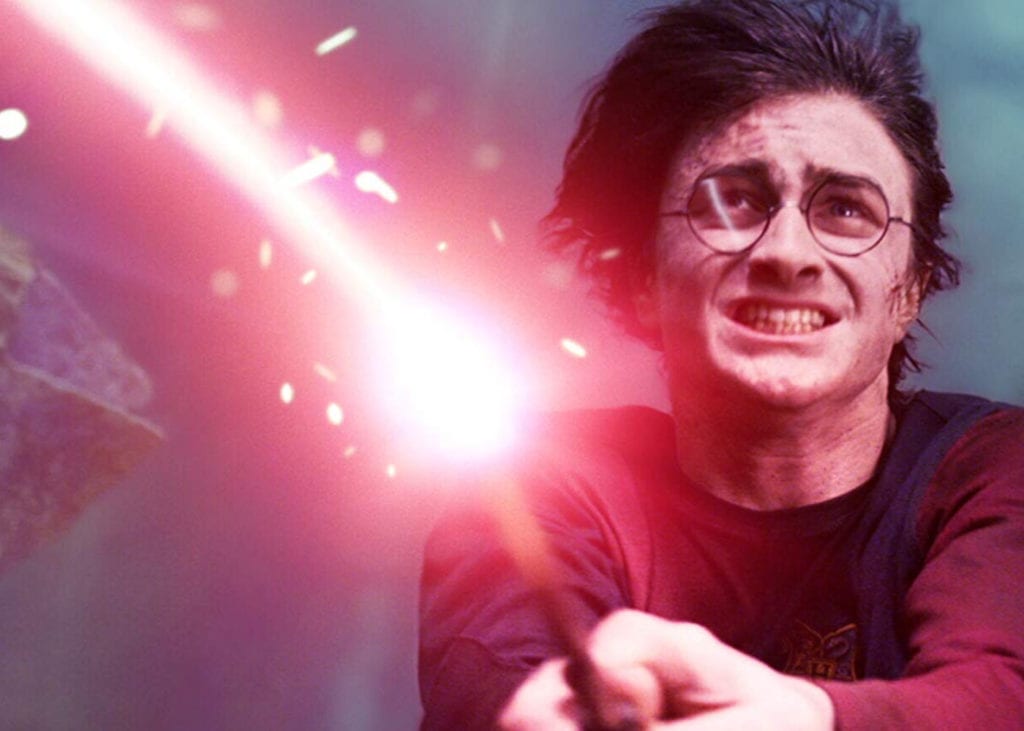 With kids dressed up as witches and wizards all over Singapore, it's not Halloween at all without a mention of the Harry Potter movies! The films get progressively darker, and scarier, as the series continues, so pick the film best suited to the age of your kiddos. Harry Potter and The Goblet of Fire is our favourite. Nothing at all to do with Robert Pattinson either… #mumcrush
11. Gremlins
One for older kids, and another classic, Gremlins has been laying on the annual frights since 1984! Hands up who wanted a Gizmo as a small pet when they were a kid? Despite the risks! Warning: there is one scene in the film that categorically dispels the Santa Claus myth, so if you have believers in the house, DO NOT let them watch this movie (we speak from experience: a parenting lesson learned the hard way).
12. Ghostbusters
We can't mention an oldie but a goodie like Gremlins without also giving a shout out to Ghostbusters! Again, suitable for older kids (10 and up), but definitely a movie that epitomises all things Halloween. The remake is also worth a watch, but it's not nearly so whacky and charming as the original. It does get a thumbs-up for including a team of kick-ass girls though.
13. ParaNorman
In ParaNorman, a small town comes under siege by zombies galore, and only young ghost whisperer, Norman – often misunderstood and seen as a misfit – can take on the ghosts, witches and, worst of all, the grown-ups, to save his home from an old curse. This one feels pretty dark and creepy, so may be a bit too scary for very young tots. Or very scared adults.
14. The Book of Life
Meet Manolo, a teenager full of angst (show us one who isn't…) who finds himself torn between pleasing his family or following his heart in The Book of Life, a visually beautiful animated adventure that spans three fantastical worlds. Prepare for demands for Day of the Dead style make-up for the kid's Halloween costumes this year immediately after viewing.
15. The Mummy
Another one for older tweens and teens, but one that the family can definitely get wrapped up in… The 1999 version of The Mummy makes for slightly scary, often funny Halloween viewing. Full of curses, icky looking mummies and the odd missing eyeball, this adventure to ancient Egypt gets a big thumbs up. The latest Tom Cruise version? Not so much.
16. The Addams Family
Anjelica Houston rocks the role of Morticia the witch in a classic that's absolutely stood the test of time. The Addams Family still reigns supreme as an all round Halloween favourite – this is a seriously dysfunctional family and we love them! We challenge you NOT to have the theme tune on loop in your head right about… now.
17. Casper
If ghosts do ever prove to be real, then we want them to be just like Casper the friendly ghost. The 1995 version is our favourite, where a paranormal expert and his daughter move into an abandoned house that turns out not to be so abandoned after all.
18. Frankenweenie
Anything with Winona Ryder in it instantly gets our vote (hurry up Stranger Things season 4!), so Frankenweenie goes on the list for that alone. Add in a dead dog that comes back to life and some pretty cool science experiments, and you've got yourself a ghoulishly great Halloween family movie.
19. Twilight
Twilight is definitely worth a Halloween airing for tweens and teens (and their middle-aged mums). Team Edward or Team Jacob? Either way this girl meets boy (with a vampire secret) love tale still makes our heart flutter. Plus, if nothing else, the soundtrack is pretty cool.
20. Goosebumps
Jack Black is always funny, and he doesn't let us down in the movie version of the classic book series, Goosebumps. Plenty of jump scares, eery characters and fright night fun in a story involving dark secrets and books that come to life.
Love this list of family-friendly Halloween movies? Check out these Halloween crafts for kids!