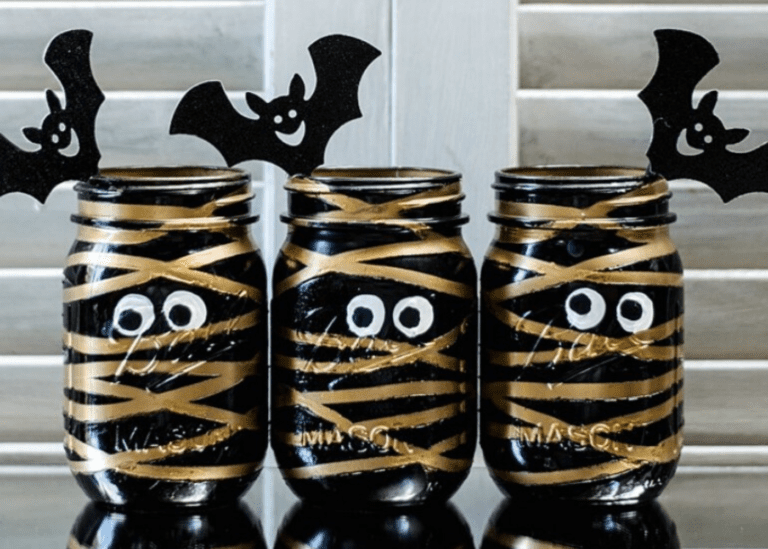 We've found all the creepiest DIY crafts that monsters of all sizes will love making this Halloween...
We're never happier than when our kids want to break out the craft kit: we confess it's one of our fave ways to spend time with the kiddos without a whole heap of fuss! And with Halloween on the horizon, we're turning our minds to some skele-fun with these spooky arts and crafts ideas for kids…
Halloween arts & crafts for kids
1. Mummy mason jars
Let's get the party startled, folks, with these oh-so-cute mummy mason jars (pictured above) by It All Started With Paint!
2. Paper plate creations
What better way to serve up spooky treats than with these un-boo-lievably fun Halloween-themed paper plate creations by Manuali Dadeson?! Don't forget to hit Google translate so you don't go batty deciphering the instructions!
3. Toilet roll spiders
We've long been fans of recycling our rolls with toilet roll craft ops, so we can't wait to spin up a creepy craft session to try this Molly Moo Crafts tutorial.
4. Pumpkin Jack O'Lantern
Let's face it, pumpkins here in Singapore are eye-wateringly expensive! So we're loving this paper Jack O'Lantern alternative by Activities for Kids. Add LED lights for extra Halloween pizzazz!
5. Paperbag Monsters
Gather your wee ghoul-friends and make these cute paper monster puppets from I Heart Crafty Things. It's the perfect option for toddlers — easy peasy clean up and super kooky too!
6. Pineapple Jack O'Lantern
Celebrate Halloween with the kids Singapore-style, by throwing a relaxed party (complete with fun spooky snacks) with a tropical twist. Cue the perfect, edible table decoration: the Pineapple Jack 0'Lantern!
Method:
1. Cut off the top and bottom from your pineapple, setting to one side. Using a small paring knife, cut the pineapple flesh in a circular motion. Pull out the flesh with your hands. Repeat this process until you are left with approximately 2cm thickness of pineapple flesh inside the pineapple.
2. On paper, draw shapes for your Jack o'Lantern's eyes and mouth – let your imagination guide you! Cut the shapes out, then secure them to the outside of the pineapple with toothpicks. Use a small knife to carefully cut around the shapes and remove the skin and flesh. Discard.
3. Place a tea-light inside the pineapple and enjoy the fruits (groan) of your labour! Just one word of advice: if you're going to leave the pineapple outside, sit the pineapple on a plate and add a small amount of water to it so that ants don't attack your tropical Jack o'Lantern!
7. DIY Easy spooky hats
Pumpkins make a great failsafe option for younger kids, so why not get busy with crafting a classic pumpkin hat? This is super simple to do and takes no more than half an hour to complete – perfect for time-crunched mums. You can also give your little captain of the sea a hat to complete the Halloween pirate look! Simply print out the band, follow the instructions and let the kids score their own creative treasure by colouring the skull and bones.
8. Easy peasy Halloween outfit
A DIY spider hat makes for an easy, adorable Halloween costume. Add a black or orange top and bottom and your child's costume is complete with zero drama. Hurrah! Need some help convincing kids to eat their greens? Turn 'em into Frankenstein! Use this template to create your own Frankenstein crown.
9. A classic witch's costume
Of the kids are love Halloween arts and crafts, why not try a DIY costume too? One of the easiest Halloween looks to nail at home? A witch's costume of course!
Method:
1. Gather some scissors, tape, black craft paper and decorations, a black shirt, tulle, elastic and black shoes.
2.. First, create a Witchy Hat using craft paper and tape. Don't forget to jazz it up with decorations (try orange polka dots or zigzags for a spooky Halloween hat!).
3. Next, put together this simple no-sew tulle Witch's Tutu. Try mixing black and orange tulle to make it extra Halloween-y!
4. When it's finally time, dress your little witch up in a black shirt, the witch's tutu, black shoes, and last but not least, that super scary witchy hat!
Top tip: Halloween experts should add a witchy broom and striped stockings for added fear factor!
10. Halloween handprint keepsake
Kids grow up so fast, don't they? Here's a fun activity that you can do AND preserve a childhood memory forever! Follow the instructions from Easy Peasy and Fun and you'll have something that you can hang up during Halloween. Idea: Adapt this for the other holiday seasons or just do it as a standard keepsake.
11. Clay Halloween pins
Here's another clay craft that's just super adorable! The kids can pin these up on their schoolbags, their clothes, and even up in their hair! Handmade Charlotte has the tutorial if you're keen to do these with your younglings. Psst, we reckon these can also be good as gifts!
12. Rainbow paper tube bats
Halloween doesn't have to be orange, black and/or white. How about adding more colour to the season? Grab some paper in your favourite colours, paper tubes and googly eyes, and create your own paper tube bats. Instructions can be found at Hello Wonderful. These are good for decorations and can double up as trick or treat favours too!
13. Halloween watercolour drawings with sugar
Who would've thought that sugar can be used for art too? We certainly didn't! We followed the instructions by Mod Podge Rocks and colour us impressed! The kiddos will have a fun time discovering the hidden images.
Love this list of Halloween arts and crafts for kids? Check out our fave craft stores in Singapore!