F1 Singapore Grand Prix with kids
Get your kids involved in the high-octane action of F1 weekend in Singapore – here's the lowdown on how to enjoy a family-friendly Formula 1 in 2023!
The Singapore Grand Prix is back on track this September and is definitely at the top of the list when it comes to things to do with the kids. We're already revving up for the 2023 Formula 1 Singapore Airlines Singapore Grand Prix: it's happening very soon (15 – 17 September, folks!) at the Marina Bay Circuit Park, covering an area of approximately 80 football fields. With a slight change to the layout and two new grandstands, the racing spans parkland and cityscapes, showing off the city in all its glittering glory during this amazing night race. This is an iconic Singapore experience, so don't miss out!
Kids into cars will particularly love the weekend, although note that children under seven are required to have a signed indemnity agreement for admission into the Marina Bay Circuit Park (it can be obtained at the gates or here). Even for families who aren't into motorsports, it's hard to resist getting swept up in the excitement of the weekend. We're talking awesome entertainment, street closures, food trucks and a fantastic festival atmosphere, not to mention the thrill of watching a night-time race. Stock up on noise cancelling headphones and get down there!
Psst…not bagged yourself a ticket? No worries – check out our ultimate guide on where to see F1 with kids without heading through the gates. 
Here's how to enjoy the Grand Prix in Singapore with the family…
F1 in Singapore with kids – need-to-knows
Families have a great time at F1 Marina Bay Circuit Park, and all children are welcome. But, there are a few things you should keep in mind before taking the plunge with your littlies in tow.
Venue environment
Heading to the circuit is not a simple walk in the park. There's plenty of walking involved, crowds buzzing about, and lots of noise. So make sure you have your little ones near you at all times.
Baby buggies
Collapsible baby buggies can be brought into Circuit Park but not into the grandstand area. So if you want to take along your little ones, baby carriers are best. If your little monkeys are too big for that, then keep in mind that you'll need to take plenty of breaks – or be prepared to do lots of piggybacks.
Tickets for kids
Children will need an entry ticket, and kids under age seven will need a parent or guardian to sign an indemnity form at the gates. All children under 12 must be supervised by a ticket-holding adult.
Survival tips for F1 Singapore with kids from an F1 veteran!
Our former editor, Tracy Tristram, made it a tradition to take her children to the F1 each year – and she's learned a thing or two about mastering the Grand Prix with kids.
1. Earphones
F1 is LOUD. Deafeningly so! That noise is pretty impressive, but don't be fooled by the sound levels you may hear on the TV. Ear protection, therefore, is not only important for adults but essential for the smaller ears you take along – here's where to get your noise cancelling headphones. Foam earplugs come with the F1 Survival Kit, (on sale at booths throughout the Circuit Park) which also contains a poncho in adult size. The earplugs are fine for adults and older children, but really, noise-cancelling headphones are the best bet. All proceeds go to charity!
2. Binoculars
As well as your headphones/earplugs, do make sure you bring along a small set of binoculars. The cars are super fast (it would be a bit boring if they were Driving Miss Daisy speeds) and go past in a flash. There is tons of action on and off the track and your child will love finding interesting things to look at as well as the cars.
3. Ticket sharing
You know your child best. Only you know whether F1 is going to be something that your little one loves or loathes. The event is over three days (Friday is the practice, Saturday qualifying and Sunday is the main race) and so your child needs to be old enough to enjoy the action. Formula 1 tickets are not cheap, so before you spend the money on tickets for the whole family take your kids on a 'trial run'. A good way to do this is to get tickets for Friday's practice from someone who will not be using theirs. Tickets are mostly bought as a three-day set, so if you find someone who can't make one of the evenings, snap up their ticket!
4. Boredom busters
There are gaps between the cars whizzing past so be sure to pack some boredom-busters for the kids to enjoy in between racing. Try some of your favourite apps for young kids. Psst, make sure the phone or iPad is fully charged or bring a battery pack! The Singapore Grand Prix 2023 has a host of online free download & print activities that you can bring along to keep the little ones entertained. Make sure you check out the entertainment lineup and try to catch age-appropriate roving acts, like singers, magicians, and light shows!
5. Stay hydrated
Make sure you and your child drink plenty of water. Being outside for hours in our gorgeously warm but insanely humid weather can be dehydrating.
6. Comfortable shoes and clothes
The car park will likely be far away from the race track, so wear comfortable shoes that you don't mind getting dirty. I wore my gorgeous wedges to a race once and they got ruined when the heavens opened. Also, do not wear white! For the same reason… the rain is not forgiving on a white dress and you know why! Lesson learned the hard way… Also, make sure your child is not wearing shoes that rub, causing event-ending blisters!
7. Bring a radio
Or install a radio app on your phone. When you get to the race they will let you know which station to tune into so that you can hear the announcers. The commentary will help your kids have a better idea of what is going on. It also makes it easier for them to spot their favourite drivers as they flash past.
8. Rain
Most years, it has stayed dry. But a couple of years back, the rain was torrential (which didn't stop me, a HUGE Duran Duran fan, standing in a bog for hours to get a front-row spot at their concert!). Make sure you have rain macs and ponchos with you. Umbrellas won't be of any use unless you want to (a) poke someone's eye out or (b) get shouted at by the people behind you trying to see the race!
9. Sun
On the other hand, if it's a bright, sunny day, remember to slather on the sunscreen if you head to Marina Bay Circuit Park from the afternoon onwards. Bring hats (or pick up an F1 cap) as the heat can be intense.
10. Meeting point
If your child is old enough, then do make sure you agree on a meeting point in case you get separated. When you get to the event, find somewhere together to pinpoint as your designated 'lost and found'.
The most important thing is to have fun and enjoy the race!
Everything else you need to know about Formula One 2023 in Singapore with kids
F1 Singapore 2023 ticketing info
Tickets to F1 get snapped up in a flash. Some types provide more access across Marina Bay Circuit Park than others (access is divided into Zones 1 to 4), so make sure you know which areas you're able to enter. Check the map of the circuit here.
Single-day walkabout tickets, which allow access to Zone 4 for one day, are ideal if you don't need to go full throttle. You can also purchase packages for all three days if you're keen! Walkabout ticket holders can get as close as three metres away from the edge of the track, and watch the daily concerts held at the Padang during the race. Tickets for entry on Friday, 15 September cost upwards of $298. Tickets for Saturday and Sunday (16 and 17 September) cost from $688 and $988 respectively. Each person can buy a maximum of four tickets in this category. Want the full experience? A three-day walkabout ticket is the answer, although sadly they're all sold out.
Click here to buy tickets
F1 in Singapore with kids – the highlights
Build up before the big event
The two-year-long hiatus for the Singapore Grand Prix is finally coming to an end, and this definitely calls for a build-up to the event! The #SingaporeGP Roving Truck will be dropping by close to your hood at different locations across Singapore. Expect to find free live screenings of races via Singtel TV in Austria, France, Hungary, Belgium, Netherlands and Italy. And dive into an immersive racing experience with the Simulator Challenge (Singapore's fastest racers will compete, with a chance to win tickets to the Singapore Grand Prix 2023). Yay!
Click here for the truck schedule
The Pit Lane Experience (Psst – it's free!)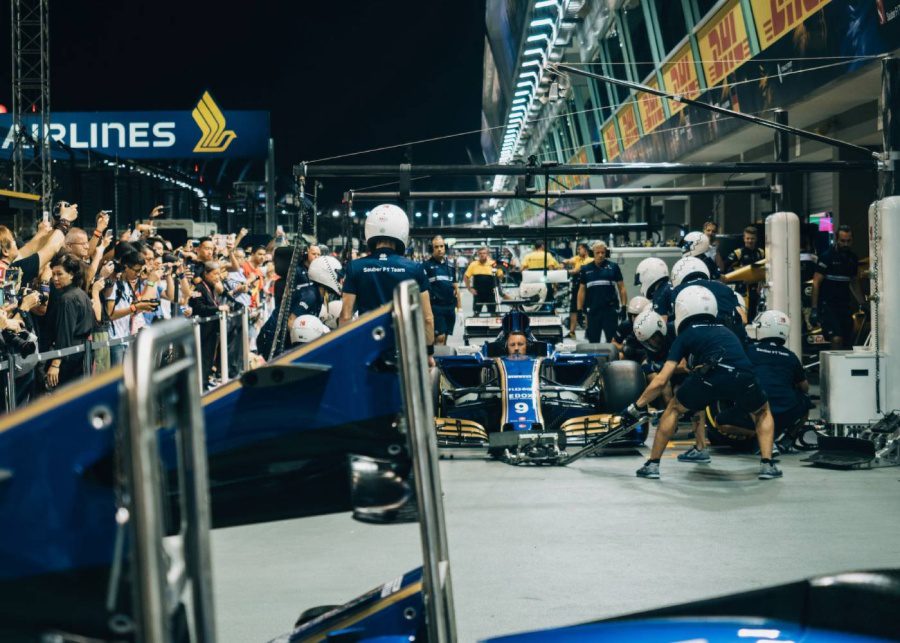 This freebie is an all-time favourite where fans can come up close to Formula 1 team garages and watch as cars walk down the pit lane on 29 September 2023. You can also experience the F1 Village and performances in Zone 1 of the Circuit Park before the commencement of the Grand Prix. How do you get a hold of two tickets? Enter your ballot now, and pray you are the lucky one chosen!
Click here for Balloting details for the Pit Lane Experience
In concert
Amazing international acts will perform on three stages – access is determined by which zone you have purchased tickets for. This year's Singapore Grand Prix will feature more than eighty hours of entertainment, including 139 acts across eight stages – woo hoo! There's an awesome line-up of big names racing into town this year to entertain the masses, including American singer Post Malone, rockers Kings of Leon and the always-amazing Robbie Williams. Remember Groove Armada? They'll be there too! We're stoked to see artists Jackson Wang, South Korean rapper Bibi, girl gang XG, and more!
As lead singer of Culture Club who are also making an appearance, we'll be front and centre for all performances by Boy George. Check the website for the full list, including roving acts with entertainers like magicians, bands and solo singers, light performers and more!
Support Races
In addition to the F1 races, the Marina Bay Circuit will also play host to support races to keep the action on full throttle. Expect to see the all-women single-seater racing championship W Series and one of Asia's most competitive GT Series (the TSS The Super Series) in action on the track. A real treat for petrolheads as you will get to catch an exciting mix of GT3/GTM and GTC supercars in action!
The track invasion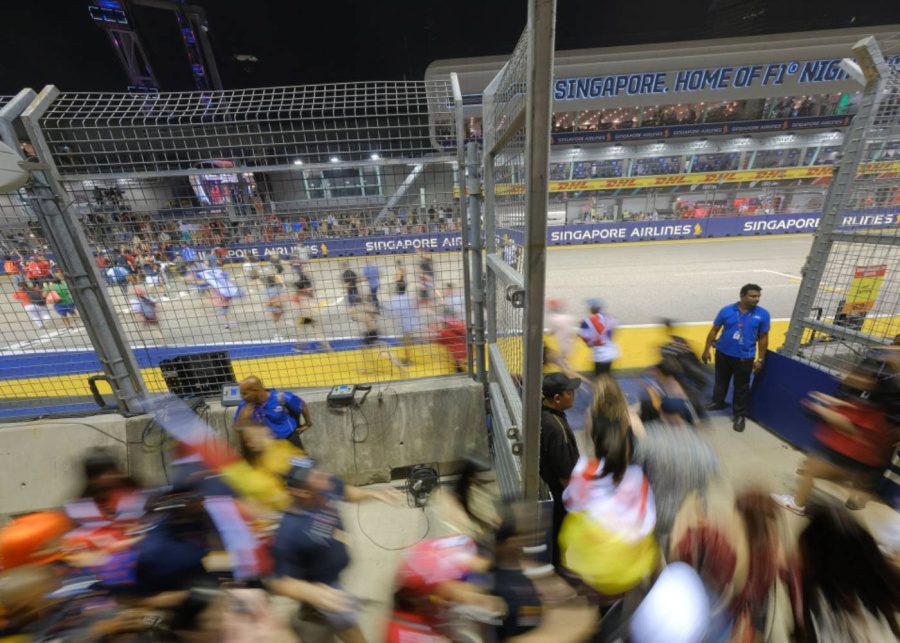 This post-race tradition, which takes place after the final race on Sunday, allows viewers in Zones 1 and 2 onto the track to experience the bright lights and see the drivers' view – it's worth letting older kids stay up well past their bedtime for this one!
See you there, folks!