Image: singaporegp.sg
We are so excited for the long-awaited return of the 2022 Formula 1 Singapore Grand Prix this weekend. Here's where to watch the action without going through the gates!
Do your kids love racing cars? Ours too! Not ready to splash the cash on tickets to the 2022 Formula 1 Singapore Grand Prix with kids? We don't blame you, the tickets can be pricey. The event can also be pretty challenging to navigate with little ones in tow – check out our ultimate family guide to the 2022 Singapore Formula 1 Grand Prix for the lowdown.
If you're not up to trekking around the track, here's where to take the kids to experience the excitement of the big Singapore Grand Prix night race without entering the gates! We've covered everything from free vantage points where you can try to peek at a corner of the track to restaurants with big screens showcasing all the action and cosy hotel rooms with a birds-eye view. Here are our insider tips to enjoying the 2022 Singapore F1 Grand Prix with kids (without buying a ticket!)
Psst.. If you're planning on enjoying the F1 solo or with friends, head over to our sister site Honeycombers, for all the deets on adults-only fun (including the concerts and after parties!)
Where to watch the 2022 Singapore Formula 1 Grand Prix with kids
Hotels with views to cosy up and watch the Grand Prix with the kids
Don't mind a hefty price tag, but want to avoid the crowds? A hotel stay with a view of the track might be just the thing for your fam. Best bit: you can order room service for food and drinks on demand, have killer views without a crowd, have all the race commentary going with the TV on in the background, and the kids can sleep comfortably when they've had enough while you enjoy the action! Here are some of our faves – get booking quickly to snap up the last available rooms!
1. Marina Bay Sands
The iconic Marina Bay Sands is forever on our bucket list of places to stay in Singapore, and during the F1, it is even more spectacular for a birds-eye view of the fireworks and race action. You'll need to book early for a suite with a view of the Marina Bay city skyline and fireworks. And who doesn't daydream about taking a dip in that incredible world-famous infinity pool?
2. Mandarin Oriental
A racing view from your bathtub sound exciting? Then book a suite early at the Mandarin Oriental Hotel with a Marina Bay or Ocean View.
3. Fullerton Hotel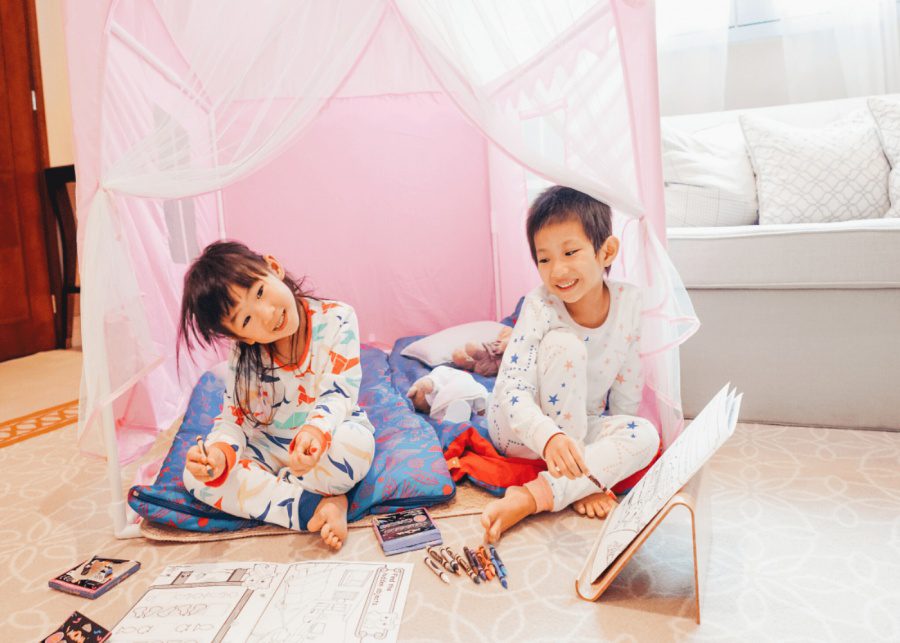 The Fullerton Hotel is a fam-friendly favourite for a staycay any day, with loads of fun kids activities such as koi fish feeding, mindfulness movement and art classes for the whole family, and Merlion x Crayola art kits available to keep the kids busy! The Fullerton Hotel also happens to have one of the best views of any hotel in Singapore of the F1 track. So when the 2022 Singapore Formula 1 Grand Prix rolls around, this is one room with a view you'll want to book in advance – maybe start planning ahead for future years?
Looking for more F1 hotel inspo? Head over to our big sis Honeycombers for a round-up of some of the best!
Fam-friendly restaurants / attractions with a view of the Singapore Formula 1 Grand Prix
Beware – there are 'special menus' (aka very pricey set menus) on offer at lots of the restaurants that offer glimpses of the F1 circuit, especially those situated in hotels. It's best to phone ahead when you book to make sure the kids can be accommodated in case the situation changes after time of publishing!
4. LeVel 33
The open-air terrace with an unobstructed view of Marina Bay at LeVeL 33 has an epic view of the race action (and the fireworks!). We are waiting to hear back from the team to make sure kids are allowed on F1 days – we'll update when we know! While the view is spectacular, be careful with the little ones as there is no window glass or grille. There's a big screen broadcast of the race, so this is a great venue for true racing fans!
5. Marina Bay Sands – various options
If you're in the area looking for a vantage point to catch a glimpse of the race, then pop in to Marina Bay Sands for a whole host of kid-friendly restaurant options (not all have a view, though!) LAVO allows entry for kids until 9pm (last entry for minors is 7pm, so make sure you're in before then). Alternatively, check out Black Tap for humungous cheeseburgers and cake shakes that will make the kids forget all about the fact there's even a race going on!
6. Super Loco, Customs House
We don't think you'll be able to see the track from Super Loco at Customs House, but you will get that buzzy vibe and a nice view of the fireworks if you can book your reservation to time in with the race finale!
FREE vantage points to catch a glimpse of the F1 track
Could it be possible to get a free glimpse of the action? You never know your luck! In previous years, we could sneak a peek at the turns from these free vantage points. However, we don't know if these spots will still be accessible in 2022 – but here's hoping! For starters, here's a map of the race track so you can get a feel for where you might be able to spot some action on the turns:
7. Helix Bridge
If you're one of the lucky ones, you might be able to snag a spot on Helix Bridge. It's close to Gate 8 on the map, so the views may be hindered – but we won't know until we try it!
8. Bay East Garden
Bay East Garden at 11 Rhu Cross is situated opposite Supertree Grove and the two conservatories, and the location provides sweeping views of the Marina Bay Skyline minus the crowd. You might not see much racing action, but you'll hear it! Plus, the littles can skate and scoot while waiting for the fireworks display.
9. Millenia Walk
A little-known spot is this open-air roof at Millenia Walk. Head towards the Japanese restaurants on level two, where you can grab a quick dinner before the fireworks start. There's plenty of space and benches for everyone to get a glimpse of the night sky.
Millenia Walk, 9 Raffles Boulevard, Singapore 039596
10. National Gallery Rooftop
In previous years, we could gain free access to the National Gallery rooftop to sneak a peek of the cars whizzing by. Smoke & Mirrors is closed for a private event this year, but you might still be able to visit the roof – let us know if you do!
11. Esplanade Theatre Rooftop
We are big fans of the Esplanade Roof Terrace as a starry night picnic spot, and it could be a great place to see the Grand Prix with kids. We aren't sure it'll be accessible during the F1 this year (we've reached out to ask and will update here when we find out!) If it is, pack some snacks, and the whole fam can catch a glimpse of the race leading down Raffles Boulevard!
F1 Action, away from the track
12. See a life-size LEGO replica of the McLaren, plus a chance to meet F1 Driver Lando Norris!
23 September – 2 October 2022, from 11am – 9.30pm
Love LEGO? Love F1? Combine the two at this awesome pop-up experience! Singapore will be hosting a LEGO replica of the McLaren Formula 1 race car at the LEGO Technic McLaren Formula 1 Pop-Up Experience, located along Orchard Road in front of Ngee Ann City Civic Plaza.
Created using 288,315 LEGO bricks that took 1,893 hours to assemble, visitors will have the opportunity to literally sit in the driver's seat for a unique photo opportunity, and also admire its attention to detail such as its removable halo and steering wheel!
To sweeten the experience at the pop-up, fans of the youngest ever British Formula 1 Driver Lando Norris, can also catch the man himself as he makes a short pit stop at the pop-up on 28 September!
Psst.. Purchase a LEGO set from the pop-up for your chance to win an exclusively signed set of the 42141 LEGO Technic McLaren Formula 1 Race Car (worth $299.90)!
13. Have a racing good time at b_together's 3-hour F1 mini camp
Saturday 1 October, 10am – 1pm
Got a little rev-head on your hands? We love the new family club b_together at Dempsey, and this weekend your little race car enthusiast can join in the fun at a 3 hour mini camp! There'll be race car themed sensory play happening in the Cook Studio (pictured above), and best of all it's drop off, so you can enjoy a quiet coffee at AT_FEAST while your little adventurers have a racing good time! $80 per child. Email to enquire
14. Have a race night extravaganza at home!
If you would prefer to stay well away from the crowds and have no desire to struggle around walking, riding on busy buses or the MRT to get close to the action, then why not catch the action on a big screen at home instead? Both Singtel and Starhub will be showing the final race on Sunday. You can always grab the popcorn, pull on your favourite team's jersey and stay home to catch all the action on your own TV!
Psst… Bookmark this page; we'll update it with new hotspots and info as it comes in! Got a tip for us? Let us know at [email protected]