Photography: RODNAE Productions via Pexels
If your kids are as mad about Christmas as ours are, you're going to need some lovely ways to help them sleep through the excitement. Try these lovely Christmas storybooks.
After a long day gallivanting around Singapore shopping at all the Christmas markets and hanging out with Santa, the little ones will want nothing more than to head off early to bed with a lovely bedtime story. But since it's the most wonderful time of the year, why not add a few Christmas storybooks to your own home library? Here are the Christmas kids books we'll be curling up with during the festive season with our own little elves…
Our fave Christmas storybooks for kids
What is the true meaning of Christmas? This rhyming retelling of Charles Dickens's classic is where your kiddos will find the answer. Join mean old Ebenezer Scrooge as he is whisked away by three ghostly spirits in a time-travelling adventure to melt his frozen heart. The story is eye-opening, touching and different to most Christmas stories we are familiar with.
A magical world with sugarplum fairies, sparkling lights and secret doorways. Sounds familiar? Introduce your littlies to the magical story of The Nutcracker with this retelling of E.T.A Hoffman's original classic. Join Marie on her Christmas eve adventure that has many generations of readers mesmerized. Including ours! After reading the tale, we say take the kiddos to Tchaikovsky's The Nutcracker ballet that brings the story to life. A composition performed by several ballet companies around the world to this day!
This little pig has captivated little readers' hearts with good reason. Her world is colourful, fun and full of adventure. Join Peppa as she rings in the festive spirit with this Christmas library of four storybooks beautifully packed in a slipcase box. Kids 2 to 6 years of age are in for a treat as they unravel how Peppa and her pals help rescue Santa's reindeer, bake some festive treats and play in the snow! Yipee!
"Twas the night before Christmas, when all through the house, not a creature was stirring, not even a mouse…" Clement Moore's much-loved storybook poem has been a festive staple since it was first published way back in 1949, and it's as charming for kids today as it ever was!
Rod Campbell's classic Dear Santa is as much a part of our own Christmas traditions as turkey dinners and mince pies – it's the festive equivalent to his Dear Zoo book! Perfect for baby's first Xmas and little ones up to around four years, lift the flaps to unwrap a Christmas present every day in a fun tale full of touchy-feely surprises.
We're longtime fans of the original storybook classic, How the Grinch Stole Christmas. The Grinch, whose heart is two sizes too small, hates Who-ville's holiday celebrations and plans to steal all the presents to prevent Christmas from arriving at all. It goes without saying that kiddos will love the Grinch and his hilarious grinchy capers.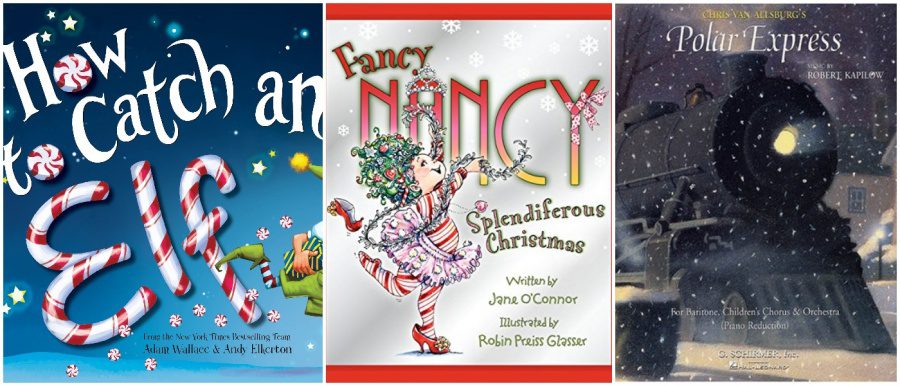 Written in rhyme for little ones aged four to eight years, How to Catch an Elf is full of daring escapades and hijinks galore, all in the name of catching Santa's little helper.
What could be fancier than Christmas? And is there ever such a thing as too much tinsel? Fancy Nancy certainly doesn't think so, and we're kinda with her. Bring on the baubles!
The Polar Express is not only one of our fave festive family flicks, but it's a great Christmas bedtime story, too. Journey by train through dark forests, over tall mountains, and across a desert of ice as you make your way to the North Pole to see Santa.
Pete and his friends are rockin' and groovin' while counting down the days to Christmas. It comes with a cool-cat spin on a well-known Christmas carol, bringing fun and smiles to kids and grown-ups alike.
Anything with the word 'stinky' in a title is, let's face it, an instant hit with little ones. This hilarious but charming read follows Stinky Face, who wants to know what would happen if a reindeer got an antler stuck in a branch, or where his Christmas tree would go if it blew away. It's up to his mummy to come up with all the answers. #relatable
Whether you're a believer in the story of the first Christmas or not, this gorgeously illustrated board book is perfect for little ones to learn about the Nativity and the real meaning behind Xmas. It ain't all about Santa ya know, kids!
This adorable story tells the story of Bear, who is desperate to stay awake for Christmas and not slip into hibernation. It's up to his band of friends to keep him busy by hunting for a Christmas tree, baking cakes, singing carols and keeping him active with all things festive. Also, how cool is the author's name?
Follow the Herdman siblings – AKA the worst kids in the world (gulp!) –  as they bask in the Christmas magic and take part in the annual Christmas pageant. Well actually, more like take over the pageant! Their shenanigans are sure to make you laugh out loud and enjoy reading this book over and over again.
We love this timeless classic as a Christmas movie, and we love it in book form as well! Rudolph is different compared to the other reindeers, (no) thanks to his red nose. As Christmas rolls around, suddenly a huge snowstorm comes about, threatening to destroy the Yuletide holiday. Guess who ends up saving the day?
Fans of The Polar Express, here's a recommended read that you'll enjoy too. The Little Red Sleigh dreams of becoming Santa's big red sleigh. Sadly, she's often told that she's too small, too young, and can't meet the jolly fellow. But with the help of some friends, this "little" sleigh sets out to do the impossible. A perfect book to remind everyone that no dream is out of reach.
Love this list of Christmas storybooks? Enjoy these heartwarming holiday reads too!