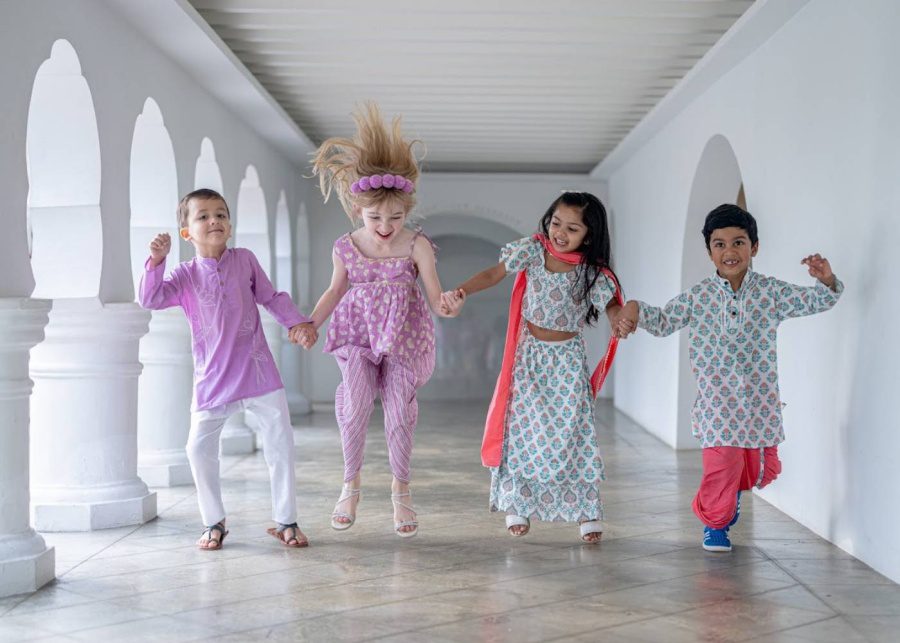 Photography: Nimbu
Looking to amp up your Deepavali style? You're in luck! Singapore has some fantastic Indian clothing stores where you and your little ones can snag fabulous Deepavali fashion.
Guess what, folks? The festival of lights is almost here, happening on 12 November 2023! That means Little India is gearing up to be all decked out in those eye-popping Deepavali decorations and lights. And yep, it's time to sort out your fam's festive wardrobe. But before you hit the streets to hunt down 'the family outfit' for this year's bash, we've gone on a wild shopping spree to bring you a nifty guide. We're talking threads, bling, kicks, the whole shebang. So kick back, relax, grab a brew, and let's dive right into the shopping extravaganza!
Click below to read more: 
Types of outfits to buy for Deepavali:
Where to buy Deepavali clothes in Singapore

Types of clothes to buy for Deepavali
Deepavali clothes are all about the whole package – vibrant fabrics, great fit, fancy patterns, cool accessories, and traditional footwear. If you're new to this, no worries! Check out our mini Deepavali outfit guide below to ace your shopping game next time you hit the stores.

Deepavali outfits for girls
Lehenga cholis or Ghagra choli 
The lehenga choli is a very elegant ensemble and is a definite head-turner in our view! Imagine your littlie in this oh-so princessy outfit – adorable! The outfit includes a long floor-length flared skirt called lehenga or ghagra, a short fitted blouse called choli, and a long scarf called dupatta that completes the outfit.
Salwar Kameez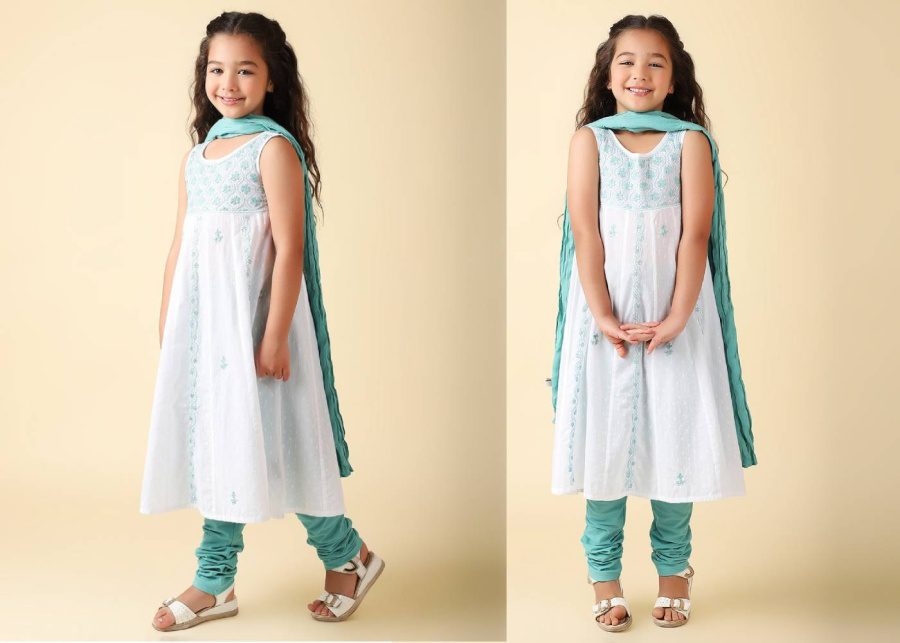 The salwar kameez looks chic and is elegant yet practical for the kiddos. The outfit comes with full-length trousers called salwar, that are loose at the top and taper at the ankles, and a knee-length tunic that is called a kameez or kurta.
If you are looking for similar ensembles like the salwar kameez but in different styles, we suggest kitting up with a dainty Anarkali salwar suit or a Sharara. Not sure of the difference? An Anarkali Salwar suit is a long A-line flared dress worn with fitted pants or leggings called churidar, whereas the Sharara is a short tunic or kurta, and long flared pants like palazzos.

Accessories for girls on Deepavali
Completing the look is key, and it's all about the details. Each outfit features a long scarf, a dupatta, and colourful bangles on both arms for that pop of colour. Little ones can flaunt tiny jhumkas, those cute earrings, while a Maang Tikka (jewellery for the forehead) adds that extra sparkle. For a simpler touch, a bindi or pottu (tiny stick-ons) right between the eyebrows will work like magic. It's all in the little things!

Deepavali outfits for boys
Kurta Pyjama
The simple but stylish kurta pyjama transforms little boys into dapper princes, and who wouldn't want that for their littlie? The ensemble includes a long knee-length tunic or kurta, and a pant or pyjama. A formal waistcoat gives that finishing touch. For a modern look to this outfit, your kiddo can even sport just a traditional kurta with a pair of jeans.
If you are looking for a similar ensemble as the Kurta pyjama but in a different style, we suggest trying out a Dhoti kurta. This is a loose trouser that tapers to the calf called dhoti and a shirt called kurta.

Deepavali footwear
The above outfits look complete with ethnic shoes like sandals or mojdis. But if your tiny tot feels more comfortable in everyday play shoes, we say their Diwali outfit will look just as fab anyway!

Top tips when shopping for Deepavali clothes
Singapore's weather can really crank up the heat, and decking your little ones out in thick, blinged out clothes can be a recipe for discomfort. Our advice? Keep it simple. Opt for designs that are easy-breezy and stick to cotton fabrics with just a hint of beadwork. Also, pay attention to the length, especially for skirts – aim for ankle-length to avoid any unwanted trips and tumbles. Who wants accidents on the big festival day, right? And if the scarf (dupatta) seems like a bit too much for your little champs to handle, feel free to skip it. Trust us, these outfits still look adorable without them!

Where to buy Deepavali clothes in Singapore
1. Fabindia
Head on down to VivoCity, one of our favourite shopping malls in Singapore, and go check out Fabindia. It's a brand that's known and loved by Indians around the world, so you can be sure of sartorial success. The clothes are definitely a bit pricier than what you'd find at the Little India markets and malls, but you're paying for quality and craftsmanship. We love their collection of brightly coloured cotton ethnic wear for kids, like the three-piece lehenga sets and block printed jackets for the boys. Perfect in style and perfect for that Singapore heat!
Fabindia, VivoCity, 1 Harbourfront Walk #01-141, Singapore 098585
2. Sharva Collections
This one-stop Instagram shop in Singapore is a shopper's paradise for all things ethnic, making it a perfect destination for the whole family to gear up in style for the celebrations. You won't be able to resist those captivating, eye-popping patterns available for both kids and adults – great matchy-matchy looks for the whole fam! And while you're at it, don't be shocked if you end up treating yourself to a complete wardrobe makeover. It's the festive season, after all, which translates to shopping galore!
Sharva Collections, Available online
3. Kucch
This local Singaporean brand is a total gem, packed with fantastic Indian clothes and accessories specially designed for your little ones – and the best part? They're not just stylish, they're comfy too! With a fresh Deepavali collection every year, you've got a bunch of vibrant and beautiful outfits to choose from. Don't forget to check out the clutches and accessories too – they're pretty awesome. Those Kucch choker sets? Total must-haves!
Kucch, 173 Selegie Road, Rochor, Singapore 188324
4. Angkara
What started as a humble store in Little India Arcade is now a big and beautiful brand at Tekka Place with a stunning range of Indian apparel and accessories. Check out the kids' section for the enormous collection of kurtas and kurtis to make the littlies look chic this Deepavali! And psst – they also offer a stunning range of jewellery, footwear and handbags.
Angkara, #01-30, Tekka Place, Singapore 218227
5. Nalli
Now, this one's a treat for you, moms! This fashion haven is all about those gorgeous sarees in luxurious fabrics like Georgette, Chiffon, and Crepe. It also has a great selection of cotton sarees perfect for this weather. Nalli has you covered for other Indian attire too, just in case you have a special occasion on the horizon. Bonus: it's just a short stroll from Little India MRT, so getting there is a breeze! If online shopping is more your speed, no sweat! Nalli's website offers an extensive range, and you can expect your goodies to arrive in about five to seven days. Happy shopping!
Nalli, 10 Buffalo Rd, Singapore 219784; 68, Serangoon Road, Singapore 217973
6. Nimbu
Nimbu is a homegrown brand based in Singapore that we can't get enough of. Its 'BUY-USE-RETURN' circular promise aims to bring sustainable fashion for kids to the forefront of our shopping sprees. And the best part? Any outfit purchased from www.nimbu.sg can be returned once kids outgrow in exchange for credits. In our books, this is perfect for Deepavali as kids would don these outfits just once or twice! This means more wardrobe space in our cosy Singapore homes! Yay! We love its curated collection of bright, colourful and comfortable ethnic wear in premium cotton and they are all beautifully handcrafted by artisans in India. So what's on the shelves? Think gorgeous kurtas, jacket sets for boys, lehenga skirt sets for girls, and great outfits for adults too (check out the latest Neel Collection for family twinning options) all in breathable premium cotton – perfect for Singapore's hot and humid weather. While you are at it, don't miss out on their collection of accessories to go with your outfit of choice. Did we mention Nimbu offers same-day and next-day delivery options too? Look out for unique gift box options for the upcoming festive season comprising an eclectic mix of Indian clothing, toys and accessories – shop online or at their Design Orchard, Funan and OG outlets.

Wait-that's not all! Nimbu has a special offer especially for HoneyKids Asia readers worth a snag this festive season. All you need to do is use the discount code – HKA5, to win 5% off till 31 Oct 2023 with guaranteed next day delivery. Hurrah!
Nimbu, The Green Collective, #02-18, Funan Mall; OG Albert Park, Level 3 and OG People's Park, Level 4; Design Orchard (from 10 Oct to 8 November 2023)
7. Jaypore
Guess what? Jaypore's got you covered for all your Deepavali fashion cravings, and the icing on the cake? You've got a ton of options to dress up the whole fam! Oh, and here's a little bonus – Jaypore's online store means you can shop till you drop without leaving your cozy abode. Plus you get free shipping for orders above $100 — pretty cool! We're totally crushing on their super comfy yet festive ethnic wear for the kiddos – it's a total win-win. And when it comes to accessories for the little ones, trust us, the cuteness levels are off the charts!
Jaypore, online
8. Shobitam
This shopping spot is a total gem for the festivities, and it's perfect for a mom-and-princess Deepavali shopping spree. They've got a bunch of festive designs that'll have you and your little one twinning in style. But here's the real deal: those bright and colourful Ghagra choli options for the little ones? Too darn cute to handle!
Shobitam, online
9. Little Muffet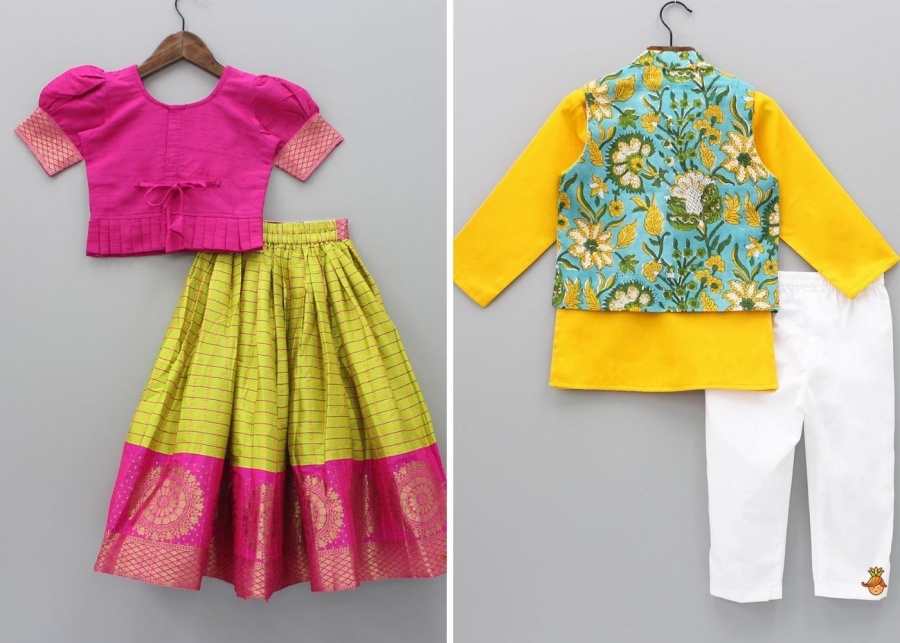 How cute are Little Muffet's offerings? We would love to add it all to our baskets. There's a fab range for girls and boys, and you can even get matching items for siblings if you like a spot of matchy-matchy for the brood. And what an array of accessories to choose from for the girlies, from bangles to hair clips. Another basket, please! Customer service is spot-on, too. While operations are from India, delivery aims to be within five days from the date of dispatch.
10. College Collection
If you love a bit of twinning with your mini, this is the place for you! College Collection sells all types of Indian clothes for women, men and kids, so look no further if you want a one-stop shop that can kit out the entire clan. For mums, there are so many sarees and salwar kameezes to choose from, while dads will love the range of kurtas, shirts and pants. As for the kids? They'll be wowed by the silk dhoti, pavadai sets and more.
College Collection, 125 Serangoon Road, Singapore 218030
11. Mangalam Shop
This stunning store at Thomson Plaza has a wide range of Indian clothes to feel and fit before you buy. Their wide range of kurta pyjamas and kurti salwar sets are just perfect for our little friends. Visit their online store to browse the fabulous Indian fashion from the comfort of your sofa – yippee! You can either collect your purchase from the store or have it delivered to you at a delivery fee of S$5. Psst, the store is also stocked up on adorable Lord Krishna outfits if you've been on the hunt.
Mangalam, Thomson Plaza, 301 Upper Thomson Road #01-16, Singapore 574408
12. Mustafa Centre
The place to go for, well… everything! Head to the basement of this 24-hour den of amazingness and scour the racks for kids' Indian clothes and accessories. It can get pretty darn busy, so time your scavenger hunt (sans littlies, obvs) for late at night or early in the morning, then go wild in the aisles. This is a great option if you're not looking to spend a lot – especially when those kids of ours seem to grow at the speed of light!
Mustafa Centre, 145 Syed Alwi Road, Singapore 207704
13. Dakshaini Silks
Calling all mums and dads! If you are looking for that perfect Deepavali look for the fam, this store has in-house designers and tailoring services to give it to you! Dakshaini Silks is a one-stop shop for Indian fashion ethnic wear in Singapore with a wide variety of stunning sarees and churidars for women, and kurtas for men. Best part? Most of the outfits are made with exotic silks sourced from the best suppliers from across India.
Dakshaini Silks, 13 Upper Dickson Rd, Singapore 207473
14. Jinder's
Name it, and they have it! Jinder's is a great place in Singapore to head for a great Deepavali shopping trip with the fam, as it showcases a curated collection of many designer brands all under one roof. Best part? It's conveniently located within a short walking distance from Rochor and Little India MRT. Psst, don't miss out on its end of season sale 2023! While you are at it, check out the wide variety of gifting options in the store, like clutch bags, jewellery, designer scarves (dupattas), and so much more!
Jinder's, 153 Selegie Road Singapore 188316
15. Fashion Palace
This is a pit stop worth making to fill your Deepavali shopping cart, and it is a short walking distance from Little India MRT station. There are plenty of ethnic options for the whole fam to kit out with, including complete ensembles and accessories. We love the half saree options Fashion Palace has in store for little girls. It also has a stock of stunning brocade and ikkat fabrics, in case you are looking to have your festive look custom designed this Deepavali.
Fashion Palace, 8 Buffalo Road, Singapore, 219783
16. Little India Arcade and Tekka Market
Ok, if you're looking for Indian clothes for kids this Deepavali, it makes perfect sense to hit up Little India for the real deal. You'll be spoilt for choice in the colourful streets of this vibrant neighbourhood…and when all that shopping gets a bit much, think of all the yummy soul-reviving food on offer! Our picks? Make a beeline for Little India Arcade and Tekka Market to see what colourful Indian clothes lie in wait.
Love this list of Indian clothing stores for kids? Check out these online fashion brands too!