Gourmet feasts, free crafting workshops, and a whole heap of lights - here's all the family-friendly things to do with kids this Deepavali holiday in Singapore!
Singapore is at its most colourful this time of year with Deepavali celebrations happening all over the island. And with an extra day off for it, we're making dazzling plans to keep the family entertained over the public holiday! So if you haven't made a checklist of things to do with the kids just yet, then we've come to the rescue with 10 things around Little India and beyond that the whole family will want in on…
DEEPAVALI 2021 SINGAPORE – THINGS TO DO WITH THE KIDS
1. Check out the Deepavali lights in Little India!
It's not Deepavali without the lights in Little India – so if you only do one thing this Deepavali, make sure it's this. The kids are sure to love the dazzling display on offer (even if you have to keep them up after bedtime for it). Once you've finished, head to one of the delish eateries along Race Course Road for a truly fabulous curry (in groups of two, of course), or grab a takeaway for all the family!
When: Now!
Where: All around Little India (Serangoon Road and Race Course Road are particularly lit up!)
Cost: Free

2. Mini light-up installation at the Indian Heritage Centre
There's no such thing as too many lights as far as the kids are concerned, so make sure you have the mini installation at the Indian Heritage Centre on your list when you're planning any Deepavali outings. There's plenty to explore inside (see below), but it's worth a trip for the outside alone, which is super impressive with a beautifully decorated stairway featuring a peacock arch along with rangoli floor stickers. Grab your best Indian attire and get some pics for the 'gram!
When: Until 14 November
Where: Indian Heritage Centre
Cost: Free
3. Deepavali Open House at The Indian Heritage Centre
It's not just lights on offer at The Indian Heritage Centre; there's a heap of other things to keep all the fam entertained this Deepavali. Although the Trishaw Trail around Little India might be sold out, you can still drop by for some crafty fun and try your hand at the festive paper lamp craft activity. What's more, if you visit while the Deepavali celebrations are underway, you'll get a Deepavali money packet to take home too!
When: Until 14 November
Where: The Indian Heritage Centre
Cost: Free
4. Celebrate at home in style with an Indian-inspired gourmet spread or afternoon tea set!
Looking for a Deepavali feast to enjoy with all the family at home? Look no further than the Indian Takeaway Family Feast from Shangri-La Singapore. Filled with classics such as mouth-watering Saffron Murgh Malai Tikka, it's sure to go down well. Or, how about an Indian-inspired high tea? It includes sweet desserts, and savoury teatime treats like Tandoori tiger prawn, lobster tart, and Masala tempered chicken on turmeric roll. There's also a host of hamper treats to gift (even if it's just a self-gift!).
Cost: Available until 6 November. Indian Takeaway Family Feast $128 nett (serves 4) and Indian-inspired High Tea $78 nett (serves 2). Hampers starting from $25 nett.
5. Dine out Deepavali style at The Line
If you're keen to dine out over the long weekend, how about heading over to The Line? Indulge in an impressive spread of traditional Indian dishes alongside all the usual delicious international selections available. There's also four- and six-course set menu options if that's more your thing over a buffet. Want to make a stay of it? Shangri-La Singapore are offering Deepavali themed staycations too!
Where: Shangri-La Singapore, 22 Orange Grove Rd, Singapore 258350
Cost:Buffet from $68++ per adult. Available for lunch from 4 to 7 November and dinner from 1 to 7 November 2021.
6. Check out Biriyani Fest!
Love biriyani? Then hop on over to Little India, where it's all things biriyani until the 21 November. Celebrate Deepavali by working your way through 30 restaurants offering signature biriyanis at a promotional price as part of Biriyani Fest, with a different restaurant featured each week!
When: Until 21 November
Where: Various restaurants around Little India
7. Take a tour around Little India
There are loads of things happening over the island to celebrate Deepavali, but Little India is definitely where you'll catch most of the action. As well as checking out the events and lights, take time to explore Little India on foot with the family. From Tekka Market to Little India Arcade, there's lots to explore. It's also IG heaven, with its brightly coloured buildings and beautiful temples. And of course, if you head over at this time of year, you'll get the bonus of the Deepavali lights for your pics! Check out our family guide for how to ace Little India with the kids!
8. Get crafting for Deepavali at home!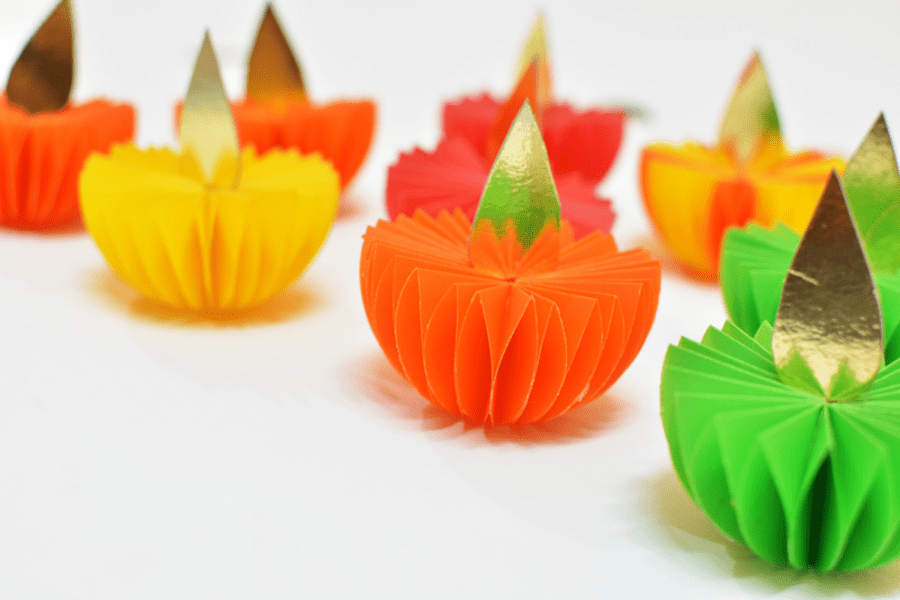 If you don't fancy heading out, there's still fun to be had at home to celebrate Deepavali. Check out these nine Deepavali craft activities to keep the kids busy. From make your own paper diyas to henna hands – there's something to keep all ages entertained!
9. Make a difference this Deepavali
Deepavali will be a little different for many this year thanks to Covid-19, in particular for many migrant workers. As well as enjoying the festivities this Deepavali, you can also take the time to make a difference through a number of initiatives taking place to support migrant workers. Its Raining Raincoats have a Deepavali Festive Drive taking place where you can sponsor the delivery of pizzas, Diwali snacks and treats to migrant workers at their workplaces or to roadworkers. You can also get involved in the distribution of treats too if you have free time and can volunteer. Contact Its Raining Raincoats for all the details.
10. Get creative with a Deepavali sensory kit!
Looking for crafty fun but low on arts and crafts supplies? Head on over to Twiddly Fiddly SG, which has Deepavali covered with its crafting kits. The kit comes complete with themed Deepavali cutters, playdough, tea lights, pom-poms and more, so it's good to go! It also makes a fab gift too!
Happy Deepavali, everyone!