Gourmet feasts, free crafting workshops, and a whole heap of lights - here's all the family-friendly things to do with kids this Deepavali holiday in Singapore!
Singapore is at its most colourful this time of year with Deepavali celebrations happening all over the island. And with an extra day off on 24 October (a Monday), we're making dazzling plans to keep the family entertained over the long Deepavali weekend! So if you haven't made a checklist of things to do with the kids just yet, then we've come to the rescue with 22 things around Little India and beyond that the whole family will want in on…
DEEPAVALI 2022 SINGAPORE – 15+ THINGS TO DO WITH THE KIDS
1. Diwali Dazzle 2022 at Viva Loca
Looking for that complete fun-tastic Diwali extravaganza you can enjoy with fam and friends? We know just the place to check out for the ultimate celebration! We are talking live Bollywood music to groove to, and a scrumptious buffet to feast on this Diwali. Why not end your meal on a sweet note with an array of lip-smacking Indian sweets.
Viva Loca, Diwali Dazzle 2022, Saturday 15th Oct 2022, 6.30 pm onwards
2. Check out the Deepavali lights in Little India!
It's not Deepavali without the lights in Little India – so if you only do one thing this Deepavali, make sure it's this. The kids are sure to love the dazzling display on offer (even if you have to keep them up after bedtime for it). Once you've finished, head to one of the delish eateries along Race Course Road for a truly fabulous curry or grab a takeaway for all the family!
When: Now!
Where: All around Little India (Serangoon Road and Race Course Road are particularly lit up!)
Cost: Free
3. Diwali Meetup, South Asians Abroad: Jashn-E-Diwali 2022
Looking to immerse yourself in the rich cultures of South Asia? Join this group of South Asian expats as they welcome you to celebrate the festival of lights with them. So, kit out the fam in all that Diwali dazzle and head over to Jashn-E-Diwali 2022 for a sparkling festive celebration. There are tons to entertain the kiddos, from henna application stations, rangoli stations, live performances and even loads of traditional treats to feast on. Meet and greet with members of the community and beyond, and make merry the South Asian way! Yay!
Jashn-E-Diwali 2022, 15 October 2022, 6.30 pm to 10 pm; Robertson Quay, The Herencia, 46 Kim Yam Road #01-06/07, Singapore 239351
4. Discover Little India by foot
There are loads of things happening over the island to celebrate Deepavali, but Little India is definitely where you'll catch most of the action. As well as checking out the events and lights, take time to explore Little India on foot with the family. From Tekka Market to Little India Arcade, there's lots to explore. It's also IG heaven, with its brightly coloured buildings and beautiful temples. And of course, if you head over at this time of year, you'll get the bonus of the Deepavali lights for your pics! Check out our family guide for how to ace Little India with the kids!
5. Make Aroma Scented candles
Looking to gift your nearest and dearest some handcrafted love this Diwali? Put your crafting hats on, and try your hand at candle-making. We know just the workshop for you to try! Not only are all the materials at this workshop eco-friendly, but you will also get to work with fragrance oils and all sorts of decorative elements, like dried flowers, crystals and embellishments, to make some pretty snazzy Diwali candles.
Diwali special: Make Aroma Candles, Price $108+ per pax, multiple dates, 34 Upper Weld Rd, #02-01, Singapore 207391
6. Guided tour of Little India Heritage Trail
Looking to dig a little deeper with a guided tour with the fam? The Little India Heritage Trail features the National Heritage Board's Street Corner Heritage Galleries – Little India, featuring a collection of heritage businesses that have built up the precinct to what it is today. Best part? Travel back in time with anecdotes from the heritage business owners to truly understand the evolution of this quaint little town.
When: 1, 8, 15 & 22 October 2022, 10.30am – 12pm
Where: Indian Heritage Centre
Cost: $10
Register: https://ihc-programmes.peatix.com/
7. Deepavali at Our Tampines Hub (OTH)
Catch a fun fringe of activities at Our Tampines Hub this Diwali that is bound to get the fam into the festive spirit. We are talking oil lamp painting, henna art, sand art rangoli for all ages and the like. Catch a glimpse of some stunning sand art rangoli by the winners of the rangoli competition. How about topping up the fun-filled Diwali experience by looking the part too? Try on a gorgeous sari costume and strike up a gram-worthy pose.
Our Tampines Hub, Festive Walk East, 18 to 25 October 2022
8. Little India Trishaw Trails or Deepavali Big Bus Tour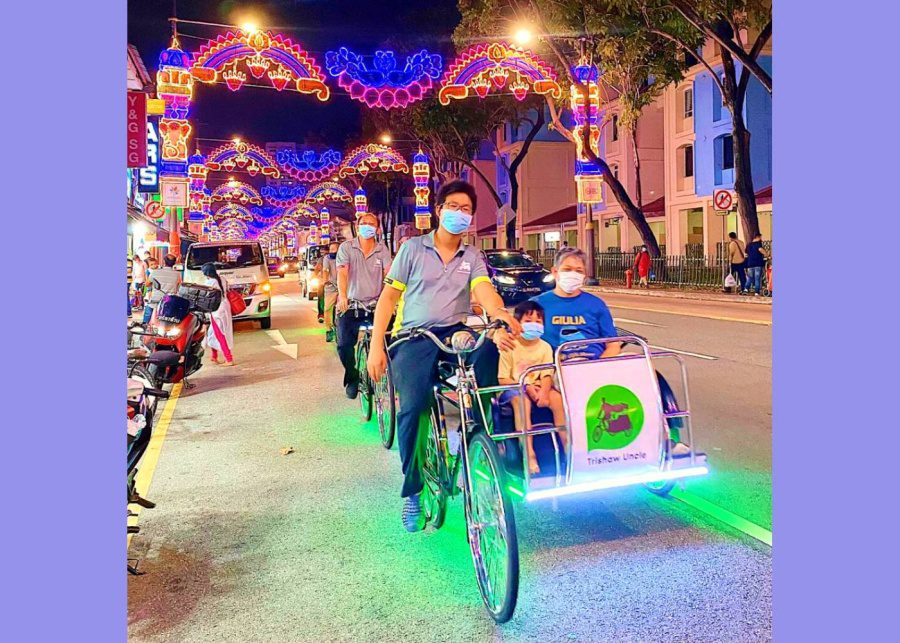 How about a ride along all the dazzling streets of Little India? Reserve your TGIF evenings for a relaxing 15-min ride in a trishaw to soak in all the sights, lights and buzz of this Indian precinct decked out in its Deepavali best.
Looking for a bird's eye view of the precinct in all its dazzling glory? The Deepavali Big Bus Tour will be a winner with the fam as it offers an open-top bus tour with excellent photo opportunities from the top deck. So click away all you want as you catch the vibe of this bustling town while you enjoy the breeze on the top deck, all at the same time.
When:
Trishaw Trails: 30 September, 7, 14 & 21 October 2022, 6 – 8pm
Deepavali Big Bus Tour: 1, 8, 15, & 22 October 2022, 6 – 8pm
Where: Indian Heritage Centre
Cost:
Trishaw Trails: $10
Deepavali Big Bus Tour: $10
Register: https://ihc-programmes.peatix.com
9. Diwali Shopping
The spirit of Diwali is best-experienced in the preps that lead up to the big day. And there are lots of boxes to check off before the celebrations commence. So kit out the fam to explore the streets of Little India- to check out the gorgeous Diwali decks like diyas and rangoli, and flavourful ingredients to keep those pantry cubbies well stashed. Check out the latest traditional fashions to plan the 'fam-Diwali-look' for the year. In short, there are lots to check out and so much to do!
10. Community LEGO Mural
Calling all LEGO fans! This unique take on rangoli-inspired Diwali decoration ought to get you super excited. Kit out the fam and head to the Indian Heritage Centre to participate in a Community LEGO mural-making activity. Put your creative hats on and choose from an array of colourful LEGO bricks to add to the two-metre by two-metre square mural board.
When: 1 October – 23 October 2022
Where: Indian Heritage Centre
11. Get stained with Henna
Are you looking to sport some swanky new tattoo designs this Diwali without any commitment attached? How about getting stained with all-natural henna? We know just the place where you can get yourself stained to complete that Diwali ensemble. And whoever said henna designs are only for the ladies. Bring the dads to a fun henna staining sesh too. Psst…you don't only have to get henna-ed on your hands!
12. Festive Deepavali Dishes
What is Deepavali without a mouthwatering array of dishes to feast on? Look forward to a cooking sesh with celebrity chefs – Devagi Sanmugam (Spice Queen) & Vasunthara Ramasamy (Masterchef SG S2) to learn some invaluable tips and techniques to prepare Deepavali festive meals. You're sure to earn big brownie points from the fam with these newfound skills.
When: 16 & 23 October 2022, 10.30am – 12pm
Where: Indian Heritage Centre
Cost: $10
Register: https://ihc-programmes.peatix.com/
13. Learn some Diwali dance moves
So you are all set for Diwali, but you are afraid you have two left feet on the dance floor? Fret not! We have you and the fam covered! How about a quick dance masterclass at the Esplanade Forecourt Garden to get some nifty dance moves up your sleeve? Put on your dancing shoes and learn from some of Singapore's best dance studios at 'What's your move?' moonlit dance workshops. Get high on Indian dance routines like Bhangra by Joshiley Bhangra, spice it up with some Bollywood by Royalusion, and you're all ready to set the dance floor on fire!
Esplanade Forecourt Garden, What's you move?, 14 – 23 Oct 2022
14. Get crafting for Deepavali at home!
If you don't fancy heading out, there's still fun to be had at home to celebrate Deepavali. Check out these Deepavali craft activities to keep the kids busy. From making your paper diyas to upcycling projects with glass jars and even henna hands – there's something to keep all ages entertained!
15. Deepavali in Animal Land
How about an interactive storytelling sesh to capture the essence of Deepavali? This very entertaining pairing of musical performances and fun crafts will keep our little guests well immersed and entertained. Psst, they also get to experience the traditions and values of the festival in a fun way.
When: 22 October 2022, 11.30am, 2pm and 3.30pm
Where: Indian Heritage Centre
Cost: $10
Register: https://ihc-programmes.peatix.com
16. Mini light-up installation at the Indian Heritage Centre
There's no such thing as too many lights as far as the kids are concerned. So make sure you have the replica of the Little India Deepavali street light-up arch (along Campbell Lane) at the Indian Heritage Centre on your list when planning any Deepavali outings. The arch replica features oil lamps and peacock designs that light up the entrance stairway of IHC. The arched light-up continues along the rangoli sticker-covered staircase inside IHC, from levels one to two. We say this makes for attractive photo ops inside and outside of IHC. So grab your best Indian attire and strike a pose with the fam for the 'gram! Hashtag your pics with #IHCDeepavali, and redeem limited-edition money packets from IHC! Yay!
When: Until 31 October
Where: Indian Heritage Centre
Cost: Free
17. Deepavali Open House at The Indian Heritage Centre
It's not just lights on offer at The Indian Heritage Centre; there's a heap of free drop-in activities to keep all the fam entertained this Deepavali. Drop by for some crafty fun and try your hand at oil lamp decorating or make Ramayana shadow puppets that narrate the story of Deepavali.
When: 1 to 23 October
Where: The Indian Heritage Centre
Cost: Free
18. Clay Oil Lamp Mandala Painting Workshop at Indian Heritage Centre
Put your creative hat on and head to the IHC for a fun oil-lamp mandala painting workshop to add more colour to your festivities. You will learn how to brighten up your very own clay lamp with vibrant colours using the patient technique of mandala painting. We say this sesh ought to be therapeutic for all you artsy peeps.
When: 15 & 16 October 2022, 2.00 – 3.30pm & 4 – 5.30pm
Where: Indian Heritage Centre
Cost: $10 per pax
Register: https://ihc-programmes.peatix.com/
19. Feast on Deepavali hampers and Mithai boxes from Shangri-La
Looking for a Deepavali hamper to enjoy with all the fam or as a gift for someone special? Shangri-La Singapore has lots to offer during the festival season of Deepavali, and we simply love the hampers on offer. Both hampers include a mithai box (box of traditional Indian sweets), mixed spiced nuts, oatmeal raisin cookies, a selection of dried fruits, chocolate pralines and Australian wildflower honey. Delish! To catch that special Shangri-La Clarendelle Bordeaux, Deepavali Hamper – Euphoria is the hamper you need to get your hands on.
Have a sweet tooth? Don't miss out on the Deepavali Mithai gift boxes, Reunite and Rejoice, packed with fifteen handmade traditional Indian sweets.
Cost: Deepavali Hamper – Euphoria $211.50,
Deepavali Hamper – Bountiful $148.50
Deepavali Mithai gift boxes – Reunite – $52.20
Deepavali Mithai gift boxes – Rejoice – $52.20
20. Dine out Deepavali style at The Line
If you're keen to dine out over the long weekend, how about heading over to The Line? Indulge in an impressive spread of traditional North-Indian dishes to truly experience the festival of Deepavali.
Where: Shangri-La Singapore, 22 Orange Grove Rd, Singapore 258350
Cost: Deepavali- Festival of Lights The Line Buffet Lunch, 24 October 2022, 12.30 to 2.30pm, $88++ per pax; Deepavali- Festival of Lights The Line Buffet Dinner, 23 October 2022, 6pm to 9.30pm, $98++ per pax
21. Get creative with a Deepavali sensory kit!
Looking for crafty fun but low on arts and crafts supplies? Head on over to Twiddly Fiddly SG, which has Deepavali covered with its crafting kits. The kit comes complete with themed Deepavali cutters, playdough, tea lights, pom-poms and more, so it's good to go! It also makes a fab gift too!
22. Make a difference this Deepavali
As well as enjoying the festivities this Deepavali, you can also take the time to make a difference through a number of initiatives taking place to support migrant workers. Here's inspo from last year's Deepavali Festive Drive with Raining Raincoats where you could sponsor the delivery of pizzas, Diwali snacks and treats to migrant workers at their workplaces or to roadworkers. Keep your eyes peeled at Its Raining Raincoats for more details.
Stay tuned, for more events coming soon. Happy Deepavali, everyone!