Photography: Sharon McCutcheon via Unsplash
Looking for a fun craft activity to do at home? Grab some supplies and get started on some fun and colourful Deepavali crafts. We bet you'll enjoy these just as much as the kids!
If you've ventured into Little India recently, you'll know that Deepavali, or the Festival of Lights, is one of the prettiest, most colourful celebrations in Singapore! Jump on the bandwagon and bring some of that colour into the kids' craft sesh with some of our sweet Deepavali craft ideas. There are lots of beautiful, simple craft ideas out there, but we've picked a few that are easy enough for the kids to do and that don't require too much prep… we're too busy for that!
FUN & EASY DEEPAVALI CRAFT IDEAS
1. Colourful paper lanterns
These paper lanterns from Red Ted Art are easy-peasy to make and are really quite striking once it's dark and you pop a tealight inside. The kids will love making the window designs and choosing the tissue paper colours, and you'll love sitting back with a cuppa while they get on with it.
2. Sparkly tealight holders
We don't know any kid who doesn't love those colourful, sparkly bangles, so this craft activity is sure to be a winner. It really is as simple as it looks – just grab some glue and a stack of bangles next time you're at the market and you're good to go.
3. Deepavali colouring pages
Our kids are currently obsessed with printing out things to colour in. So lucky for them, we've just found Activity Village – a brilliant website with a whole section dedicated to Deepavali colouring pages. A lot of the printables come at a price, but there are plenty of freebies including lots of Rangolis for the kids to colour (or use as inspiration for their own drawings). Other sites offering free Deepavali printables include Got Free Cards and Super Coloring.
4. Playdough rangoli
Create a playdough rangoli, like the clever mum from Putti's World Or if playdough's not your thing, try a more traditional rangoli using everyday materials like rice (colour for extra fun), sand, flower petals or even lentils. We also love this giant chalk rangoli by Activity Village.
5. Healthy, kid-friendly Deepavali treats
If you've ever wandered through Little India during the Festival of Lights, you're sure to have seen (and eaten) the amazing array of traditional treats on offer. One of the most popular Deepavali sweets is Kaju Barfi, or cashew fudge. The traditional recipe definitely has its place, but if you're looking to make a healthier version with the kiddos, try using honey instead of sugar. Yummo!
6. Paper diyas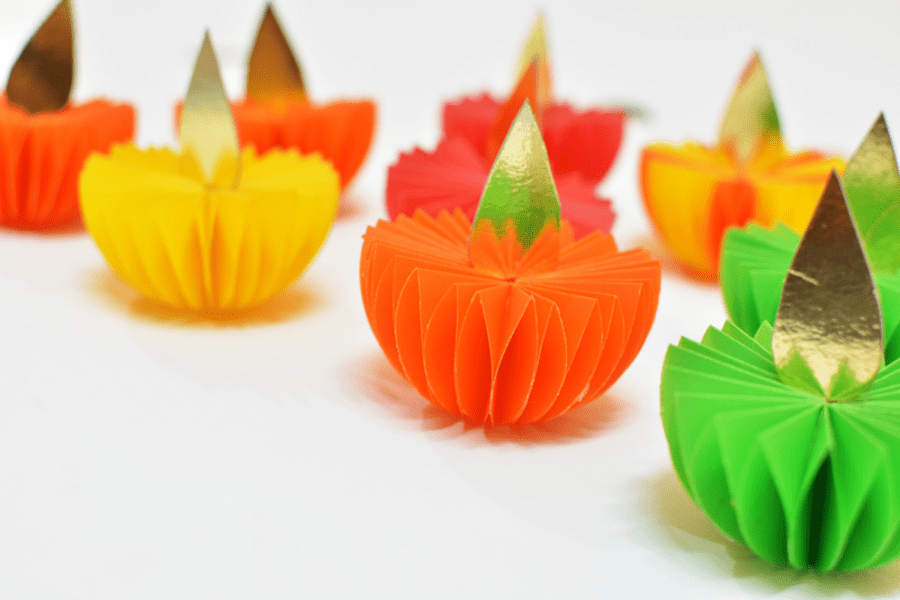 Don't have earthen diyas to fill up your home? No problem! These paper diyas are the perfect solution: they're easy to make, colourful, and will definitely make your guests feel welcome when they step into your home and see them. Follow the tutorial by The Crafty Angels. You can also string them as part of a garland too!
7. Diwali footprints
During Deepavali, Lakshmi, the Goddess of Wealth and Prosperity, is welcomed into homes. Thus, footprints are a common motif associated with the festival. Here are the steps to making your own Lakshmi's footprints to decorate the house.
Materials
Marker
Pair of scissors
Watercolours
Paintbrushes
Plain chart paper
Glitter glue
Method
1. Help your kid trace out the footprints on the chart paper and cut out the outline.
2. Use watercolours and glitter glue to decorate inside the footprints.
3. Place the footprints along the doorways in an entering format, as they symbolise prosperity that is entering the house.
8. Decorative tealights
Here's a craft idea for those excessive Ikea tealights that you might be hoarding from your shopping spree. Just grab some washi tape or colourful paper and glue, wrap around the tealights, and ta-da… Instant diyas! What's Cooking Mom has the deets if you want to do this with the kids.
9. Henna hands
If you're a little wary of staining your little's hands with henna, this art activity is the perfect alternative. All you have to do is get your child to trace their hand (or you could help them out) and then add in the henna details using black or brown markers. Hit up good ol' Google for henna hands inspo. Thomas Elementary Art did this and we gotta say, it's a nice activity that'll keep the kiddos quiet for an hour or two.
Love this list of Deepavali crafts for kids? Check out these paper crafts too!