It's almost Deepavali, everyone! So celebrate in style by heading to one of these Indian clothing stores in Singapore to kit you and the kids out in fabulous Indian fashion!
Hands up if any of you parents out there are guilty of some last-minute outfit panicking? (Don't even get us started on all the last-minute birthday cake stress too!). Well, with Deepavali happening tomorrow, we're here to give you some speedy and easy solutions to get you and the kids kitted out in Indian clothes for any Deepavali events and school celebrations. The good news is, these places are also great options if you and the minis have been invited to an Indian wedding, too. Winning!
Where to buy Indian clothes in Singapore
1. Mustafa Centre
The place to go for, well… everything! Head to the basement of this 24-hour den of amazingness and scour the racks for kids' Indian clothes and accessories. It can get pretty darn busy, so time your scavenger hunt (sans littlies, obvs) for late at night or early in the morning, then go wild in the aisles. This is a great option if you're not looking to spend a lot – especially when those kids of ours seem to grow at the speed of light!
Mustafa Centre, 145 Syed Alwi Road, Singapore 207704
2. Nimbu
Nimbu is a homegrown Singapore brand that we can't get enough of. Its 'conscious clothing movement' aims to bring sustainable fashion for kids to the forefront of our shopping sprees, ultimately slowing down fast fashion. We love its curated collection of stunningly bright and colourful yet still comfortable ethnic wear. Don your little ones in a Nimbu piece for Deepavali and we bet they'll never want to take them off!
Nimbu, online only
3. Kucchalenas
Another homegrown Singaporean brand, Kucchalenas is chock full of gorgeous Indian clothes uniquely designed just for your kiddos – and yes, they're fab-looking and comfy to wear too! With a new collection for Deepavali every year, there's always a great selection of colourful and beautiful outfits to choose from. In fact, don't be surprised if you find yourself running around the store to brighten up your own wardrobe too!
Kucchalenas, 173 Selegie Road, Rochor, Singapore 188324
4. Angkara
What started as a humble store in Little India Arcade is now a big and beautiful brand at Tekka Place with a stunning range of Indian apparel and accessories. Check out the kids section for the enormous collection of kurthas and kurthis to make the littlies look chic this Deepavali! And psst – you won't want to miss their stunning range of jewellery, footwear and handbags either…
Angkara, #01-30, Tekka Place, Singapore 218227
5. Nalli
This one is more for you, mums. This fashion favourite stocks truly beautiful saris and Indian clothes, so it's ideal if you have a special occasion coming up. The store is only a short walk from Little India MRT, so it's easy to get to – a big plus! Prefer to shop online? No worries! The choice is huge on Nalli's website, and delivery usually takes between five and seven days.
Nalli, 10 Buffalo Rd, Singapore 219784
6. Little India Arcade and Tekka Market
Ok, if you're looking for Indian clothes for kids this Deepavali, it makes perfect sense to hit up Little India for the real deal. You'll be spoilt for choice in the colourful streets of this vibrant neighbourhood… and when all that shopping gets a bit much, think of all the yummy soul-reviving food on offer! Our picks? Make a beeline for Little India Arcade and Tekka Market to see what colourful Indian clothes lie in wait.
7. Little Muffet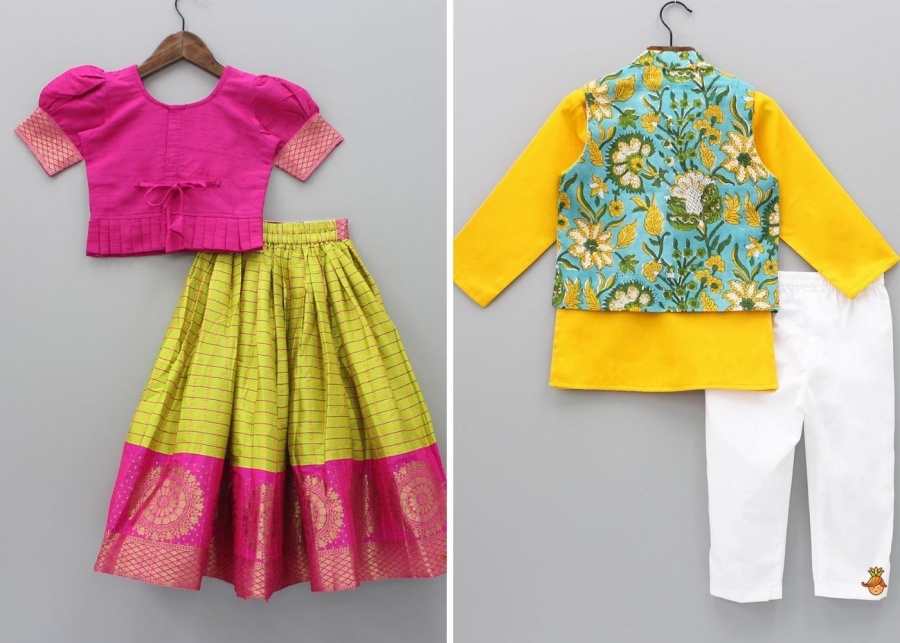 How cute are Little Muffet's offerings?! We cooed out loud at all the goodies on display on the website and want to add it all to our baskets. There's a fab range for girls and boys, and you can even get matching items for siblings if you like a spot of matchy-matchy. Customer service is spot-on, too. While operations are based in India, delivery aims to be within five days from the date of despatch.
8. College Collection
If you love a bit of twinning with your mini, this is the place for you! College Collection sells all types of Indian clothes for women, men and kids, so look no further if you want a one-stop shop that can kit out the entire clan. For mums, there are saris and salwar kameez, while dads will love the range of kurthas, shirts and pants. As for the kids? They'll be wowed by the silk dhoti, pavadai sets and more.
College Collection, 125 Serangoon Road, Singapore 218030
9. Fabindia
Head on down to VivoCity, one of our favourite shopping malls in Singapore, and go check out the bricks-and-mortar store of Fabindia. It's a brand that's known and loved by Indians around the world, so you can be sure of sartorial success (pictured above). The clothes are definitely a bit pricier than what you'd find at the Little India markets and malls, but you're paying for quality and craftsmanship.
Fabindia, VivoCity, 1 Harbourfront Walk #01-141, Singapore 098585
10. Mangalam Shop
Another one for the grown-ups. For cute kurtees, slick salwar suits and more, try Mangalam on for size. This stunning store at Thomson Plaza has a wide range of Indian clothes to feel and fit before you buy. Or, visit their online store to browse the fabulous Indian fashion from the (air-conditioned) comfort of your sofa – yippee! Your purchases will be delivered out to you pronto, via registered post. Spend over $50 and the postage is free, too.
Mangalam, Thomson Plaza, 301 Upper Thomson Road #01-16, Singapore 574408
Love this list of Indian clothing stores for kids? Check out these online fashion brands too!