Holidays have begun, but before you dash off to that Singapore staycay, pack these books and add them to your kids' summer reading lists!
Holidays are upon us and we've filled up the activity schedule with plenty of things to do with the kids this June! And with so many cool libraries in Singapore, we're especially fired up about encouraging our bookworms to read more. We're determined to keep the kids well-read with plenty of novels for the teens, favourite childhood classics and loads of lovely picture books for bub – not to mention trying to keep their brains ticking over during the long school break. To help us fortify our summer reading list, we've asked schools to share a book or two from their own suggested summer reading lists…
24 books recommended by schools for your kids summer reading list
Picture books for kids (Ages 3-8)
Recommended by GESS
Duncan loves colouring but not all his crayons are happy about their jobs and one day they quit! How can Duncan make them all feel valued and get them to come back to the crayon box?
Recommended by AIS
The doorbell rings just as Sophie and her mummy are sitting down to tea. Who could it possibly be? What they certainly don't expect to see at the door is a big furry, stripy tiger!
3. Red by Jan De Kinder
Recommended by Nexus
A story about courage and compassion by Belgian author Jan de Kinder. When a boy blushes because of bullying in the playground, it forces a girl to face a moral dilemma… She's torn between safely witnessing the events, or confronting the bully.
Recommended by GEMS Singapore
An extraordinary story by Robert Munsch, Love You Forever is a gentle affirmation of the love a parent feels for their child – forever. Sheila McGraw's soft and colourful pastels perfectly complement the sentiment of the book in a read you'll never grow tired of.
Recommended by CIS
Filled with gorgeous illustrations, watch as a battle between animals unfurls over seeds and their produce. Pick up the book for yourself to see how it's resolved.
Books for early readers (Ages 5-9)
Recommended by AIS
They're Bad Guys, everybody knows that. They're scary and dangerous and well… just BAD. But these guys want to be Heroes. And they're going to prove it by doing good deeds…whether you want them to or not.
Recommended by Nexus
Miss Featherbottom is getting married, so Eva forms a Secret Wedding Planners Club! When the bride-to-be's necklace goes missing, the owlelets form a detectives' club to find the culprit.
Recommended by GESS
Nina is very shy, but she has a secret superpower: she can read people's auras and work out if they're nice… or nasty! When a silver owl disappears from her neighbour's house, Nina sets out to solve the mystery.
Recommended by XCL World Academy (formerly known as GEMS World Academy Singapore)
Every day the boy would come to the tree to eat her apples, swing from her branches, or slide down her trunk…and the tree was happy. But as the boy grew older he began to want more from the tree, and the tree gave and gave and gave. This is a tender story, touched with sadness and aglow with consolation.
Chapter books for kids (Ages 7-10)
Recommended by CIS
Giggles needed? Try this fantastic novelette filled with short funny stories that are bound to engage any reader.
Recommended by AIS
Andy and Terry live in a treehouse. But it's not just any old treehouse, it's the most amazing treehouse in the world! This treehouse has thirteen storeys, a bowling alley, a see-through swimming pool, a secret underground laboratory, and a marshmallow machine that follows you around and automatically shoots marshmallows into your mouth whenever you are hungry.
Recommended by Nexus
Min Rui and Chloe's only way home is through the dangerous and fantastic Islands in the Caldera. They must face dragons, giants, and wild jungles to survive. The perfect summer fantasy read – we know because we already reviewed it!
Recommended by XCL World Academy (formerly known as GEMS World Academy Singapore)
Embark on the classic children's tale of the original adventures of Christopher Robin, Pooh Bear and his friends in the Hundred Acre Wood.
Recommended by GESS
In a frozen world inhabited by trolls, yetis and other monsters, two children set out on a hilarious snowy adventure to find their 'Heart's Desire'. Can their pug-powered sledge pull them to victory in the Great North Run?
Books for middle graders (Ages 8-12)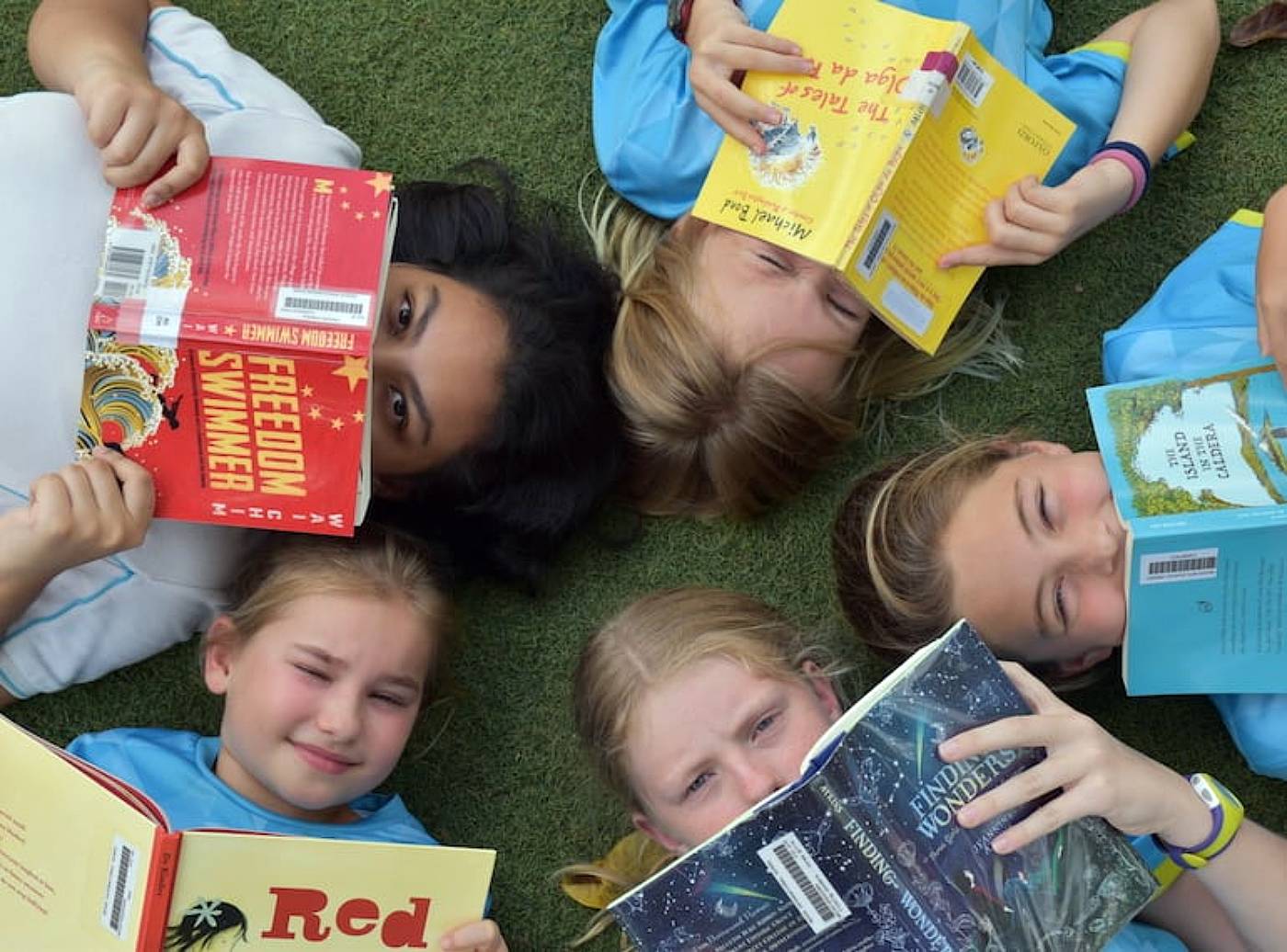 Recommended by Nexus
This biographical novel in verse is about three girls in three different time periods who changed science! Maria Merian, Mary Anning and Maria Mitchell share their discoveries through their delightful poems.
Recommended by CIS
A great book for children who aren't quite ready for Harry Potter or Percy Jackson, this adventure is full of wit where children can learn some quirky facts about Greek Gods.
Recommended by GESS
When George befriends his scientist neighbours he quickly finds himself on a wild adventure through the vastness of space and the mysteries of the universe. But can a computer really take George and his friends to the edge of a black hole… and back again?
Recommended by XCL World Academy (formerly known as GEMS World Academy Singapore)
This is an adventure story about an eleven-year-old boy who is stranded on an island, where he meets an old man, Kensuke. Together they form an unlikely friendship, altering each other's lives in the process. The story is immeasurably well written and truly makes the reader wish it were true. It is such an engrossing story that parents will also enjoy reading along with their children and discussing the book's twists and turns.
Recommended by AIS
Many years ago, Grandpa was a World War II flying ace. Now he is being sent to old folks home, Twilight Towers, run by sinister Matron Swin.  It's up to Grandpa and his grandson, Jack, to plot a daring escape. Little do they know, the wicked matron is on to them…
Books for young adult (Ages 12+)
Recommended by XCL World Academy (formerly known as GEMS World Academy Singapore)
A tree that feeds on lies is found by a girl who is hungry for the truth. This is a dark and atmospheric tale set in Victorian England that hovers between history and mystery.
Recommended by GESS
Amani is desperate to leave the dead-end town of Dustwalk, and she's counting on her sharpshooting skills to help her escape. But after she meets Jin, the mysterious rebel running from the Sultan's army, she unlocks the powerful truth about the desert nation of Miraji… and herself.
Recommended by CIS
The prize-winning journalist of I Am Malala has penned another great memoir about a young girl with cerebral palsy who makes the arduous journey from war-torn Syria to Germany in a wheelchair. This book is bound to inspire any reader, adults included.
Recommended by AIS
A mysterious island. An abandoned orphanage. A strange collection of very curious photographs. It all waits to be discovered in this unforgettable novel that mixes fiction and photography in a thrilling reading experience.
Recommended by Nexus
Ming grows up in a village forced to do manual labour during Chairman Mao's "re-education programme" after a Cultural Revolution. He's used to hardship, but when a group of city boys arrive as part of the programme, he's not sure what to think. When he befriends Li through a love of swimming, he begins to dreams of freedom.
Love this summer reading list for kids? Check out these childhood classics too!
Top image: AIS Early Years Library