Playtime - Old School Style
Modern playgrounds are great. With moulded plastic, low-standing equipment, and spongy material designed for soft landings, you can kick back with your take away coffee while the kids explore a planned environment. But a little risk can be good. Assessing the dangers of speed, height and rough and tumble, develops independence and smarts. That why we've got a soft spot for Singapore's old-school playgrounds.
In a land of super safety (open roadside drains notwithstanding), we love that nostalgic charm has trumped conservative health and safety rules – at least for the time being…Some of these retro play places have disappeared, but there's still time to enjoy what's left.
Dragon Playground
Having made the list of 15 Amazing Playgrounds From All Over The World, the dragon playground (Block 28 Toa Payoh Lorong 6, Singapore, 310028), is definitely a local celebrity! There used to be a few of these sand –based playgrounds in the late 1970s and early 1980s, featuring dragon heads decorated with terrazzo tiles, a spine of steel rails (aka our version of jungle gyms), a slide, and swings. The flats surrounding this last remaining version in Toa Payoh have been demolished, so we're hoping that it'll be preserved for the icon that it is.
Clock Playground
During the 1980s, playground designs were centred on nursery rhymes, fairy tales, and animals. The cuckoo clock-plus-alarm clock mosaic covered playground at Bishan Bus Interchange (Blk 514C Bishan Street 13, Singapore, 570514) still provides loads of climbing fun for the littlies with ladders and a slide.
Elephant Playground
Located inside the Home Team NS Chalet in Pasir Ris Park (125 Pasir Ris Road, Singapore, 519121), the elephant playground is another one-of-a-kind playground left in Singapore. A combination of swings, slides (as the elephant's trunk!) and crawl tunnels, this sandbox is as nostalgic as they come. We sure hope it doesn't go the way of the Pelican and Dove playgrounds that have already been demolished.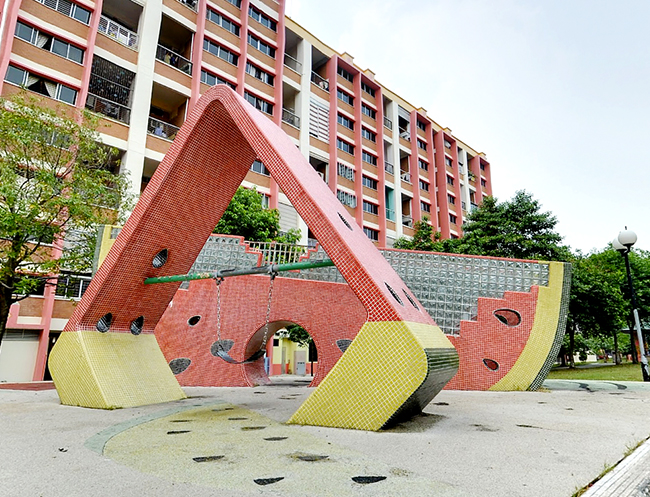 Watermelon and Mangosteen Playground
Another predominant theme for playground designs in the late 1980s was fruit. Some designs were based on locations, such as Choa Chu Kang, which was once a farming area. The only two that remain in the fruity fun series are the Watermelon and Mangosteen versions at Tampines Central Park (Singapore 520858). We love how the red mosaic tiles of the Watermelon playground matched the red of the surrounding HDB blocks.
Bumboat Playground
Also of the 1980s, the concrete bumboat playground situated in Pasir Ris (601A Elias Road, Singapore 511601) is the last playground in a series focused on local icons such as the sampan, rickshaw, and kampong houses. Not only is this playground a great place for the kids to burn off excess energy, it's an opportunity to explain the multi-culturalism of Singapore, since the bumboat represents Chinese heritage – the bumboats were used by Chinese traders to carry goods from ships to the warehouses along Singapore River.
So next time your kids are needing some outdoor play, stretch them a bit and try one of these iconic Singapore playgrounds.

Alternatively, the Dragon, Elephant and Watermelon playgrounds have been immortalized as bouncy castles for the Masak Masak: My Childhood exhibition at the National Museum of Singapore. You will find them on the front lawn in front of this historic building on weekends until 31 August. Bouncing times are 11am-1pm and 3pm-5pm.
Images courtesy of National Heritage Board, Google and SMAP Agency.