Image: PlayPoint Asia
There's a new playground in town! Here's all the deets for you and the kiddos…
We've always got our feelers out for the best kid-friendly fun on this island. From weekly things to do, to the coolest roundups of places to play, and where to dine out with the kids, we keep you in the loop on what's happening around Singapore. Here's something to add to the list: another cool, free play area, the 'Forest Playground' in the Tampines heartland area!
Tampines GreenDew is a newly built residential area in Tampines North, bounded by Tampines North Drive 2 and Street 62. Need a guide to the area? We've got you! Check out our guide to this fun neighbourhood in the East. It's here that you'll find the Forest Playground, nestled amid the towering apartment blocks and promising a fine time for the kiddos. We love how there are designated play features for a range of ages, from toddlers and beyond!
New playground in Singapore: Get wild at Tampines GreenDew
Fun adventures await kiddos at the Forest Playground, teeming with unique structures designed for maximum fun and meaningful play. Kids big and small will love hanging out here, and we've listed our favourite not-to-be-missed features.
Our favourite play areas at the Tampines GreenDew Forest Playground
1. The climbing tower
Here's an irresistible attraction of the Forest Playground guaranteed to entice kiddos – the climbing ropes. This structure is thrilling for kiddos who must engage their hands, arms and upper body strength to conquer the undulating patterns. Talk about a workout! Also, kiddos can enhance their spatial awareness, balance, and coordination, fuelling holistic growth and development during this kind of free play – not that you needed a reason to make them play!
2. The Theatre and Music Cottage
If the above climbing structures had you raising an eyebrow, thinking, 'it's not suited for my kid', the Forest Playground has that sorted with a range of toddler-friendly play areas. The Toddler Play Tower is challenging yet fun for the mini-me's, and behold the Theatre and Music Cottage that's rich in detail and invites kiddos to play and explore!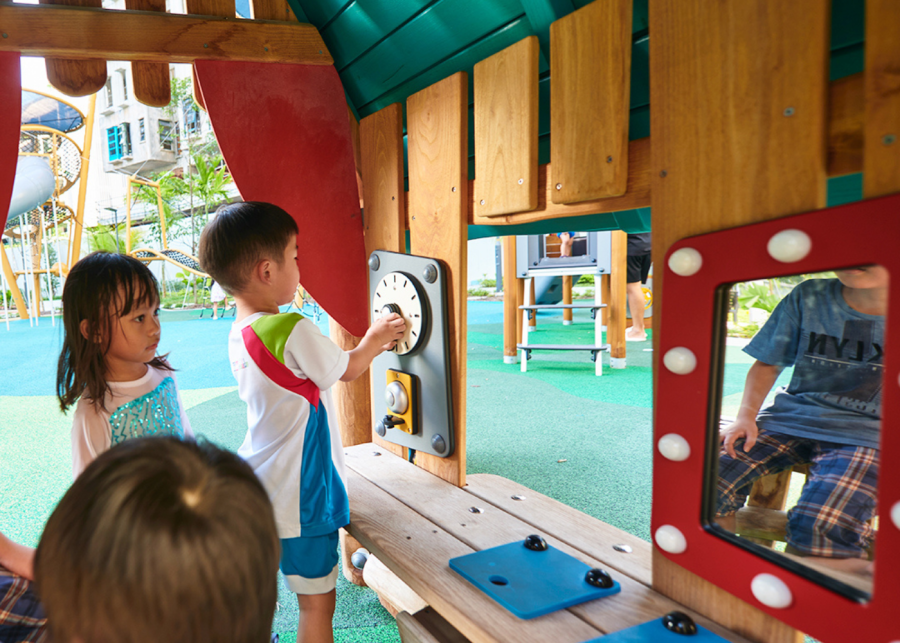 There are xylophone and drum panels to support kiddos in their free play, welcome social interaction, and more. We love the clock feature! It's never too early to start teaching the little ones how to tell the time.
3. Toddler-friendly play tower at the Forest Playground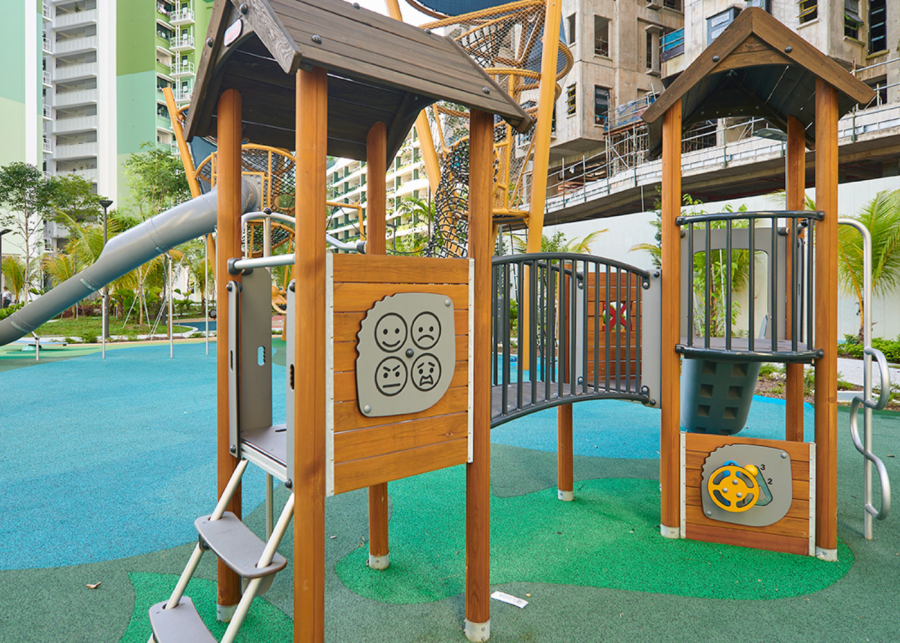 The toddler-friendly play tower is suited to little ones, with a smaller obstacle course to climb through and a shorter slide. We love that while the bigger kids are playing on the big tower, there is somewhere safer and more enclosed for the littlest of our tribe. There's also a steering wheel, which is great for pretend play. Is it a car, a ship, a truck, a rocket? Let your little one decide!
4. The wobbly board!
Surf's up! We love this unique feature of the Forest Playground. The wobble board is great for creative and imaginative play, not to mention it's also great for kiddos to sweat it out and stretch, and practice the art of balancing.
How to get there?
Location: 647A Tampines St 62, Singapore 521647
The Forest Playground is a stone's throw from the Tampines MRT station. From the station, take Exit D and walk over or catch a bus to the Tampines GreenDew housing estate.
Things to note before you hit a playground in Singapore:
Check the weather before leaving the house. Have a Plan B should the weather go awry.
We're living in some unprecedented hot climes, so make sure to pack kiddos some cool drinks as they play.
Slather on that sunscreen and mosquito repellents to keep on the safe side while lapping up the fun.
Looking for more free playgrounds in Singapore? Check out our guide to the best HDB playgrounds!
Have fun at this brand-new Forest Playground. Do you know of any more that we should feature? Let us know at [email protected].
Lead image: Playpoint Asia