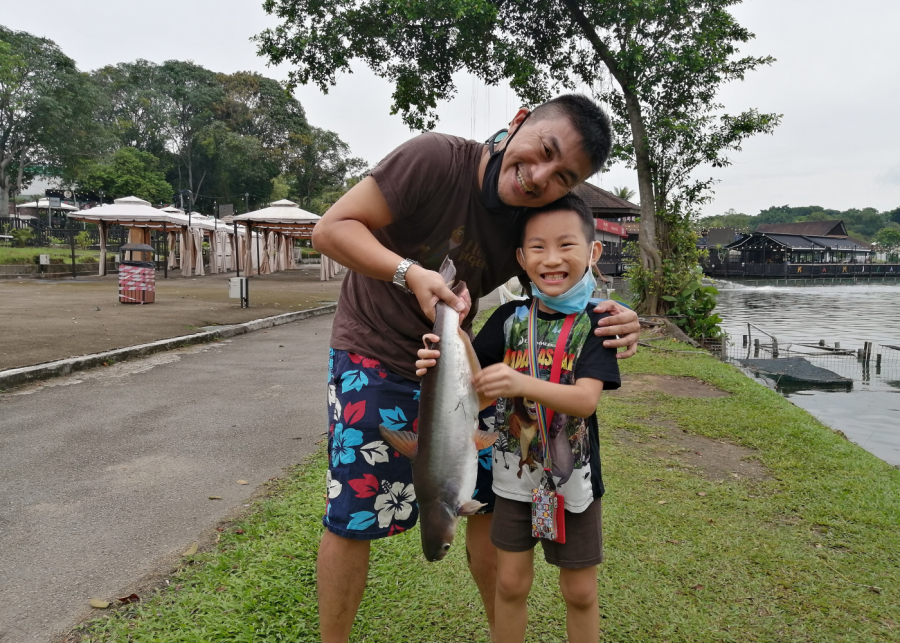 Photography: Jei Sim
Dads, we get it - sometimes it's tricky knowing exactly where to take kids come the weekend. So we asked a dad in the know to share his fave fam-friendly foolproof activities for a day out in SG...
It's fair to say Singapore has so many activities when it comes to family days out – but how do you know a good option from a below-average one? We decided the best way to find out was to ask an expert – in this case, an activity mad dad named Jei, who has a nine-year-old son and a ten-year-old daughter to entertain. Sure, mums get a lot of the credit for planning the weekends for the families (we're not ones to brag…), but credit where it's due; dads can be pretty good when it comes to organising fun times too. If you don't fall into the latter category, dads, don't fret  – Jei gave us his top tips to make your next outing a hit with everyone…
But before we get to that, we asked Jei why it's so important to invest in activities with our kids? Here's what Jei had to say…
"I think as parents, the reasons are endless. First off, growth and learning are lifelong and go beyond books and schools. Our kids are growing up in a VUCA (volatility, uncertainty, complexity and ambiguity) world; therefore, they should be exposed to different experiences. The world that they're growing up in isn't about IQ anymore. More critical are Emotional Quotient (EQ) skills like self-awareness, self-regulation, working well with others, and Adversity Quotient (AQ) like resilience and dealing with setbacks. This shift is also evident in the changes that are taking place now in the Singapore education system as well (but that's a separate article!).
Parent-child activities are also important because they foster relationships and bonding and provide guidance and coaching opportunities. I think it's important to build up the trust and the relationship during the kid's foundational years because they may need more support in their teen years."
How do you go about selecting activities to do with your kids?
"When it comes down to my ideas, I usually try to have a learning point and purpose beyond the activities I plan for my kids. While some are pure all-out fun, having a meaningful intention is good. For example, the Changi camping experience is a great way to introduce my nine-year-old son to outdoor camping, which I think is important because we will do National Service eventually."
So is it mainly paid for and outdoorsy activities?
"There are so many free activities in Singapore, so I think a mix is important. Also, although I think outdoorsy stuff is great, especially since covid, there are many indoor options too. Even watching a current affairs programme together and having a conversation after is a good way to achieve the above goals. I think it's about providing the opportunities and planting the seeds to help them blossom into responsible adults."
Jei's top picks of the best activities for dads and kids to enjoy together in Singapore
1. Tandem Zipline
Sentosa has loads of options when it comes to activities that are going to be a hit with the kids. A personal favourite? The tandem zipline! Although it's one of the paid options on the list, it's worth it and is a great one for the adrenaline rush for both parents and kids!
2. Skyline Luge
Another one to check out in Sentosa –the Skyline Luge is a good one for your list as it caters for all ages (with both single and tandem options). I must confess the luge attraction is a tad common and dated now, but I still think it's a great activity if you haven't tried it before.
3. Forest Adventure (Bedok Reservoir)
Forest Adventure at Bedok Reservoir is the largest treetop adventure park in Singapore and is a great way to burn off some energy as you tackle the obstacle course. They have kids, a junior and a grand course to take on, and a 300m zipline for more thrills. Just have a head for heights for this activity!
4. Family activities on the Healthy 365 app
Healthy 365 is an app created by the Health Promotion Board (HPB) Singapore that aims to encourage users to adopt a healthier lifestyle, and the good news is there are loads of activities for families to try, and it's free! It's an excellent way to "try out" different sports and activities before signing the kids up for their activities or enrichment classes.  They have floorball, archery, and more. In addition, ActiveSG also runs a school holiday program.
4. Nparks program
Nparks offers an extensive program of activities for kids and parents to get involved with. From workshops such as Ready, Set, Grow! at Jacob Ballas Children's Garden, where you can learn about growing your own food, all the way through to fun walks along the Southern Ridges!
5. Camp Experience at Changi Airport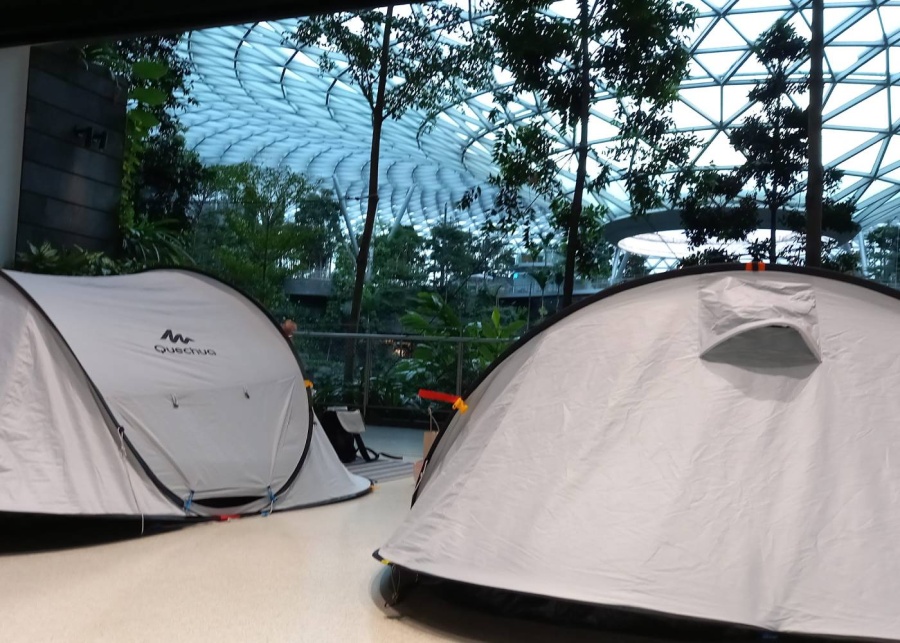 This June, my son and I participated in the Camp Experience at Changi Airport. I'm also planning to go camping around Singapore's parks which can be a great parent-child bonding activity.
6. Pond or deepwater fishing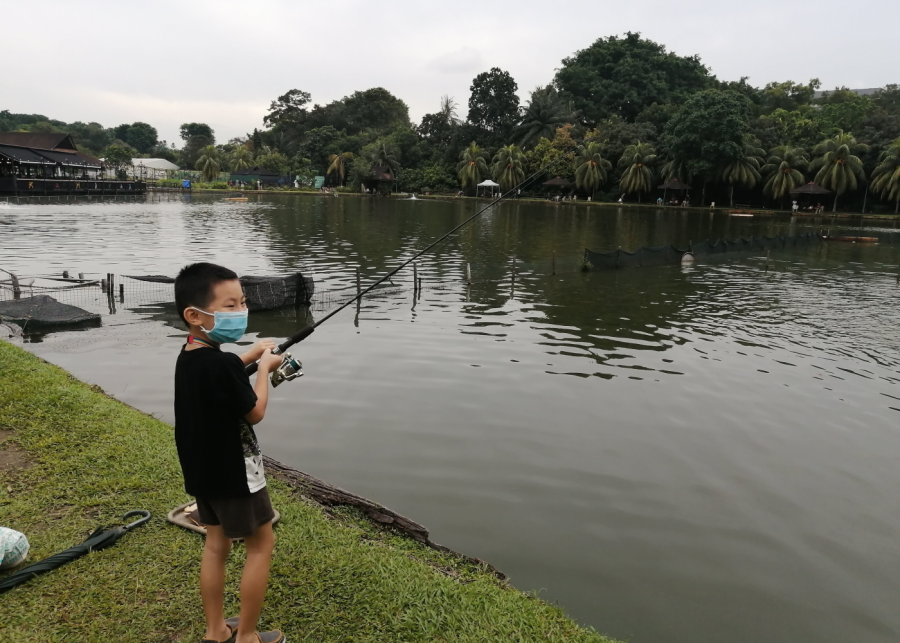 Top tip: Try pond fishing first before deepwater fishing! Fishing Paradise at Orto has a sure catch offer which is great for kids and parents to enjoy the thrill of the catch together before heading to open water.
7. Watch an education-based programme together and have a conversation
Don't rule out screentime if it's raining. This is way better than spending too much unsupervised time on a mobile device! Choose a programme to watch, and then take the time to talk about it together. Easy and educational!
8. Volunteering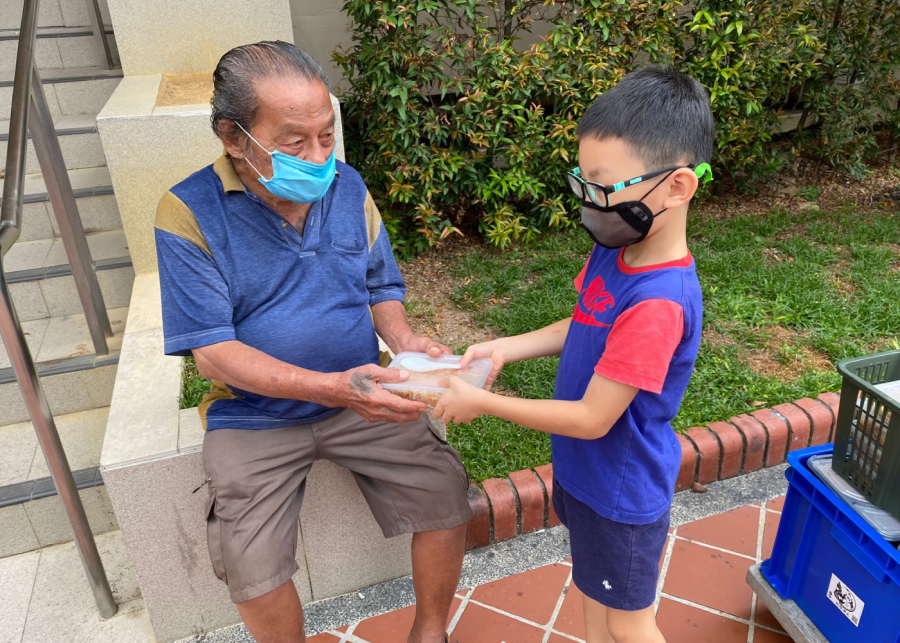 There are so many opportunities when it comes to volunteering in Singapore! My children and I volunteer monthly with the Rotarians and participate in an environmental clean-up. We recently entered the CNA Green Plan initiative and won with our idea of collecting and recycling discarded clothes pegs around our estate. My son wrote about the idea and our experience, and we were one of the winning entries. As well as winning $1000, we also got our idea published and are excited to scale up the initiative across the wider community soon!
9. More indoor fun!
Yes, indoor stuff like art, dance, robotics, etc., are also meaningful. I haven't included them extensively because… after two years of Covid, I think the kids deserve more outdoor events! But the weather is unpredictable, so you always need indoor options!
Final top tip? "If all these activities sound tiring or fatherhood ever gets the better of you, remember this – the kids are only young once!"
Thanks, Jei!