Easter decorations! These dip-dyed eggs are super easy to make with the kids.
Could this be the quickest and easiest craft project ever? These pretty rainbow eggs not only make for stunning Easter decor, but are also perfect for an egg hunt!
Two pieces of good news: These DIY dip-dyed rainbow eggs are so simple to make and you probably have all the ingredients you need in your kitchen cupboard! Did we also mention that it's the perfect afternoon activity to keep the kids entertained over the Easter long weekend – even better if you need some last-minute Easter decorations, because you can make them in a jiffy. Use them for your egg hunt and let the little ones exchange them for chocolate eggs, because we all know those won't survive a minute outdoors in sunny Singapore.
Want some more craft ideas for the long weekend? Check out our top 10 Easter DIYS, or make these fun filled Easter eggs with a cheeky surprise! And don't forget to check out our guide to what's on for kids in Singapore this Easter (we've found all the egg hunts, parties and Easter activities you don't want to miss!). Now, let's get started with some messy play…



YOU WILL NEED:
Eggs
A needle
A barbecue skewer
Paint brushes
Food colouring
Drying rack (made from a foam board and pins)
Bowls
Vinegar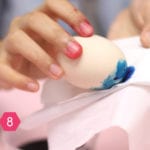 METHOD:
1. Use a needle to pierce both ends of the egg.
2. Twist the pin into one of the holes to widen it slightly. Then use a longer needle or a barbecue skewer to stir and break the yolk.
3. Hold the egg above a bowl (larger hole down) and blow the contents out through the smaller hole.
4. Rinse the remaining contents out by placing it under running water.
5.  Mix 1 teaspoon of vinegar and 20 drops of food colouring (use more to intensify colour) with 1 cup of water in a bowl.
6. Use a brush to stir the mixture. Repeat with each colour you're using.
7. To start colouring your eggs, dip them into the bowl for 10 seconds. To create different tints, vary the dipping time. Tip: the longer you leave the eggs in the coloured water, the brighter they'll turn out!
8. Use a tissue paper to dab off the excess coloured water.
9. Rotate your egg and dip it into a different bowl of coloured water. Keep dipping different parts to create your rainbow tinted eggs!
10. Place your eggs on your drying rack until the colour has set.
Like this story? Here's more we think you'll enjoy:
Fun facts you never knew about Easter
Where to buy Easter eggs in Singapore
Easter brunch picks for the whole family
Easter hat parade? Make your own!
Or subscribe to our weekly newsletter for the latest updates on all things family-friendly in Singapore – and beyond!