Raise those pinkies, people – we're talking all the best family-friendly places in Singapore where you can go to enjoy an afternoon tea with kids.
Afternoon tea: there's nothing quite like it for making us feel like we've got our fancypants on. Because everything tastes better in miniature, are we right? Luckily for you, this very British tradition does a roaring trade here in Singapore. And just because we're parents doesn't mean we're going to miss out on our scones and tea, thanks! So whether you're looking to book high tea in for a special treat or a 'just because' foodie family occasion, we've compiled our picks of the best places for afternoon tea with kids in Singapore. From babyccinos and fussy-eater-friendly buffets to chocolate fountains and handy highchairs, we've done all the hard work so you don't have to. Three…two… scone… it's tea time!
Tea Lounge at Regent Singapore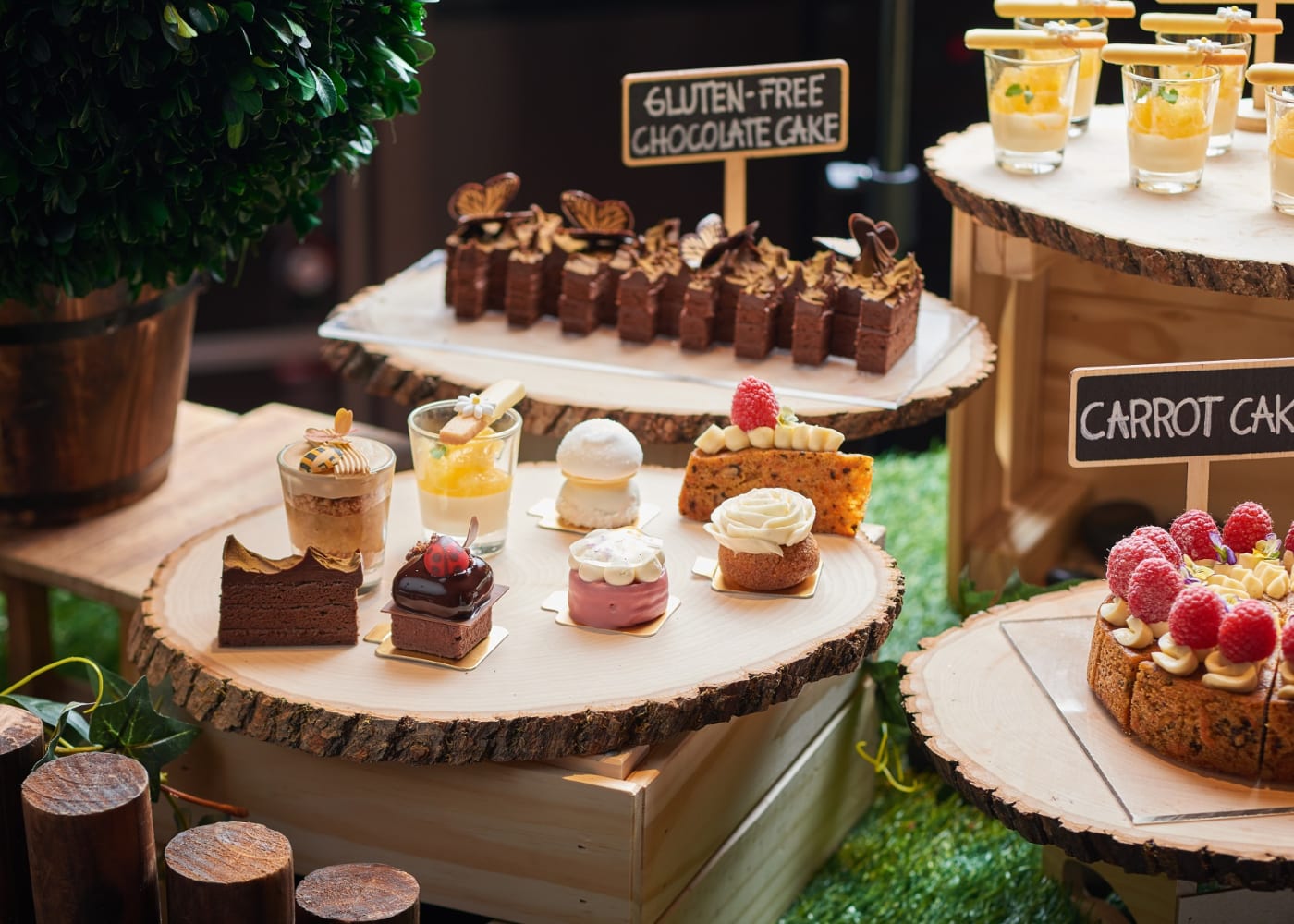 We can personally vouch for the variety of yumminess of offer at Regent Singapore's Tea Lounge, making it a great option for afternoon tea with kids in Singapore. On weekdays, the English garden-themed tea is a three-tiered set with semi-buffet, too. Kid-friendly pieces include quiches, sandwiches and cranberry scones served with clotted cream (drool), strawberry jam and zingy lemon curd. Come the weekend, it's time for full-on high tea buffet mode. Children will make a beeline for the cooked ham and cheeses, congee, mini pot pie with beef ragout and rosemary mashed potatoes, plus Scotch quail's eggs. Psst… chicken nuggets and fries aren't officially on the menu, but a little birdie tells us they're usually brought out by the chefs for the young guests. If you needed further persuasion, then the live crêpes station with fresh berries and gelato will give you the answer: a resounding YES PLEASE!
When: Mondays to Fridays 12–5pm (single seating); Weekends (Saturdays & Sundays) 12–2.30pm (1st seating) and 3–5.30pm (2nd seating)
Where: Tea Lounge, Regent Singapore Lobby Level, 1 Cuscaden Rd, 249715
Cost: $47 per guest on weekdays. Quote RSTL2ND when making a reservation on the website to enjoy a second afternoon tea set at 50% off. $68 per guest on weekends. Quote RSTL58 to enjoy a weekend tea buffet at just $58. Kids under five eat for free and kids under 12 enjoy 50 per cent off the original price.
L'Espresso at Goodwood Park Hotel
We're big fans of L'Espresso for its afternoon tea offering. Having been to sample the wares ourselves, we can gladly report the spread is topnotch. Instead of your more traditional 'tiered cake stand' afternoon tea, L'Espresso puts on a full-on buffet spread. That scores big if, like us, you're a chronic grazer and love sampling everything (dust off your elasticated waistband pants!). And it goes without saying that all that choice is a huge plus when you're enjoying afternoon tea with kids! There are loads of yummy morsels to choose from, including dainty sandwiches, pastries, scones, salads, plus savoury hot options, too. Young 'uns will also go wild for the pièce de résistance: the chocolate fountain. Need a highchair? Just ask and your child-friendly seating wish will be granted.
When: English afternoon tea buffet – Monday to Friday 2pm to 5.30pm; Saturday, Sunday, and Public Holiday 12–2.30pm (1st seating) and 3–5.30pm (2nd seating)
Where: L'Espresso, Goodwood Park Hotel, 22 Scotts Road, Singapore 228221
Cost: Monday to Thursday $45 per adult; $27 per child from age 6 to 11 years old; Friday to Sunday, eve of and on Public Holiday $48 per adult, $28.80 per child from age 6 to 11 years old. Children aged five and under dine for free. Price includes two servings of coffee or tea.
The Rose Veranda, Shangri-La Singapore
Head over to the mezzanine floor above the lobby at Shangri-La Singapore and indulge in a high tea tradition that's been going strong for nearly 30 years. Parents can choose from more than 50 varieties of tea, while children will appreciate the chocolate fountain, homemade desserts, scones and live carving station, as well as sushi, laksa… the list goes on (as do our appetites). All that eating is thirsty work, but guess what? The kids can chug back iced or hot chocolate… and, when it comes to the latter, they can even make their own – how cool?! Psst: don't forget kids' play haven buds by Shangri-La is on site too if you really want to keep the good times coming!
When: Wednesday–Sunday 11.30am–5pm (please note The Rose Veranda is closed on Mondays and Tuesdays until further notice, with the exception of 10–12 April).
Where: The Rose Veranda, Shangri-La Singapore, Tower Wing, Mezzanine Level, 22 Orange Grove Road, 258350, Singapore
Cost: $56 per adult and $28 per child (6 to 11 years old). Children below six dine for free when accompanied by a paying adult.
The Marmalade Pantry
Oooh, this one sounds like a goodie! The Marmalade Pantry's High Tea Set feeds two and features a selection of sarnies, mini cakes and cupcakes, plus buttermilk scones with clotted cream, strawberry jam and orange marmalade. If you're going just for the scones, that's cool, too. At the Downtown and Novena branches, you can enjoy 10 of those delectable bad boys for $20 and feast to your heart's content. Kids not down with afternoon tea time? No worries. Over at Downtown and Novena locations, there's also a dedicated kids' menu for the under-12 set, with offerings including mini chicken and beef burgers, as well as a couple of yummy-sounding pasta dishes. Or here's another suggestion: ditch the kids altogether, grab your gal pals, head to the flagship store at ION Orchard and indulge in a bottle of Moscato alongside the nibbles. Cheers to that!
When: Afternoon tea available daily from 3–6pm at all three locations
Where: The Marmalade Pantry, #01-01, Oasia Hotel Downtown, 100 Peck Seah Street, Singapore 079333; #01-02/04, Oasia Hotel Novena; 8 Sinaran Drive, Singapore 307470; #04-11a, ION Orchard, 2 Orchard Turn, Singapore 238801
Cost: High Tea is $48 per set at Downtown and Novena; $58 at ION Orchard.
Cafe Melba
You know it, you love it. OK, this option doesn't come on your typical tiered stand, but if you're willing to DIY, then this is a great, easy-breezy casual choice for a laidback afternoon tea with kids. There are some great sandwiches on the menu to tickle your fancy, as well as a fab selection of sweet treats to enjoy with tea, coffee and babyccinos. We love the location at the Goodman Arts Centre for the nearby child-friendly Artground, but both venues are fab (hello, bouncy castles!).
Where: Cafe Melba, 90 Goodman Road, Goodman Arts Centre, Blk N #01-56, Singapore, 439053; 1 Stars Avenue, #03-01, Singapore, 138507
Wonderland Savour
Fall down the rabbithole and enjoy afternoon tea with your kids in this Alice in Wonderland-themed cafe in the heart of VivoCity, one of our fave family-friendly malls in Singapore. If the cute decor isn't enough to entice you, then the rainbow-hued macarons on display certainly will. Enjoy teeny toasts, dinky sandwiches and assorted patisseries, washed down with tea or coffee. All the noms.
When: Available 11am–6pm daily
Where: Wonderland Savour, 1 Harbourfront Walk, #01-43 VivoCity, Singapore 098585
Cost: Tea set options priced at $28 or $48.
Fosters Steakhouse
If you're in the Dempsey neighbourhood and Holland Village area and feel the need for some freshly baked scones and a good cuppa, then swing by Fosters Steakhouse. Yep, you read that correctly: this is a steakhouse that serves up a traditional Devonshire cream tea set. For a mere $11.50 per set, you can get your gnashers round finger sandwiches, cake and scones served with butter, home-made strawberry preserve and fresh cream, plus a cup of joe or a pot of tea. This place prides itself on its chill-out alfresco dining area and cosy interior (there's even a mock fireplace and snuggly wing chairs for that extra authentic vibe!). There's also a kids' menu if the children fancy something more substantial. The verdict: cheap, cheerful and chock full of yumminess.
Where: Fosters, 277 Holland Ave, Holland Village, Singapore 278994
Cost: $11.50 per set
Chef's Table, Capella Singapore
Treating your fam to a day out on Sentosa, or even a Singapore staycation? If you fancy incorporating an afternoon tea into your plans, consider making a beeline for Capella Singapore. We reckon older sproglets, tweens and teens will really love the atmosphere and tasty high tea offerings here. It's perfect for a special mother-daughter day out! Kid-friendly options on the menu include milk chocolate chip scones, beetroot and smoked salmon sandwiches, and homemade capsicum muffins.
When: Weekday Afternoon Tea available from Monday to Sunday, 3–5pm, excluding Public Holidays
Where: Chef's Table, Capella Singapore, 1 The Knolls, Sentosa Island, Singapore 098297
Cost: $45 per person
Atrium and Pacific Marketplace, Pan Pacific Singapore
Over at Pan Pacific Singapore's Atrium, the private pods floating over a reflecting pool are a huge hit with the knee-high and tween clientele, so be sure to book one for your own famalam when coming for afternoon tea with the kids. Available in three sizes, the pods can fit in groups from five to up to 14, so bring the whole family! The daily afternoon tea is also served up at Pacific Marketplace. Don't forget to stock up on yummy sausages from the shop while you're there! Let's talk food: the tiered stands (which, in a cool twist, mimic the pods themselves) are bursting with scones, finger sandwiches, quiche, plus more Asian-themed morsels too. Only came for the cake? The hotel's pastry team has you covered. Great grub + cosy chills = happy parents. For a kid-friendly afternoon tea twist, juices and babyccinos are available.
When: Available daily, 2.30–5.30pm
Where: Atrium or Pacific Marketplace (Level 1), Pan Pacific Singapore, 7 Raffles Boulevard, Singapore 039595
Cost: $48 per person, $88 for two persons, inclusive of two beverages from the high tea menu.
Arteastiq
Served off gorgeous tiered platters that remind us of super-cute birdcages, this boutique teahouse offers an array of afternoon tea options. In fact, we reckon you'll find it difficult to choose between all of them! Available at three locations (Plaza Singapura, Mandarin Gallery and Jewel Changi Airport), options start at $32 and go upwards from there. Definitely one for older kids, the flavours here are more for grown-up palates, but they still look gorgeous. (Also, we love that Mum can upgrade to a cheeky glass of bubbles for an extra $10… winning at life!).
When: Available daily, 1–5pm
Where: Arteastiq, Mandarin Gallery, #04-14/15 333A Orchard Road, Singapore 238897; 68 Orchard Rd #03-70/72, Plaza Singapura, Singapore 238839; 78 Airport Boulevard #05-201 Singapore 819666
Cost: From $32 for one serve