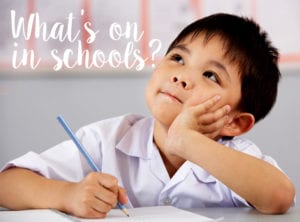 It's the season for open days and open houses in Singapore! Get all ready for the 2020 academic year by checking out schools around town for your little one… it'll help with the decision-making process.
Choosing a school in Singapore for your little one is hard work! That's why HoneyKids likes to offer up help and support where needed, whether it's through our school selector, our bi-annual school fair, or our monthly round-up of school news and open days. Because really, how else are you going to narrow down your choice unless you take a campus tour or meet the teachers and faculty members? Check out all the schools news in Singapore for October below.
House on the Hill – Open House at Mount Sophia
A family-run Montessori preschool, House on the Hill has branches in Mount Sophia, Balmoral and Pasir Panjang. Head over to its open house at Mount Sophia on 19 October. You'll meet the principal, tour the school and sit in on a Mandarin class. For kids, they'll get to take part in a scavenger hunt! At 10.30am, take part in a parent and child Mandarin class, where little ones will be getting active while they learn about frogs with lao shi… but don't worry, there's no requirement to have any prior knowledge of Mandarin! Register here.
When: 19 October, 9am–1pm
Where: Mount Sophia, 33 Mount Sophia, Singapore 228481
GEMS World Academy (Singapore) Open House
Head to GEMS World Academy (Singapore) and speak to the Head of School to learn about the curricula and values of the school. You'll also gain insights into the extra-curricular activities and enjoy a tour of the facilities.
When: 1 October, 10am–11.30am
Where: 2 Yishun Street 42, Singapore 768039
Register here. 
Read GEMS World Academy's full school selector profile here.
Lycée Français de Singapour Open Day
Interested in learning in a multicultural environment? Join the Lycée Français de Singapour Open House to find out more about its Bilingual Curriculum. You'll have the opportunity to meet teachers, find out about the school programs and attend a school tour in French or in English. Coffee and light refreshments will be served. Register here for the upcoming Open House.
When: 4 October, 1.30pm
Where: 3000 Ang Mo Kio Avenue 3, Singapore 569928
Read Lycée Français De Singapour full school selector profile here.
GESS Primary and Secondary Open House
Head over to an open house for both primary and secondary school-aged kiddos at German European School Singapore. You'll be able to gain an understanding about the school's English IB curriculum and German curriculum, go on a tour of the school's brand new campus and attend interesting talks from education experts, as well as find out more about the after-school activities (there are more than 90 options!), bus programs and more. Register here.
When: 8 October, 9.30am
Where: 2 Dairy Farm Lane, Singapore 677621
Read GESS's full school selector profile here.
UWCSEA's High School and Boarding School Open House
Check out both UWC campuses in Dover and in the East if you're considering enrolling your child at the esteemed education facility. With group tours of the campus and boarding facilities, book a spot here for High school (G8-G11). Register here.
When: 8 October, 9am–2.10pm (High school, East campus); 9 October, 9am–2.10pm (High school, Dover campus); 10 October, 9.20am–1.30pm (Boarding, East campus); 11 October, 9.20am–1.30pm (Boarding, Dover campus)
Where: Dover Campus, 1207 Dover Rd, Singapore 139654; East Campus, 1 Tampines Street 73, Singapore 528704
Read UWCSEA's full school selector profile here.
Tanglin Trust School Open Morning
Tanglin Trust School – one of the oldest British curriculum schools in Southeast Asia – is having an open morning for prospective families to check out the campus and get a first-hand experience of life at the school. This one is open for all ages: nursery, junior and senior. Register here.
When: 10 October
Where: 95 Portsdown Road, Singapore 139299
Read Tanglin Trust School's full school selector profile here.
SAIS Elementary and Secondary Open House
Stamford American International School is having an open house for Elementary and Secondary school-aged children. Bring them along and learn about the school's unique path: the combination of the International Baccalaureate (IB) program and the Advanced Placement (AP) courses. Register here.
When: 11 October, 9.30am
Where: 1 Woodleigh Lane (Off Upper Serangoon Road), Singapore 357684
Read SAIS' full school selector profile here.
ICS Carnival
The International Community School is hosting a carnival for its students and the public… it'll be a hoot! There will be fun games, face painting, delicious food, awesome prizes and the piece de resistance: an amazing talent show by ICS' students and families. Come along and watch the students have fun with their teachers by dunking them in the dunk tank, and take part in some super cool raffle baskets. See you there!
When: 12 October, 10am–4pm
Where: 27A Jubilee Road, Singapore 127585
Read ICS' full school selector profile here.
Like this story? Here's more we think you'll enjoy:
Here's what really goes on in a Montessori school
School classes: does size matter?
The local vs international school lowdown
Picking the right school: your ultimate guide
Don't forget to subscribe to our weekly newsletter and follow us for fun moments on HoneyKids Instagram!