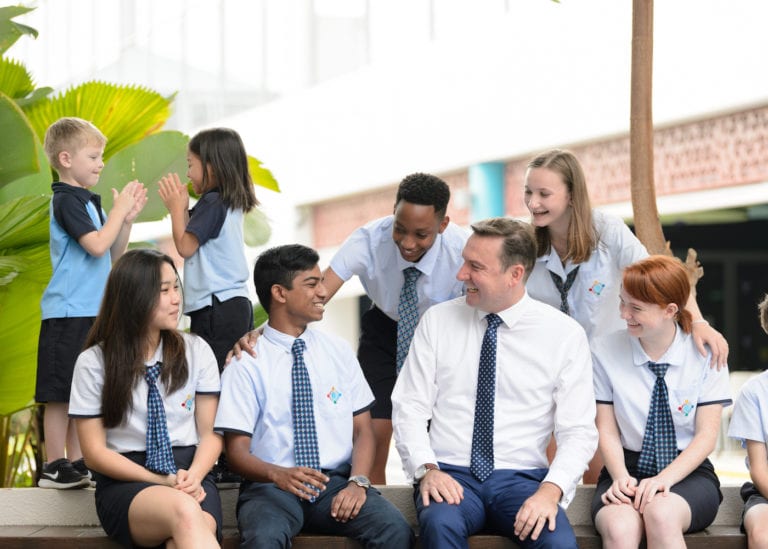 The number of students in each Singapore classroom is, on the whole, higher than the global average. HoneyKids takes a look at five schools to see how they fare.
There is so much to consider when choosing a school for your little one: it's where they will spend most of their young days, learn a new language or two, be influenced by its surroundings and develop social skills with their new friendship group. One of the big factors that play a part in your child's overall development, personality and character is the number of fellow students in the school, and even in the classroom. Do you want that personalised, focused attention on them from the teachers or will they flourish in a bigger school environment and a bigger social group? We spoke to five international schools to get their philosophies on how class size impacts its students.
Psst… don't forget to register for our International School Fair in partnership with HSBC. It's on Saturday, 28 September, 2019 from 9.30am–3pm at Pan Pacific Hotel Singapore. Meet representatives from 24 leading international schools and stick around for some expert-led panel talks. If you're one of the first 200 families to register, you'll get to grab a goodie bag with cool swag!
XCL World Academy (formerly known as GEMS World Academy Singapore)
Current school capacity: 1,030
Average number of students in each classroom: Primary – 17, Secondary – 19
Ratio of students to teacher: Primary – 8.5:1, Secondary: 19:1
XCL World Academy (formerly known as GEMS World Academy Singapore) is a family-oriented school, one where everyone knows and values each other. The learning environment is geared to make kiddos feel confident and secure to express themselves without fear of judgement, which is why there is both a teacher and a teaching partner – two adults – in the classroom up until grade 5. Between them, they are able to get to know each child, tailor activities accordingly and encourage all little ones to participate. Secondary school classrooms have a cap of 24 students per class, also much lower than the Singapore average of 33–34.
The school believes the small class sizes allow students to feel confident to put their hand up to ensure better understanding of what they're learning and the curriculum in general. Children build strong relationships with the experienced and passionate teaching faculty, which helps build their confidence to go out into the real world.
What about learning support? XCL World Academy (formerly known as GEMS World Academy Singapore) provides limited learning support to students with special needs who are able to learn in a mainstream classroom environment – the teachers instead collaborate with the learning support team to put them on the path to success.
Yu Kaffeman has two children in XCL World Academy (formerly known as GEMS World Academy Singapore): Maya (grade 5) and Akira (grade 2). She says: "Our children's first language is Japanese and, prior to moving to Singapore, they had just a slight understanding of English. Maya had some difficulties adapting to the challenges of learning the vocabulary while trying to master academic English. Her class teachers were very supportive and encouraging at all times. The low student-teacher ratio allows teachers to get to know every child in their class and tailor the program to each child. The class teachers and English as an Additional Language (EAL) team have done a great job in improving Maya's and Akira's writing and speaking skills and they have always been there for us with great advice."
Check out XCL World Academy (formerly known as GEMS World Academy Singapore)'s School Selector profile here.
Chatsworth International School
Current school capacity: 1,350
Average number of students in each classroom: 15
Ratio of students to teacher: K1 & K2 – 11:1, Y1 & Y2: 12:1, Y3–13 – 24:1
Nathiya and Glenn Porrit, parents of two students at Chatsworth International School, believe Chatsworth's small class size encourages development in individual students: "The amount of support we've seen teachers giving to each individual student is also amazing." With the school retaining the class sizes as among the lowest in Singapore for the last two decades (22 to 24 from kindergarten up to secondary), the school keeps the numbers low so that students are given the attention and support to thrive and grow. It gives the little learners the confidence to think critically and globally.
For students who need a little extra learning support, the school occasionally puts them together in a smaller group with its Learning Support Coordinator for more focused attention. Otherwise, the coordinator creates an Individual Learning Programme (ILP) for teachers and parents to action on.
The Porrits add: "As a parent, you need to look for a school that fits your family and your children – there is no absolute answer as to which school is the best. In all, Chatsworth has really been a positive experience for us."
Check out Chatsworth's School Selector profile here.
Dover Court International School
Current school capacity: 1,650
Approximate number of students in each classroom: Small classes have 8-10 students, mainstream classes (nursery and reception) have 20 students and the rest of the school has between 22 and 24 students in each class
Dover Court International School doesn't prescribe to specific class sizes or ratios of teachers to students in its classrooms. Instead, its school model includes smaller classes for students who need additional academic support and flexible learning. These range from classes of eight students with one teacher and two assistants to in-class learning support, such as English as an Additional Language (EAL) provision. The well-established school has maintained its class sizes through the years.
Karyn Pereira, who has two children in DCIS, loves the school's welcoming atmosphere. She witnessed how her son transitioned into the main education stream from working with the teachers in its support programme Pathway 3. She says: "He benefits from the smaller class sizes at DCIS and has access to all the specialist staff as and when he needs." Despite the school doubling in size recently with the injection of investment from Nord Anglia Education, Pereira maintains that the school has managed to maintain its small, friendly atmosphere that suits the needs of her family.
Check out Dover Court's School Selector profile here.
International Community School
Current school capacity: 400
Average number of students in each classroom: 13.4
Ratio of students to teacher: 7:1
ICS' class sizes are significantly below the global average. The school believes that this allows its teachers to really get to know each and every student – everything from their academic achievements (or struggles), to their emotional well-being and social circles. ICS ensures each child is supported by his or her teachers, both inside and outside of the classroom. The small class sizes allows its students to be mentored by the school's teachers in everything from athletic coaches and extracurricular activities sponsors.
Assistant professor Dr Mia Lee, who has children in the school, feels her family has benefited from the ICS community: "Small class size does make a difference – it allows teachers more time with each individual student. The school's real distinction is its overall positive and inclusive spirit."
Despite its already small class sizes, ICS has additional learning support and English as a Second Language (ESL) for its students. They have the opportunity to work with a specialist teacher every day in small-group settings.
Check out ICS' School Selector profile here.
St. Joseph's Institution International
Current school capacity: 1,900 in the academic year beginning 2020
Average number of students in each classroom: 22, which gradually decreases to 12 in IB years
Since SJII opened in 2007, the number of students in the classroom has been an important driving factor within the school. It believes that student learning is optimal in classes that have a smaller teacher to student ratio, enabling teachers to encourage more participation from students and provide personalised learning experiences. Students progress through the school with classrooms that have both a teacher and a teaching partner.
The school's average class size across its elementary programme is in line with the global average – 21 students per class, and at high school level, it's a little below the global average of 24 students per class, all to cater to a more personalised experience. SJII has accommodated an increase in school enrolment with facilities to house everyone.
Any learning support is generally offered within the mainstream classroom, with the Learning Department Team striving to promote inclusion. In some instances, individual support may be offered with the involvement of parents, especially when advice is sought from external professionals or agencies.
Check out SJII's School Selector profile here.
Like this story? Here's more we think you'll enjoy:
Picking the right school: your ultimate guide
What it really costs to send your kids to an international school
Bullying in school: top tips to help kids AND parents
The international schools offering sibling discounts
Don't forget to subscribe to our weekly newsletter and follow us for fun moments on HoneyKids Instagram!