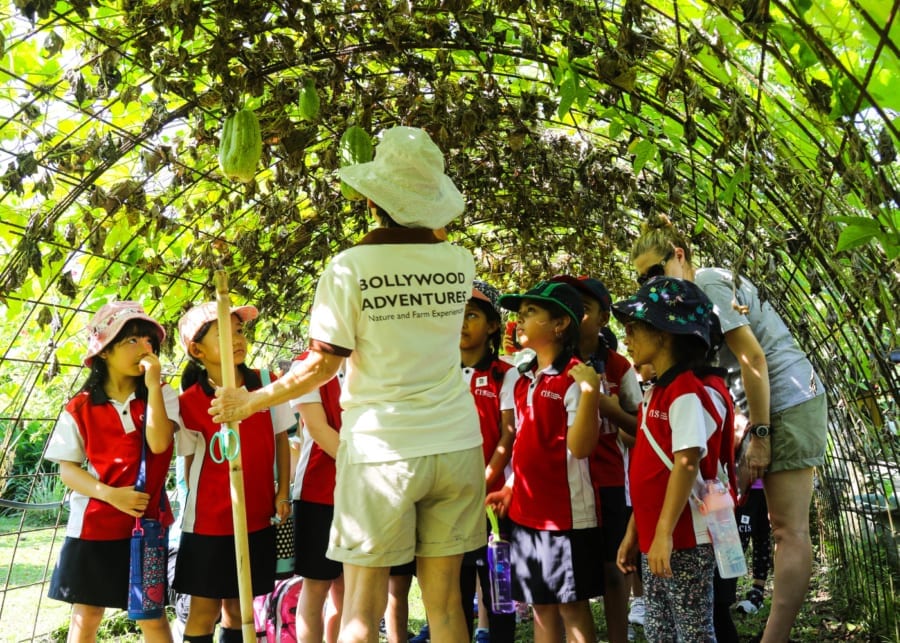 Experts from some of Singapore's leading international schools debunk the biggest myths surrounding outdoor learning.
Education isn't just about lessons within the four walls of a classroom. More and more often, teachers are looking to the great outdoors to help children of all ages develop their skills in areas such as problem solving, teamwork, imagination and more. Whether you're clued up on the concept of outdoor learning or you're not entirely sure what it entails, here's your chance to find out more. Here, five experts from some of Singapore's top schools bust the biggest outdoor learning myths.
Myth #1: Outdoor learning? You mean "survival skills" class?
Busted by: GESS – International School
"Outdoor learning goes beyond just teaching children about survival skills. Learning outdoors and interacting with nature helps children develop an appreciation for the environment. Besides that, it creates a sense of connection between children and the natural world.
"At GESS – International School, this is very much in line with our DNA to nurture individuals who can contribute to tomorrow's world. We believe that outdoor learning through our preschool's Forest School Learning approach teaches children about the importance of respecting our community, environment, individuals, diverse cultures, and more. It's also a great opportunity for children to develop confidence and boost their self-esteem through hands-on learning exploration in a natural environment.
"Different learning outcomes can be weaved into outdoor learning sessions by GESS' qualified practitioners. For example: if a child shows interest in creating a shelter, our educator can provide ropes, sticks, and other materials to help them create this.
"Outdoor learning is beneficial for children's wellbeing too. Nature has been shown to have numerous positive effects, including reducing stress, promoting physical activity, as well as fostering creativity and imagination."
Read more about GESS – International School
Myth #2: Outdoor learning is just play time.
Busted by: Christa Craats, Open Minds Lead, Canadian International School campus
"At Canadian International School (CIS), outdoor learning (pictured above) is much more than simply letting children play outside. Instead, it's an engaging, hands-on, inquiry-based teaching program focused on developing life and motor skills, appreciation for the environment and authentic learning experiences. If you think back to your most memorable childhood experiences, I bet most of them were outside!
"Outdoor learning is an integral part of our school's approach to providing students with a balanced education. In Kindergarten, outdoor learning is inquiry and play-based and takes place in our outdoor learning spaces. In the older grades, it involves lessons in our outdoor centres, field trips, excursion week and Open Minds (hands-on learning experiences in settings such as Sungei Buloh Wetland Reserve, Singapore Art Gallery, Asian Civilisations Museum).
"Our classes are designed to reflect what real life is about. Students get to experience the unknown, learn to problem solve, make connections between what they know and experience, and develop a deep understanding of themselves and the world. They're encouraged to see things from new perspectives, to think 'outside the box' and to explore the 'what-ifs' of things around them. We want to inspire our students to ponder things they have never wondered before and to see things that are often overlooked.
"Designed for all ages, outdoor learning at CIS is an extremely rich and authentic experience. It isn't just about organising fun break times or PE lessons. Rather, it's about delivering engaging curriculum-based lessons across all subjects beyond the four walls of our classrooms."
Read more about Canadian International School
Myth #3: Outdoor education can only be done outdoors.
Busted by: Martin Foakes, Head of Outdoor Education, Tanglin Trust School
"When the pandemic hit Singapore, educators at Tanglin had to be innovative in giving children the necessary exposure to outdoor education. For the most part of 2020, we brought outdoor education 'in' to the homes of our learners through online platforms. Local restrictions on group outdoor activities meant that we had to find some creative ways to keep our children connected with the natural world outside our doors. One way is to literally 'bring the outdoors inside' by growing plants, vegetables and herbs at home. All you need is a sunny windowsill or perhaps a balcony if you are lucky enough to have one. So many Tanglin families enjoyed the opportunity to turn their balconies or even gardens into a mini vegetable plot at home. Another fun activity we enjoyed during school closures was 'backyard camping' in your own home. Not everyone has their own garden, but everyone enjoys making a den or a camp in the living room! We saw some really creative ideas and we were even interviewed by ABC News Australia as the idea of backyard camping spread around the world during the pandemic.
"Also, Tanglin is located within Wessex Estate and surrounded by local parks, such as One North Park and the Green Corridor. When Singapore's Safe Management Measures allowed for groups of five to gather for activities, we brought small groups of children to these areas, instead of field trips. Probably the most significant thing we have learned is how to maximise the use of our own space! We have planted trees and vegetables in the green plots around the edges of the school campus and we even developed our own natural forest school site within the campus. This has proved to be an incredibly useful feature of the campus and student groups from across each school level have really enjoyed exploring the nooks and crannies. The site has attracted a great range of wild birds and butterflies, so this little patch of green is making a real difference. Older students are learning about the importance of biodiversity and it is great to see how smart land management and environmental stewardship on our own site can encourage the development of a healthy and more biodiverse ecosystem.
"Remote learning does not replace the actual experience of on-site field trips but we were able to keep connected with the natural world by conducting outdoor activities together and collaborating remotely using internet platforms such as Zoom and MS Teams. We found that you do not all have to be in the same space in order to actually work or play together. Outdoor learning is all about responding to the environment and working together to solve challenges in a creative way. So while we may not have been able to take groups of students outside to participate in challenging outdoor activities, we did find that we could find creative ways to employ outdoor thinking and collaboration for solving problems and working as a team on our own campus. We have learned to value the natural world that is at our very own doorstep and to see wonder in the small things that before the pandemic we might have ignored or might have gone unnoticed."
Read more about Tanglin Trust School
Myth #4: Outdoor learning is only about overseas or external field trips.
Busted by: Lois Pugh, Deputy Head, Brighton College (Singapore)
"As school leaders, we're increasingly concerned about the physical and emotional wellbeing of today's children and equipping our students with the skills and competencies they'll need for the future. Outdoor learning's benefits are now widely evidenced, acknowledged and accepted. It is at its most potent when it is interwoven within the school curriculum and when it takes place regularly.
"Maths, for example, is all around us: sunflowers boast the Fibonacci sequence, pavement curbs can be used to measure a radius and geometry can be examined by the arc of an in-motion playground swing. Nature is also a huge inspiration for creative writing. At Brighton College, we ask the children to take photos of things that interest them and then use the pictures to write a short story. In our poetry units, we observe and collect sensory images from nature to create original poems.
"A particular favourite of mine involved walking around the school grounds and creating 'journey sticks' while learning about Aboriginal Art. Later, in geography, we translated this into a modern map, discussed human and physical features of the landscapes, and mastered our map skills.
"Studies have found taking the academic curriculum outdoors increases a child's interest in a subject and their motivation to learn. The emotional connections and memories that nature experiences form in the brain help children retain information longer than regular indoor classes. I have certainly found it leads to an increased focus once the explorations are over and we return to the classroom."
Read more about Brighton College (Singapore)
Myth #5: Children are too easily distracted for outdoor learning.
Busted by: Aidan Spencer, Middle School Student Advisor and Philippa Spendelow, MYP Action Club Coordinator, Overseas Family School
"Of course children can be easily distracted — which is why they love outdoor learning so much! Given the opportunity, they jump at it and are enthralled in the process. Helping out at soup kitchens, doing donation drives and growing vegetables are some of the many activities Overseas Family School (OFS) students find appealing and rewarding.
"Our OFS Middle School camps provide multiple opportunities to learn outdoors. The Grade 6s clean the Sembawang beach area, while the Grade 7s visit an elderly home to sing songs, play games and talk to the residents. The Grade 8s visit a soup kitchen where they prepare food, cart boxes, dispose of rubbish and pack cutlery. In all of these activities, distraction is minimal. There is the constant murmur of meaningful conversations taking place while serving the community. Relationships are built up and the seeds of learning-from-doing are taking root in each student.
"Outdoor learning takes place in school hours, too. OFS's Middle Years Program (MYP) Action Club, consisting of volunteer students, is always on the lookout for more opportunities. The school's on-site vegetable garden is a case in point. Our budding horticulturalists, through their journey, have gained a comprehensive gardening knowledge while also developing skills in teamwork, leadership, problem-solving and mindfulness. They've also been part of the rewarding journey of growing edibles for the purpose of donation, which is given to a community fridge in Tampines.
"To believe the myth that children are too easily distracted for outdoor learning would be a serious myth-stake."
Myth #6: There aren't enough benefits to make it worthwhile.
Busted by: Hima Venkateswaran, Visual Arts & Science Integrator (Elementary School), ISS International School
"In my opinion, one of the best ways to promote inquiry in an educational setting is to integrate outdoor learning into the larger scheme of things. The 'wanderings' and 'wondering' during outdoor learning experiences – be it a school garden, community space or a field trip – lends itself to a natural setting for making observations and posing questions. It takes learning beyond the physical constraints of a classroom and allows for greater physical mobility and enhanced personal and social communication.
"There is now a growing body of research that indicates direct contact with nature has a positive impact on healthy child development and the emotional and physical wellbeing of children and adults.
"As an Art and Science integrator, a large part of my teaching involves fostering observational skills in real-world situations. I am a strong advocate of outdoor learning as I believe outdoor spaces provide authentic contexts for learning and encourage students to use all their senses to make observations. Data collected from the field notes made during observations can then be used to answer and pose questions. I also observe increased engagement and motivation to learn amongst students. Perhaps the less structured approach and a change from the controlled formal setting of a classroom contribute to prosocial behaviour, which leads to enhanced motivation to learn."
Read more about ISS International School
Myth 7: Outdoor learning? That's just lessons about nature.
Busted by: Ryan Bruce, Middle School Dean of Student Life, Singapore American School
"At Singapore American School, outdoor learning is far more than just lessons about nature. From field trips in elementary school through to a week-long Interim Semester in high school, students have outdoor learning experiences that offer a variety of perspectives, life-changing moments and skills as they soak up different cultures, people and places.
"In middle school, we offer students an amazing 'classroom without walls' (CWW) program, which extends student learning beyond experiences they can gain at school. The primary goal is for students to build positive relationships, trust and cooperation with their peers and teachers by facing unique challenges and experiences outside of the classroom.
"Students further develop their own environmental awareness and cultural competence through participating in activities specific to each trip. For example, eighth-grade students travel to Telunas Beach Resort in Indonesia, and learn about the economy of small fishing villages. Back in the classroom, the lessons learned at CWW support and enhance student learning throughout the rest of the school year.
"Although our students learn valuable skills on their trips, the most important thing they learn will affect them every day for the rest of their lives – the ability to push their own limits and persevere. These experiences take most of our students outside their comfort zones. They are forced to confront some of their fears and find ways to overcome them.
"Outdoor learning is using the outdoors as a venue to learn many different things. It is education in, about, and for the outdoors, not just learning about nature."