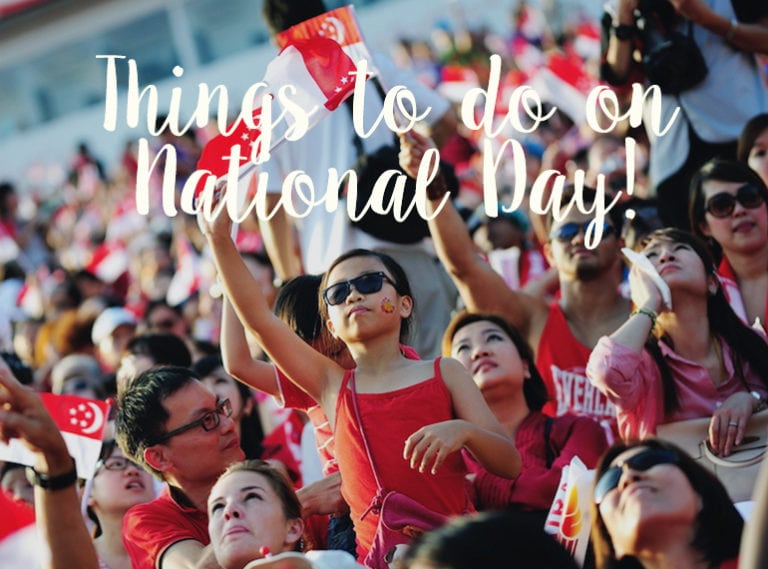 Here's where we're partying with the kids on Singapore's special day!
Party poppers at the ready! National Day Singapore 2020 is happening this Sunday and there's plenty of events lined up to celebrate our nation's 55th birthday with no shortage of kid-friendly picks. We're definitely not letting the pandemic stop us and will be celebrating safely from our homes, or socially distant from other families if we're going out. But From fireworks parties to local feasting to flea markets and bouncy castles, we've pulled together all the fun for families…
Things to do this National Day 2020
Watch the National Day Parade
You certainly can't miss the National Day Parade (NDP) on National Day! Even though we're all encouraged to stay in our homes during the ongoing pandemic instead of going out to celebrate, there's no shortage of live broadcasts to catch. It's truly an all-day affair. Here are some important moments you'll want to take note: the flag fly past is at 10.30am, followed by the fighter jets soaring in the sky to the mobile column roaming the neighbourhoods around Singapore.
Meanwhile, the NDP show broadcast will start at 7pm and the fireworks are expected to go off at 10 different locations – fingers crossed you can see it from your home!
When: 9 August, from 10am 
Where: Watch online – find out detailed information on the NDP website
Pop by the museum for activities
Whether you intend to stay at home or head out with the kiddos this National Day, the National Museum of Singapore (NMS) has you covered. And you know us, we won't ever say no to a museum visit!
If you're heading down in person, explore NMS's galleries with The [email protected], an interactive and exciting adventure that allow you to learn the history of Singapore in a different way. The kiddos will get to solve puzzles, accomplish tasks and more – plenty of fun to be had.
Alternatively, check out the special installations, projections and other activities for the little ones to enjoy. Psst, if you're staying home, you can enjoy NMS's galleries from the comfort of your home, too! Don't miss the live-stream performance by The Purple Symphony, Singapore's largest inclusive orchestra, a live storytelling session of Timmy & Tammy at the National Day Parade and other fun activities to boot.
When: 7 to 9 August, from 10am to 7pm 
Where: National Museum of Singapore, 93 Stamford Rd, Singapore 178897
Visit this book pop-up
Y'all, you know we're obsessed with books! We have our own HoneyKids Book Club, and we're always on the prowl for new literary genres and novels for us and the kids to read. So if you're a bookworm like us – or even if you're not – be sure to pop down to Kids21 Dempsey's book pop-up this National Day weekend to check out books from Singaporean authors, from cookbooks to kids' titles.
And once you're done browsing, head on over to The Pantry at Dempsey for its scrumptious offerings this National Day 2020. Psst, we had a taste of its delicious menu and can confirm that the family will enjoy it. We're talking about our kids' favourite staple, chicken rice, plus Gado Gado salad and Asian braised pork belly (Kong Bak Bao). Oh, don't forget to nom on the National Day-appropriate red velvet cakes for dessert, too.
When: Book pop-up from 7 to 10 August, National Day menu at The Pantry from 8 to 10 August, 10am to 7pm 
Where: 16 Dempsey Rd, Singapore 249685
Learn how to grow some herbs
Let the kids learn a new skill over the National Day weekend by joining Edible Garden City's new virtual workshop, the Pyjama-based Learning: Growing The King of Herbs. Learn how to garden while in the comfort of your home as we the King of Herbs, the Ulam Raja. You'll also get to learn the nutritional benefits and unique flavour of the herb, how to grow and care for it and prepare your own pot of Ulam Raja, too! Sign up here.
When: 7 August, 6pm to 7.30pm
Where: Online
See some gorgeous flowers
Gardens by the Bay has a new flower display, A Tale of Orchids, in the Flower Dome just in time for National Day 2020! See if you can spot Singapore's national flower Vanda Miss Joaquim as well as orchid hybrids cultivated by the Gardens' own horticulturists such as the Aranda Gardens by the Bay and more.
Don't forget to also visit the digital collection of orchid paintings by local artists in collaboration with local arts charity, The Very Quiet Studio. Each painting represents a unique depiction of Singapore's national flower, and are a token of appreciation to healthcare professionals for their hard work in the fight against Covid-19.
Psst: be sure to make to visit this weekend – you could get up to six months of unlimited visits to Flower Dome and Cloud Forest AND rides on the shuttle service! Perfect when the little ones are tired from walking around the park.
When: Till the end of August, find out more on its website
Where: Gardens by the Bay, 18 Marina Gardens Dr, Singapore 018953
Sing along to your favourite National Day songs
National Day songs are the epitome of Singapore's independence day, and this year is no different! Dress up in your best National Day threads and sing your heart out at this year's National Day Sing-along. Instead of being at a parade, this year's sing-along will be slightly different. For the first time ever, join the Singapore Federation of Chinese Clan Associations (SFCCA) and Singapore Chinese Cultural Centre (SCCC) online and sing your love for Singapore.
You can look forward to a spirited sing-along as you belt out familiar local tunes such as Home (家), The Stream That Flows Forever (细水长流) and Voices From My Heart (小人物的心声), all from the comfort of your own home.
When: 8 August, 7.38pm to 9pm
Where: Live-stream on the SCCC, SFCCA and Capital 958FM Facebook pages 
Visit this massive flag display
If you're heading round to Sentosa this National Day weekend, be sure to catch a massive Flag of Unity at Siloso Beach! It will feature 10,000 recyclable red and white flags, each carrying a heartfelt message. Plus, you can join in on the action by writing your own heartfelt message or by reading messages from others. Psst, as part of the National Day celebrations, every 20th submission will also receive a pair of wireless earbuds worth $20!
And since you're going to be around the area, stop by the Skyline Luge Sentosa for some outdoor luge fun. From now till end of August, the attraction has plenty of promotions for you and the family to enjoy. You'll want in on this!
When: 9 August
Where: Siloso Beach, Sentosa
Go crazy at this virtual National Day fiesta
Not only is the Singapore Sports Hub celebrating the nation's 55th birthday, but it's also celebrating its fifth anniversary, too! Catch its National Day Fiesta live online on its Youtube channel at 1pm on National Day. And, don't miss out on exploring its virtual interactive map where you can check out its brand new Instagram filters, learn interesting trivia and play games, too. Perfect for the whole family!
When: 9 August, 1pm 
Where: Online at Singapore Sports Hub's YouTube channel
Watch the annual National Day Concert
Music lovers, you'll want to catch the Singapore Symphony Orchestra (SSO)'s annual National Day Concert. Not only is a great family-friendly event, but it's one of the events we look forward to catching every year. This year, the concert will be exclusively streamed on SISTIC Live from 15 August at 8pm. Expect to see and hear a range of beloved National Day songs including 'Home' and 'Count on Me'! Khairudin Saharom will be master of ceremonies and the performers include singer Benjamin Kheng and Bharatanatyam dancer Kshirja Govind.
Tickets this year start at just $5 and one ticket is enough for a whole family to watch together. And, the concert will be available to watch until 29 August, too.
When: 15 August, 8pm
Where: Online via SISTIC Live
Catch the National Day Concert online
The National Day celebrations don't just stop after National Day itself! This year, Gardens by the Bay and Mediacorp will be hosting a National Day Concert 2020 which you can enjoy at home. Catch Mediacorp artistes JJ Neo, Desmond Tan, President Halimah Yacob, Mr Mohamed Abdullah Alhabshee, and singer Taufik Batisah (above), and other local artists from the likes of Nathan Hartono to Inch Chua and more.
When: 10 August, 8pm
Where: Watch online at Channel5, meWATCH and meWATCH YouTube.
Participate in the plethora of activities at the library
If there's one thing we missed during the circuit breaker, it's the library! And we're so thankful Singapore has no shortage of libraries around the island to visit with the kids.
This National Day 2020, the National Library Board has plenty of ways for you to commemorate the day. We're talking about creative writing workshops and book club discussions in all four languages to theatre performances, social media contests and more!
When: For the month of August
Where: Online, find out more on NLB's website
Spend the afternoon at a mall
If you're going to be out and about at the mall, get ready to be spoilt for choice when you head to One Raffles Place! The mall has attractive deals for everyone like Boost Juice Bar's new range of refreshing Milo smoothies, which we're sure the kids will love. Plus, delicious bites and wines from Marks & Spencer, one-for-one coffee at Kipos or 55% more cookies at Famous Amos… Mmm!
When: Till 30 August 2020
Where: One Raffles Place, 1 Raffles Place, Singapore 048616
Take a stroll around the Civic District
We love walking around Singapore, especially around the Civic District to admire its buildings and museums. And this National Day, take a stroll in the evening to see the buildings light up to commemorate the day! Psst, don't forget to bring your camera with you to snap some photos with the kids.
Here are the buildings to visit:
The Armenian Church
Asian Civilisations Museum
Cathedral of the Good Shepherd
Central Fire Station
CHIJMES
The Esplanade – Theatres on the Bay
National Gallery Singapore
National Museum of Singapore
The Arts House
Victoria Theatre and Victoria Concert Hall
When: Till the end of August, 7.30pm to 12am 
Where: Various locations around the Civic District 
Happy National Day, Singapore!