Going to university is an exciting milestone in our children's lives. But where to begin? Rest assured many international schools in Singapore are setting their students up for success thanks to expert support and invaluable advice.
Many of us who went to uni credit those years as some of the best of our lives. Moving away from home – sometimes overseas – and having to fend for ourselves (do our own laundry? Feed ourselves three times a day? Manage a budget?! *shudder*) was a huge deal. Yes, there was a huge shift into the world of adulting, but the newfound independence, meeting lifelong besties and all those wild nights out – coupled with every young person's enviable ability to dodge hangovers – rocked. Social amazingness aside, making the transition to uni is challenging. The teaching and learning model at university takes some time to get used to, as is the move to more independent study. To help students prepare for uni, many international schools in Singapore have helpful measures in place. We spoke to some of the experts to find out more.
GESS – International School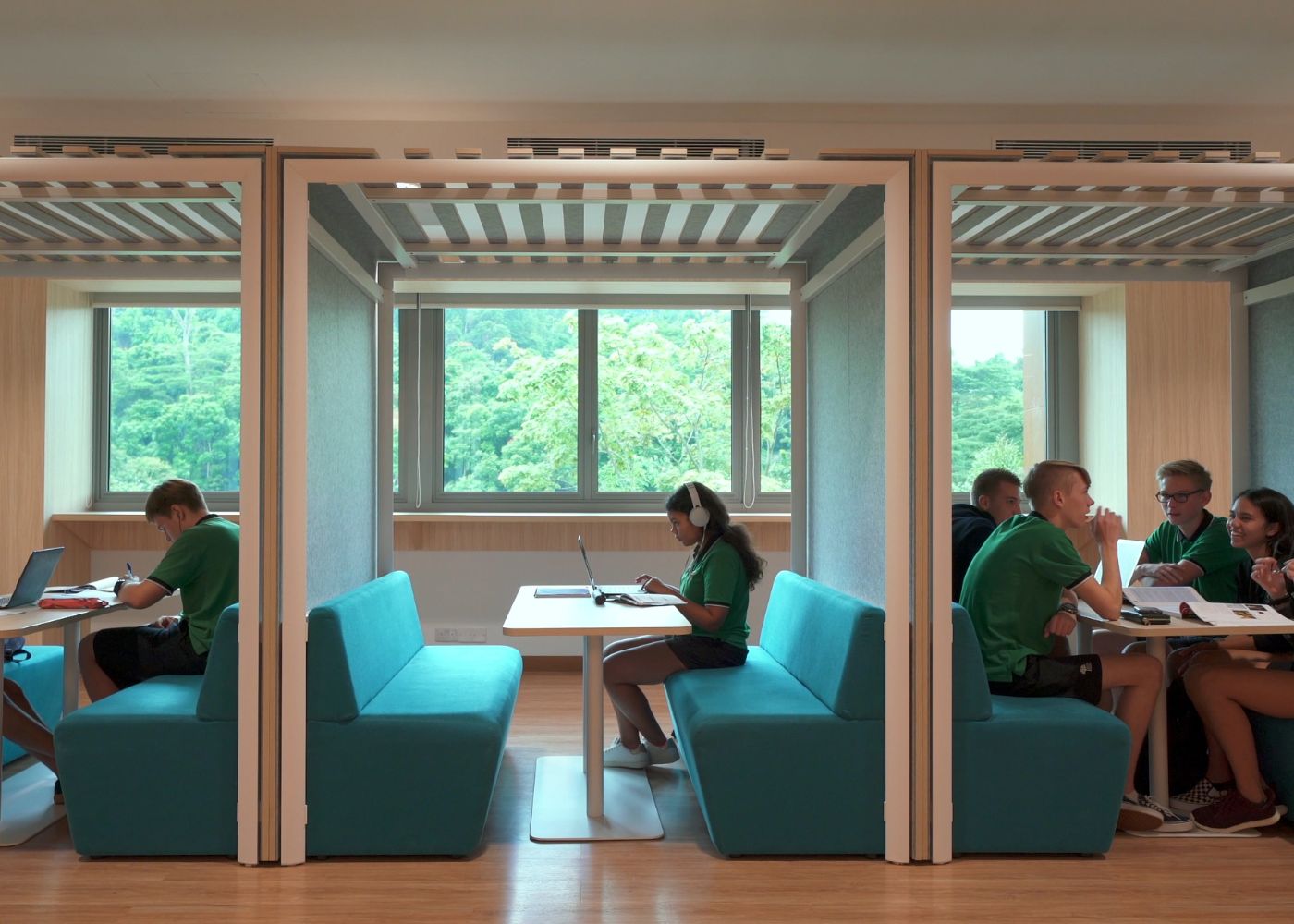 As a not-for-profit school, GESS – International School invests every dollar back into enabling limitless learning for its students.
"At GESS – International School, we believe that limitless learning is the key to preparing students for the future. The school is committed to creating the best environment for students' limitless learning through providing world-class facilities and infrastructure, as well as soft and 'heart'-ware in the form of personalised education and well-being support.
"GESS has dedicated and specialised facilities to support students in their academics and out-of-classroom interests. Some of our key facilities include a 400-seater auditorium, Olympic-sized swimming pool, design technology studios, etc. Learning spaces are also designed to be age-appropriate and encourage collaboration between students. Outdoor learning is made possible through the school's strategic location next to Bukit Timah Nature Reserve, where lessons come alive in a natural and stimulating environment.
"The school future-proofs its students through the newly launched BeyondClassrooms programme, where students gain real world knowledge from GESS' corporate partnerships. There are also a variety of After-School Programmes – ranging from sports, music, and natural sciences – that allows students the freedom to grow as well as cultivate interests and passion."
Tanglin Trust School
Zoe Williams, Head of Careers & University Guidance
Tanglin Trust School believes that the strength of its guidance is in its community. The school has a dynamic, teamwork approach towards supporting students, with faculty staff, parents, and alumni all supporting myriad events.
"Tanglin Trust School has a dedicated Careers & University Guidance Faculty that supports students on (I)GCSE, A Level, and IB Diploma options; work experience placements; and university applications. From Year 10, students are allocated a university counsellor who mentors them, offering bespoke service that places students' interests at the heart of all decisions. We're proud to say more than 99% of our students have been accepted by their first or second choice universities.
"The university roadshows and fairs provide useful information on the differing university application systems, programmes of study, pathways, and career options. Tanglin also arranges a five-day work experience programme with companies in Singapore for all Year 10 students. We are fortunate to have a myriad of support structures in place for our students. When it is time for them to apply to university, we have a team with a vast amount of experience ready to read applications, essays, personal statements, and advise on the 'best fit' institution for our students, by providing curated and well-considered recommendations. In addition, we employ Oxford Interns every autumn to support the busy autumn cycle. At Tanglin, we pride ourselves on the relationships we have built and established over the years, and have many links with top-tier universities around the world."
Dover Court International School
Dover Court International School provides its students with full and unlimited access to their guidance counsellors, preparing its students for a diversity of options beyond school.
"Our goal at Dover Court International School (DCIS) isn't to give students exact instructions on how to get into their dream universities, but to empower them to research and make decisions for themselves together with their families. All of our students have full access to their guidance counsellor, and we do not impose limits on the number of meetings they can have with the counsellor. In fact, we encourage our Secondary School students to meet with their counsellors once a term; then once or twice a month from Year 12 onwards."
"Students at DCIS are provided with relevant information and guidance based on their year groups. For example, Year 8 students will be introduced to the concepts of careers, where we teach them how to identify areas of study that they may enjoy, at the same time assuring them that they may still change their minds as they explore new things. Year 10 students will learn how to use extracurriculars to explore personal and academic interests. We get into the specifics of university choices and applications from Year 12 onwards: teaching them how to use their existing experience and qualifications to work towards their chosen university and courses, as well as guiding them on the application process. DCIS is able to provide support on writing personal statements and interview prep as well."
"Besides this, the school regularly hosts visiting universities to provide talks, information sessions, and workshops for our students during Personal, Social, Health, and Economic sessions and lunchtime. We also invite students to visit external fairs and workshops."
Dover Court International School
EtonHouse International School Orchard
EtonHouse International School has incredibly useful support systems in place to give its students the best possible guidance in their future plans.
"We have a careers guidance program in place that utilises Fast Tomato, an online, UK-based popular online career guidance platform. This allows students to answer various questionnaires, which guide them to careers advice. Students can also discuss with an online guidance counsellor in the UK about their aspirations, strengths and weaknesses. We've also hired a University Counsellor for our students in EtonHouse International School Orchard.
"Due to the nature of a small class at EtonHouse Orchard, the teachers have one-to-one coaching sessions with their students. During these sessions, students can talk about their aspirations and inclinations, and work with the teachers to decide on the subject combinations for the university admissions of their choice.
"We previously had a Careers Week, where we invite universities and professionals from different industries, such as banking, marketing and law, to give a talk and interact with our students. There was also a Careers Expo, where universities are invited to put up a booth to talk about the courses they offer, as well as entry requirements and so on. We have also started a partnership with Oxford, where one of our students went to Oxford on scholarship for a summer exchange program."
EtonHouse International School
XCL World Academy
Sean McAuley, Secondary Years Deputy Principal/Career & University Guidance Counsellor
XCL World Academy has numerous measures in place to support its students on their journey to finding the university and course that fits with their academic, personal and career aspirations.
"Here at XCL World Academy, we offer support and advice through the process of researching, shortlisting, applying to and ultimately selecting the university students will attend. Starting this process early ensures that, by the time decisions have to be made, your child will already have gathered a wealth of information to be able to make a fully informed, positive choice.
"We are proud to be a truly international school, representing more than 60 nationalities, and our graduates have gone to a wide range of university programs in countries all over the world. Hundreds of universities visit us each year, and we have well-established contacts with admissions officers around the globe, too. As university counsellor, I work closely with students and their parents to help them navigate the global admissions process and guide them on important factors such as fees and future career prospects.
"Beginning in Grade 10, before students choose their IB subjects, we offer various presentations and spend time discussing their plans after high school. This helps ensure their IB courses align with the requirements of universities they are likely to attend after high school."
Global Indian International School
Seema Kaushik, Career Counsellor
Global Indian International School (GIIS) has a fully-fledged career counselling department, which is headed by an experienced career counsellor to offer expert guidance to students on their university choices. Thanks to this support, the school has successfully placed alumni in top colleges both locally and internationally.
"The career counselling office here at GIIS guides and supports students throughout the university application process, beginning in Grade 10 and continuing throughout Grade A dedicated career counsellor helps students create a balanced and realistic list of colleges based on their academic performance, assisting them throughout the entire application process. This includes help with personal statements, essays and mock interviews, as well as an introduction to various college entry tests where relevant.
"Sessions are organised for students and parents detailing all aspects of the university application process, and we'll help students create an initial shortlist based on their interests, abilities and needs through Cialfo, a career-planning platform. Career fairs, information sessions and workshops take place year-round, too.
"GIIS has strong ties with international universities and we'll often have representatives visit the school to interact with our students; students really benefit from the first-hand information. From time to time, our alumni will take part in interactive sessions to share essential tips and guidance with current aspirants. We also offer guidance on various merit scholarships, as well as financial aid or loans in both local and international universities. Though scholarships for international students is a bit challenging, we still have a number of students getting offers from universities with full and partial scholarships in countries including USA, Canada, Hong Kong and Singapore."
Global Indian International School
HWA International School (formerly Hillside World Academy)
Yvonne Ting Mei Yi, Counsellor
Guidance is on offer for all students over at HWA International School, with expert help and support on hand every step of the way.
"Our school offers university application guidance to all students. Every start of the academic year, our school counsellor will give a presentation to the Grade 11 and 12 students to start planning their university applications, as well as to give them an overview of the entire procedure. Subsequently, the counsellor will meet with each student individually to offer further support and advice with their university applications. This includes the preparation of both essential and supporting documents.
"Rather than following a specific program, we design the individual guidance sessions to provide information specific to the student's desired vocation. Currently, I see more of the diploma program students, but if the younger students express specific course interests, I will of course advise certain subject choices that will meet the prerequisites (if any) of the university course they're looking at.
"In addition to all the guidance we offer, Hillside also invites recruitment speakers from international universities to provide more information, such as entrance and academic requirements and so on, to our students."
Singapore American School
Tina Forbush, Director of College Counseling
Singapore American School has a comprehensive college counselling office that provides extensive support throughout a student's time at the school. SAS is proud to state it has more than 22,000 alumni in 67 countries spanning six continents, who have gone on to achieve extraordinary things and succeed globally.
"Our focus at the Singapore American School's College Counseling Center is on preparing our students for the university application process and university study. This work includes equipping students with 21st-century skills that will have them ready for both college and the workplace.
"Beginning in tenth grade, we meet with students to begin planning and to discuss course selections. In junior year, we work with students and families to reflect on their choices and develop a college list. Once students are in the senior year, we support them fully in their applications and in the essay-writing process. We offer a broad range of programming to parents and students throughout the high school years to make sure families have all of the information they need to understand and take advantage of the abundance of university opportunities around the world.
"Representatives from more than 275 colleges and universities from all around the world – Asia, Australia, Europe, the Middle East and North America – visit SAS every year. Our college counsellors also visit colleges, attend conferences and meet with admission representatives on a regular basis, as we believe it's important to develop and maintain relationships with admissions professionals.
"Seven college counsellors are available to meet with any families who would like to discuss financial assistance, loans, scholarships and the university application process. Additionally, we hold programming on financial aid for parents and students and work to stay abreast of changes in the global financial aid landscape."