Pass the popcorn! We dish out our all-time fave kid-friendly flicks for a cosy movie night in
What have you got planned for your next family movie night? To help you decide, we polled the office (fyi: the competition was fierce!) and sussed out our picks of the best kids' flicks of all time. From the magic of Disney classics to '80s blockbusters, these films are for the young, and the young at heart. 

Nafeesa Saini: Home Alone (1990) 

Cheeky, heart-warming and filled with lots of hilarious twists and turns, Home Alone stars Macaulay Caulkin as Kevin Allister, the perennially overlooked child who gets accidentally left behind when his family goes away for Xmas and is left to face two idiotic would-be burglars. What makes this movie so memorable is Kevin's courage and seemingly bottomless bag of tricks – two admirable traits that made him every child's hero. Regardless of the film's sometimes unbelievable plot, it's a wonderful family movie and will guarantee plenty of laughs around the living room. Plus, who could forget the iconic moment of Kevin's double face-palm shriek?

Chris Edwards: The Neverending Story (1984) 

I can't even really tell you what this story is about – except it has stuck with me from my childhood. From memory (thinking a long way back now!) it's an epic fantasy journey – told by a young boy who is reading the Neverending story in a book (after being warned not to read it). With villains, plagues, empresses and fantasy lands – it's probably WAY too scary for my six year old, but I would think a great watch for slightly older kids with wicked imaginations. Nightmares and dreams guaranteed for years.
Dinesh Ajith: The Iron Giant (1999) 

What if a gun had a soul? That was the creative spark that spawned this charming animated film about a boy's friendship with an amnesiac robot war machine from space that crash landed in the sleepy town of Rockwell Maine. The reason why I love this film, and watch it regularly even as an adult, is that it's more than just a children's animated film, going so far as to touch on mature themes like alienation, ennui and fear of the unknown. The director, Brad Bird, went on to direct some of Pixar's highest-grossing children's films like The Incredibles and Ratatouille.

Kevin Ho: Jumanji (1995) 

As a kid, I was naturally drawn to the charismatic charms of the late Robin Williams. But what also had me gripped – aside from my fanboy crush with a very young Kirsten Dunst (I was young too, so it's not creepy) – was the Jumanji board game itself, especially with its mesmerising orb in the centre that spoke to the protagonists in riddles every time the magic dice were rolled. Okay fine, so it was a bit freaky how every turn would result in piranha plants, natural disasters, animal stampedes and homicial hunters that'd crawl outta the game and try to murder you. And being trapped in the jungle for 26 years? The stuff of nightmares! I've stuck with Monopoly ever since.

Tracy Tristram, E.T (1982) 

That alien dude had me weeping for hours after it first appeared on the silver screen back in 1982 (gosh that makes me feel OLD)… I wanted to marry Elliot AND I wanted to have an E.T. (Extra Terrestrial) for myself (my parents gave me a little brother instead who actually did look a lot like E.T. when he was born in 1983). E.T. is the tale of an ugly but cute alien who is abandoned on earth by his alien cronies, and subsequently adopted by a young lad with a big bag of M&Ms. The story is immeasurably heartwarming as well as ridiculously sad. All E.T. ever wanted to do was phone home and look where it got him! My kids love this movie as much as I did, and despite its age it still manages to charm small humans as much today as it did "in the olden days" (as my daughter professes the 80s to be). I am, however, still gutted that my own BMX never flew anywhere (and as an aside I never found a wardrobe that led me to Narnia) and that Halloween was never as exciting in the UK as it clearly was in California!

Aliff Tee: My Neighbour Totoro (1988)

Part of my yearly tradition of binge-watching Studio Ghibli's animated features, I have always looked forward to watching Hayao Miyazaki's poetic tale of two sisters and the lovable mythical forest sprite, Totoro. Hailed as one of Studio Ghilbli classics, My Neighbor Totoro is an epic tale that is full of poetic charm. I love how the story paces itself slowly and allows the plot to grow naturally. It flourishes on childhood innocence even when there's a looming notion of the mother's death in the background. The stark contrast between a Miyazaki film and a Disney film is very refreshing. The enchanting soundtrack by famed Japanese composer, Joe Hisaishi, elevates the story to such great heights and it also features a cat bus, who's a cat, but is also a bus. Weird but totally wonderful.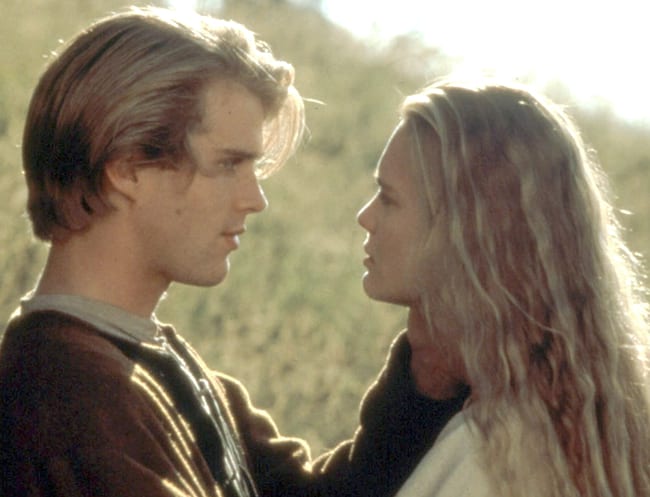 Selina Altomonte: The Princess Bride (1987)

I've loved this movie since I was seven years old, and Cary Elwes as Wesley was one of my first crushes (he still is; don't tell my husband). It's a story about true love between Princess Buttercup (Robin Wright Penn with long hair!) and her long-lost farm boy, Wesley, who returns as a masked pirate and kidnaps her on the eve of her wedding to a jerk of a prince – spoiler alert! But the most loveable characters, I think, are the villains they meet on their adventure through the cliffs of insanity, a fire swamp with rodents of unusual size and an encounter with a giant with a fondness for large women. This movie just doesn't age – and the dialogue gets even more hilarious each time you watch it. Inconceivable!
ShairahThoufeekh: Aladdin (1992)

When I was younger, my heart was pretty much set on marrying Aladdin. Forget the fact that he was a petty thief with trust issues – just look at how cute, charming, and irresistible he was. Even even a princess thought so! But apart from the loveable characters, magical storyline, and can't-get-them-out-of-your-head songs ("a whole new worldddddd"), the main reason I loved Aladdin (and still do, to this day) are the awesome pets: who wouldn't want a sarcastic talking parrot named Iago and protective tiger like Princess Jasmine's?

Sarah Ivany: Homeward Bound (1993) 
I've watched this film repeatedly, and it still remains funny and heartwarming thanks to its feel-good ending. It's the story of three family pets, two dogs and a cat, who are left with a friend for a few months while the family is busy relocating and unable to care for them. The three crazy pets take off on an incredible journey (the movie itself is a spin-off from the original Incredible Journey, 1963) crossing rivers and mountains, confronted with challenges and triumphs until they reach home. The pets all talk and have individual characters that you can't help but fall in love with.

Zakaria Muhammad: My Little Pony: The Movie (1986)

The cat is out of the bag. I'm not ashamed to admit that my favourite childhood movie of all time is an American animated musical fantasy film based on Hasbro toy line, My Little Pony. A dream castle, rainbows and adorable little ponies with magical power – what's not to like? It'll transport you to a whimsical world that you'll truly appreciate in your childhood. My Little Pony taught my little self the concept of loyalty, friendship, sacrifices and the importance of not to be afraid to be you. It's definitely a fun family movie. Watch it before you judge it.

Alyssa Prenda: The Parent Trap (1998)

I love how the film displayed the separate lives of two sisters, both played by Lindsay Lohan, in such detail due to their different personalities and backgrounds. I especially adore the bit where they share their own secret handshake; I actually mastered it with my childhood friends when I was young! While the plot can veer off course from believability, the film is endearing and showcases the troubled Lindsay Lohan at her best.

Cherylene Chan: The Addams Family (1991)  

Despite being a bunch of misfits, the Addams are actually a solid, caring bunch. Based on a cartoon of the same name, the film centres on con artists who plan to fleece the bizarre family by roping in an accomplice who claims to be their long-lost Uncle Fester. My fave character is unquestionably the iconic Wednesday Addams: the morbid, pig-tailed girl who hates everyone and actually means it.