Photography: Freepik
Academics isn't the only crucial aspect of the whole schooling experience – a student's mental and social-emotional wellbeing is just as important.
All parents want their children to have the best schooling experience possible. With that, it's important to understand that a positive schooling experience means more than just achieving academic milestones and good grades. There's a growing body of research that links social-emotional and mental wellbeing to student success in school and beyond. Fortunately, more and more schools have started to recognise this, thereby implementing measures to support and promote their students' wellbeing.
Read on to find out how some of the top international schools in Singapore foster wellbeing within their community.
Australian International School
Can a student achieve both academic excellence and positive mental wellbeing? The educators at Australian International School (AIS) would be some of the first to answer this with a resounding "yes"! The school helps students enjoy the best of both worlds through its Academic Wellbeing programme. AIS won gold for the Student Wellbeing Award category in our Singapore Education Awards 2023. Its educators employ various measures to create an environment that ensures students are happy, healthy, and safe.
AIS uses a positive education approach, incorporating deliberate wellbeing practices to help students flourish. It follows a diverse curriculum (including the International Baccalaureate and Cambridge IGCSE), and offers a wide range of co-curricular activities for students to explore and develop their passion. Pastoral care is available in the form of its STRIVE programme, which seeks to enhance a student's skills, knowledge, and strategies relevant to their current and future experiences. They're also supported by a highly qualified and experienced Wellbeing Team, who covers areas from learning enrichment to inclusivity and health. Last but not least, AIS regularly gauges its students' academic wellbeing through data collected from its regular CARES Survey and Assessments and Monitoring schedule. This allows educators to monitor students' individual Data Dashboards and provide targeted support and interventions to ensure students flourish academically and emotionally.
Australian International School
Chatsworth International School
Student wellbeing is at the heart of Chatsworth International School. The school was a silver winner for the Student Wellbeing Award in our Singapore Education Awards 2022! Being an IB World School, Chatsworth uses the IB learner profile to model, encourage, and support student wellbeing. It believes that the 10 IB learner attributes (including communicators, caring, reflective, and more) give students opportunities to be valued, supported, and become effective communicators.
Wellbeing is built into units of inquiry across Chatsworth's primary years level and in the secondary school's pastoral lessons. The school's holistic curriculum incorporates programmes like Keeping Safe and Digital Citizenship that focus on student wellbeing and critical life skills. Students are given structured free time to disconnect from technology and make connections with peers to develop their interpersonal skills. Students are supported by both Chatsworth's highly qualified teaching staff and its Student Services team throughout their schooling years. Student Services work collaboratively with homeroom teachers to develop a carefully designed pastoral programme to ensure students are cared for. The school also provides students with opportunities to contribute to topics to be covered, and how they would be covered. This gives them a sense of ownership, allowing them to participate and value the pastoral lessons.
Chatsworth International School
GESS – International School
GESS – International School believes that education goes beyond conventional academic excellence. It's a school that not only provides students with 'hardware' and 'software' (facilities and learning programmes) to achieve their full potential, but with 'heartware' as well. Student wellbeing, which constitutes GESS' 'heartware', is at the core of what the school does. It's on a mission to empower students and normalise support-seeking throughout their learning journey.
An example of GESS' many initiatives in supporting student wellbeing is its newly structured Student Wellbeing Department. This department is made up of the Counselling Team, Safeguarding Team, and Social Emotional Learning Team. The department works towards creating a culture of care and safety through enhancing the school's community and support systems. With this, the GESS community can look forward to a new counselling programme on enhancing social-emotional skills, as well as a child protection curriculum that focuses on respectful relationships and how to recognise and report abuse. Complementing this, a new Student Wellbeing Centre is opening in November 2023, which comes with a wellbeing pod for students to relax and have group support sessions. This space is intentionally designed to be soothing and helps with emotional regulation.
Nexus International School (Singapore)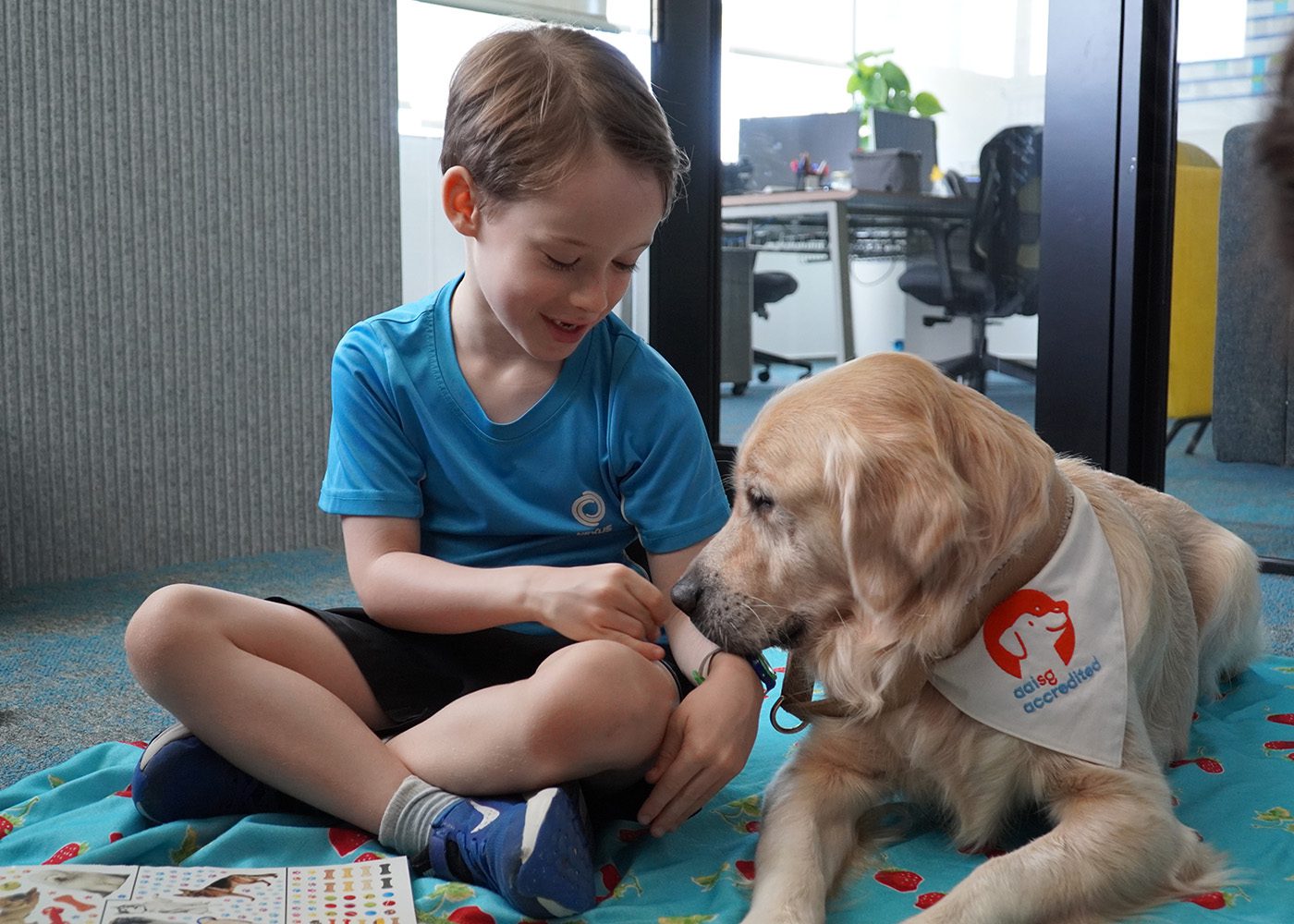 Nexus International School (Singapore) places a strong emphasis on creating a positive environment to foster holistic growth and development among its learners. The school has a robust pastoral care system, and extends its restorative practices into learners' homes through workshops with their parents. Wellbeing is integrated throughout the curriculum, from Nursery level through to Year 13. For example: Early Years learners have mindfulness sessions to let them rest and self-regulate. Some Primary learners also have one-on-one reading sessions with caring canines and their handlers to boost their confidence in reading.
This culture of care is most apparent in Nexus' 'Care:Movement' initiative. This initiative encourages learners to not only engage in self-care, but also to contribute to the wellbeing of their peers and community. On top of providing comprehensive counselling support and wellness events, the 'Care:Movement' also has a learner agency element to it. There are 'Care:Movement' ambassadors within the student body, all of whom underwent specialised Mental Health First Aid training with the school's counsellors and a globally recognised organisation to provide peer-to-peer support. These ambassadors take up leadership roles, actively promoting the mental and emotional wellbeing of their fellow learners. Besides these initiatives, Safetalk Suicide Prevention training is conducted with staff, learners, and parents to emphasise the importance of mental health awareness within the school community.